Golden Stones of Cinema: La Notte
Art of the Highest Commendation, Masterpieces of the Big Screen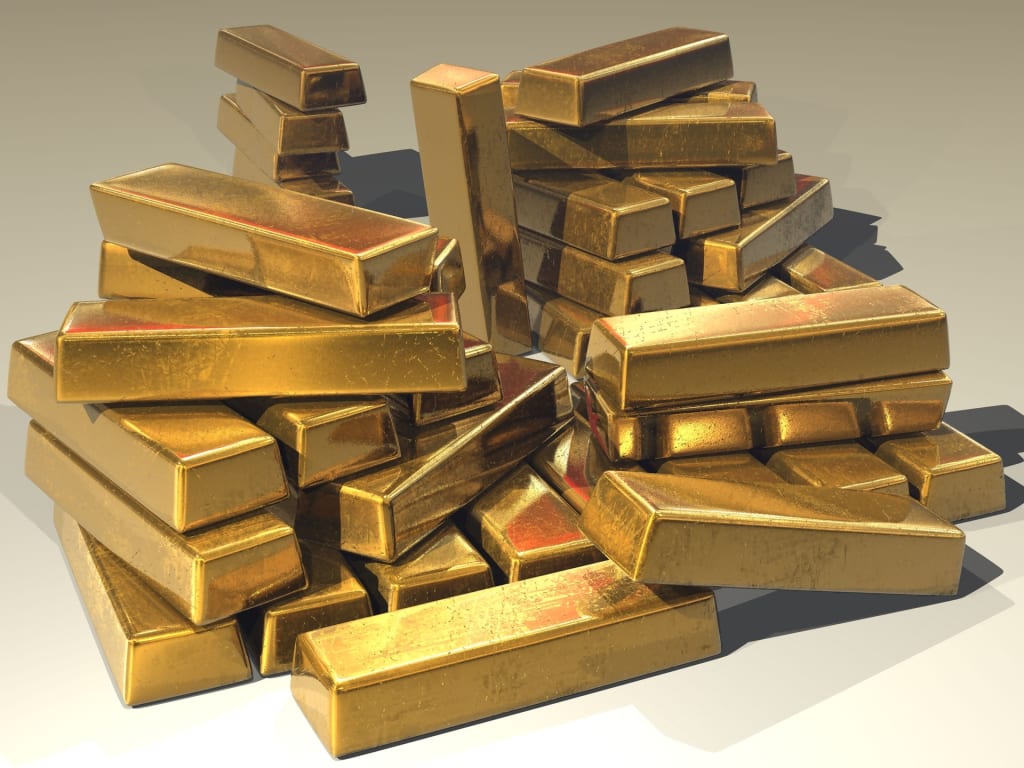 La Notte: A Golden Stone of Cinema
"Da chi è questa lettera?" ("From whom is this letter?")
"È la tua." ("It's yours.")
The second film in Michelangelo Antonioni's Modern Discontent Trilogy (three films loosely associated with one another for their similtude of themes and ambience), "La Notte" can easily be overlooked due to it having been sandwhiched between two others that have arguably had the greater cinematic impact. Whereas "L'Avventura" (The Adventure) was the first to present the abnormally slow pacing by which the trilogy was so notably characterized, "L'Eclisse" (The Eclipse) will forever be noted for its bold end sequence that pushed beyond the limits of what an expected narrative could accomplish at the time. Each of these three films are driven by their respective protagonist's alienation from social modernity, and their narratives tend to grow trivial as each of them progresses. "L'Avventura" deals with a mystery that never gets solved (done purposely to showcase the aloofness of individuals), and "L'Eclisse" deals with two people who attempt to get romantically involved but remain withdrawn nonetheless (once again, done deliberately). Although I admire Antonioni's boldness to make such films, I give "La Notte" the edge over the other two due to its accomplishment in illustrating all these daring themes while still maintaining some relevance to its storyline and allowing for attachment to its characters.
The film's plot is relatively simple. A woman named Lidia and her husband Giovanni feel as if they have grown apart in recent years, and on screen is depicted one day in their mundane married lives. Granted, there are minor incidents that serve to advance the film: a visit to their dying friend, Giovanni's book signing, a brief moment at a nightclub and a party the couple decide to attend at night. However, as is such in every other film within Antonioni's trilogy, it is the characters' emotional detachment with respect to each of these individual incidents that drives the film more than their actions do. Frankly, I could not care less about any of the aforementioned incidents. Lidia sobbing outside a hospital, wandering the roads of a bygone neighborhood, pouting during the entirety of a socialite's party only to roar with excitement when the party is showered with heavy rain... These are images that prove more impactful than those quotidian episodes ever could and are the main reasons why Antonioni will forever be cemented as one of the all-time great film directors.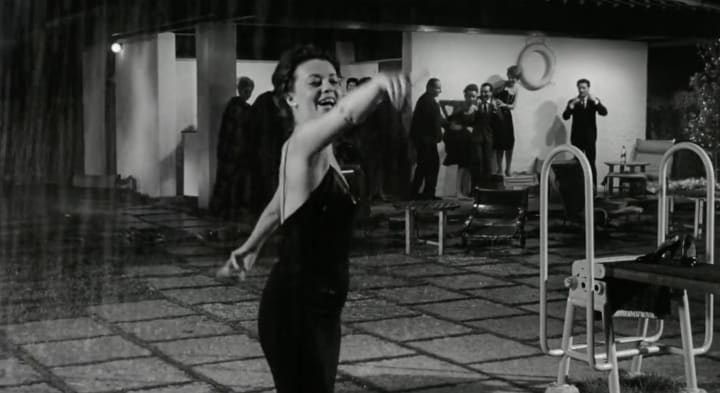 As much as the viewer is provided with yet another stunning performance by the legendary Marcello Mastroianni, I wish to dedicate an entire paragraph to the breathtaking marvel that is Jeanne Moreau. This actress played her role so gorgeously, it felt as if I were in a trance for the film's entire length. I could not for the life of me look away from the dejected woman she portrayed. Her facial expressions and body movement seemed to be what guided the whole feature, and I could not help but stare stupidly, for Moreau's isolation felt inordinately sincere. I've seen other films in which she starred (notably Truffaut's "Jules et Jim"), and this unfathomable hypnotic state of mine had never been so potently present, but in this specific role as "La Notte"'s Lidia, she left me entirely spellbound. Halfway through the film, at the socialite's party, Giovanni meets a woman (portrayed by Monica Vitti) who Antonioni seems to present as this young effervescent belle, but even as Giovanni attempts to become romantically entangled with her, Lidia stands out as the film's real charmer. I also believe this to have been deliberate on Antonioni's part, as if the director wished for the audience to be yelling "Who cares if Monica Vitti is younger and beautiful as well? Don't abandon your lonely seductress of a wife, you fool!"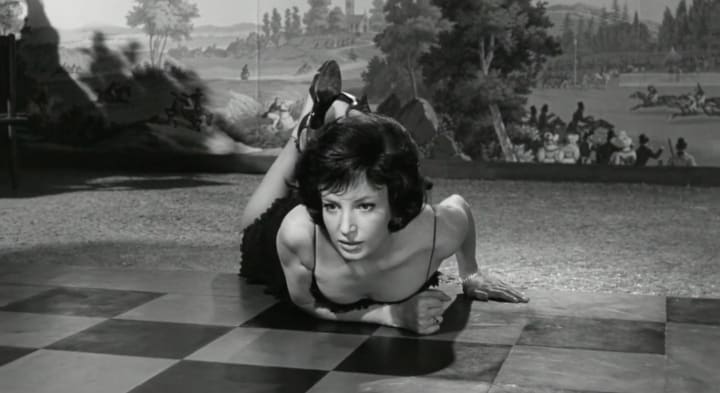 Three Reasons for Golden Stone Status:
1. Antonioni's Innovative Storytelling
It would be imprudent to watch this film without context. One needs to grasp that "La Notte" (along with the other two films of this trilogy) favours the visual depiction of boredom and futility over a proper narrative, so as to remind the viewer of recurring feelings of insignificance, however fleeting, we live as human beings. Being conscious of this, "La Notte" is a good place to start within Antonioni's catalogue, since there is still a certain extent of drama added to the narrative that has the viewer question whether or not the married couple will remain as such by the end of the feature.
2. Jeanne Moreau
The entire performance provided by Moreau proved that a miserable older housewife could be castles sexier than a younger cheerful girl at a house party, and this, because the viewer is totally immersed in the woman's uneventful life way before Monica Vitti's character appears on screen.
3. The Impactful Ending (Spoiler)
If you have never seen this movie and wish to do so, I suggest you stop reading here. During the entire film, as Giovanni finds newfound success with his latest novel, his wife seems disinterested, even going so far as to abandon her husband at one of his book signings so she could instead take a meaningless stroll around the block. In the very last scene, after the morning sun has risen in the sky, the two sit beside one another as Lidia reads aloud an amorous letter that once was written to her at a much younger age. Giovanni demands to know the name of the man who wrote it only to have Lidia remind him that it was him, many years prior, and we are left heartbroken at both Giovanni's lack of remembrance and Lidia's harrowing attachment towards past things and forgotten words her husband once wrote to her long ago.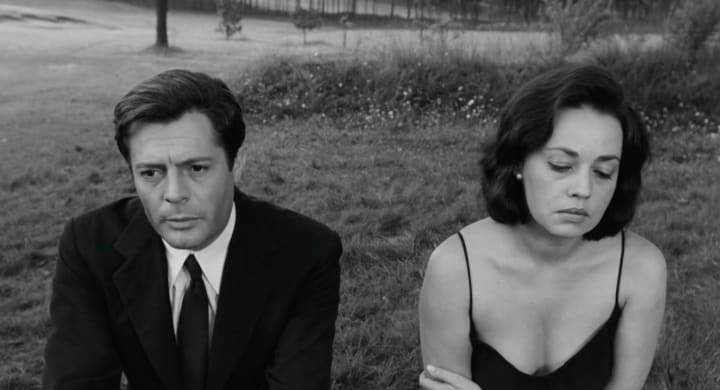 review
About the author
Anglo-Italian having grown up within the predominantly French-speaking city of Montreal.
Passion for all forms of art (especially cinema and music).
Short stories usually deal with nostalgia and optimism within a highly pessimistic society.
Reader insights
Be the first to share your insights about this piece.
Add your insights