GODZILLA VS KONG Movie Review
Spoiler Review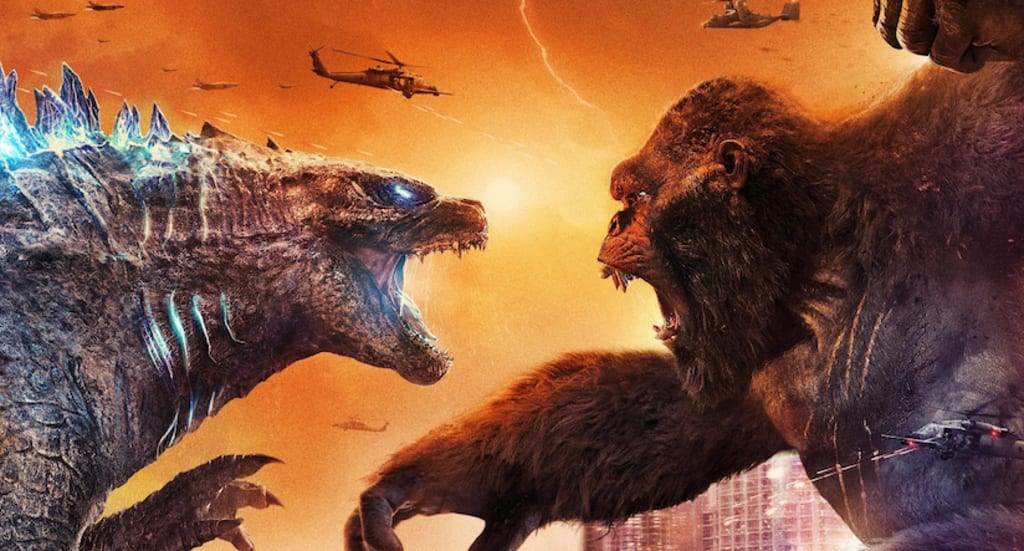 GODZILLA VS KONG - Produced by Legendary Pictures - Distributed by Warner Bros. Pictures (Worldwide))
Awesome fights, with plenty of action!
‌ Godzilla Vs Kong did not disappoint, and is one of the better (new) Godzilla/King Kong movies. Admittedly, it still carries a lot of the old criticisms of there being a lot of scenes with sometimes boring characters, who will just sit around talking. Ultimately, this film takes a long while to get started, as we meet new and old (human) characters to this franchise, and catch up with them, learn more about the plot, Godzilla and Kong through sometimes dull exposition dumps. However, by the end of the film, I was routing for most characters to survive.
‌ There are a few stand out performances, that I believe are worth mentioning. There is young woman character (Eiza González) who works for the company that owns King Kong. I found this character quite funny as she would often refer to Kong as "The Monkey" which I always found hilarious. She is also a bit of a villain, as she attempts to screw over our would be heroes in the end, however she gets her just deserts by "The Monkey" himself. Which was quite satisfying.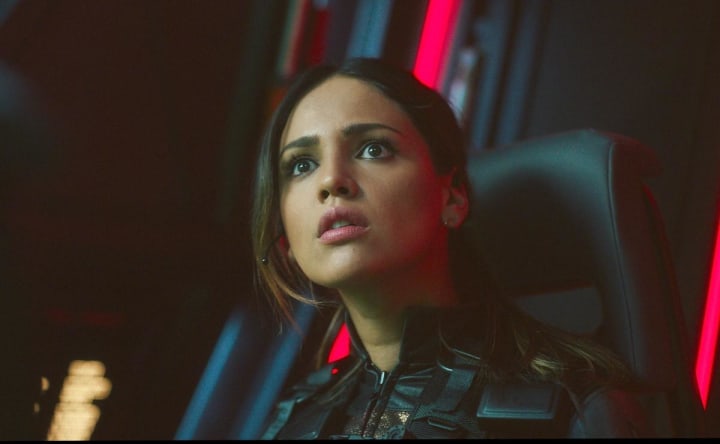 My favourite character has to be the little deaf girl (Kaylee Hottle) who can communicate with King Kong using sign language, her mother figure Dr Ilene Andrews (Rebecca Hall) is a good character, but kind of generic. There is a second group of characters, the daughter from the previous film (Millie Bobby Brown) goes on a adventure to Hong Kong with a boy (Julian Dennison) and this comic relief character who is a conspiracy theorist (Brian Tyree Henry). I found this part of the film to be entertaining, but the deaf girl, Dr Ilene Andrews and Dr Nathan Lind (Played by Alexander Skarsgård) helping King Kong was (in my opinion) the better storyline that was told within this film.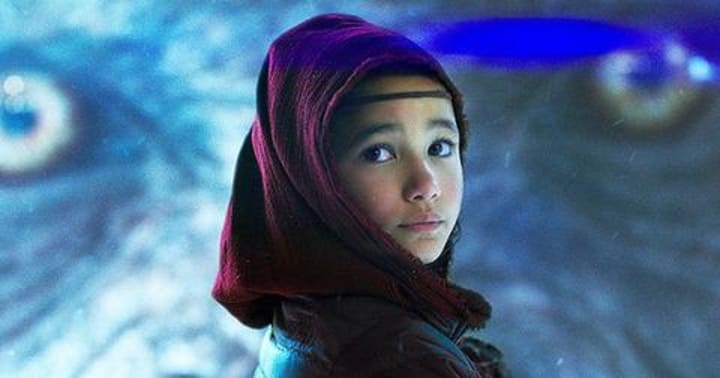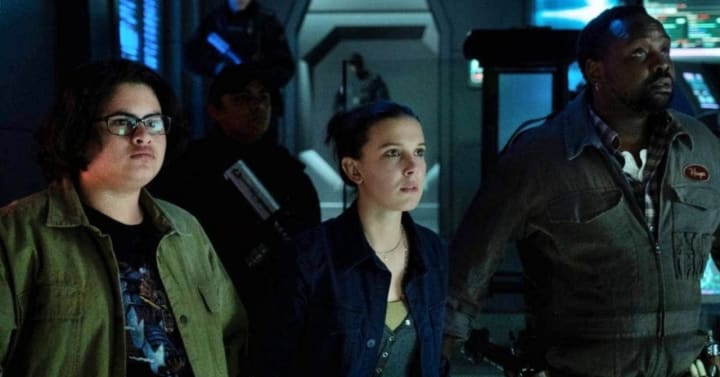 Now, with the human story parts out of the way, what about the monsters? Well, I can safely say, that the monster fights in this film are truly epic! In all honesty I was getting bored around the first 30 minutes, but once Godzilla first strikes and Kong escapes his clutches, we are treated to a fantastic action sequence, where Kong and Godzilla throw airplanes and battleships at each other. Even the humans are helpful, dropping bombs onto both Kong and Godzilla. There are even science fiction style air crafts that can fire a million torpedoes and fly around the monsters with impressive speeds.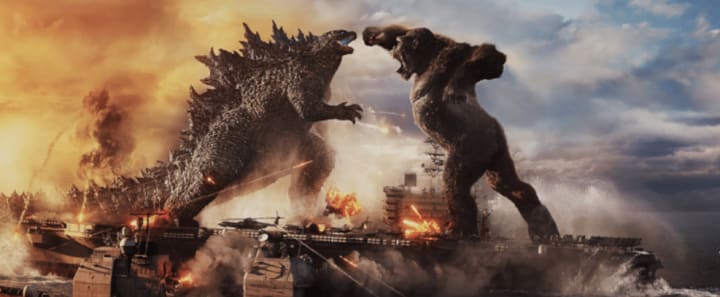 But my favourite part, is that Godzilla Vs Kong is actually a secret Mecha-Godzilla movie! It is revealed that the only reason Godzilla has gone on this rampage, is because he seeks this new Godzilla that will destroy Hong Kong. In the end we get a really cool tag team battle where Kong and Godzilla actually team up and absolutely destroy Mecha-Godzilla! It's awesome!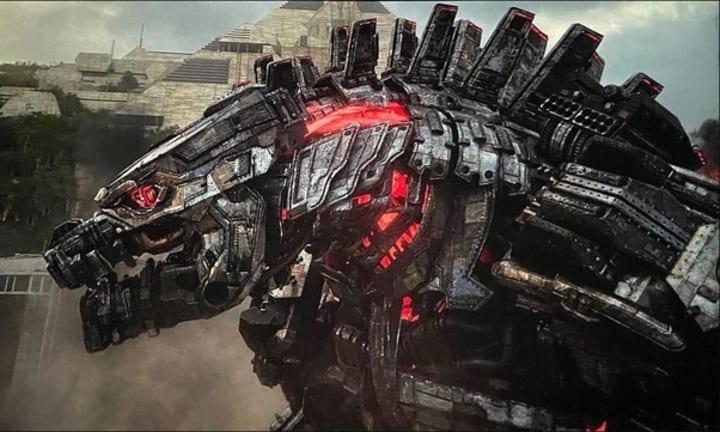 Ironically, the film is called "Godzilla" Vs Kong, which made me think this film would focus mainly on Godzilla, with Kong being the Villain, but no. This is very much a King Kong movie, where we occasionally cut to Godzilla's rampage across the world towards Hong Kong. Godzilla is set up to be our main antagonist, but then the Mecha-Godzilla twist is revealed within the third act, changing the dynamic of the whole film into a tale of misunderstanding.
Perhaps I would've preferred if this film balanced Godzilla and Kong's screen time more evenly. But then again, with this new series of films, Godzilla has had more movies, so Kong is mostly a new character (at least in this movie Series) so fair enough, I suppose. King Kong ended up being a really fun character, he has a personality and can actually communicate with the deaf girl (I mentioned earlier) through sign language. We get to see his home world, buried under our own earth and we travel to a King Kong scale thrown room, where Kong can pick up weapons, sit on chairs and even walk down stairs that are all scaled up to his size. It is very interesting to think that in this secret underworld (Known as The Hollow Earth), King Kong and Godzilla are normal sized and not the gigantic monoliths that we know them as. Overall I'd say 50% of screen time was on Kong, 30% on humans and another 20% on Godzilla. So, King Kong is basically our main character.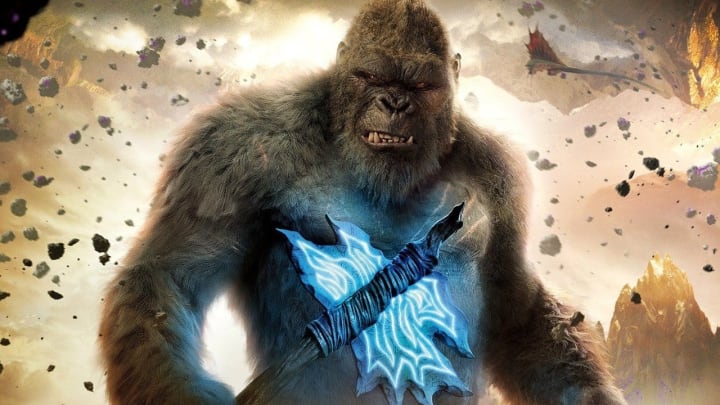 In the end, Godzilla Vs Kong is a nice addition to the franchise, and if you want to see angry monsters fight each other to epic music (with plenty of destruction) then this film is for you. Perhaps the human scenes and exposition dumps are essential to the plot. But, I think they can go on a little too much, especially early on when there is no danger and it's just characters travelling to Hong Kong on boat, or the daughter character just talking to the conspiracy theorist in an empty bar, etc. Scenes like this did feel a little bland and it takes a while to really enjoy these characters in my opinion.
Conclusion:
Godzilla Vs Kong is a 4 star movie in my eyes. It is paced rather well, has fantastic CGI and awesome action sequences that are a treat for the eyes, it is the perfect pop corn flick in a lot of ways! But, unfortunately the very slow beginning, heavy exposition dumps early on and the fact that I found the first 30 minutes to be a bit if a bore, I have to give it a 4 instead of 5. Still a great film and would watch this again.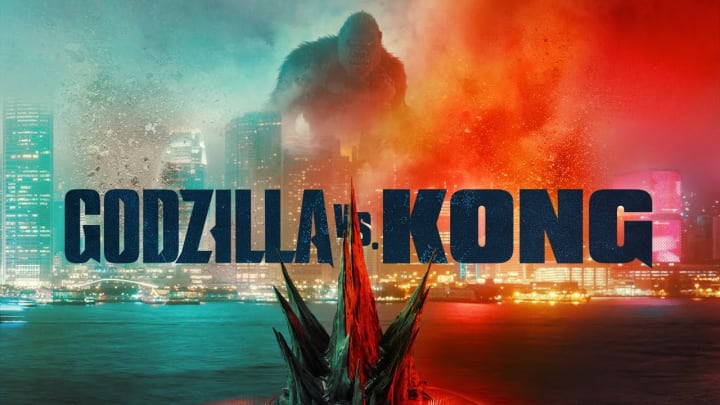 Thank you for reading this review. Hope you found this insightful!
movie
About the author
Hello there.
My name is Joseph Roy Wright, the British author of 5 Independent novels!
I like to write about movies, pop culture, fiction and horror! I review all the latest films (and classics), I also like to write short stories.
Reader insights
Be the first to share your insights about this piece.
Add your insights