Ghosts and Goals
My Ghostbusters Story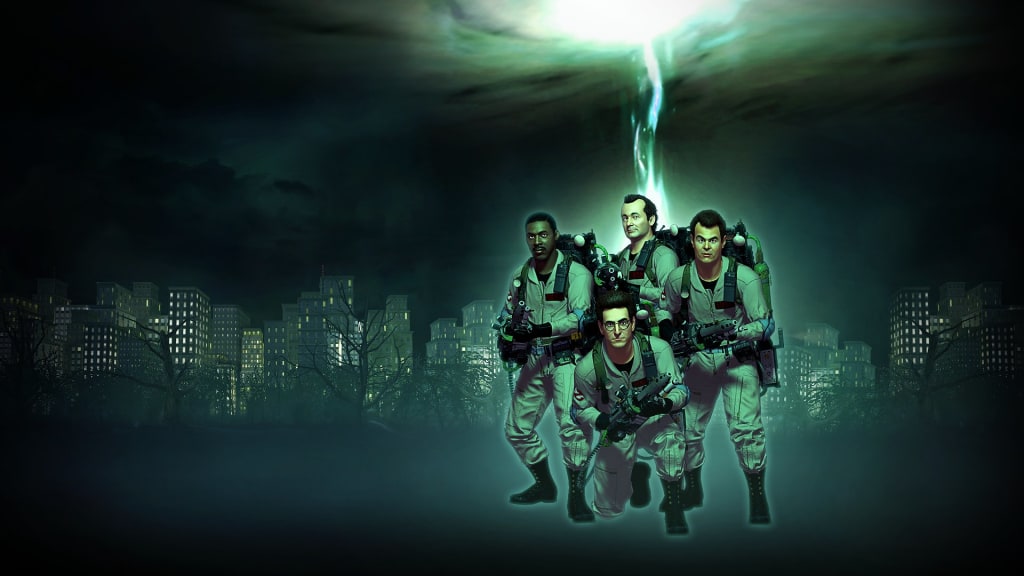 In the summer of 2012, something miraculous happened, something I wasn't expecting nor sought out to do; I shook Bill Murray's hand. Many people have done it I'm sure, but I wasn't at a comic book convention or a movie premiere, nor was I in California hoping for a celebrity run-in, or in New York City looking for g-g-g-ghosts! I was at a Taco Cabana in Austin Texas, waiting in line to use the restroom. Along comes another weary traveler searching for a spot to drain, at first I pay no mind, until the old grey-haired man surpassed the line and went straight into the restroom. At first I was appalled, we had all been here waiting- but of course, I wasn't going to say anything, because – wait a minute… my brain did an automated search through memories and movie databases… that old man looked familiar… THAT WAS BILL MURRAY! I was overcome with joy, so much so I didn't need to pee anymore (or maybe I just did), I couldn't wait for him to come back out of the restroom so I could at least tell him I was a fan of his work. About a minute or two later, he comes out of the restroom; I have only seconds to make my move, I'm not sure what to do or say, so I reach my arm out (almost as if to stop him from walking away) "Bill!" I said, "Yes?" He replied calmly. "May I shake your hand sir?" I asked. As he extended his hand to meet mine he said "they're nice and clean now" and he smirked as we shook hands, and then he walked out of the Taco Cabana and into one of my favorite celebrity run-in moments.
In the summer of 2013, about a year later, a friend informed me he was going to a bottle signing at a local liquor store. I hadn't really heard of 'bottle signings' before, so I took the bait. "Who's signing bottles?". Dan Aykroyd is signing bottles, that's who. Why would he be doing that? For the ill-informed, ol' Elwood Blues is the co-owner of the distillery that makes Crystal Head Vodka, quadruple-distilled and seven times filtered, with the final three filtrations through Herkimer diamond crystals. I had yet to know all of this, all I knew was "alright, let's go meet Dan Aykroyd!". The line was very long and the day was very hot, with the body of geeks and ghostbuster uniformed fans wrapping around the side of the building… I was worried we might not make it in time to meet him, as the signing was only for 2 hours. The good news – I missed the cutoff point by one person, the bad news – no more time for pictures, only handshakes… though this wasn't really bad news for me as I still get a signed bottle and a handshake from comedy legend and second ghostbuster in 2 years. This is when it hit me…
I was shaking a ghostbuster hand a year! That's a pretty good average, I'd say. Right then and there, after I shook Dan's blue's singing ghostbusting hand, I made a goal: I was going to shake every ghostbusters hand before I die. Call it a "bucket-list" goal, call it what you will. I just knew that I felt very good about this.
In 2012 I shook Bill Murray's hand.
In 2013 I shook Dan Aykroyd's hand.
In 2014 Harold Ramis DIED.
…and with him, my dream.
That's when I swore to never make a goal again.
I know what you're thinking, 'Bryan, 3 out of 4 ain't bad!', but for Ernie Hudson's safety, I'm laying this to rest.
celebrities
About the author
Hello! I am a comedian, short film & sketch maker, writer, artist, movie fanatic and rambler... I'll stop there.
You can check out some of my work at YouTube.com/youreinvitedTV or follow me on any social media platform at @TheBryanPowell