Get Out (2017) Movie Review
Horror / Thriller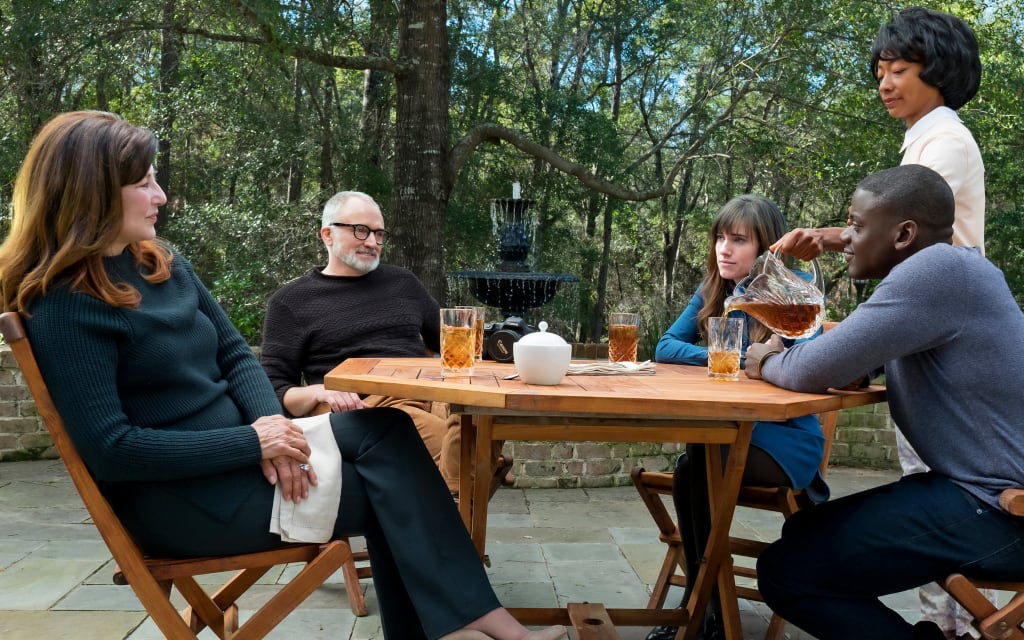 98% Rotten Tomatoes | 7.7/10 IMDb
Jordan Peele's directorial debut, "Get Out," which premiered in a secret screening at the 2017 Sundance Film Festival, proved that he is a multi-talented artist, and one of the greatest directing talents of this generation. Peele had previously gained recognition for his work as an actor and writer on "Key & Peele" and feature comedies, but his directorial debut is a complex and accomplished genre hybrid that highlights his talent in a fresh and sharp way that studio horror movies seldom achieve. "Get Out" is both unsettling and hysterical, often in the same moment, and is entirely unafraid to call out people on their racist attitudes. Peele's ambition to write and direct a movie he hadn't seen before is precisely what more filmmakers need to do in Hollywood to create unique stories.
Peele's film is essentially about the unsettling feeling when you know you don't belong somewhere, that feeling of being unwanted or perhaps even wanted too much. He infuses the age-old genre foundation of knowing something is wrong behind the closed doors around you with a racial and satirical edge. What if going home to meet your girlfriend's white parents wasn't just uncomfortable but life-threatening? Peele's film takes the audience on an unpredictable thrill ride with a unique perspective on race in America.
The movie begins with a young man, played by Keith Stanfield, walking down a suburban street, joking on the phone about how he always gets lost because all the streets sound the same. Suddenly, a car passes him, turns around, and slowly starts following him. It's an otherwise empty street, so the guy knows something is wrong. The intensity of the situation is amplified perfectly, and we are thrust into a world in which the safe-looking suburbs are anything but.
Cut to our protagonists, Chris (Daniel Kaluuya), and his girlfriend Rose (Allison Williams of "Girls"), preparing to go home to meet her parents. Rose hasn't told them he's black, which she blows off as no big deal, but he's wary. His TSA Agent buddy (a hysterical LilRel Howery) warns him against going too, but Chris is falling in love with Rose. He'll have to meet them eventually. Rose swears her dad would have voted for Obama a third time if he could have. However, something is unsettling from the minute Chris and Rose arrive at her parents' house. Dean (Bradley Whitford) and Missy (Catherine Keener) seem friendly enough, but almost too much so, like they're looking to impress Chris. More unnerving is the demeanor of a groundskeeper named Walter (Marcus Henderson) and a housekeeper named Georgina (Betty Gabriel), who almost appear to be like the pod people from "Invasion of the Body Snatchers." Chris tries to excuse their behavior, thinking maybe Walter is jealous and perhaps Georgina has an issue with Chris being with a white woman. The lurking presence of Rose's odd brother (Caleb Landry Jones), who often looks like he's auditioning for a remake of "A Clockwork Orange," doesn't help. One night, while Chris is outside having a smoke, things start to get even stranger, in ways that are best left unsaid, so as not to spoil the movie for those who haven't seen it yet.
Ultimately, what makes "Get Out" so effective is the way that it uses horror tropes to explore the very real anxieties and fears that people of color experience in everyday life. Peele isn't just making a horror movie; he's using the genre to make a social commentary. By using horror as a vehicle to explore issues of race and identity, Peele is able to tap into a primal fear that is universal while also providing a pointed critique of American society. The film is a powerful statement on the nature of racism and how it operates in the world today, and it's a testament to Peele's skill as a filmmaker that he's able to convey these ideas in such an entertaining and accessible way.
In the end, "Get Out" is a tour de force of horror filmmaking that announces Jordan Peele as a major new talent in the world of cinema. The film is scary, funny, and thought-provoking all at once, and it marks a significant step forward for the horror genre as a whole. By taking risks and pushing boundaries, Peele has created a film that is both entertaining and socially relevant, and one that will likely be remembered for years to come. If you're a fan of horror or just great filmmaking in general, "Get Out" is a must-see movie that you won't want to miss.
Reader insights
Be the first to share your insights about this piece.
Add your insights