Funko Figures From TV Series
When they dig me out from beneath a mound of stuff I envision a mountain of Funko Pop! figures from TV series and movies.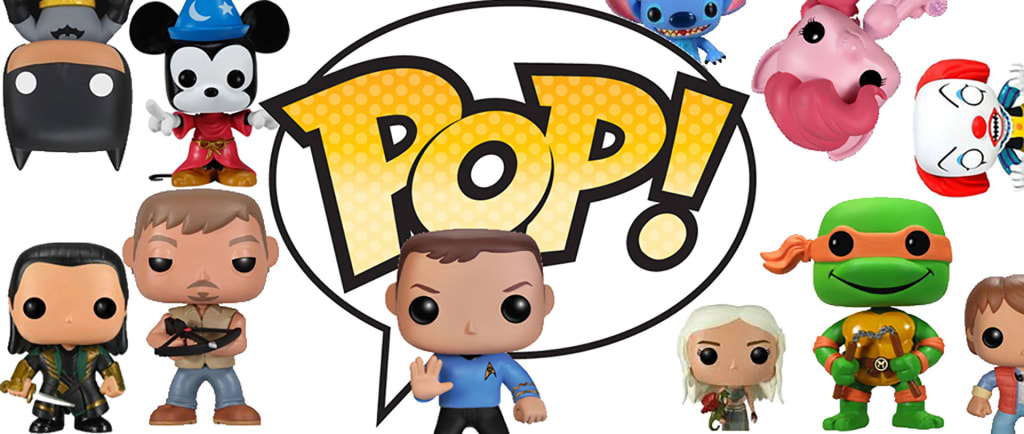 I am not a hoarder though I would like to be, one day. Not like forever just for a few months until my family calls the TV show and does an intervention. When they dig me out from beneath a mound of stuff, I envision a mountain of Funko Pop! figures. I can't get enough of them. It's like crack for action figure collectors, and for the rest of you it's like a whip-its. For those of you who don't know what whip-its are they make you feel good for a minute. You say a few dumb things in a dumb voice and then you want to do it again. Same exact thing with buying Funko figures. I don't think anyone owns just one Funko. Literally, I have never met anyone who owns just two. Once you start on Funko, you don't stop. I go through phases of collecting. My most recent additions were specific to TV series. They sit on shelves, still in original boxes where they will stay till the collection gets passed down to my grandchildren, (in my mind that actually happens). But I will really enjoy looking at them until then, "then" being death. Though I have taken Raymond Reddington, of Blacklist fame, out of the box a few times for advice.
Raymond Reddington, much like on TV, is the badass of Pop! crossover vinyl figures. Funko is famous for picking exceptional characters to transform into action figures. The Blacklist's Reddington was an exceptional choice. Reddington is conflicted, much like Funko Collectors who cherish vinyl dolls. By pairing up with famous franchises like South Park, Pixar, Marvel Comics, DC Comics, Star Wars and Disney, just to name a few, Funko has created a tangible universe for TV. If you like Ray, you have to get Elizabeth Keen as well.
From the really f#$ked up season of American Horror Story, even more f#$ed up then the first four seasons, comes Holden. The Hotel season, about the weird retro Hotel Cortez in LA. Holden's background story is horrible. Abducted off a merry-go-round he now drinks blood and plays with other residents of Lady Gaga's Countess crew. It is one of those Funkos, you just can't stop staring at.
If you are looking for the truth who better to be by your side. The X-Files Set has both Mulder and Dana Scully. I almost saved this for vintage TV Funko favorites, but since they brought it back in 2016, it feels as fresh as it did in the 20th century.
My favorite guy on the wackiest show. I mean it, Ash vs Evil Dead is bizarre and I can really only watch one episode at a time. Not for binging. By far my favorite guy on the show is passive aggressive Pablo.
Yet another conflicted character from a show that wants to be an adult kids show. Once Upon A Time is a tremendous hit, but the real sensation is the love to hate and then love again Regina. I took her our of the box too. It feels safer having her around. Also weird, but I watch the show with my 12 year old daughter and she kind of thinks this Funko is hers. She actually kind of thinks all my Funkos are hers.
The Benedict Cumberbatch classic is one of my all time favorites. Too much respect to take this guy out of the box. From the BBC's amazing series Sherlock, comes the night table Funko whose imaginary violin lulls you to sleep. That sounded creepy, but collectors know what I mean. I hope. Otherwise it is creepy.
I consumed the entire Preacher series. Then I consumed the graphic novel. I highly recommend a bit of sativa for this wild trippy show. Preacher series of figures came out real fast. The genius collectors at Funko who decided on Preacher can only be described as demented geniuses. DC Vertigo's characters are so crazy that it is the only series that I have twice on this list. Jesse Custer is the protagonist who ties it all together and is a staple for any fan of the TV series. Followed rapidly by Arseface.
No TV series list of Funko Pop! would be complete without a Breaking Bad series figure. For me it was always Jesse Pinkman. For some reason I empathized with his character, he was just a kid when he came under Walter White's spell. He was his chemistry teacher, terminally ill and decides to run a drug empire. Again I ask myself: Who thinks of these plot lines? There absolutely insane in hindsight.
What can I say that hasn't been said? This is another one of those Funkos that you have a hard time not staring at it endlessly. Again hard to watch this series without my PAX.
I remember when Sons of Anarchy premiered. I watched it from day one. Ron Perlman had achieved iconic status as Hellboy. But he returned and redefined himself as a notorious biker gangster. He was the Godfather on a Harley. I identified with his often conflicted world. Business vs family and how they become one and the same.
And then there is Outlander, why do I feel so guilty that I like Outlander? It is not a show I watch with my wife, I actually keep up on this one on my own. Though I originally bought it as a statement piece about women's empowerment, I have come to appreciate it more as the seasons have gone on.
Collecting Funko figures kind of helps me remember all my favorite pop culture references. And honestly, they are kind of more interesting than a lot more expensive stuff I have hanging on walls.
About the Creator
New Yorker in his forties. His counsel is sought by many, offered to few. Traveled the world in search of answers, but found more questions.
Reader insights
Be the first to share your insights about this piece.
Add your insights