'Four Weddings and a Funeral': S01.E10. "New Jersey"
Focusing on weddings, reconciliation, and citizenship, we find everyone has a story to tell.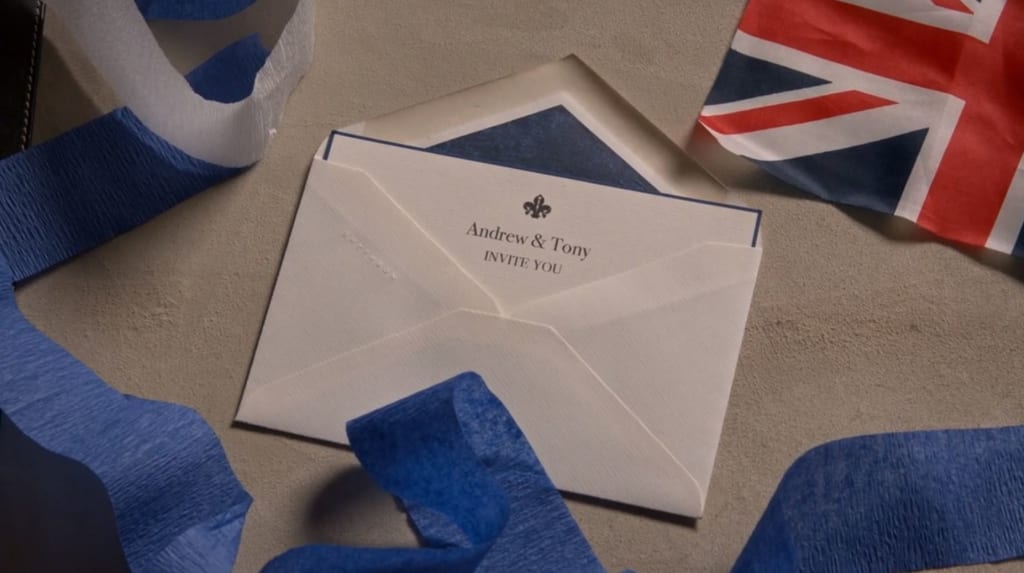 Arguably the best episode of the series thus far, the Tristram Shapeero-directed New Jersey closes with everyone having a good time at the wedding reception for Duffy (John Reynolds) and Gemma (Zoe Boyle). While I must admit I was hoping we were going to see Andrew Aldridge (Alex Jennings) and Tony James (Nathan Stewart-Jarrett) get married, the wedding we saw was beautiful.
In the film which serves as the source material for this miniseries, Charles (Hugh Grant) and Carrie (Andie MacDowell) is the couple that commits to a relationship without getting married. Because Kash (Nikesh Patel) and Maya (Nathalie Emmanuel) essentially play the lead couple in the miniseries, it would be natural to think that this would be the pairing that the production's creators, Mindy Kaling and Matt Warburton, were going to have not get married.
In the Shapeero directed episode, it's Bryce Dylan (Dermot Mulroney) and Ainsley Howard (Rebecca Rittenhouse) that choose to not get married.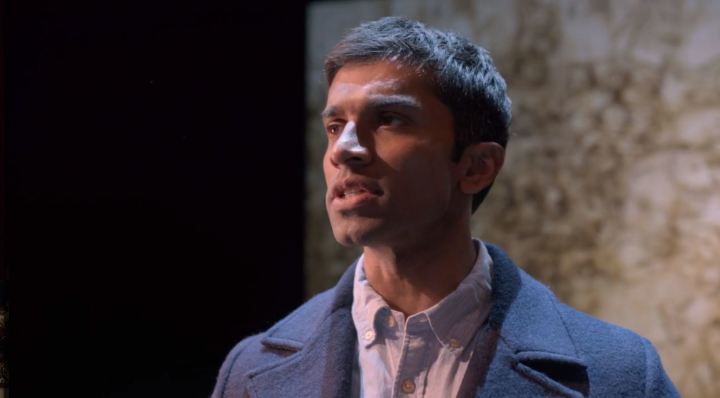 The episode opens with Kash auditioning to play Hotspur in Shakespeare's Henry IV, Part I. Kash's walk from the theater showing the seasonal changes is a nice touch. We see Kash walking the same route during all four seasons.
The farmer's market scenes are masterfully done. This is not the first time such a sequence has been used to indicate the passage of time. There is something similar used in the third Harry Potter film.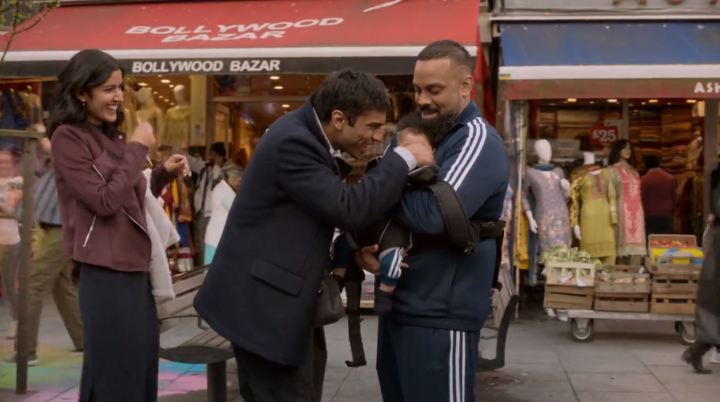 With Kash walking through the farmer's market, the sequence begins with Summer and Kash's brother, Asif (Krrish Patel), who can be seen giving a girl a red rose. In the autumn, Fatima (Rakhee Thakrar) is expecting her first child. The leaves are a dead giveaway that it's autumn. Kash is excited to see his friends, Fatima and Basheer (Guz Khan).
A flurry of snow shows that the scene has moved forward to winter. If the snow wasn't enough to tell viewers we are seeing a winter scene, Christmas trees on sale at the farmer's market absolutely give it away. As Kash walks in the background, indicating it is spring, Asif gives the girl a yellow chrysanthemum.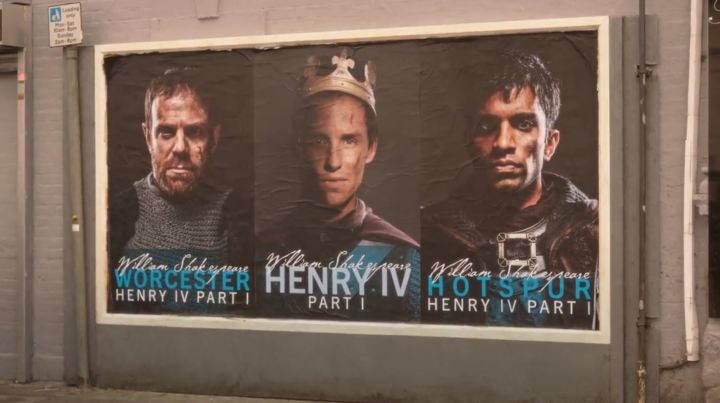 Showing that a year has gone by, as Kash walks by, Fatima and Basheer are with their son. The sequence ends with a poster adverting Shakespeare's Henry IV, Part I. Kash got the role we saw him auditioning for before the sequence began. The poster shows Eddie Redmayne playing the title character.
Early in the episode, we see Ainsley having difficulty organising her own wedding with Bryce, because she used all her best ideas for planning her wedding with Kash. Ainsley is trying to prove something to herself, but it comes across to Bryce that she's not yet over what happened with Kash at her first wedding. Consequently, because of how Ainsley is behaving, Bryce puts their wedding plans on hold.
When we see the envelope with Andrew and Tony inviting friends to something, a wedding was the first thing I thought of because that was what I wanted to see. With Andrew proposing to Tony in the previous episode, I was really wanting to see them married before the end of the miniseries.
"This is the most important day in Andrew and Tony's lives," Zara (Sophia La Porta) tells Craig as he fusses with their daughter.
Julia (Ashley Madekwe) and Molly (Uma Warner) are there too. Sometime in the past year, Julia has told her daughter the truth about Craig, and his connection to her, because Molly calls Craig "Daddy."
Meanwhile, Gemma and Duffy have overslept. Despite Duffy having practically lived at her house for almost a year, Gemma has not yet plucked up the courage to tell her son, Giles (Hector Bateman-Harden), about her relationship with his Latin tutor.
It's funny how Gemma and Duffy seem to think Giles has no idea they're in a relationship. Giles is more intelligent than either Gemma or Duffy give him credit for. Duffy, when he walks into the house, clearly go dressed in a hurry.
Giles isn't completely oblivious to this point, but he doesn't mention anything. He allows his mother and Duffy to continue the charade they're maintaining for his benefit.
Even though comments both Zara and Duffy make suggest it's a wedding, unfortunately, Andrew and Tony aren't getting married in this 10th episode. Even though we don't get to see Andrew and Tony get married, we do see something significant in their lives becoming a reality.
When we finally get to the event, we see Tony officially becoming a British citizen. How cool is that? Once upon a time, people were required to say "British subject," but that's in the past.
At the reception for Tony's citizenship ceremony, Gemma says to Ainsley that it's only been a year since Giles's father, Quentin (Tom Mison), died. Was Gemma speaking generally to Ainsley, or does she not know it's been longer?
The image of Central Park is nice. The day the scene was shot looks like it was overcast. The scene, one establishing that we're now in New York, quickly transitions to Maya's office. Considering Maya's working relationship with Marcus (Jamie Demetriou) when she worked for Andrew, it would be natural to think Marcus would be the last person she would hire.
At some point in the past year, Maya hires Marcus as her campaign manager. She's running for public office in New York. Instead of writing speeches for other people to give, she's writing them for herself.
The conversations Maya and Kash are having with their respective dates are the same. Because of this, the scenes flow together perfectly. The editing in the restaurant sequence could have been done badly, but because it was done by Katie Abel and Adam Burr, the scenes spliced together is magnificent.
The series creators literally fill this episode to the brim with action. Not a second passes without something happening. Even the brief, meaningless conversation between Andrew and Craig has a modicum of meaning.
Maya shows up on Ainsley's doorstep, but she's not ready to talk to her. Ainsley is still under the impression that Kash called off their wedding because he was interested in Maya. It's not until Kash tells her what really happened that the pieces all fall into place.
Meanwhile, Duffy is back in New Jersey, because his mother is in hospital. Back in the day, when Duffy was at college, his mother developed cancer. She has recently had a relapse.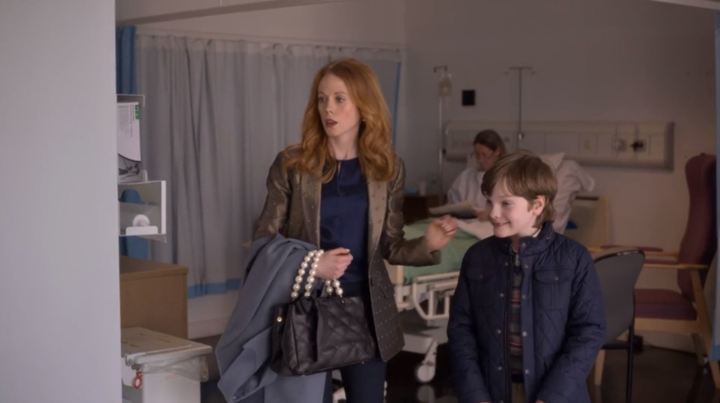 Gemma and Giles surprise Duffy by showing up at the hospital. There is a touching moment at the Duffy household where Gemma finally gets around to telling Giles about her and Duffy. He wasn't oblivious. He knew about them, but he was fearful that accepting Duffy would mean that he would love his father less.
Even though Giles says that the room for the wedding looks "really good," Ainsley rescues Gemma and Duffy from wedding planning. Interestingly, while everyone else had to cross an ocean to get to the wedding, Maya is the last one there, and she was in New York when she received the invitation.
When Gemma sees Maya isn't happy, she tricks Kash into thinking Maya and Duffy are getting married.
It's obvious, as Kash rushes to the wedding, that he didn't bother to get any American money, because he tosses British notes at the cab driver before exiting the vehicle. At least Ainsley's lie worked. It got Kash to cross the Atlantic so that he could tell Maya how he feels.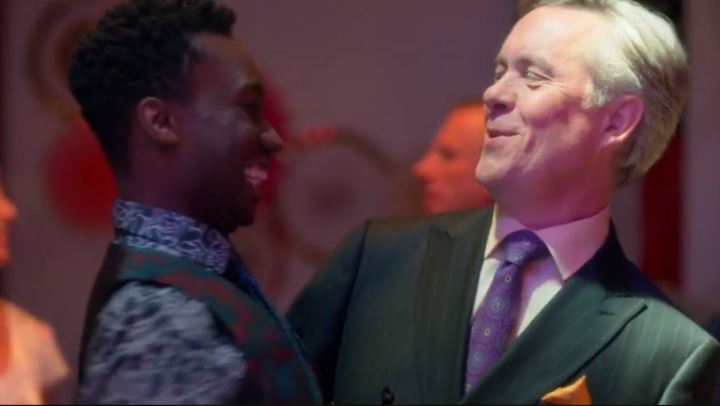 The closing scenes are perfect. Everyone is having a great time. Hopefully, if there is a second miniseries, we will see Andrew and Tony get married.