Ford v Ferrari (2019)- Review
Ford v Ferrari is drama based on the real story of Ford Motor Company trying to enter the 1966 24 Hours of Le Mans.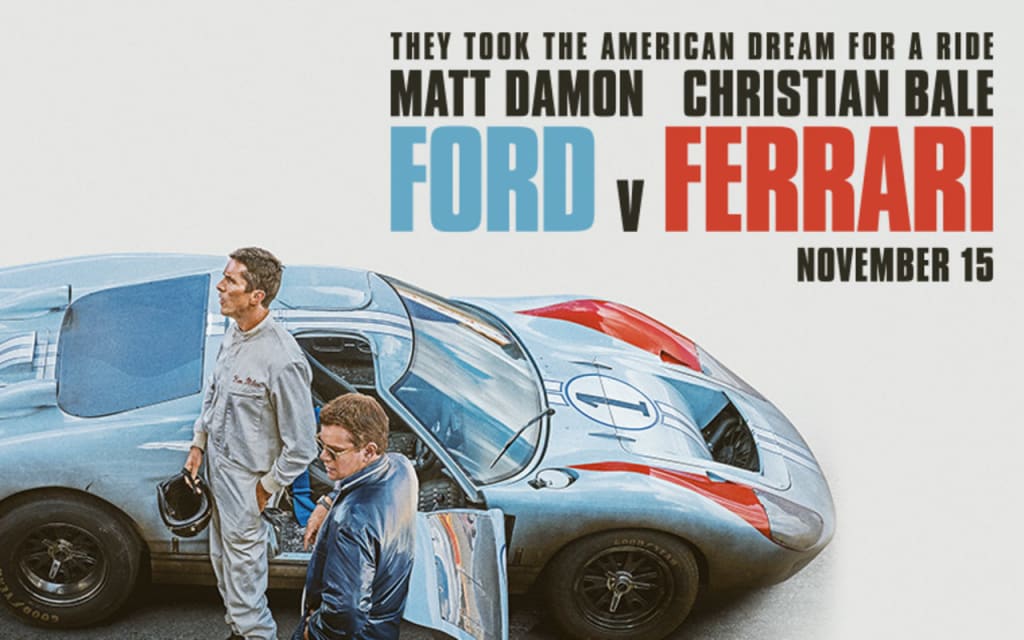 Ford v Ferrari is drama based on the real story of Ford Motor Company trying to enter the 1966 24 Hours of Le Mans. The film introduces Carroll Shelby (Matt Damon), a former driver who won Le Mans in 1959 & owner of Shelby American a vehicle manufacturing company which he founded after his career as a racing driver was cut short due to medical conditions. Further, we are acquainted with Ken Miles (Christian Bale) a British racing driver and a part-time mechanic. Miles has a reputation of being a hot-head and being hard to work with.
The real story then begins with executives of the Ford Motor Company (FMC) proposing to Henry Ford II of adding a racing division to the company which will be helpful in increasing sales. Ford convinced with his executives' pitch agrees. Rather than build a division from scratch FMC thinks it would be better to acquire an existing racing team. A perfect opportunity presents itself as Ferrari is in the search for a buyer for its distressed company. Positive and hopeful FMC exec's reach out to Enzo Ferrari the owner of Ferrari with a potential deal. Ford expecting a conformation of the deal being completed, is informed Enzo Ferrari, after stalling their deal and using it as a bargaining chip has completed a deal with Fiat. Ford takes this as a betrayal and feels he was wrong done by. Vengeful Ford orders his staff to build a racing division on its own with the sole purpose of beating Ferrari.
Then Shelby is approached by an FMC exec to build a car which is competitive enough to win 'the most prestigious automobile race in the world' & 'Grand Prix of Endurance and Efficiency', the 24 Hours of Le Mans. Shelby initially not fully convinced, that the level of success can be achieved as visioned by the executives of the FMC, still accepts. Shelby then tries to get Miles on board as its driver. Miles too having the same reservations as Shelby did, is convinced by Shelby to join him. The film continues with the two trying to build a perfect car and win the coveted race. In between there are multiple speed breakers that they need to try and find solutions for.
The film surely keeps the viewer curious with the fascinating real story. Unlike other motor racing movies, this one focuses more on the backend workings of a racing team than the on track excitement of the race, which too is wonderfully depicted in the latter part of the film. The movie could have been christened better, as the title can be misleading from which the viewer may assume the movie to be a portrayal from a neutral point of view, focusing on both Ford as well as Ferrari, which is clearly not the case. For major parts the movie sticks to the real story, but includes a few fictional stories and characters as well, still it does not let down the viewer.
Audiences may have been disappointed when Tom Cruise and Brad Pitt who were initially casted and replaced by Damon and Bale. Still both Damon and Bale do a stellar job in their portrayal of the real life characters. We surely have seen better acting performances from the pair previously, but still this performance does not extract any obvious complaints. The screenplay and dialogue is well rounded with what one would expect from such a movie. Director James Mangold too does a fair job, leaving very less room for disappointment. The post production effects could have done a better job, but maybe was kept mellow considering the time period.
Taking everything into account, Ford vs Ferrari is great watch lacking any areas of disappointment. Motorsport lover or not the movie keeps the viewer interested throughout and surely deserves all the Academy Award nominations it has received.
Acting- 8.5
Casting- 9
Cinematography- 8.5
Dialogue- 8
Directing- 9
Editing & Effects- 7.5
Sound & Music- 7
Story/Plausibility- 8.5
Storytelling- 8.5
Rating- 9