For Your Consideration: James McAvoy for Best Actor in Split
Split came out so long ago people have forgotten how brilliant James McAvoy was.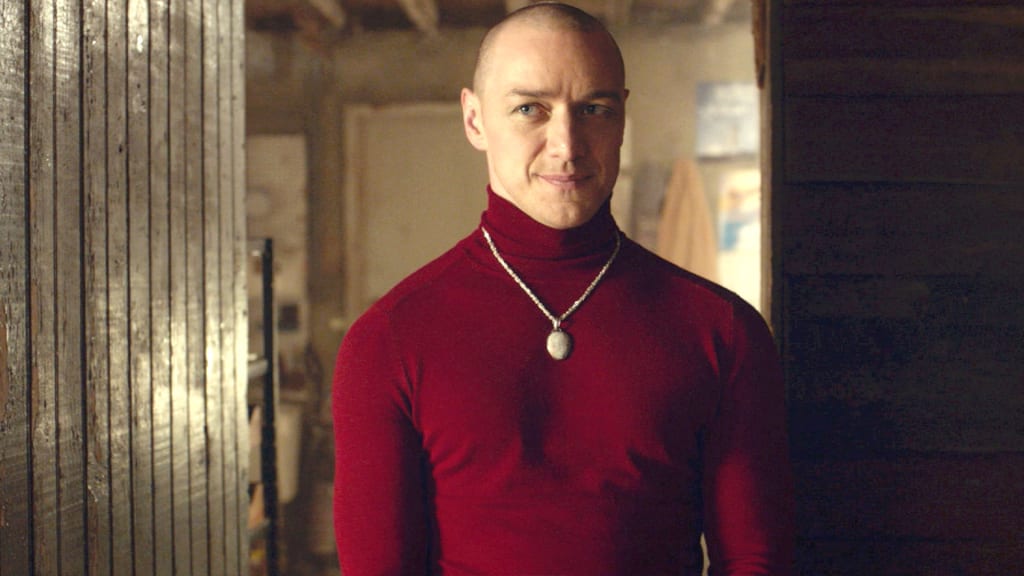 In a year in which Gary Oldman brilliantly embodied Winston Churchill in The Darkest Hour, it's easy to forget that other actors have been just as good as or better than the longtime favorite character. For instance, Daniel Kaluuya in Get Out or James Franco's incredible comic performance as Tommy Wiseau in The Disaster Artist, or the subject of this article, James McAvoy in Split. Horror movie performances rarely get awards buzz, especially when they came out so long ago, January, that they feel like they should have been considered last year. But McAvoy was so indelible, so remarkable in Split that I feel compelled to remind everyone.
Split tells the story of three teenage girls, played by Anya Taylor Joy from the equally brilliant horror, The Witch, Haley Lu Richardson and Jessica Sula, who are kidnapped by a man named Kevin, or is he Dennis? Eventually we will learn that he is Kevin but also Dennis, and 21 or perhaps 22 more personalities living in the mind of Kevin Wendell Crumb. Each personality has its own distinct characteristics and each seem to be making a play to be the lead personality in a very dangerous war for Kevin's mind.
James McAvoy has wowed us before with his remarkable range and charisma. His Professor Xavier in X-Men Days of Future Past and X-Men The First Class is a perfect complement to that of Sir Patrick Stewart while remaining distinct. McAvoy was dangerous and exciting in the little seen, mostly forgotten dark action movie Filth, and with Split he graduated to be, in my mind, one of the finest actors working today with a complex, gritty and weird performance that you just can't take your eyes off of.
Watch McAvoy closely as the main personalities we see in Split. Dennis, the fastidious and temperamental control freak has a forcefulness that takes over any room he's in. Then there is Patricia who is warm and gentle but with the edge of a serial killer setting up potential prey. She and Dennis are like cult members devoted a dangerous idea that they call The Beast and are freakishly committed to seeing it come to life regardless of the havoc that The Beast will unleash.
Then there is Hedwig, a 9 year old boy. Anyone with a 9 year old boy in their life will recognize the petulance, the self-centeredness of a child who believes he is the center of the world because he kind of is, especially if he were an only child as Hedwig is imagined to be. How astonishing is it to watch McAvoy embody this child? His manner is so precise and the childlike mimicry is absolutely chilling. Hedwig never seems like a ploy, he is as much a fully crafted persona as either Dennis or Patricia.
Hedwig is at the center of arguably the best scene in Split, or at least the most darkly funny and chilling scene in Split, which comes when Hedwig takes Anya Taylor Joy's Casey to his bedroom. She's heard him talk about having a window in his room next to his sad little boombox on which he listens to Kanye West in the way a child might aspire to toward the things teenagers like in order to make himself seem older. That detail may have come from M. Night Shyamalan's remarkable script, but it is McAvoy that layers that into the performance and it's a fine bit of detailed acting. Then there is the dancing which is at once genuinely joyous, slightly terrifying and wildly entertaining.
One might argue perhaps that McAvoy has an advantage because he has so much to play but I would argue that that freedom is something a lesser actor might have over-indulged. McAvoy is perfectly measured in the way he precisely gives life to each of his personalities. And that he's able to be so precise and actorly while remaining in service to Shyamalan's big plot, with its big twist payoff further underlines what a remarkable piece of work McAvoy's performance in Split truly is.
Here's hoping my colleagues in the Broadcast Film Critics don't forget James McAvoy as we deliberate over our Best Actor options. I may still be torn over which performance should win between McAvoy, Kaluuya and Oldman, but I have no doubt that McAvoy is a peer to both of those front-running performances. Split is available now on Blu-Ray, DVD and On-Demand and you should definitely see it for yourself.
About the Creator
Hello, my name is Sean Patrick He/Him, and I am a film critic and podcast host for the I Hate Critics Movie Review Podcast I am a voting member of the Critics Choice Association, the group behind the annual Critics Choice Awards.
Reader insights
Be the first to share your insights about this piece.
Add your insights