'For All the Women Who Thought They Were Mad'
Confusing and Maddening.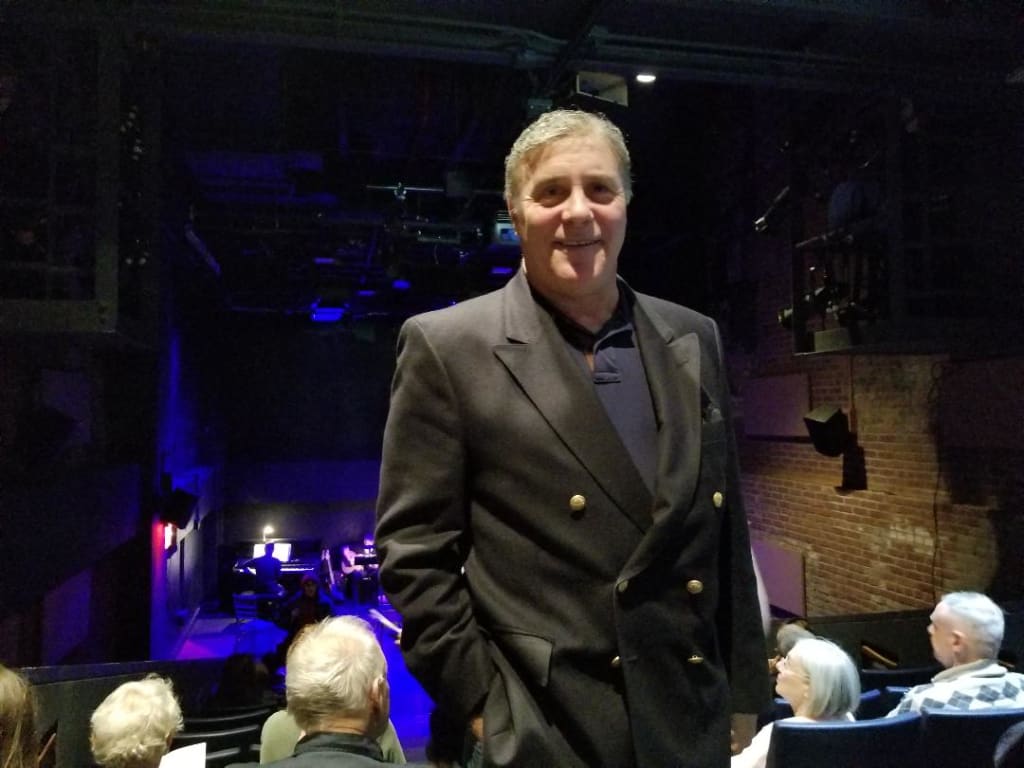 Robert Massimi.
For All the Women Who Thought They Were Mad has some good things in it: good lighting, scenic design, costumes and excellent sound design. This show also has some talented actors Joy (Bissera Tseggai), and Angela (Nicole Lewis).
Written by Zawe Ashton who is currently on Broadway in Betrayal; the show is billed as one that touches on many points but not for long on the subjects at point. It is about a daring and exhilarating fever dream about the forces that push a women from the everyday into free fall. The show explores the impact of work, expectations around childlessness and motherhood and the chasm between mental wellness and the healthcare system of women of color.
In a very intriguing set design, Daniel Soule sets Joy in a box, her office, which turns out to be her life. Joy is a dedicated worker for a company and she has really nothing else in her life. Joy has left her village for the big city to be a success as well as making her family proud. As her life goes on, however, the things that get in the way of her work are bothersome, a burden to her drive and determination. Joy, after all is a regimented person who jogs at lunchtime, changes her cloths constantly during work; she is laser-focused on her tasks at hand.
The play goes from a square box back to the town where she grew up. Family and relatives go about their daily lives, reminisce about the past, and what their future holds. Much pain and suffering has been brought to these women. The continual rain and high water table levels on the river add to the concern of these women at all times. The songs that they sing to the way that they interact with one another are ones of hope and happiness.
The play is not short of philosophical notions; religion, or witchcraft, and their firm beliefs about the many different things. These women always know right from wrong. In a world of wrong, these women do not bend on principals and values.
Resonant in this play is the sound design. Lee Kinney does some deft sound in keeping this play mystical, cutting edge and alive. Between the scenic design and the sound design the play is pleasant to watch and listen too. The costumes lock the play in nicely as well. From traditional garb to Joy's work outfits, Andrew Jean is able to capture the shows pulse and all three lay a nice foundation for this show.
Director Whitney White has us intrigued by the characters. We want to know more about them, what their lives have been and where they are going in the near future. The acting blends well and together White moves the actors in and out throughout the performance with great ease and relevance. White makes all the actors strong in their roles and collectively as performers. The direction gives us a sense that a storm is brewing both literally and figuratively; we are kept on the edge wondering as an audience when it will happen and to what degree it will happen.
Zawe Ashton is considered to be a new actor to be reckoned with. She has had great notices in Betrayal, in the Netflix series Wanderlust, as well as Velvet Buzzsaw. Ashton has been nominated, and won many awards for acting in the recent past. In writing For All the Women Who Thought They Were Mad, she is never clear on the main body of this work. The audience is never really certain as to where she is going as the play unfolds. The show's bio is that it touches on many women's issues and then moves on to another topic quickly. The problem here is that it never covers in depth anything that is important. Joy having a child and not wanting to be around the baby is understandable in the plot, but little else is brought to clarity with the two women. Even at the end of the play we are not exactly sure why Joy has become the way she did—what led up to this? Where is the child in all this storyline? To what effect do the songs mean in this play? Many questions are not answered here. Although well acted, it is not enough to make this play a standout. The chic, avant-garde gets lost on this weak storyline and leaves the audience wanting more clarity.
Even though we witness Joy's life and times, it only scratches the surface as to why she became so unhappy in her life. Equally confusing is that we do not know what is actually causing woman to have there hair fall out. In what is a healthcare issue for women of color, we don't know anything about the healthcare at all in this play (it is never spoken about), or why women of color are getting sick. With all the good things that go on in this show, it needs a better plot to it. Too confusing and not deep enough in its writing, this play languishes.
About the Creator
I have been writing on theater since 1982. A graduate from Manhattan College B.S. A member of Alpha Sigma Lambda, which recognizes excellence in both English and Science. I have produced 12 shows on and off Broadway. I've seen over700 shows
Reader insights
Be the first to share your insights about this piece.
Add your insights