First Time Watching The Parent Trap (1961)
I always watched the 1998 film remake starring Lindsay Lohan. Now this is my first time watching the original 1961 version.
1961 trailer The Parent Trap
I have always watched the 1998 remake film that starred a then young eleven year old Lindsay Lohan, Dennis Quaid, and late Natasha Richardson.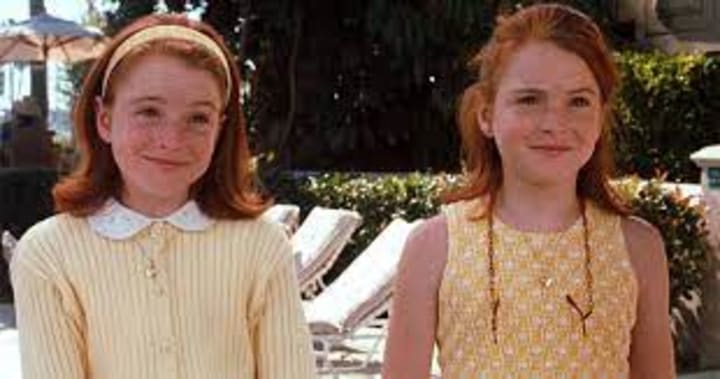 Now that I finally got my own Disney Plus, I finally get a chance to watch the original 1961 version.
The film opens at the opening sets at puppets making the story of parents hate each other and they have two daughtersAnd the daughters have to make a plan to make them love each other. Song plays "the parent trap". Song fades to the opening of the film at Camp Inch, a Summer camp we meet British Girl Sharon McKendrick (played by Hayley Mills) dresses nice with long hair coming out of a limo assign to her camp. At dinner while she was at line getting to know the girls at camp and grabbing her meal she meets another girl Susan (played by Hayley Mills) again same face different haircut from California face to face in a very awkward moment.They started to dislike each other and make devious pranks at each other The newest part was the dance and Susan and her friends weren't part of it after and decided to make a little prank cutting up her dress in front of a pretty boy showing off her knickers. The girls start to fight which honestly is pretty much my favorite part better than the '98 remake and they fight at the party which got them sent to the isolation cabin. At the isolation cabin the wind started to blow all of Sharons pictures Susan helps close all the windows and the two starts to talk and get to know each other.
The Two of them share photos of their parents and realize that they are twins. After realizing that they are sisters they've develop the plan to switch places with each other (Susan's idea).
Susan cuts Sharons hair just exactly like each other and start learning more about each other and teaching each other. In London half of the lines were the same as the '98 remake. Susan as Sharon finally meets her mom Maggie (played by Maureen O'Hara). The ridiculous part is that they question about her short hair. The only person who liked it is her grandfather. Susan and her mom started to spend time together to talk about the time her and her father met, dinner they ate and etc.At California, Sharon as Susan meets her father Mitch (played by Brain Keith) at the airport. At the house it looks like a cottage not a mansion. She sees her fathers new girlfriend Miss Vicky Robinson (played by Joanna Barnes) They met at the lake, she seem nice to her and they had a good conversation familiar to the '98 remake. At the golf course, When Sharon asks her father about her mother, he started to describe her in a deceitful way like a jerk. Vicky would start dissing her in front of her mother. Susan tells her mother her grandparents everything and how the twins switched places. The funniest part was how the parents meet each other again it started when Mitch sees his ex wife Maggie in a robe and he would be klutz and fall to the ground. The weirdest part is that his ex is in her robes. Then they started argue with each other until the twins stopped them. At dinner when the twins set up for their parents you know re-creating their first date, the girls performed for them and starts to sing "Lets Get Together" which was new for me because I heard the part when Lohan sing a part of it.
During the camping trip, the mom invited Vicky to the camping trip and decided not to go with the girls and when they were on the trip at the at night the girls pulled a practical joke on Vicky putting strings in her tent and honey on her feet while the baby bears lick her feet which was gross and then she went berserk. But what was disgusting is when she slapped one of the girls the father could've done something but he just sit down and did nothing about it.The film seems more mature than the remake but I was kind of confused. They used everything green screen technology and I can tell half of the settings were like green screen than the remake. Half of everything in the original film is similar but different than the '98 remake film.
Director: David Swift
Written by David Swift
Based on "Lottie and Lisa" 1949 novel by Erich Kästner
Producers: Walt Disney, George Golitzen
Cast: Hayley Mills, Maureen O'Hara, Brian Keith, Joanna Barnes
Cinematography: Lucien Ballard
Edited by
Philip W. Anderson
Music
Songs:
Richard M. Sherman
Robert B. Sherman
Score:
Paul Smith
Production company: Walt Disney Productions
Distributed by Buena Vista Distribution
Release date: June 21, 1961
Running time: 128 minutes
Country: United States
Language: English
review
movie
About the author
Hello, My name is Gladys W. Muturi. I am an Actress, Writer, Filmmaker, Producer, and Mother of 1.
Instagram: @gladys_muturi95
Twitter: @gladys_muturi
Facebook: facebook.com/gladystheactress
YouTube channels in the works
Reader insights
Be the first to share your insights about this piece.
Add your insights