First Glimpse of Christian Bale in 'Hostiles'
Christian Bale reunites with 'Out of the Furnace' Director Scott Cooper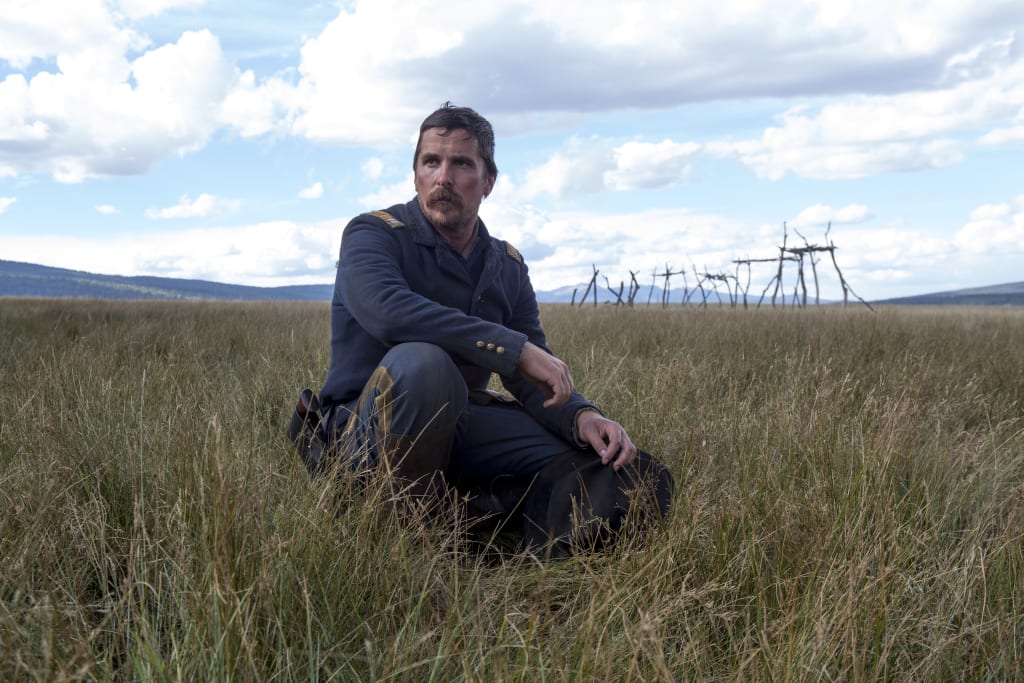 Christian Bale never seems to slow down his movie schedule. The former Batman actor is back again this time alongside his Out of the Furnace Director Scott Cooper for a new action adventure called Hostiles, the first photo from which you can see at the top. Cooper, for those who don't know, made his name as the director of Jeff Bridges' Academy Award winning performance in Crazy Heart as well having directed Bale in Out of the Furnace and Johnny Depp's exceptional true life gangster story Black Mass.
Hostiles tells the story of an army officer who, over his stern objections to his commanders, finally agrees to accompany a dying Cheyenne Warrior Chief (Wes Studi) and the Chief's family home to tribal lands. On the lengthy journey from the Badlands of New Mexico to the tribal lands of Montana, the group encounters a young widow played by Rosamund Pike whose family was murdered on the plains. They take her in to protect her and along the way encounter terrible weather, hostile Comanches, and dangerous outlaws.
Hostiles also co-stars Ben Foster who's been on a hot streak coming off his excellent work in last year's Hell or High Water. Also co-starring is Jesse Plemons, recently praised for his work on the FX Network series Fargo, Rory Cochrane, Adam Beach, and Terence Malick discovery Q'orianka Kilcher, who starred in Malick's exceptional The New World.
Not only did Scott Cooper direct Hostiles, he also wrote the screenplay. It's Cooper's third original screenplay in his career with only Black Mass having been written by another screenwriter. Regardless, Cooper's work has been getting with each subsequent film and even not having written Black Mass did not change the fact that he's becoming one of the most reliable and constant thrilling directors working today.
Hostiles will mark the third consecutive collaboration with Cinematographer Masanobu Takayanagi for Cooper. Takayanagi has been responsible for helping Cooper develop the gritty, dark look for each of Cooper's last two films, Out of the Furnace and Black Mass. The distinctive look of his work is another hallmark of why Scott Cooper is so highly thought of by critics and fellow directors.
As for Christian Bale, Hostiles continues his streak of making nearly a movie every year since the start of his career back in 1987. In the past 30 years, Bale has made one movie every year save for 2003. Since then he's made nearly two movies every year with his most recent work having been the 2016 drama The Promise which was given its full release in theaters earlier this year. Since working with Director Scott Cooper in 2013's Out of the Furnace Bale has starred in the Academy Award nominated American Hustle and The Big Short and as well as the big budget flop Exodus: Gods and Kings and he worked with Terence Malick on the little seen independent feature Knight of Cups.
Hostiles will make its festival debut at the Toronto International Film Festival in September. If reviews go well from there, the film may end up in the annual awards chase beginning in November with a chance that non-festival going audiences may see the film in late-December or early-January. Given Cooper and Bale's track record Hostiles is likely a movie to keep an eye on in the Academy Awards race.
About the Creator
Hello, my name is Sean Patrick He/Him, and I am a film critic and podcast host for Everyone's a Critic Movie Review Podcast. I am a voting member of the Broadcast Film Critics Association, the group behind the annual Critics Choice Awards.
Reader insights
Be the first to share your insights about this piece.
Add your insights