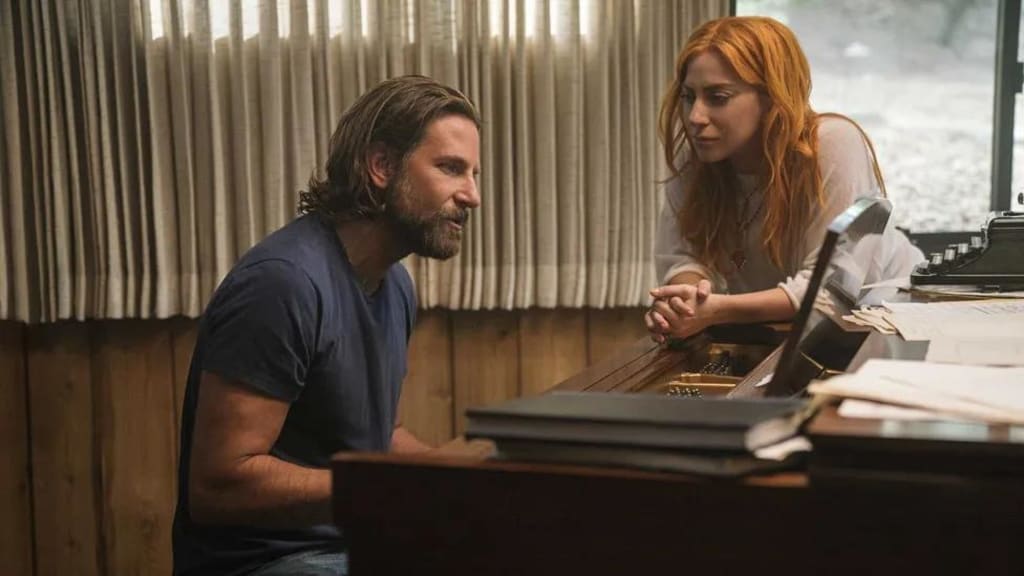 Film A Star is Born
Throughout A Star Is Born, people keep insisting that it's not talent that counts in the music business, it's having something to say. But that's a risky refrain for a melodrama that doesn't have much to say itself. Charting the turbulent relationship between a singer on the rise and another in decline, it's the fourth film to use that same plot and title, so it could be categorised as a remake of a remake of a remake. But as there is almost nothing in it that wasn't in the previous iterations, it's hard to see what prompted this particular re-re-remake, and even harder to think about it without the term 'vanity project' springing to mind.
A Star Is Born is directed, co-written and co-produced by Bradley Cooper, who plays a self-destructive but divinely talented and searingly principled rock god. If it has anything to say, then, maybe it's just that Cooper would have loved being a musician if acting hadn't worked out.
He isn't as convincing in the role as Kris Kristofferson was in the 1976 version with Barbra Streisand – not surprisingly, considering that one of the two men was in The Hangover, and the other co-wrote one of Janis Joplin's biggest hits. But Cooper does turn in a powerful performance as Jackson Maine, a frazzled rocker whose grungy cowboy image is equal parts Eddie Vedder, Neil Young, Johnny Cash and Jim Morrison, and whose low, slurred speaking voice suggests that he has been taking elocution lessons from Sylvester Stallone.
We first see Jackson in concert, knocking back pills and booze before playing a guitar riff so loud that it punches you in the chest. He gives everything he's got on stage, which means that he is left with nothing but the piercing whistle of tinnitus, and a desperate need for strong liquor. After the concert, he staggers into the nearest bar, where he spots Ally, played by Stefani Germanotta, aka Lady Gaga. Ally is a waitress and aspiring singer-songwriter who has been told repeatedly that her nose is the wrong shape for the music industry. Jackson begs to differ. When she belts out La Vie en Rose, she is shown in a series of sensual, woozily intimate close-ups, while Jackson gazes on, his eyes glittering, dazed and embarrassed by how moved he is. Whether or not you believe in love at first sight, you can believe it's happening during this magical sequence.
Jackson then talks Ally into coming to another bar with him, and the film becomes a Cinderella story in which Cooper's character is both fairy godmother and handsome prince. Ally sings a few lines of a song she's written, and before you know it she is being flown by private jet to a stadium gig so that she can duet with him in front of tens of thousands of fans. It's only a matter of time before a smooth-talking British manager (Rafi Gavron) is promising her the world if she'll sign with him. And it's only a matter of time before he remoulds her into a pop pin-up with dyed hair and aerobic choreography – much to Jackson's drunken disapproval.
The scheming manager is such a clichéd villain that he might as well have been named Soulless McMoneybags. And it's when he oozes into the picture that the screenplay's lack of insight and detail becomes apparent. A Star Is Born puts terrific care and attention into depicting the night when the lovers meet and mosey around town together, but after that it flicks cursorily through the rest of their professional and personal lives as if it were glancing at someone else's holiday photos. It never looks closely at who they are or what they want.
Even though Lady Gaga must know more about pop superstardom than most of us ever will, the film is shrugging vague about why the largely passive Ally becomes successful or how long it takes. Weeks? Months? Years? Her fuzzily sketched climb to fame appears to involve no record executives, press interviews or selfie-demanding fans. Jackson's career, meanwhile, is just as hazy as hers, in that his backing band vanishes without trace when he is not on stage, and his entire management team amounts to one faithful right-hand man (Sam Elliott). Only Jackson's alcoholism feels credible and painful enough to have been drawn from life, rather than traced from other cautionary showbiz tales.
It's disappointing, but A Star Is Born does hit a couple of high notes. Most of the tracks in it are co-written by Gaga, and her final ballad is sure to get the best original song nomination at the Oscars that it is so obviously aiming for. Gaga may even get a best actress nod. Certainly, she is so appealing, open and down-to-earth in her first major role that she deserves her pick of whichever gangster movies and romantic comedies come along. If nothing else, a film star is born.
Reader insights
Be the first to share your insights about this piece.
Add your insights