Feel Good Animation Watch List
Feel Good Animation: Fun characters, New worlds, and Interesting stories.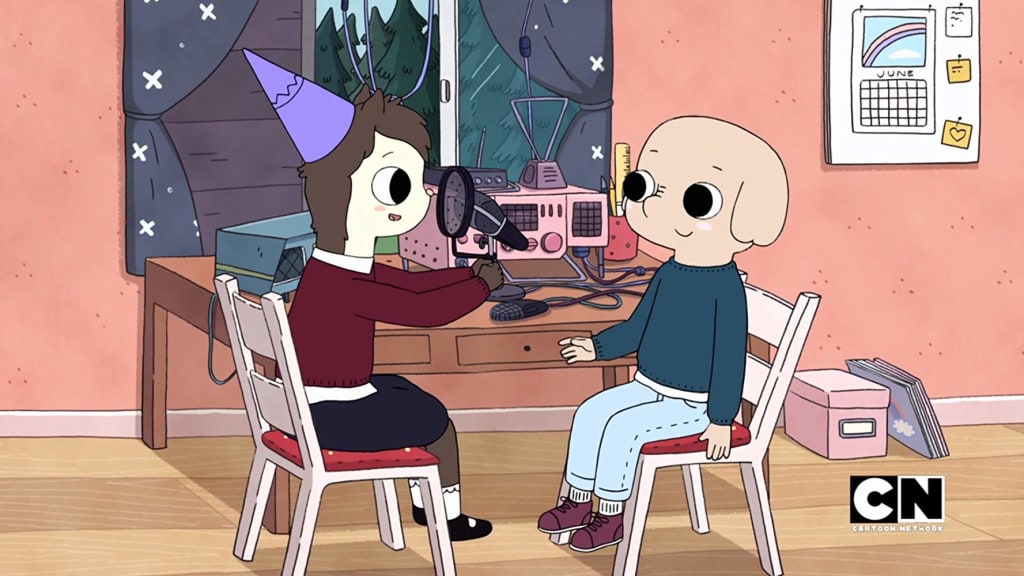 Hedgehog and Oscar from Summer Camp Island Image owned by Cartoon Network. Obtained from IMDB 
The last couple of weeks have been rough, we are living a time where violence and hate are on our screens at all times. With all that's going on sometimes, it's good to give yourself a break and watch or listen to things that are not connected to the "real world" and will bring you some peace.
So many of us are carrying this negative energy along with us during the day, and we forget that these images can impact our lives in a deep way. I know personally I was feeling it, I sat down and watch some shows with my kid that didn't involve world news for a few hours. I felt better, lighter and less grumpy.
Here are my top 5 feel-good animated shows to watch. I'm sure that there are non-animated shows that are just as good, but we are currently living in a time of awesome animation and storytelling so I try to highlight animation as much as possible.
'Summer Camp Island' (Cartoon Network)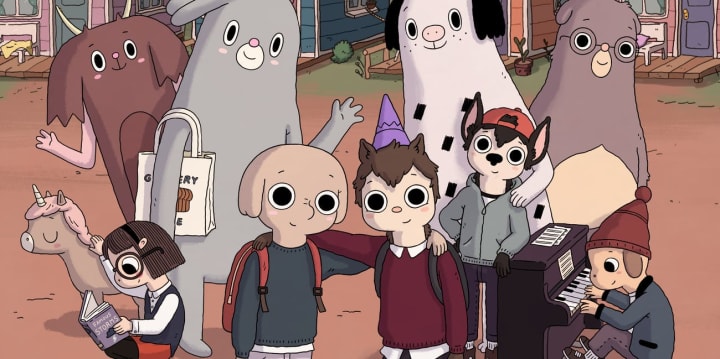 Summer CampIsland is one of the most wholesome shows available on TV. The show is written by Adventure Time alum Julia Pott who is the second woman to run a show on Cartoon Network. The first being Rebecca Sugar with Steven Universe. Summer Camp Island follows some of the similar themes that were in Adventure Time. The show is both comedic and at times surreal. The show is mostly about anthropomorphic animals attending a magical summer camp that is filled with witches and monsters, the moon and Sun regularly talk to the campers, and even the campers pajamas talk. The show is centered on a young elephant named Oscar Pelzer and his best friend Hedgehog.
Oscar's insecurities plus his kindness are what establish him an exceptional character; he isn't the automatic hero in the show, he has to work through the process and realize his own potential before he saves the day. Oscar is balanced out by his best friend Hedgehog who is adventurous and quizzical. Hedgehog is one of the only characters that want to know more about the island, the witches and the magic going on around them. The show is only in its second season and some of the stories do have an overarching plot, but there are stand-alone episodes that do not tie into the main story. If you were a fan of Adventure Time and are in need of a replacement show, Summer Camp Island is for you.
'Craig Of The Creek' (Cartoon Network)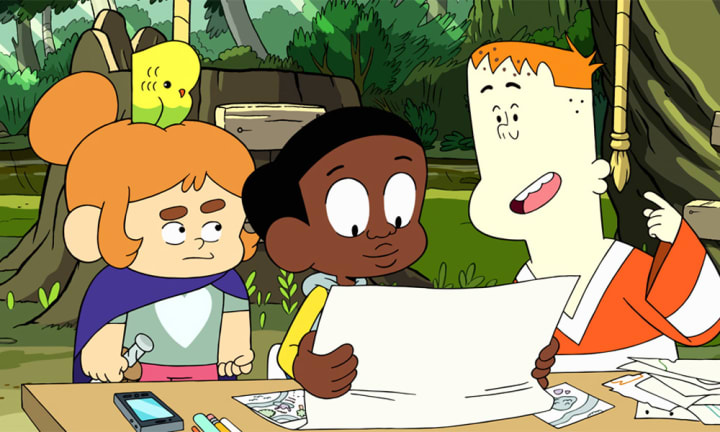 Craig Of The Creek, created by Matt Burnett and Ben Levin who previously worked on Steven Universe, is about a 9-year-old named Craig Williams and his unique relationships with his family, friends and the Creek itself. One of the things that I genuinely enjoyed about the show is the relationship the kids have with the Creek. I enjoy how the Creek and everything that makes up that area is a character itself. It introduces how people can experience a meaningful connection and relationship to the land which I thoroughly appreciate. The relationship Craig has with his friends and family also stand out in this show because of the dynamic of his family and the representation of a Black family on children's programming is the representation that has been lacking for many years.
Craig's family, from his mother and father who support him and his siblings to the inspiration Craig receives from his grandparents, is what helps the show seem like it follows a real kid named Craig. Craig's relationship with his little sister Jessica and his big brother Bernard are some of my favorite parts of the show. Craig's best friends are the knightly Kelsey Bern who loves high fantasy books, her pet bird and trusty sword, along with the lovable and kind John Paul J.P. Mercer that brings a lot of the comedy, but at times helps ground his two best friends. The show also has plenty of side characters that "rule" over various parts of the creek that Craig maps out throughout the show. Characters like Kit that runs the trade tree and the Sewer kids are regulars that bring the creek to life. This show in its second season and new episodes were previewed at SDCC 2019. Periodically Craig of the Creek tackles some pretty complex topics like emotional health, self-image, and destructive relationships. If you are looking for a show with lots of characters with an expanding world, this show is for you.
'Amphibia' (Disney, Disney XD and Disney Now)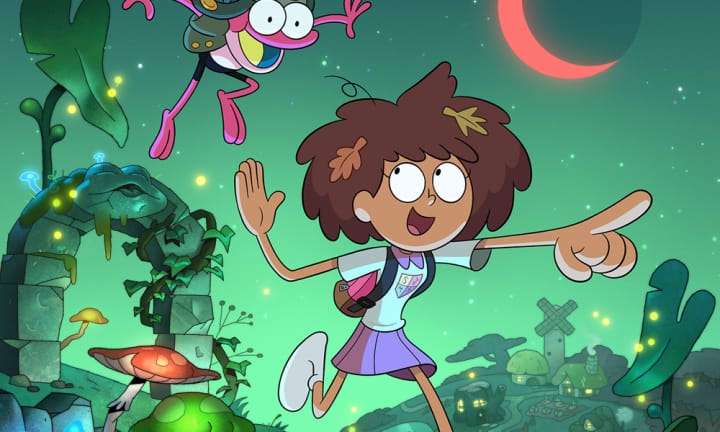 Amphibia is a new show on Disney, Disney XD, and Disney now on June 17, 2019. Amphibia has occupied the content space that Star Vs The Forces of Evil left after it's four-season run. Amphibia starts off introducing the village of Wormwood, a town full of frog people, and in this town lives a 10-year-old frog named Sprig who lives with his Grandfather Hopadiah "Hop Pop" and his little sister Polly. Polly is a pollywog and spends most of her time in a bucket. Sprig is the loud, funny, hyper, young frog that is irresponsible at times, which leads to his family not having full confidence in him at first. Sprig learns about a "monster" in the woods of Wormwood, he goes out alone and runs into 13-year-old Anne Boonchuy, a Thai-American girl who is coved in twigs and missing her right shoe. Anne saves Sprig and they become friends. Anne doesn't tell Sprig or his family where she came from or how it came to Wormwood. While Sprig is overly trusting and sometimes selfless, Anne embarks on her journey a bit self-centered and secretive, Anne's emotional journey is the heart of this show. While the show is extremely funny and loaded with jokes, the writers of the show pack in the harder themes like bullying, emotional manipulation, and other friendship topics that 12-13-year-olds might face in real life. However, it balances this seriousness with plenty of jokes and wacky antics for the younger audience.
My daughter and I really enjoyed the jokes in Amphibia, and the action scenes in the show were at time intense. My favorite character is Hopadiah; even though he is a frog, his reactions to the antics of Anne and Sprig are realistic to what a genuine grandfather would impart to his grandchildren. Also, Disney announced that Kermit the Frog is the cultural consultant for the show the even released a video of Kermit giving his reaction to the show.Amphibia just finished "Part One" and a second season as already been ordered. You can watch Amphibia on Disney, Disney XD, and the Disney now app.
'Mao Mao: Heroes Of Pure Heart' (Cartoon Network)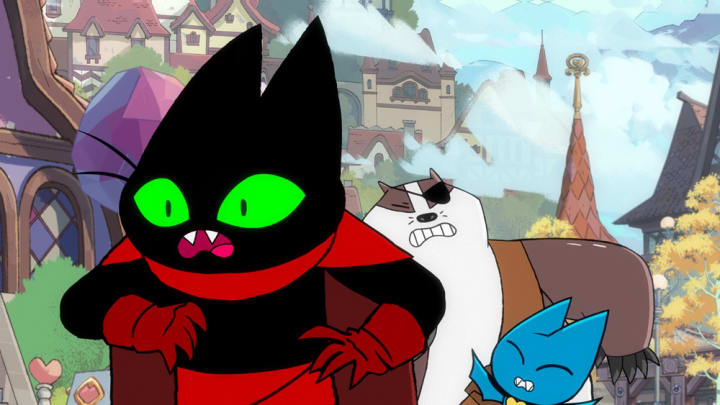 Mao Mao: Heros Of Pure Heart premiered on Cartoon Network on July 1, 2019, and is the most adorable addition to the cartoon network lineup. Mao Mao: HOPH for short is about a Hero cart named Mao Mao who loves adventure, fighting monsters, and saving the day. Mao Mao has a partner, Badgerclops, a very large cyborg Badger who has an eyepatch and cyborg arm that can transform into various weapons to help out while they fight monsters. Mao Mao and Badgerclops are traveling heroes and they find their way to the village of Pure Heart, and after a joke-filled battle against some local monsters, find themselves stuck in the village of Pure Heart. The village leadership makes Mao Mao the sheriff of the town and Badgerclops the deputy.
All the minor characters that live in the town of Pure Heart look like little toys with enormous heads and eyes and they all possess really charming names like Honey, Ketchup and Adorabat. Adorabat is another primary character to the show, who dreams of being a hero like Mao Mao. She is a small blue bat that has a wooden leg and an overly optimistic look about life. She lives with Mao Mao and Badgerclops and becomes their "deputy in training." Ten episodes were available to us On Demand and my daughter and I watch all ten one rainy day. It's so much fun and conveys familiar themes from other action shows of this style like OK K.O. Lets Be Heroes! or Steven Universe. There's some character devolvement happening within the first ten episodes, but a main overarching plot hasn't really been fleshed out yet. The newest episodes of Mao Mao: Heroes Of Pure Heart aired on August 5th on Cartoon Network.
'Ducktales' (Disney and Disney Now)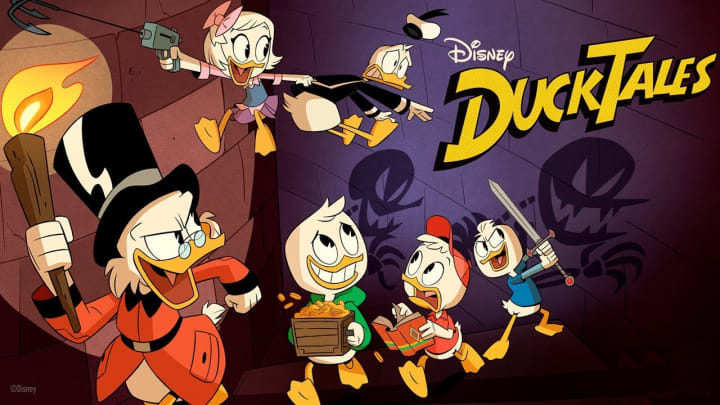 Ducktales was rebooted by Matt Youngberg and Francisco Angones, and unlike the 1987 original Ducktales, the new show has a lot more going on. The show now has more plot and character development. Ever wonder why Donald Duck was left with his three nephews? Did you ever want the side characters like Webby to actually have a reason to be in the story? The new Ducktales is for you. This show is so hilarious and invokes a lot of nostalgic feelings at times, bringing in classic characters from other 80s and 90s Saturday morning cartoons. Cameos from other cartoon charters have been my favorite thing about the show. Some of the best cameos and callbacks have happened during the second season, and during SDCC2019, they promised even more of our old-school cartoon favorites would be making appearances. While the 1987 version of the Ducktales possessed magic and science fiction elements in the story, the 2017 reboot I feel does a better job at building the world that Ducktales is set in. While Duckburg isn't the only setting, when the characters are in Duckburg, it feels more like their home. And the other countries that they explore outside of Duckburg draw from real-world places, however, the writers do a good job making these places fit in better a world teeming with talking ducks.
The magic practiced within the stories is written better and is not as hookey, but it still about to find humor. This show, while it's full of humor, isn't afraid of bringing dark elements to the story. There have been a few times that my kid has gotten a little scared, but I think for older kids over 5 it will be okay. Ducktales comes on Disney and Disney XD. New episodes air in September, so there's plenty of time to get caught up.
Take some time destress and watch something that will uplift your spirits for a few minutes.