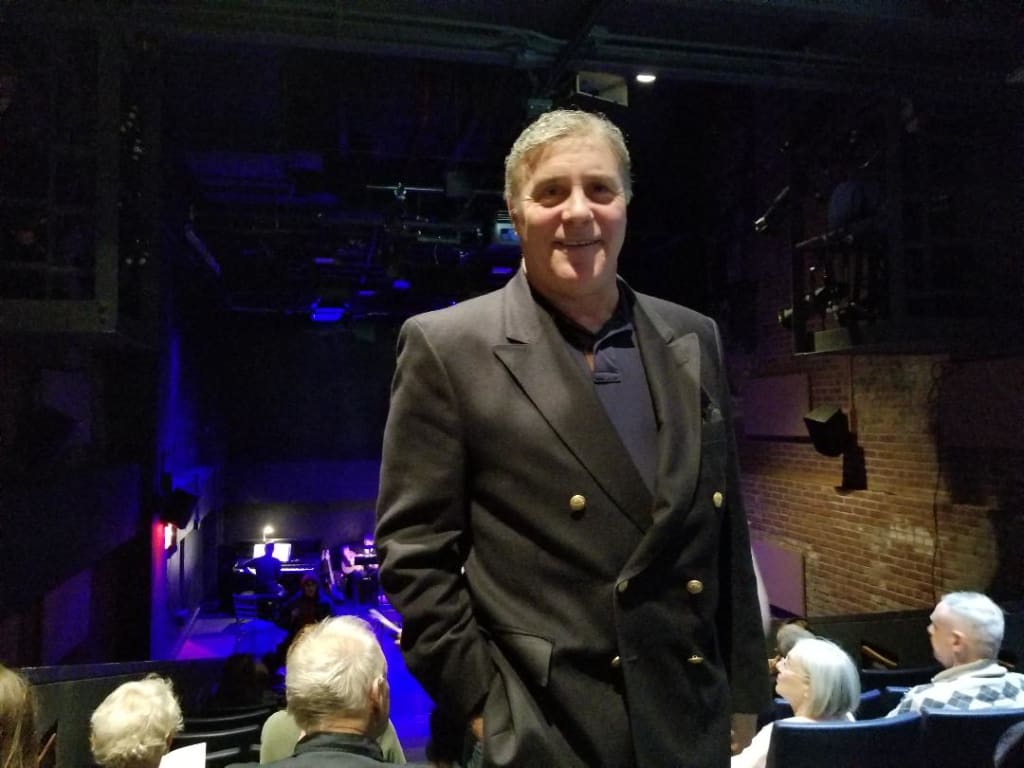 Robert Massimi.
In writing on theater since 1982, the shows I enjoy the most are the "hidden gems" that are performed at off Broadway houses. Exposed is one of those "hidden gems." Brilliantly written, directed and acted, this 85 minute intermission-less play seems to go by with the blink of an eye.
Exposed is about a college freshman (based on a true story), who is suddenly hit with her father being laid off from his job. Facing what will be a mountain of school debt, Lauren (Sarah Raimondi) decides to enter the porn industry and make adult films under the alias of Scarlett Blue.
Lauren has always been fascinated by sex ... She has watched porn since the age of 12. In high school, she had two different sexual partners (regardless of signing an abstinence pledge). Lauren thinks after researching, that making porn films makes sense. As she loves sex, loves watching pornography, it seems natural and the best way to pay for college and eventually medical school.
Kristen Heckler who wrote and directed this masterpiece, spent four years researching this play, writing and fine tuning it. Her conception of this play is brilliant, as is her direction. Humor, simulated sex scenes and Lauren's dilemmas make this nuanced show both deep and resonant. Heckler shows us the many sides of Lauren's decision. We also see the many sides of Lauren's personality. Lauren is a strong willed, confused, feisty and a feminist who believes that BDSM is not degrading to women.
Kristen Heckler deftly brings up another subject that is brilliant ... the boys that scorn her ... that mock her at her college, all want to sleep with her. It is her fellow co-eds that "want to nail the porn star." Heckler brings up the hypocrisy of the masses. People at her college scorn Lauren, but yet, they all watch pornography and have fantasies about it. The women at her school shun her, Lauren laments that "they think they will get a STD by talking to her." Ms. Heckler consistently brings up a point, a counter point of Lauren's choices, and does it both efficiently and effectively.
The other two actors in this play are equally superb. Jacob Sebastian Phillips is wonderful as Lauren's father, college friend, porn star etc... Pauline Sherrow performs as Lauren's very religious mother, college room-mate, a porn star who is at the end of her career. The dialogue between Sherrow and Raimondi after one porn scene is both poignant and enlightening in regards to both of these women's lives.
The lighting, costumes and sound design are equally as good. Sparing nothing to detail, the entire performance by Recognize Theater is outstanding. Lighting designer Sara Christopher works the lights like a magician. She hits the romantic lighting on the mark, the glam lighting is equally as effective during this performance. For Exposed to be this effective, the back beat of the lighting is a must.
Exposed at the MCS Theater on West 36th Street is magnificent. The play shines on every level. Surely, this play with its fine acting, can and should go to a bigger house when it's run is done at MCS.
Kristen Heckler brings a thinking persons show here. The politics thankfully are very subdued. Heckler just gives us the writing, what we decide is up to us. Exposed has so many things going on that the audience has a potpourri of things to process during this performance. From the humorous side, to the despotic, we feel Lauren.
This "hidden gem" is one that should be" exposed " by the public.
review
About the author
I have been writing on theater since 1982. A graduate from Manhattan College B.S. A member of Alpha Sigma Lambda, which recognizes excellence in both English and Science. I have produced 12 shows on and off Broadway. I've seen over700 shows
Reader insights
Be the first to share your insights about this piece.
Add your insights