Everything You Need to Know About This Season's Love Island USA
What's happened so far in 'Love Island USA' Season 2?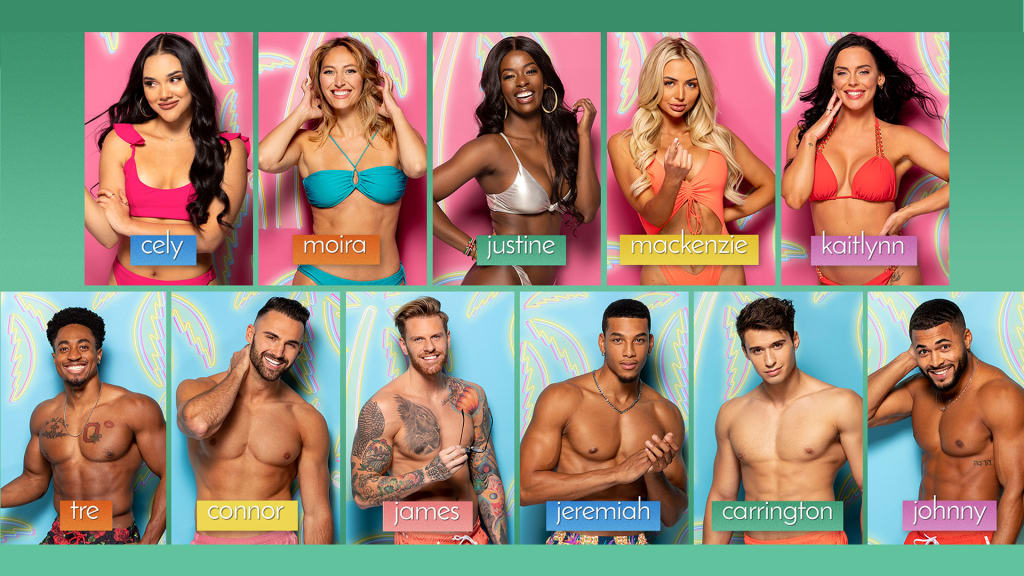 Things Are Heating Up In Love Island USA, Las Vegas
Are you late the Love Island USA season 2 party? Likely not, considering COVID, but if you're wanting to get caught up on your favroite guilty pleasure show, I've got you! Prepare to hop on board—I have just what you need to know about this season's highlights, lowlights, and love triangles!
As a Love Island aficionado, I can tell you this season lives up to the hype and excitement of all the rest. Yes, like you, I was skeptical of my favorite dating show with all its British quirk and candor coming to America (TBH, I was quite suspicious of Love Island Australia before it aired). Love Island USA is the guiltiest of guilty pleasures, and this season is no different.
Did you watch Love Island USA season one and find yourself wanting more? The producers heard your pleas, and Love Island USA season two recaptures the fun, shamelessness, and boat-loads of banter. And let's be honest: we need some minging, recoupling, and most of all cringe, after the news of Love Island UK's 2020 season's cancellation.
So, it's Love Island USA in the lovely Las Vegas!
Let's Meet the 'Love Island USA' Cast :
Our Season 2 host & narrator
This season begins like all others: cheeky narration, babes in bikinis explaining how much they look forward to some man meat, and of course, the man meat itself. I do have to admit that Matthew Hoffman, while a great narrator, doesn't quite live up to Iain Stirling, but Love Island's narration is only a small portion of why I watch.
Our Love Island USA host this time around is Arielle Vandenberg, who pops in at the most inopportune moments to tell the contestants that it's time for a recoupling ceremony or that they will compete in a silly game to try to win a date. The only game played so far was a game called "Excess Baggage," which sounds exactly like what it is: a game about hang-ups and past relationships.
Love Island USA's Sexy Singles
Getting to know the contestants unfolds pretty typically. There's a lot of focus on a select few of the five first women and six first men, mostly revolving around those that will recouple or cause concern about recoupling. Then the additional contestants arrive to shake things up.
Anyway, the girls this season live up to high standards set by Love Island UK. For example, Cely is a fun, feisty, flirty legal secretary with Latin flair. We also have Moira, who is a self-proclaimed cougar (despite only being 28). Moira has been boy crazy ever since her LTR didn't turn into marriage, and she's ready to have some fun.
Justine, a respectable go-go dancer looking to fall for Mr. Right, is also a first arrival. She has a pretty normal 9-to-5 and is looking for a relationship.
The other girls include Kaitlynn (spoiler: she's the first to go), Mackenzie, Kierstan, and Rachel (who goes home during week 2).
Mackenzie is a bleeding heart with a tragic dating history. She seems to be from a well-off family but seems pretty down to earth. She also gets a lot of attention in the first two weeks.
Then, the guys arrive. Like past seasons, the women awkwardly stand in a line-up and are instructed to step forward for the man they want to couple up with. Also, like past seasons, Love Island USA women are just as picky, choosing not to step forward for several men.
Which of these guys should you keep an eye on? Well, James gets the axe right away. And so does Jeremiah, who is a muscular babe that just doesn't play the game as well.
Carrington is a confident ladies man who looks like he could have been in a boy band had he wanted to.
There's also Connor, a day-one dude, with a smile that wins the hearts of female Islanders.
Tre is a sexy former college foootball player who comes across as quite sincere and honest.
Johnny is bombshell who appears to strike fear into the other men on the first episode.
Calvin is a bug spray salesman with a great face and a Texas-sized personality who arrives on Day 5 alongside Caleb.
The couples and the drama
MacKenzie garners quite a bit of attention the first week of the series. She and Connor, along with Moira and James, couple up right away. MacKenzie is still coupled up with Connor and things for the most part seems to be going well, despite the fact that MacKenzie acknowledges that Connor isn't her typical taste. Connor seems as committed as an Islander can be to MacKenzie.
Despite things going well, MacKenzie celebrates the newly-arrived women with a cry fest. And, of course, Connor doesn't know to follow her to help dab her tears away, which turns the tear-fest into a tear-palooza. Connor did apologize.
As for Moira and James, they don't make it through the first few weeks as well. They hit a rocky patch when a new arrival decided on Moira for his "welcome to the Island" date, and James realized he was on a reality dating show where other men are allowed to date the same woman as him. In response to James's tantrum, MacKenzie earns herself more screen time by scolding James for how he was treating Moira.
Carrington and Kaitlynn couple up quickly and seem pretty content with one another so far. And Johnny, our bombshell, pairs up with Cely. So far, everything is bright on the horizon for these two. Most viewers agree that they seem like they will surely make it to the end together, although Johnny is awfully flirty with Lauren.
Rachel and Kierstan were the bombshell additions on Day 2. They've lived up to previous seasons' standards by flighting, being boisterous, and talking about stepping on toes until the cows come home. Rachel eventually went home after coupling up with Jeremiah and then Caleb (who is a newly added Islander).
Who are our couples at-a-glance?
Alright, let's really get to what matters: who is coupled up right now? The current lineup of couples after the first two weeks is as follows:
Moira is with Calvin
Caleb is with Justine
Connor is with MacKenzie
Jonny is with Cely
Carrington is with Kierstan
Lauren is with Tre
Who's gone home?
Which contestants no longer matter because they've hit the road?
Rachel
James
Jeremiah
Kaitlynn
Happy watching!
This season of Love Island USA will surely be filled with heartbreak, triumph, and a whole lot of emotional drama. Remember that Love Island drinking games still work, even if you're in quarantine! If you're ready to hop on board and embrace this guilty pleasure reality dating show, be sure to pop some popcorn—this season will surely leave you on the edge of your seat!
Reader insights
Be the first to share your insights about this piece.
Add your insights