Created with Humble Bundle
Everything You Need To Game Like A True Pro (No Experience Necessary)
Play hard. Have fun.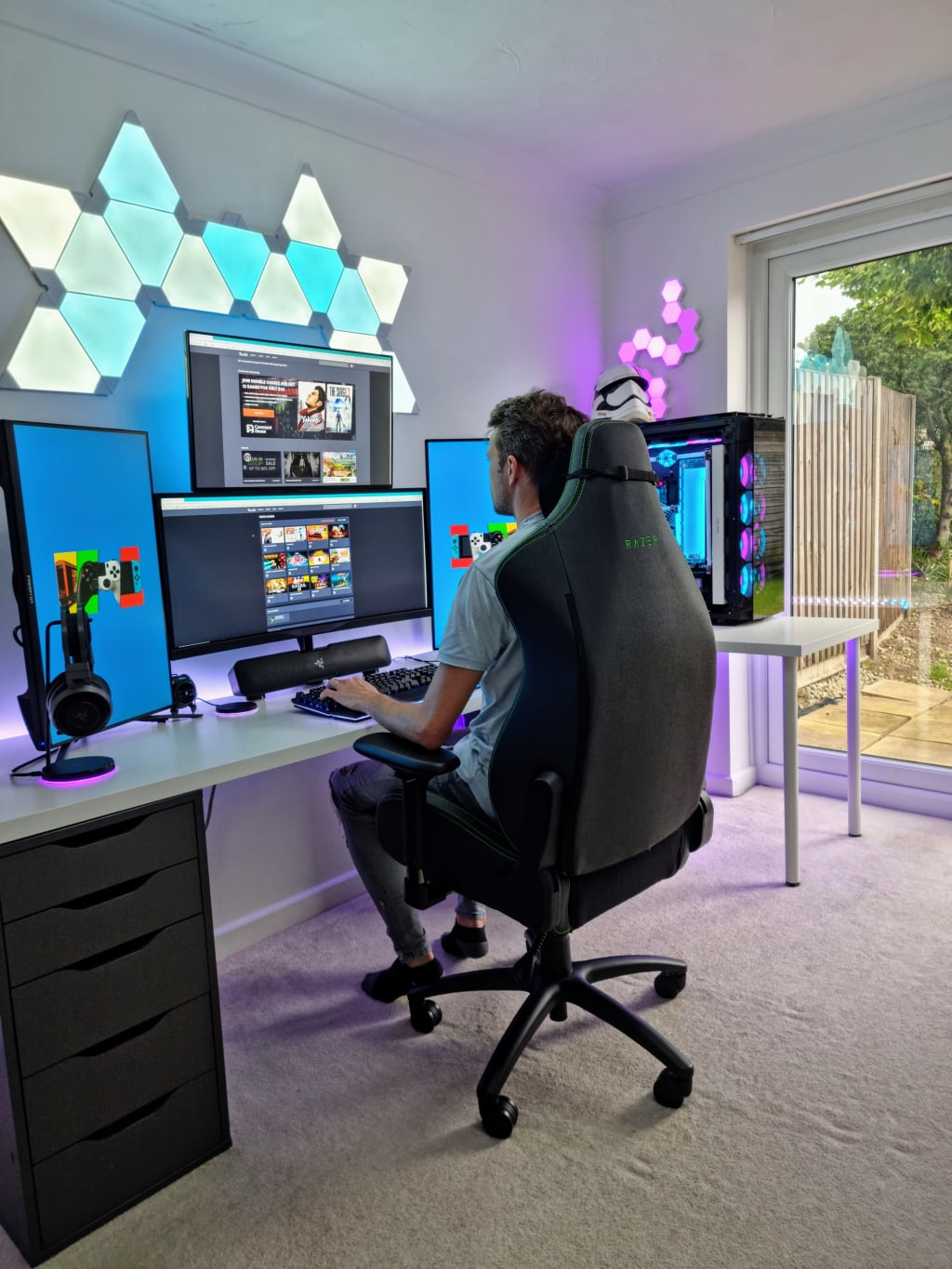 I've been a massive gamer most of my life. I started my gaming journey back in 1988 using an Amiga 500 where games would take 10 minutes to set up and play. Most games had multiple floppy disks to load before I could even start playing. I then moved on to a PC when games like Doom and Quake were released, the faster loading and increased level of detail in games was moving rapidly. I was hooked. It didn't matter that the games looked like a pixelated screen; it was about having fun and taking my gaming to a whole new level of excitement. What a time to be alive with so many games available to play! New incredible hardware being developed and easy to access games subscription services makes gaming a lot easier now.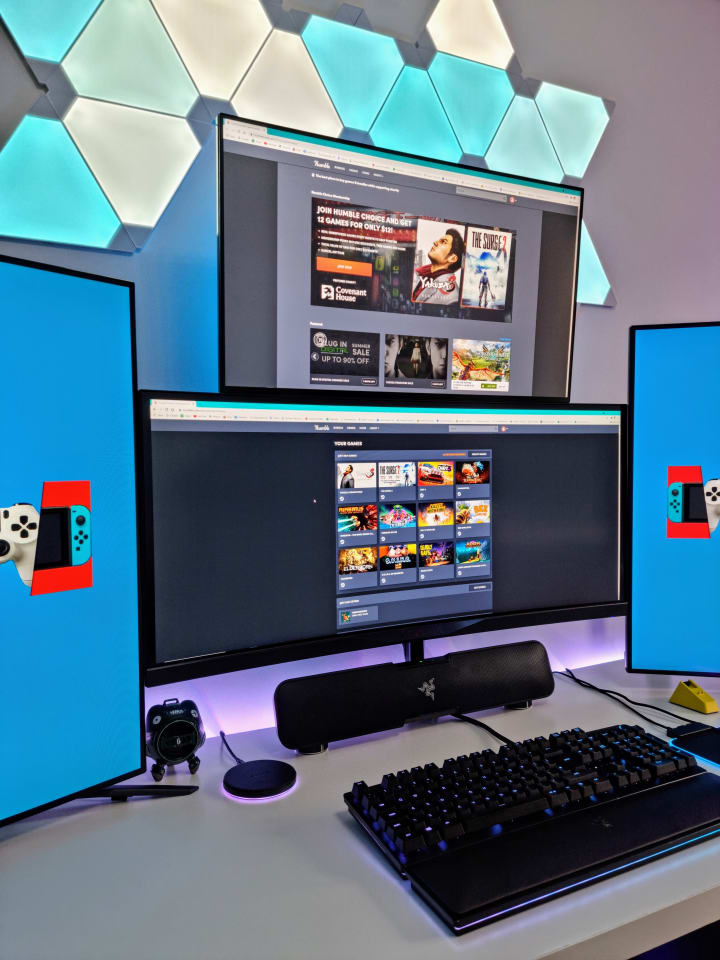 Nowadays technology is at its peak. There are games out there with graphics that will blow your mind. They look like real life and super immersive gameplay but the one thing that has happened over the years is that buying computer games has become more expensive than ever...until now. I have recently stumbled across an amazing gaming subscription service called Humble Bundle where you pay a certain amount each month to obtain a selection of really cool games. These games range from single player games to huge multiplayer games where you can team up with your friends to take on new adventures together. Not every game made is suited for everyone, but Humble Bundle offers a great selection which I'm sure will meet your gaming needs.
The best part with Humble Bundle Premium Plan is that you get 12 amazing games for a very reasonable price of $12, that's $1 per game. If this isn't a bargain what is, and I can guarantee that you will find a game to play and enjoy. Humble Bundle offers a monthly subscription gaming service where they will provide you 12 games for $12, all of which are varied games from RPG, MMO to FPS. The choice is yours what you play next. I've seen some amazing games offered through Humble Bundle Premium Subscription which makes me wish I signed up a long time ago. Why pay $50 per game when you can get 12 for $12?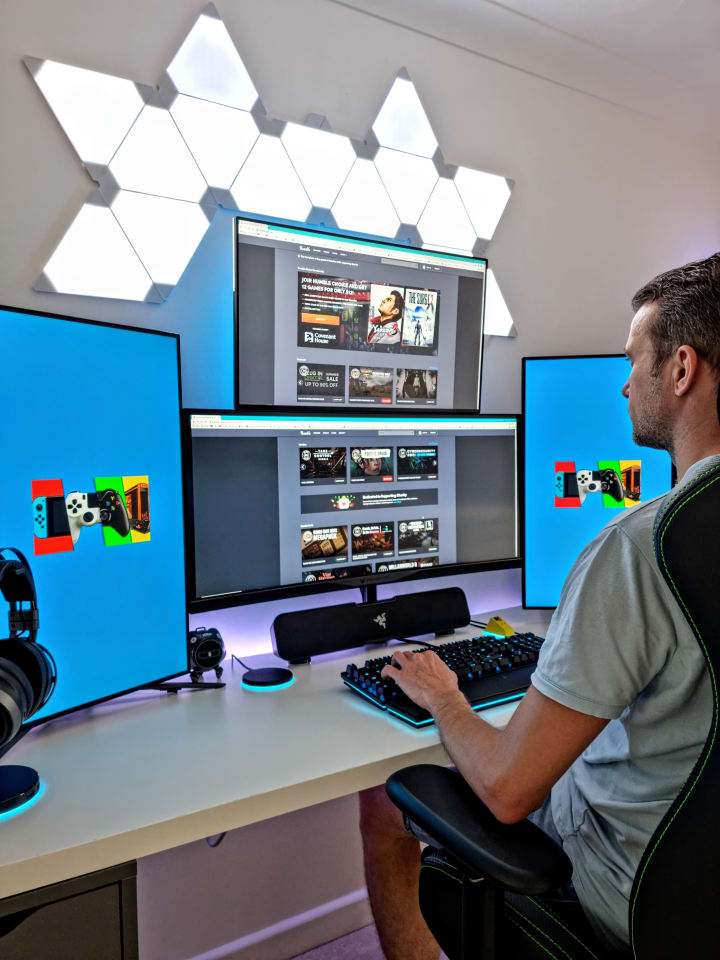 Over the years I've learnt that I can have a lot of fun playing games at a good price point rather than paying full retail price. This has allowed me to experience a more fun and interesting way of playing games. Take last month's Humble Bundle Premium Plan for example, it's offering an incredible game called Civilization VI Platinum Edition which would retail for $150 but you get this game and 11 more for $12, just wow.
It's not just about having an awesome game subscription to enjoy each month, it's also about having the right community that makes you get the most out of all the games you play. I'm a huge PC gamer who loves multiplayer games. The feeling of being part of a team really does make the gaming world come alive. To find other like-minded gamers who all share the same passions for gaming as me, I use apps called Discord, Twitch, Instagram to name a few. I'm part of a really cool gaming community to connect with many gamers and tech enthusiasts. This keeps me connected with my friends and allows us to arrange gaming sessions together. Not only does an online community allow this but the number one thing it helps with is making new life time buddies. I still play with online friends I met 20 years ago. Twitch is a great platform for watching your favourite streamer and seeing new upcoming game releases. This is probably the best platform to form a personal community for yourself. Having a selection of games provided by Humble Bundle will allow your followers to enjoy more content and showing different games each stream really is a good way of growing your personal community. They will come back to see what you're playing next.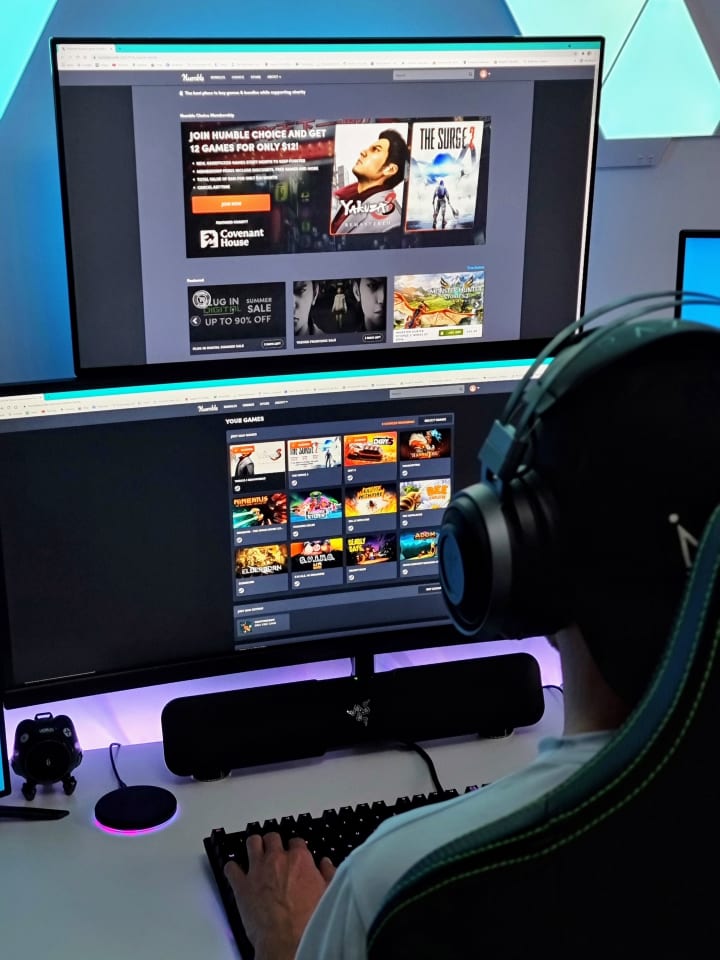 Now you have a cool selection of games to play with or without your online friends, you need to have the right environment to play in, I mean you don't need anything as extravagant like my setup to enjoy the games offered by Humble Bundle. There are some great PC shops out there selling complete setups or parts to build your own if you're feeling confident to build one yourself. My setup started small and has been built up over many years. This is what I enjoy the most seeing my gaming space grow. I generally play for a few hours at a time and stock up on water to keep me hydrated during gaming. I recommend a 4 hour session and 15min break but this varies from person to person. You might be there for most of the day playing games…..
My tips for all newcomers to the gaming world would be:
Join Humble Bundle Premium for a amazing selection of games each month
Find a online community and make some new gaming friends
Set up a gaming environment that makes you feel comfortable
Take a break and keep refreshed
HAVE FUN
Remember the best piece of advice is to have fun while gaming, remember it doesn't matter if you come last or first. The best part is sitting back, loading into a new game and enjoying the moment. Play hard and have fun :)
gaming
About the author
Tech and gamer enthusiast who has passion for sharing new content on Instagram, Insta handle - highoctane0
A big nerd with a huge passion for gaming and playing online with friends.
Reader insights
Be the first to share your insights about this piece.
Add your insights