Emotional art
The Purity of Fauvism
Fauvists, like Henri Matisse, focused on the use of pure brilliant colors aggressively applied to the canvas, straight from the paint tubes. Kind of like an explosion on the canvas.
Matisse's La Gerbe, 1953, is a great example of this idea. The pure, brilliant colors used in La Gerbe are easily identified and obvious to the viewer. However, it is not until we place La Gerbe next to Matisse's Portrait of Madame Matisse, the Green Line, that we can see that the same pure pigments have been used. Matisse believed that artists must be guided by instinct and intuition. He wanted his work to be one of "balance of purity, and serenity." He states:
"I am unable to distinguish between the feeling I have about life and my way of translating it."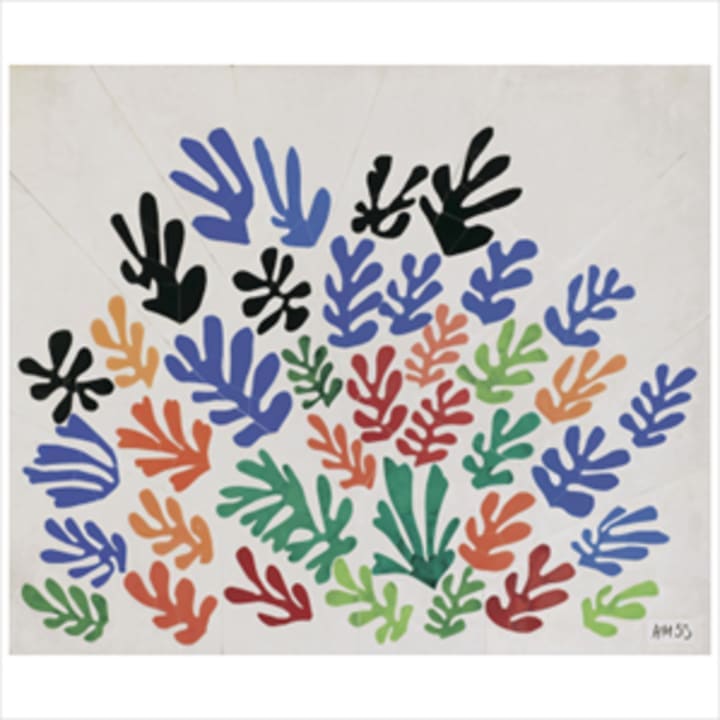 There is a sense that there is no difference between him and his work and that what we see in his work is how he sees life. Matisse also declares what are should do/be:
"I work of art must be harmonious in its entirety: any superfluous detail would replace some other essential detail in the mind of the spectator."
Each element presented in a painting or a drawing must have a purpose and function as a part of the whole. However, what does that mean for the artist who always includes the same type of flower in a landscape (making it a signature element) or always includes a bear in the background? Do these become a superfluous element or is it essential to the detail because it is an identifier of the artist?
This period of time, in Modern Art, is quite fascinating. for these artists, color, line, texture, and composition become the most important ways in which to express emotion. Every artist approaches their work from different perspectives. I am fascinated by the core values of Vasily Kandinsky's work and the expression of the spiritual. Kandinsky argued that artistic experiences were all about feeling, and different colors affect mood. Yellow could disturb, while blue might make people feel good. In Ellen Winner's book How Art Works she asks:
"How can abstract arrangements of forms, lines, colors, and textures express emotion?"
There may be some learned association, however, I believe that there are relations between emotion and color or sound. When we listen to music or observe a painting or other type of work of art, we experience some type of emotion/reaction to what we hear or see. Winner states that "when a picture is functioning as art for the observer, the observer, notices metaphorically expressed properties" (Winner 60). To express this idea further she shares:
Few would deny that paintings express emotion. When we look at a painting or drawing, whether abstract or representational, we are apt to comment that it is sad, joyous, tragic, conflicted, agitated, or calm. We willingly ascribe these kinds of emotional properties, knowing full well that these are not properties that the picture literally possesses - just as we know that a sad piece of music is not literally sad.
Painting was a spiritual activity for Kandinsky. In his book, Concerning the Spiritual in Art, Kandinsky writes:
Color directly influences the soul. Color is the keyboard, the eyes are the hammers, the soul is the piano with many strings. The artist is the hand that plays, touching one key or another purposely, to cause vibrations in the soul.
He believed that art should not be merely representational but should strive to express spirituality and the depth of human emotion through abstraction, much like music does. This expression is translated by the spectator and emotion is evoked by "what the spectator lives or feels while under the effects of the form and color combinations of the picture" (Kandinsky quoted in the video, "The Case for Abstraction"). Both Matisse and Kandinsky are focused on the artistic expression that evokes emotion. Sometimes these emotions are feelings of sadness and loneliness.
In the Poetics, Aristotle wrote that
we enjoy contemplating the most precise images of things whose actual sight is painful to us, such as the forms of the vilest animals and of corpses. The explanation of this... is that understanding gives great pleasure.
In the eighteenth century, philosopher David Hume suspected that we enjoy sadness in art because it moves us, and we like feeling moved. Hume concludes,
The more they are touched and affected the more are they delighted with the spectacle... The heart likes naturally to be moved and affected.
As artists continue to explore color and emotions, Picasso churns out painting after painting. There is something incredibly appealing about some of his work prior to his Cubism phase.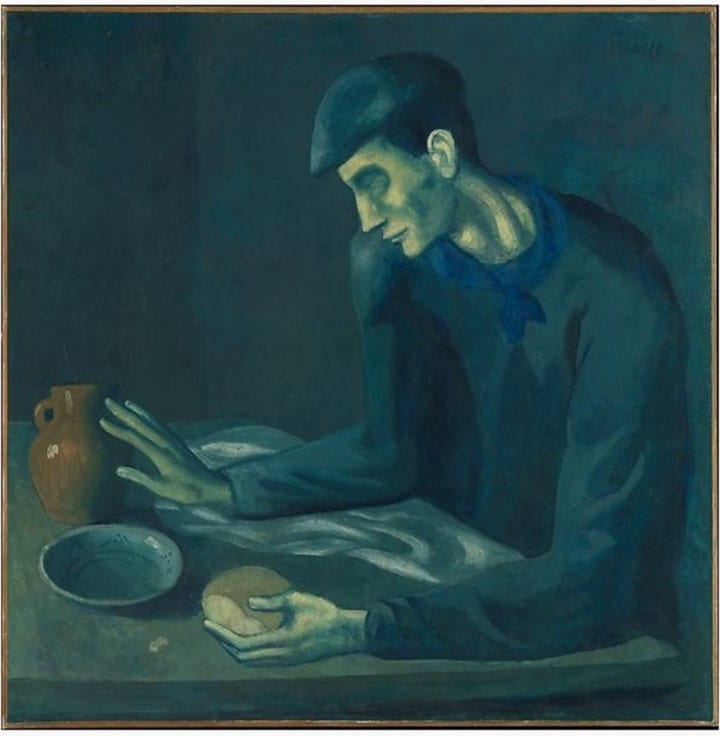 The Blind Man's Meal, which he painted in 1903 during his Blue Period evokes strong feelings of sadness and grief. As I gaze upon this painting, I think of my father who passed away o August 1, 2021. There were many moments when I observed my dad from the bedroom door or as I sat with him. When he was tired or frustrated he would hang his head and close his eyes; slightly leaning forward with slumped shoulders. He used his hands to indicate what he would want because he could no longer speak. The reaching hand in Picasso's painting reminds me of the many times my father would extend his hand, searching for what he wanted or needed. The Blind Man's Meal evokes a great deal of sadness and grief for me.
One of the most important of Picasso's Blue Period canvases, this work is a remarkable restatement of the Christian sacrament - the ritual of tasting bread and wine to evoke the flesh and blood of Christ - in contemporary terms... (The Met).
After reading this statement on the Metropolitan Museum's website about Picasso's painting, an apiphany emerged: My father was a devout Christian who loved to share his faith. The fact that some believed that The Blind Man's Meal is representative of Christian symbols only reinforces my connection with his painting and how it makes me think of my father. James Voorhies shared a more direct view of Picasso's work:
Picasso's paintings from late 1901 to about the middle of 1904, referred to as his Blue Period, depict themes of poverty, loneliness, and despair. In The Blind Man's Meal (50.188) from 1903, he uses a dismal range of blues to sensitively render a lonely figure encumbered by his condition as he holds a crust of bread in one hand and awkwardly grasps for a pitcher with the other.
This piece moves and affects the viewer - mesmerized by the image, we are drawn in by the pain.
References:
Halliwell (Ed.) (1995). Poetics, 5,1448b, IV, pp. 37-38
Krazenberger and Menninghaus (2017).
Voorhies, James. "Pablo Picasso (1881-1973)." In Heilbrun Timeline of Art History. New York: The Metropolitan Museum of Art, 2000 -. http://www.metmuseum.org/toah/hd/pica/hd_pica.htm (October 2004)
Winner, Ellen. How Art Works: A Psychological Exploration. Oxford University Press, 2018.
art
About the author
I started writing when I was about eight years old. I love to read and I also love to create. As a writer and an artist, I want to share the things that I have learned and experienced. Genres: Fiction, non-fiction, poetry, and history.
Reader insights
Be the first to share your insights about this piece.
Add your insights