Elle's Top 10 Korean Actors
We all have our favorites.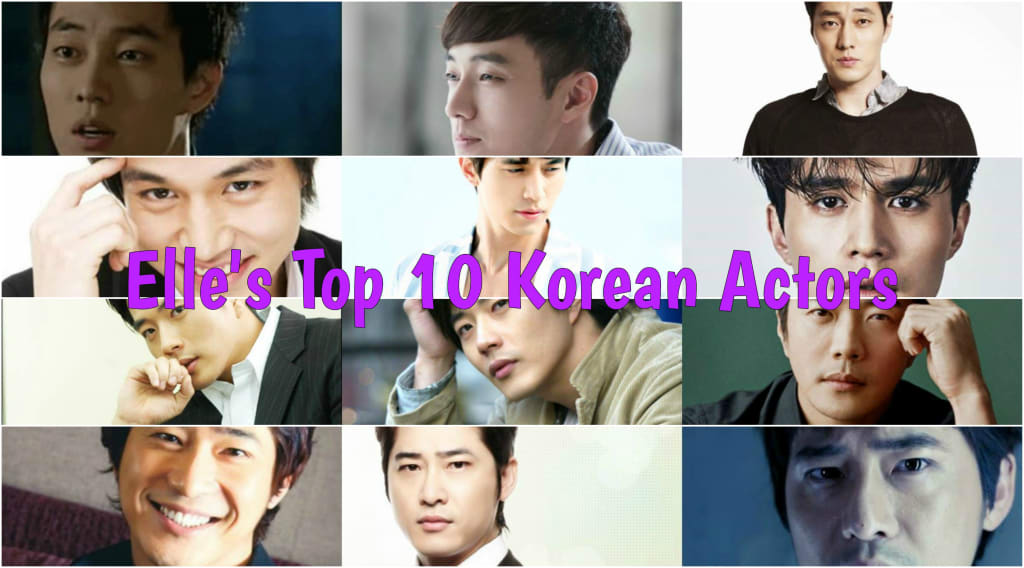 As much as we tell ourselves that we love all the leading men in our Korean dramas, we all have our favorites. Here are my Top 10.
10) Chun Jung Myung

I first fell in love with Chun Jung Myung in a Korean drama called Fashion 70's. His short hair and bad boy act stole my heart. Some of his best dramas are Fashion 70's, Cinderella's Stepsister, Glory Jane and Master of Revenge.
9) Bae Yong Joon

Winter Sonata stole the hearts of people not only in Korea but around the world. As much as I loved the tragic story line Winter Sonata held I wasn't head over heels until Bae Yong Joon's drama called The Legend. This fantasy drama had me falling in love with Bae Yong Joon's baby faced beauty. Though he doesn't have many dramas to his name, you should check out Hotelier and First Love (alongside Winter Sonata) and The Legend.
8) Kim Rae Won

What can I say about Kim Rae Won? I feel like I have watched this ageless man grow up. Recently he was in the popular Korean drama called Doctors or, as I like to call it, Doctors Crush. As much as I loved him in that drama I would have to say Love Story in Harvard is one of my favorites he has acted in. But really, his resume is full of wonderful dramas like My Love Patzzi, Cat on the Roof, Which Star Are You From and A Thousands Days' Promise.
7) Ji Sung

I personally feel that Ji Sung has become more popular as of late. Though continually active in his career, when Secret Love aired followed by Kill Me, Heal Me soon after, I felt I was seeing him everywhere. But I love him… and me being me didn't clue into that he was the lead in an alltime favorite drama of mine called Save the Last Dance For Me. Major blonde moment for me there. It was his arrogant, rich boy role that made me notice him and Ji Sung only continues to get better with each drama.
6) Joo Jin Mo

Another Fashion 70's leading man. His compassionate torn love role in Fashion 70's had me holding on to every phrase he spoke. Joo Jin Mo had my heart breaking in My Love Eun Dong. I will admit there is one drama I haven't seen of his and has been on my to-watch list for a while, and that is Empress Ki. Writing this now makes me want to re-watch some of this other Korean dramas like Punch, Queen of the Game and Woman with a Suitcase.
5) Lee Jin Wook

Now, Lee Jin Wook is a fairly new top Korean Actor on my list. Though he has been active for over 10 years in the Korean drama world I hadn't really noticed him until The Time We Were Not In Love and Goodbye Mr. Black. I had seen him in Spy MyeongWol but it wasn't till his quirky boy next door role that had him taking a piece of my heart and a spot on my list.
4) Kang Ji Hwan

I have re-watched a k-drama called Lie to Me many, many times–and who is the lead actor in this charming comedy? You guessed it, none other than Kang Ji Hwan. Though I have not seen many of his older dramas I can fully recommend you watching Incarnation of Money, Big Man and Monster alongside of my favorite Korean Drama, Lie to Me.
3) Lee Dong Wook
Mr. Lee Dong Wook is one of the only Korean Actors I have watched in a reality show. Roommates made me re-fall in love with this handsome, willowy man. He first stole my heart in My Girl and then again in Scent of a Woman. Lee Dong Wook knows how to make me cry. The first drama I ever saw him in, which continues to be a drama I recommend to new Korean Drama addicts, is Loving You. Most people don't know about that drama and if you want to check out a drama of his, please, please check out Loving You.
2) Kwon Sang Woo

What can I say about my number 2 Korean Actor...no actor made me both cringe and fall head over heels like Kwon Sang Woo did. I didn't think a man could cry as much as he did in his role in Stairway to Heaven. The tragic love story that depicted event after event stayed in my soul for many years. It also didn't help that he was brilliant in Sad Love Song a couple of years later. Some of his best dramas are Are We Dating Now, Stairway to Heaven, Sad Love Song, Medical Top Team and Queen of Mystery. I think Kwon Sang Woo is going to continue to go far and be a great Korean drama dad down the line!
1) So Ji Sub

One of the first Korean dramas that I saved and bought was Glass Slippers. So Ji Sub played a tender heart, bad boy character that had your eyes filling with hearts. I find it hard to describe why I love him because well… he is something wonderful! We Are Dating Now, Glass Slippers, What Happened in Bali, Master's Sun, and Oh My Venus are such wonderful Korean dramas. Oh My is right with Mr. So Ji Sub. His abs are something yummy, but his side smiles and smizes are what get me every time.
I hope you enjoyed my Top 10 List of Korean Actors. Let me know who your favorite actors are and recommend a drama they've appeared in.
list
About the author
Reader insights
Be the first to share your insights about this piece.
Add your insights