Drew Barrymore: Her Childhood Reads like a Hollywood Script
Original Wild Child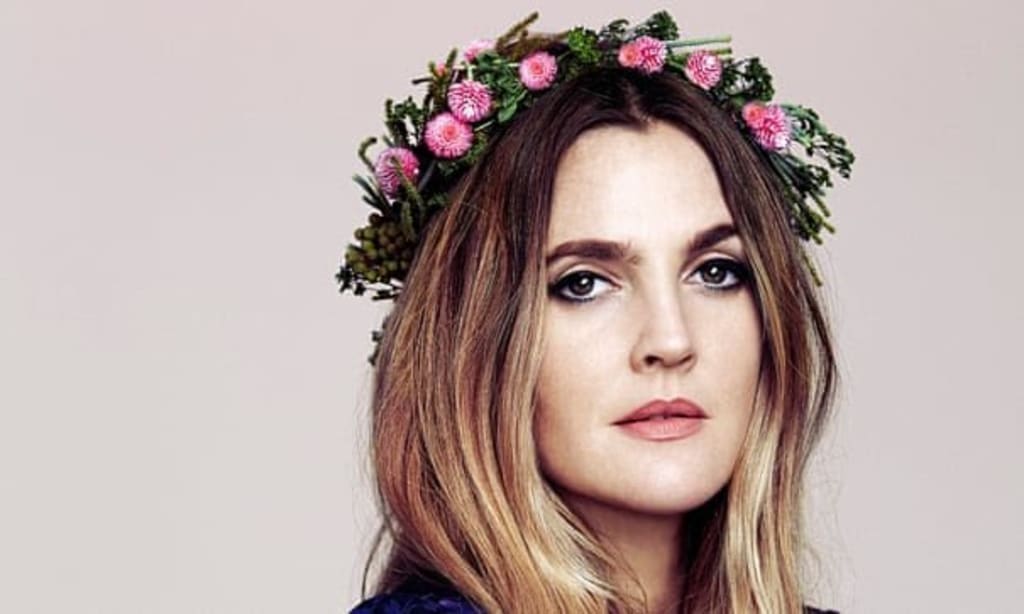 Photo Credit: The Guardian
Today we know Drew Barrymore as a successful actress, producer, author, director and model. She's one very respected figure in Hollywood, starring in hit films including The Wedding Singer, Never Been Kissed and Charlie's Angels.
But life wasn't always as rosey for Drew. She had a childhood which reads like a Hollywood script—full of drama and neglect; turbulent and wild. With drug and alcohol abuse. Childhood for Drew Barrymore was one very dramatic time. But she pulled through to be a huge success story. Let's have a look at the childhood of Drew Barrymore.
Drew Barrymore was born into the famous Barrymore acting dynasty, which includes her Great Grandfather, John Barrymore and her Great Uncle, Lionel Barrymore. Drew came into the world on February 22nd, 1975, in Culver City, California to father, John and mother, Jaid. Her parents divorced when Drew was nine years old, in 1984, though her father had abandoned the family when Drew was just six months old. She rarely saw her father and they never had a strong, secure father/daughter relationship.
Being born a Barrymore meant Drew was born into Hollywood royalty. Her Godmother is Sophia Loren and Godfather is Steven Spielberg. Drew's career began when she was eleven months old, appearing in a dog food advert. Her film debut came in 1980 in Altered States, a science fiction horror film, directed by Ken Russell. Drew was cast as Margaret Jessop, alongside actor William Hurt, who played a professor who experiments with powerful drugs, in the hope of unlocking his mind to a different state of consciousness, which works to begin with—but within time his reality starts to slip away.
In 1982, Drew had become one of the most famous child stars of all time, she was rocketed to world wide super stardom when she played Gertie, in one of the biggest films of all time, ET (Directed by her godfather Steven Spielberg). Everybody loved Gertie! For her role, Drew was nominated and won a Young Artist Award for Best Supporting Actress. ET is just as popular now as it was then, a timeless classic.
Drew was now an in demand actress, next working in a Stephen King film, Firestarter, in 1984, a science fiction horror film. Drew played Charlie McGee, a little girl who can set fire to things using only her mind, making her a very dangerous girl. For her next role Drew received a Golden Globe nomination. In the 1984 comedy drama, Irreconcilable Differences, Drew is Casey Brodsky, a little girl who has had enough of her parents', played by Ryan O'Neal and Shelley Long, strained relationship. So Casey sues them for a divorce, which gives her tonnes of media interest, meaning the family must reassess their lives together.
Drew teamed up again with writer Stephen King in 1985 in the Thriller, Cats Eyes. The film is an anthology, which follows a cat, who ends up in Amanda's (Drew) bedroom, after going from a smoking clinic's window ledge. All very Stephen King style.
It was around 1985 when Drew's private life started crumbling down around her. She was out at parties and nightclubs, going to the New York nightclub, Studio 54, with her mother sometimes five nights a week. She was smoking at nine. Drinking, and then came drugs. She was smoking marijuana aged ten. By the time she was 12, Drew was snorting cocaine. At 14, Drew was in rehab. She went to rehab twice. After her time in rehab, Drew was working again, in 1989s See You in the Morning. Three years after his divorce, Larry Livingstone is ready for a new relationship. He falls in love with Beth, a widow, who is still coming to terms with the death of her husband. Beth and her two children, one being Cathy Goodwin (Drew), come to realise that Larry is giving them their second chance of happiness.
Drew's last film of the 1980s was Far From Home, in 1989. Joleen Cox (Drew) and her father, are driving across country and become stranded in remote Nevada. They are forced to stay in a trailer park, where a serial killer is lurking.
In 1991, Drew released her autobiography, Little Girl Lost. She was only 14 when she wrote it. A lost, unloved girl, who couldn't relate to other children, she talks about her violent, abusive father, who was a rare figure in her childhood, and how he was often drunk. Her mother, Jaid, was wild, a party girl who had no concept of parental responsibility. She talks about how her life went off the rails. All of this was written when she was 14, still a child. Life for Drew was far from normal.
Drew certainly grew up fast. At 15 she was living in her own apartment, and she was engaged at 16, to Leland Haywood, which was called off a few months later. What a dramatic childhood it was for Drew Barrymore! But she has successfully become one of Hollywood's biggest names. For a girl who was told at 15 that she was now unemployable, Drew has certainly proved Hollywood wrong. She found peace within herself and she let the inside anger which she held about her childhood go. Drew was certainly a child star like no other. How wonderful it is that Drew found her happiness in adulthood and got the ending she deserved, a happy ending.
celebrities
About the author
I am a freelance writer. As well as Vocal, I have also written articles for numerous websites, including, Eighties Kids, WhatCulture, Child Of The 1980's, Online Book Club, GoNOMAD Travel, Hubpages, and ScreenHub Entertainment.
Reader insights
Be the first to share your insights about this piece.
Add your insights