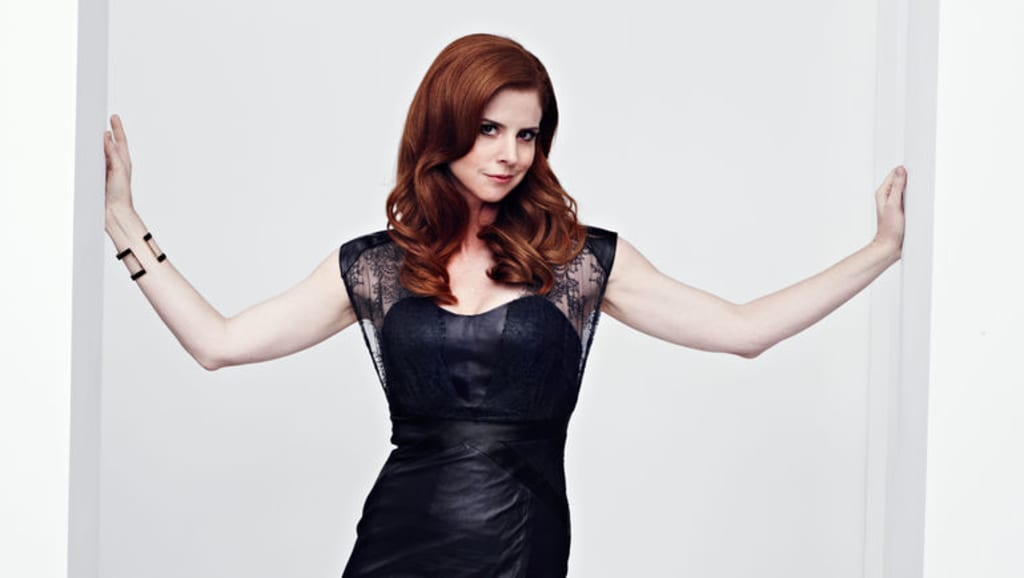 Recently, I have started watching Suits again. For those who have not seen a single episode of Suits it is about a law firm that hires a fraud as a lawyer and they knowingly did so. The reason that Mike Ross was hired was because Harvey Spector has never seen an associate know so much about the law, but of course Mike Ross has a photographic memory. Anyways, Harvey has the best assistant in the world. Donna knows the details of everyone and everything that goes around the office. She can be portrayed as an icon of feminism. Harvey is one of the best lawyers in the city and Donna is the equivalent of him. She is fiercely loyal to Harvey and sometimes she does have clouded judgement when it comes to him, but it happens rarely. Donna is often the glue that holds everyone together, and she gives the great advice even when it is not asked. Donna does her job and does it well. She also has the confidence that any woman should have, and her outfits are simply amazing.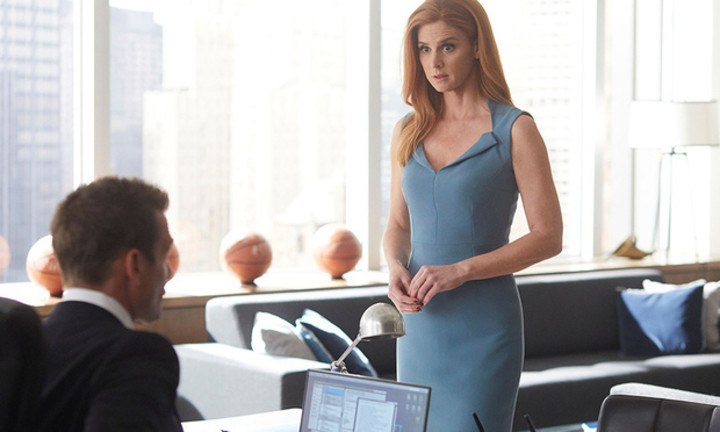 Okay, the facial expression is not the best in the photo but the dress in this photo is so office attire yet, if she had to go on a last minute date she could go without changing into something else. From V necks to high collar she can pull off any dress. I think what exudes her confidence is that she is always sitting up straight or standing up straight and never slouches.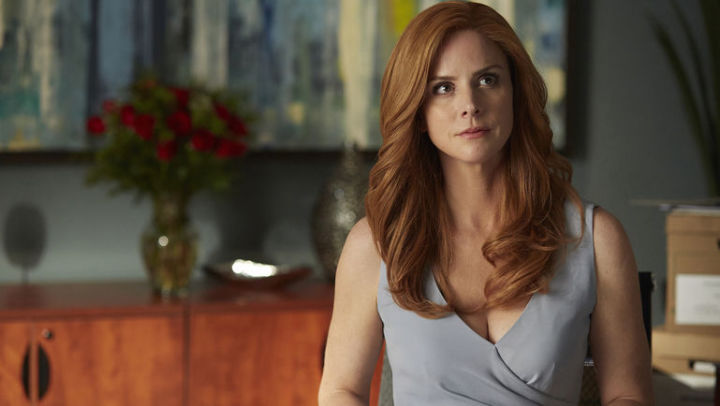 Notice how she shoulders are relaxed yet she holds confidence. That's what I am talking about.
Donna is one of the most powerful women on the show. She can bring anyone to do anything she wants. She managed to book the Plaza for Mike and Rachel's wedding when it was fully booked. Donna became the new COO of Pearson Specter Litt because of her brains and know-how on the job. She did not have sleep with anyone to get the job, she is just is awesome at her job. When I think of the job secretary I think about Donna Paulsen, she is the one that comes to mind. Also, television loves smart, capable secretaries and assistants.
No one was really sure how big of a character she would be when then show started, but audience loved her. I love the working relationship that Harvey and Donna have, they sometimes banter and get into fights but at the end of the day it seems that Donna is always right.
Donna knows how to do everything very well. For example, when Louis was angry at Harvey he went to a shooting range to blow off steam then Donna comes in and shoots the gun getting the target on point and Louis says "Is there anything you can't do?" Everyone around Donna notices her outstanding performance in everything that she does. Louis has been wanting Donna as his secretary for a long time and at one point in the show she becomes Louis's secretary and she does not change her job performance.
Donna is one of the most empathetic characters on Suits. She understands how people feel and act and part of me sometimes wonders if the character had a degree in psychology because of how understanding she is and how much great advice she gives the others in the office. Not only she is intelligent beyond compare, but she also has emotional IQ and I think that is a big reason as to why so many viewers admire her.