Don't Worry Darling
Review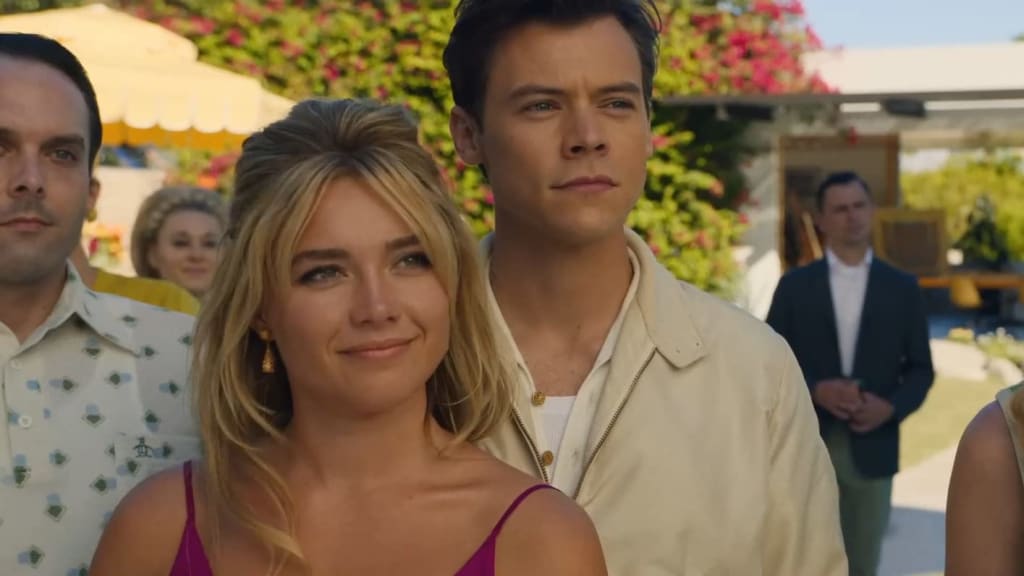 Lots of rumors, controversy and drama surrounded this film's production and its release. I'm willing to bet that the audiences that saw this film on opening weekend were a 50/50 split between Harry stans and people who were morbidly curious after reading all of the headlines surrounding this film. I was on the morbidly curious side, I went into this film hearing about its production but nothing about the actual film. I really didn't know what it was about, only that it was a psychological thriller that was getting mixed reviews. So I went to the theater with low expectations, ready to see the dumpster fire.
The first immediate comparison for Don't Worry Darling is the Stepford Wives. The whole film feels like an updated version that really dives deep into the actual relationships and the toll it takes on the women. Stepford tells the story of women that were forced to be perfect wife robots, Don't Worry Darling takes that one step further in commenting on abusive relationships and how the public views women that speak out.
The mood and tone is set so well, act 1 really makes you fall in love with Alice and Jack. He is sweet, he cares for her, the men in this community are the opposite of the men in the world of Stepford Wives. These men love their wives, which really shouldn't seem suspicious but after the plot twist we realize that the way the men behave in Victory is really the antithesis of who they are in reality.
As the tension builds throughout act 2 we get some brilliant cinematography. Using classic psychological thriller shots, mixed in with some horror shots and drama angles the camera work only aids in building suspense and emotion. Act 2 is really where the commentary on abusive relationships comes in, Jack continually gaslights Alice but that isnt what im talking about. What I mean is Alice tries to tell people that she can feel that something is off and it's not just Jack that treats her like she's crazy, it's everyone. Women are constantly challenged when they speak out against their abusers, everyone wants proof. But how do you prove psychological abuse? Olivia Wilde might have issues as a person but as a director she is absolutely brilliant.
One of the criticisms I've been seeing surrounding this film is that there were plot holes. That is an entirely unfounded criticism, the film wrapped up just about every question that was asked. It explained everything that really needed explaining. Diving in any further would have required unnecessary exposition, longer runtime, and a switch of genre.
Really my only major gripe with this film is Harry Styles acting….Acting requires two major things: voice and face. When one must repeat a line more than once actors are taught that in order for the line to have any weight the second or third time we must change our tone and inflection. You have to say the same line in a different way, Harry not only didn't do that but his delivery of every line was the same. The second thing necessary for acting, especially film acting is facial expressions. The entire movie Harry had the expression of someone who was told to listen to the actors around him and he started to zone out. There was not a single expression on that man's face for ¾ of that movie. A middle school level acting course was not taken, and it should have been.
Florence Pugh however was the epitome of perfection. She was truly brilliant, the height of her craft honestly. She was heartbreaking, funny, captivating and stunning. Truly a spectacular performance, she had a great script to work with and she only enhanced it.
Overall I really think the film was incredible, Harry's acting wasn't good but it didn't kill the film. It was paced very well, there were perhaps some scenes that could have been cut but it's a fine line. I highly recommend it.
8.5/10