Documentary Review: The Life of Kurt Vonnegut 'Unstuck in Time'
The legendary author of Slaughterhouse 5 is given a meta presentation in 'Unstuck in Time.'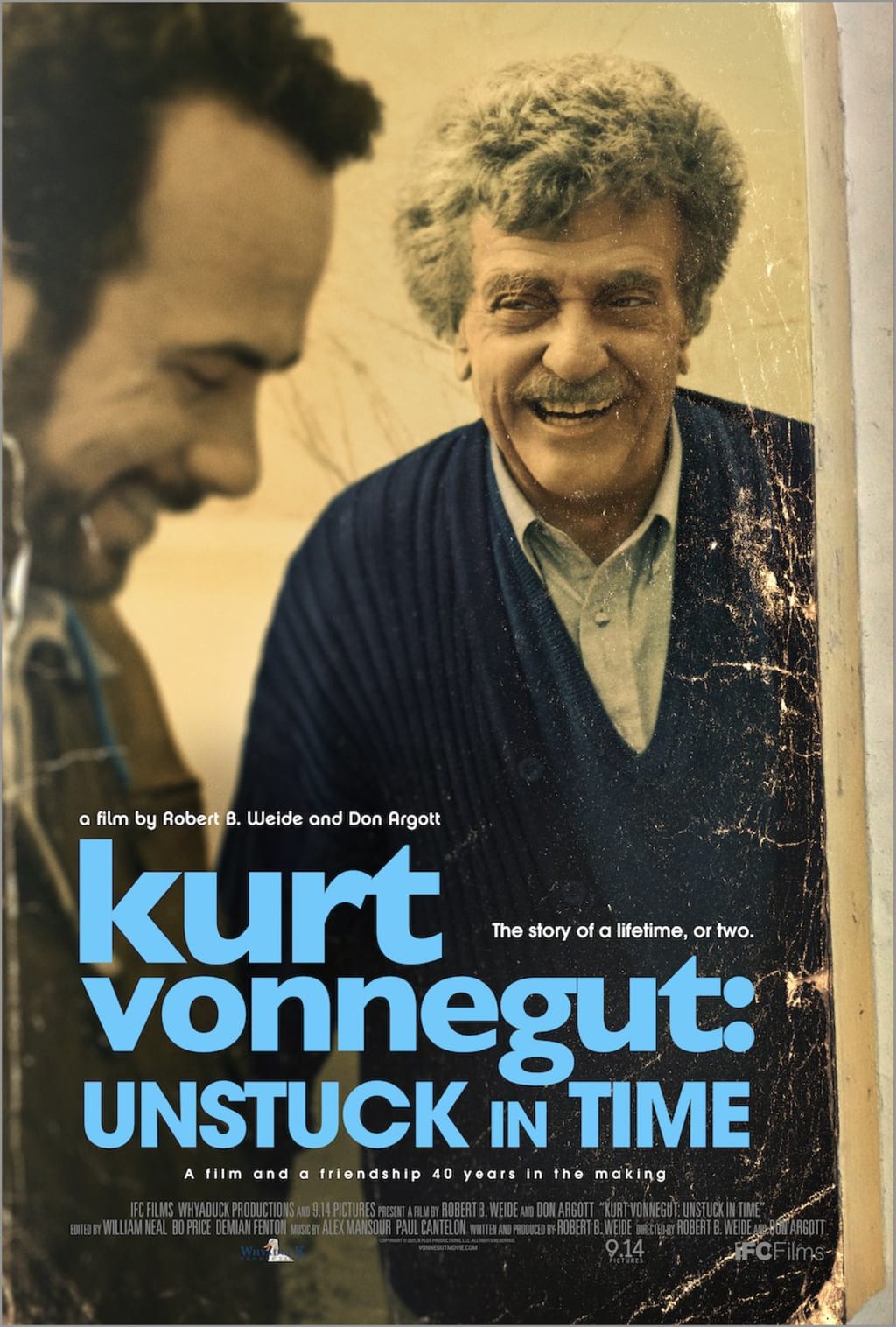 Kurt Vonnegut was famous for many reasons but one of the highlights of his work was when he would write himself into his stories. A famous instance of this can be found in his bestseller, Breakfast of Champions, where Vonnegut revealed himself to the character, Kilgore Trout and explained that he was Trout's creator, the author of the book where Trout was a character. It's a wonderfully off-beat bit of meta and it was part of Vonnegut's charm. Director, documentarian, and friend of Kurt Vonnegut, Robert Weide was undoubtedly influenced by his friend when he decided to write himself into his documentary on the famed author, Unstuck in Time.
Unstuck in Time is a documentary nearly 40 years in the making. Weide first conceived of the idea of a documentary about Kurt Vonnegut in 1983. After having great success with a documentary he'd made about The Marx Brothers, Weide wrote a letter to Vonnegut to propose the documentary. He didn't hear back for months and assumed the idea was D.O.A. Then, out of the blue, Weide received a letter from Vonnegut who said that he'd seen Weide's previous work and that the two could work together.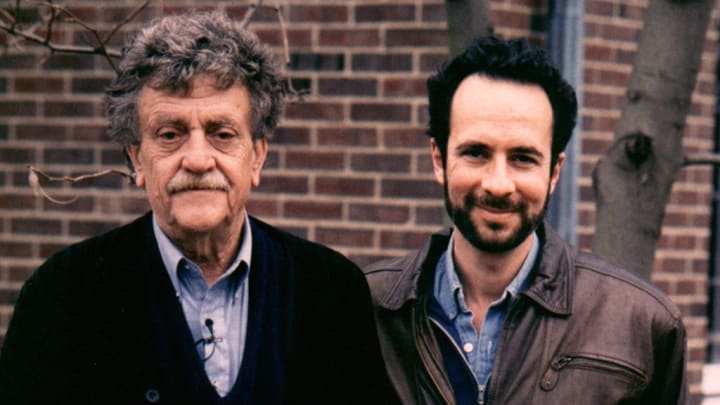 This was the start of a lifelong friendship in which Weide and Vonnegut would get together and travel to Vonnegut's many childhood homes the many places his family visited that would go on to inspire his work. Weide captured hundreds of hours of interviews with Vonnegut, his daughters, his adopted sons, his late brother, and so much more. Vonnegut himself was so supportive of the documentary that he'd make sure to get a VHS copy of any interview or speaking engagement he was part of and have it sent to Weide for potential use in the documentary.
Principal Photography for the documentary actually began in 1987. Then, much like Vonnegut himself, who often took years to craft a novel, Weide kept starting and stalling on the documentary. For years Weide chased an ending but could not seem to find one, even after his friend, Kurt Vonnegut became a superstar for a second time in the early 2000s and even after Vonnegut's tragic passing in 2007, following a fall at his New York City home. Weide perhaps never wanted to close the book on his friend.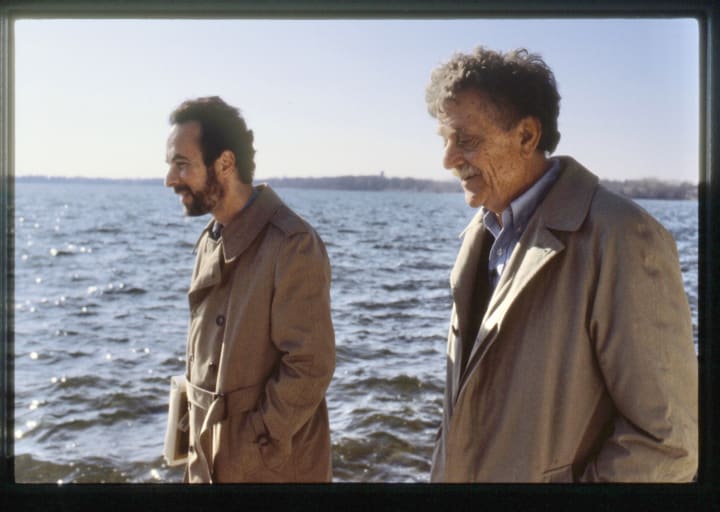 Whether or not it was Weide or his co-director Don Argott who came up with the idea to put Weide himself into the documentary is unknown but it appears to be the impetus for actually getting Unstuck in Time completed. The decision to turn meta and have the documentary be both about Vonnegut's life and career and the struggle of his friend and director to bring his life to the screen is an ingenious one, an idea that the writer himself likely would have enjoyed. The meta gives shape to the documentary and provides a touching end as well.
Unstuck in Time is how Vonnegut described the main character of his legendary breakthrough novel, Slaughterhouse Five: The Children's Crusade: A Duty-Dance with Death. The structure of the novel begins with the main character's death and then we travel to various parts of his life in a non-linear fashion. Similarly, the documentary travels through the life of Kurt Vonnegut after his death, traveling though his life in a slightly more linear fashion, touching on aspects of his life that influenced his work.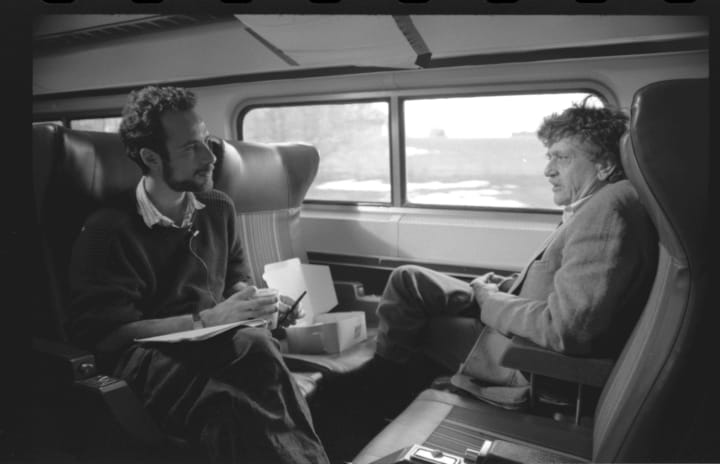 Vonnegut's work and his very unique mind are very much on display in Unstuck in Time. Weide's conversations with Vonnegut are warm and thoughtful and the portrait that Weide and Argott paint of the famed author is everything a Vonnegut fan could want. That said, it's not an entirely rosy picture. Vonnegut's adopted sons also paint a picture of a man who could be terrifying if he wasn't in a good mood. Vonnegut's children tell us that they could tell how his writing was going from whether or not he was a monstrous bully or a fun loving joker.
That said, all of Vonnegut's children roundly state that they loved and respected their father. They were aware of his flaws but they were also in love with his genius and the life he provided for them. It's a complex portrayal of Vonnegut, one worthy of his legendary life. Late in his life, Vonnegut became more vulnerable, more desirous of the company of others and appreciative of his family and friends. In that context Weide relates a lovely story of unconsciously and embarrassingly telling his friend that he loved him and how Vonnegut, without hesitation, said I love you too.
It's a little thing, but for men of Vonnegut and Weide's generations, saying I love you to another man, even in a purely platonic fashion, wasn't done. That's the context for why it meant so much to Weide and why he gets choked up telling the story today. That, and the fact that this potentially awkward moment was part of the last time he saw Vonnegut in person before the author died. Weide also captured a photo in that moment that is striking and rather beautiful in context.
Unstuck in Time opens in limited release on Friday, November 19th, 2021.
movie
About the author
Hello, my name is Sean Patrick He/Him, and I am a film critic and podcast host for Everyone's a Critic Movie Review Podcast. I am a voting member of the Broadcast Film Critics Association, the group behind the annual Critics Choice Awards.