Documentary Review: 'Holy Frit'
Who is Tim Cary and how did he pull of a multi-million dollar stained glass project? Holy Frit explains it all.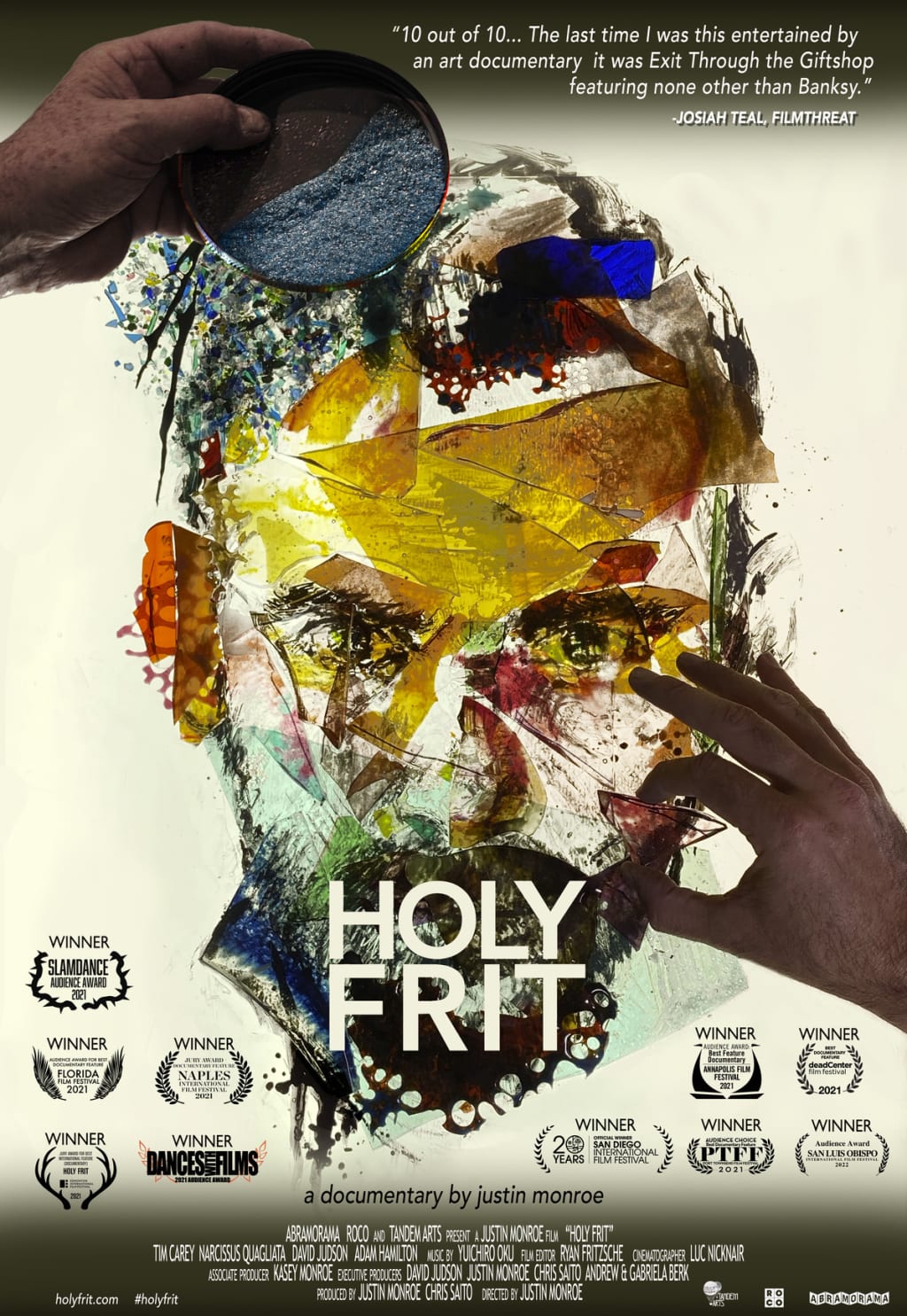 Holy Frit (2023)
Directed by Justin S. Monroe
Written by Justin S. Monroe, Ryan M. Fritsche, Gillian Fritsche
Starring Tim Carey, Narcissus Quagliata
Release Date November 10th in Los Angeles, California
Published October 28th, 2023
"In your gut, how think the window is going to turn out?" the director asks artist Tim Cary. Cary responds "I don't really trust my gut about anything." And that's the arc of Tim Cary in Holy Frit, a man who will have to learn to trust his gut and make gut wrenching decisions about his art, his massive multi-million dollar stained glass piece, and the future of his career and family. None of these decisions has an obvious answer and Tim is going to be forced to trust his choices are right without knowing what the outcome will be, trusting the gut, the instinct, as he's not done before.
What is Frit? That is probably the first question anyone would ask, based on the title of the documentary, but it's not that special, in and of itself and the answer is passed on to us in passing. Frit is very small pieces of broken glass. Frit is the innovation of an artist named Narcissus Quagliata, a larger than life personality who innovated in the world of glass art in a way that no one had before. I can't tell you exactly how Frit works, but when dusted onto other forms of stained glass, it creates a remarkably colorful design, unlike anything you've seen before.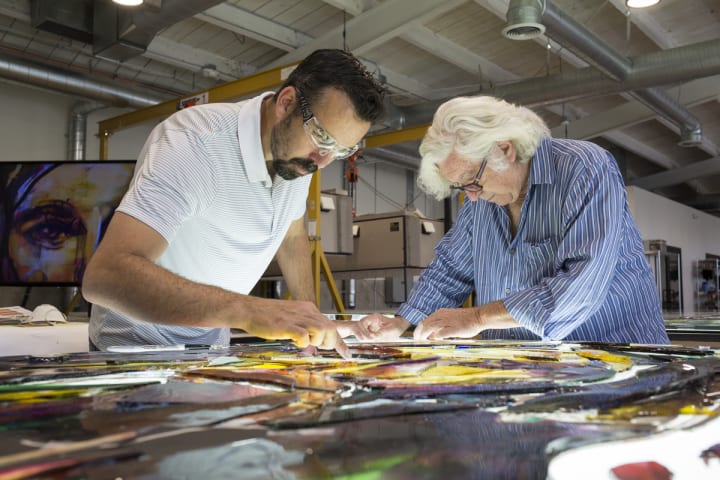 The fact that Tim Cary had never worked with Frit before when he pitched his employer, Judson Stained Glass, as the company to create a 4000 square foot stained glass window for a Kansas City Mega church is just one absurd fact to be learned from seeing the documentary Holy Frit. Nearly as absurd is the fact that Judson Stained Glass didn't have the technique, the staff, or the space to do a project as massive as a 4000 square foot stained glass window. Oh, and the design that Tim Cary pitched to the church, is the kind of design that, at the moment he pitched it, didn't appear to be possible when he pitched it and the pitch was accepted.
For a man who claims not to trust his gut, Cary made a gutsy choice in just pursuing this project. He's certainly a very good salesman. He somehow sold the church, his boss, his colleagues, and himself on the idea that his company could do something that had never been done before and technically didn't appear to exist before he actually did it, The key to the project however, was not Tim, his gut, or his salesmanship. No, the key was an elderly glass artist with the most innovative approach to bringing color to stained glass, Narcissus Quagliata.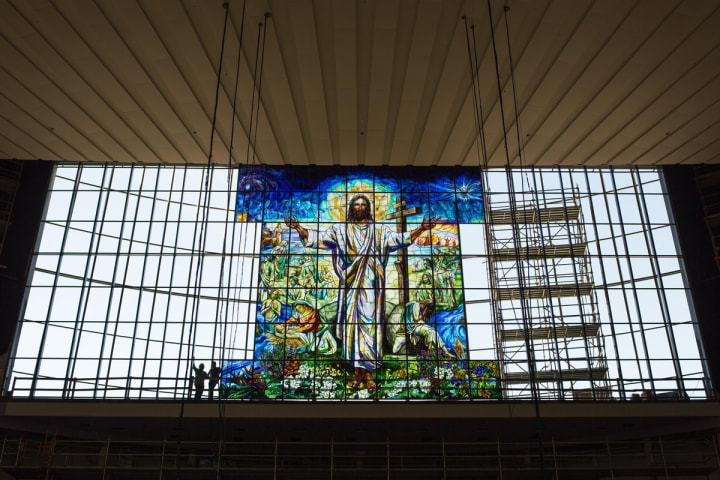 While the art of stained glass has remained the same for the past few centuries, colored glass pieced together in lead like a puzzle, Narcissus was busy thinking outside of the box. He began experimenting with color. Color in stained glass often comes from coloring glass or painting it. This is because you can't really control what happens when glass is placed in a furnace. If you put two pieces of colored glass together in hopes of creating a new color, it tends not to work. But, with Narcissus's frit technique, more colors are possible as are more unique ways of causing glass to adhere. It's remarkable and I don't know how it actually works, but the final product, as you see it in Holy Frit, is remarkable.
I have my qualms with mega churches. And I have a huge problem with the amount of money that goes into building mega-churches, including the $3 million dollars that went into creating a 4000 square foot stained glass window display. That's money that could be used to feed those in need. That could be money to treat diseases or get people off the street and into safe places to live. I find it gross and needless when churches spend this kind of money while cloaking themselves in the bible when it comes to tax exempt status. It's gross.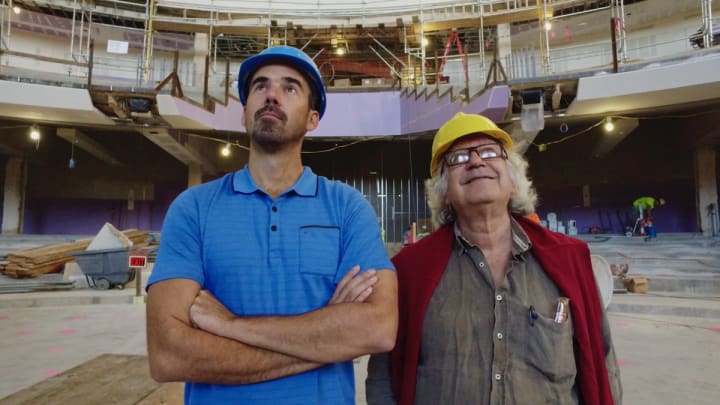 That said, the work of Tim Cary and Narcissus Quagliata, as captured in Holy Frit, is remarkable. Their accomplishment cannot be understated. It's a miraculous piece of work. 4000 square feet would take up the entirety of your average NBA basketball floor. That should give you a sense of the size of the project. Now imagine the weight of these stained glass windows, how they had to be packed and transported from Judson's West Coast headquarters to the church in Kansas. Then, the stained glass pieces had to be hung in place, arranged like the most intricate puzzle. You see all of this in Holy Frit and whether you like the art or not, it's breathtaking watching it come together and be revealed in full.
Holy Frit is currently on the festival circuit and will have a theatrical debut in Los Angeles, at the North Hollwood Laemmle Theater, on November 10th. I highly recommend the documentary. In and of itself, and regardless of the church and the necessity of this particular work of art, the human elements of this story are strong enough to make you root for them to finish this project and for Tim to grow up and find value in himself and his work. That's an exciting story.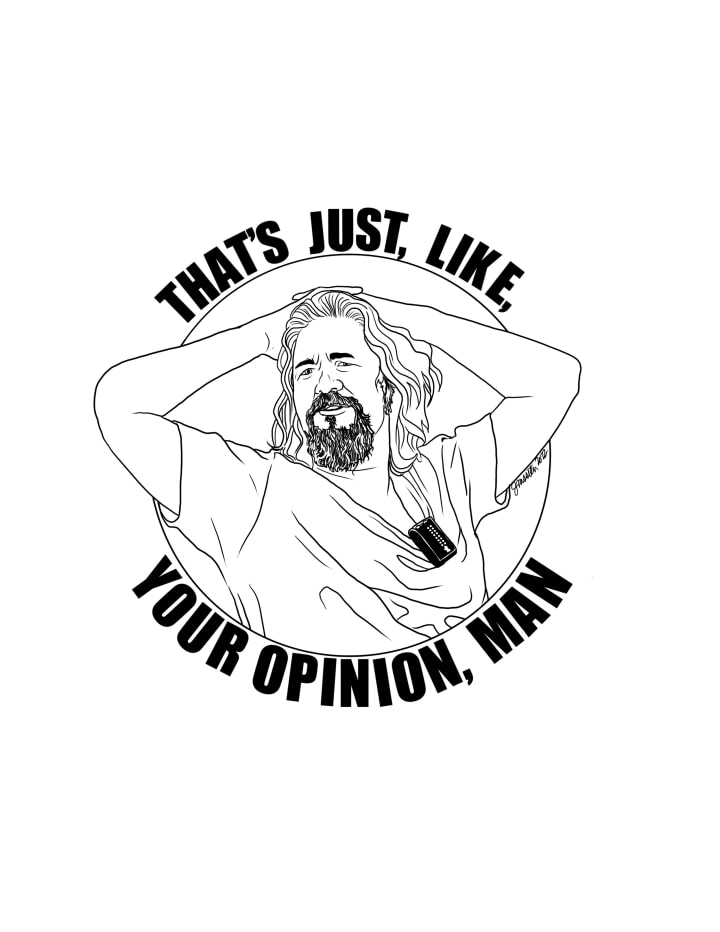 The debate over the mega church and the greedy. self-aggrandizing nature of a mega church is part of this movie. It's an inextricable element of the story of Holy Frit but it isn't what this documentary is about. You are invited to have that conversation, and I urge you to have it. This documentary however, is about art, beauty, and truth. It's about a man coming into his own as an artist and human being and that's an experience I recommend for anyone.
Find my archive of more than 20 years and nearly 2000 movie reviews at SeanattheMovies.blogspot.com. Find my modern review archive on my Vocal Profile, linked here. Follow me on Twitter at PodcastSean. Follow the archive blog on Twitter at SeanattheMovies. Listen to me talk about movies on the I Hate Critics Movie Review Podcast. If you have enjoyed what you have read, consider subscribing to my writing on Vocal. If you'd like to support my writing, you can do so by making a monthly pledge or by leaving a one time tip. Thanks!
About the Creator
Hello, my name is Sean Patrick He/Him, and I am a film critic and podcast host for the I Hate Critics Movie Review Podcast I am a voting member of the Critics Choice Association, the group behind the annual Critics Choice Awards.
Reader insights
Be the first to share your insights about this piece.
Add your insights