'Doctor Strange in the Multiverse of Madness' Movie Review
Strange New Worlds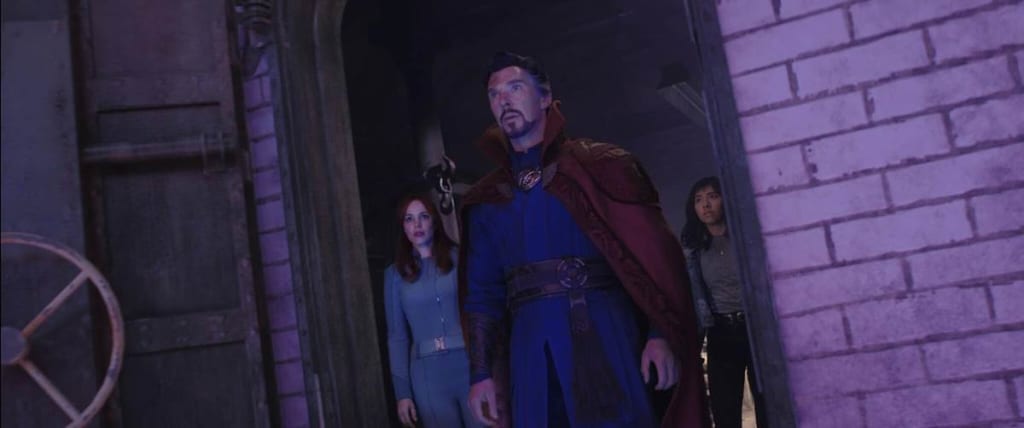 Doctor Strange in the Multiverse of Madness, the MCU's first foray into horror, continues their more recent exploration into the nature of the multiverse, as began with "WandaVision" and Spider-Man: No Way Home. When Dr. Stephen Strange (Benedict Cumberbatch) encounters a young girl named America Chavez (Xochitl Gomez) with the ability to travel through the multiverse, he consults Wanda Maximoff (Elizabeth Olsen) for help. But Wanda has also been dabbling in the multiverse thanks to an ancient book of witchcraft called the Darkhold, and evil forces from across all dimensions are being unleashed.
This movie marks the return of director Sam Raimi to the world of superhero cinema, having set the bar early on with his Spider-Man films in the early/mid-2000's. Raimi is quite possibly my favorite director of all time. Not only has he directed several of my all-time favorite films, he has such a fun, energized style to his work. I was really excited about his return to comic book movies, especially since it was announced that this would be just as much a horror film as it would be a superhero film.
This movie will not be everyone's cup of tea, so I'll have to play Devil's advocate several times during this review, but it was absolutely right up my alley! Since Raimi directed both my favorite horror movie and my favorite superhero movie, (Evil Dead 2 and Spider-Man 2, respectively), his combining of the two was practically tailor made for people like me. And make no mistake, this movie is at least as much a Sam Raimi horror flick as it is an MCU movie, which is exactly what I was hoping for. More casual viewers might not know that back in 1990, Raimi made a movie called Darkman, starring Liam Neeson. This was also a superhero horror film, and I'm a big fan of that one, as well. It's honestly impossible for him to make a dull film, and that makes him incredibly well suited to comic book movies. That said, one thing I found odd (and somewhat disappointing) is that Raimi had apparently not seen much of "WandaVision" before beginning production. While this was undoubtedly a poor decision, Elizabeth Olsen assured fans and press that she was given the freedom steer the character in (what she felt was) the appropriate direction, and that Sam would immediately, happily shift to what she insisted would make more sense. As silly as it was that he wasn't fully in the loop, I feel like his eagerness to collaborate is something to be appreciated.
Speaking of which, I know not everyone will be happy with how the film handles the character of Wanda/Scarlet Witch. A good friend of mine who is just as knowledgeable (if not more so) about comics as I am hated this movie's treatment of Wanda, especially as she is a particularly big fan of that character, and I can kind of understand why it would be a divisive direction to go in. I don't normally do this, but I am going to include a mild spoilers section at the end of this review in order to discuss this particular issue, so if you've seen it, feel free to keep scrolling after I give my final verdict.
One thing that I do feel is indisputable is how great Cumberbatch and Olsen are in this film. Cumberbatch is just so damn charming, and he pulls off a great mix of sincere emotional conflict and smartassery that I found to be really engaging. Olsen, however, is the true MVP of the film. She has one of the most heartbreaking arcs in the Marvel Cinematic Universe (something Raimi also did very effectively with his Spider-Man villains). If you've seen "WandaVision", you know that a big part of her more recent character development is trying to obtain her virtual children in a universe in which they are real, hence her ill-advised use of the Darkhold. Her performance is so raw and impassioned, but you can tell the character is trying really hard to keep a certain degree of composure, and this type of layered acting is incredibly impressive. We also see the return of Wong, played by Benedict Wong, Baron Mordo, played by Chiwetel Ejiofor, and Christine Palmer, played by Rachel McAdams, all three of whom are as great as ever. I won't spoil the cameo appearances we get, because there are a couple of jaw-droppers, but they are a highlight of the film. Xochitl Gomez is still relatively new to the big screen, and she shows some pretty solid acting chops. Her character is nothing to write home about, as the "kid with incredible powers they can't quite control" trope is pretty standard for movies like this, but I wouldn't be opposed to seeing her take on a meatier role.
As I said, this film was the MCU attempting to make a film that incorporates horror into their usual superhero fare, and they certainly achieved it. There are scenes in this film that push the PG-13 rating in a way that previous films in the MCU had yet to do. We've got a couple of gruesome moments, a bit of monster mayhem, and some supernatural horror that's a bit darker than Marvel fans might be used to. Sam Raimi's brand of horror has always been a favorite of mine, especially given his penchant for injecting a fair amount of dark humor, and if one is going to insert horror into Marvel, he's a damn good choice. One thing that I'm sure will be a bit of a snag for some fans is the fact that there are a few liberties taken with some of the characters and relics here, and yeah, I kinda get it. It didn't really affect my personal enjoyment of the movie, but I can get why it would for some others.
While this new, horror-tinged Doctor Strange movie might not be everyone's favorite, I found it incredibly compelling and endlessly entertaining. Cumberbatch is as charismatic as ever, but Elizabeth Olsen steals the show with quite possibly her most emotionally engaging performance to date. The horror elements are a welcome addition, and they feel very natural in the context of the film. I can only hope this will make the MCU more willing to flirt with horror in the future!
SCORE: 4.5/5
MILD SPOILERS AHEAD!
So if you didn't know by now, Scarlet Witch is actually the main villain in the movie, and this will put plenty of viewers off. Her motivation is essentially just a continuation of her story in "WandaVision", which is where the MCU really started to finally give audiences a glimpse at just how powerful she is (along with that one moment during the final battle in Endgame). It's understandable that this may feel repetitive to some. There are also plenty of people who won't/don't like her being the villain. This is also very understandable, as over the past 30(ish) years, she has been given the antihero treatment, eventually leading her to becoming an Avenger and a full-on hero. For some reason, the MCU decided to do this backwards. While this was a little jarring, the main reason I wasn't really bothered is because my first exposure to her was from the comics in which she was a villain. Most of the Marvel comics that I read as a kid were hand-me-downs that predated me, so I mostly grew up reading Avengers comics from the 80's in which she was part of the Brotherhood of Evil Mutants, so later reading the stories where she was good was a bit of a change for me. I love when comic book movies remind me of what I read as a kid (hence my love for Raimi's Spider-Man and disdain for Webb's). But for those who love her as a hero (including said friend mentioned above), it can come off as random and potentially disrespectful.
My friend also pointed out that this film perpetuates an unfortunate trend in fantasy: the woman with ultimate power is too blinded by her emotions to control it and/or be rational. And you know what? Yeah, this needs to change. It is all too common, and it's a bit disappointing that this film continues that. This is a big reason why we need more women involved in telling stories about women. As much as I adore Sam Raimi, I'm more than willing to admit that a woman probably would have handled that particular character better. So this criticism is 100% valid, and I do wish this trope would die. As a man, I'm perfectly aware that I could never fully understand the female experience and perspective, and while I didn't perceive it as an indication that women are just irrational and too emotional, the trope is rooted in that notion. While I thoroughly enjoyed the film, if a woman sees this as derogatory, I'm not going to call that unreasonable, because its origins certainly are.
movie
About the author
I'm an actor and director of stage and screen (mostly nonprofessionally so far). But I also dabble in standup, and on this site, horror movie criticism. I'm just a guy who loves horror movies, and I like to share that love with the world.