Doctor Strange 2 had the most first-day box office sales in 2022
Marvel Universe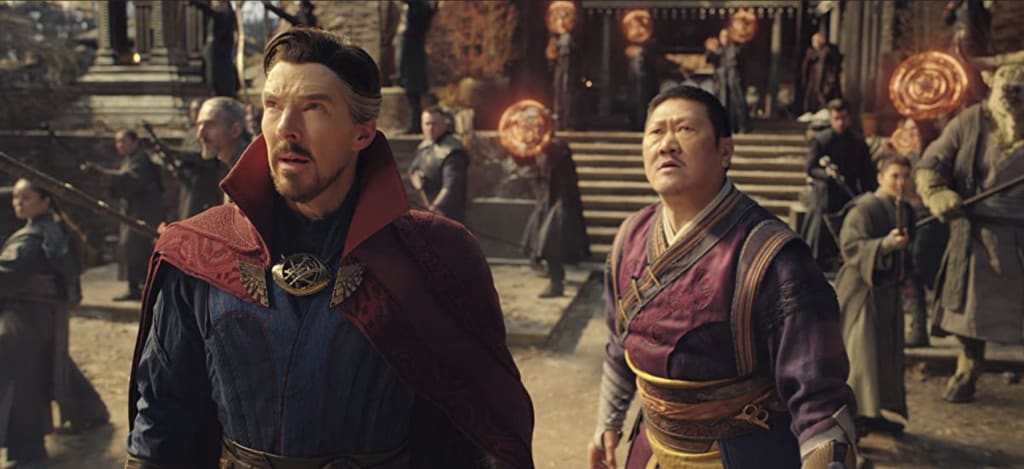 Although the calendar says spring will last another month and a half, the summer movie season actually started on Mother's Day weekend, courtesy of Doctor Strange in the Multiverse of Madness' massive $185 million domestic openings. With no new major competition (who in their right mind would dare to go up against it? ), the latest installment in the hand-over-fist Marvel Cinematic Universe became the biggest box-office debut of 2022 almost immediately, trouncing its cross-town DC rival, The Batman, and its $134 million openings just two months ago.
With a first-day gross of $90 million, it was evident straight away that Disney's widely awaited sequel to 2016's Doctor Strange (again starring Benedict Cumberbatch in the lead role) was smashing records. Director Sam Raimi's first superhero film since wrapping the original Spider-Man trilogy in 2007 had become the second-highest-grossing film in North America since the pandemic began, bested only by Spider-Man: No Way Home, by the time the dust had settled and all of the receipts had been counted two days later. Doctor Strange 2 earned an astounding $40,802 per-screen average in 4,534 cinemas, thanks to a 75 percent fresh rating from reviewers on Rotten Tomatoes. The MCU's most recent tentpole did even better in international markets, grossing $265 million in 49 countries (not including China, where it has not yet been given a release date, and Russia due to its war in Ukraine). After its first weekend, the film has grossed $450 million globally, with IMAX theaters accounting for $33 million of it. In comparison, the first Doctor Strange grossed $677.8 million throughout its theatrical run. Doctor Strange 2's enormous box office opening is simply the latest proof that there's the MCU and then there's everyone else when it comes to box office. After all, the franchise's four 2021 releases represented over 30% of all North American ticket sales last year.
The Bad Guys, from Universal, came in second place with $9.8 million, essentially unchanged from the previous session. The PG-rated animated crowd-pleaser about a gang of animal thieves who try to become model citizens plummeted by 39.8% from the previous weekend, averaging $2,544 per-screen average at 3,839 venues in its third weekend. The film, which stars Sam Rockwell, Marc Maron, Zazie Beetz, Craig Robinson, and Awkwafina, has now grossed $57.6 million domestically, with an additional $90.6 million internationally, for a total of $148.1 million in its first three weeks.
Sonic the Hedgehog 2 came in third place, with $6.2 million in its fifth weekend in cinemas. In 3,358 cinemas, the sequel dropped -46.3 percent from the previous session, averaging $1,846 per screen. The PG-rated sequel to 2020's franchise-starter has already grossed $169.9 million in North America, starring Jim Carrey, James Marsden, and Ben Schwartz as the eponymous blue creature. Internationally, where Sonic 2 debuted a week earlier, the picture has grossed $179.5 million, increasing its total worldwide to $349.4 million.
Fantastic Beasts: The Secrets of Dumbledore, a Harry Potter spin-off, came in fourth with slightly below $4 million. The PG-13-rated fantasy is swiftly running out of box-office enchantment, dropping by 52.5% from the previous weekend. At 3,051 locations, the third picture in Warner Bros.' projected five-part Fantastic Beasts cycle earned $1,294 per-screen average. In its first four weeks in North America, the picture, which stars Eddie Redmayne, Katherine Waterston, and Jude Law as Dumbledore, earned a lower-than-expected $86 million. It's still unclear if the film will gross more than $100 million domestically. However, the Potter-related picture has performed better overseas, grossing $277.7 million to date. It has a global total of $363.7 million.
Everything Everywhere All at Once, the year's independent success story, rounded out the top five. The R-rated film from A24 made $3.3 million in its seventh week of play, down 40% from the previous week. In 1,542 cinemas, the strange, hilarious genre-defying dark comedy about a lady (Michelle Yeoh) who enters a visually daffy universe grossed $2,155 per screen. A24's "little indie that could" has grossed $41.6 million in its first seven weeks of release, with a modest $3.9 million abroad, for a total of $45.4 million worldwide.
For the time being, all eyes are on The Multiverse of Madness, with analysts speculating about how much money it will bring in before the summer season's other tentpoles hit theaters. It should have the box office to itself until Top Gun: Maverick hits theaters on May 27, followed by Jurassic World Dominion on June 10 and Thor: Love and Thunder on July 8.