Do Yourself a Favor and Watch 'This Is Us'
In this article I continue my tireless efforts to get everyone I know to watch NBC's hit show 'This Is Us'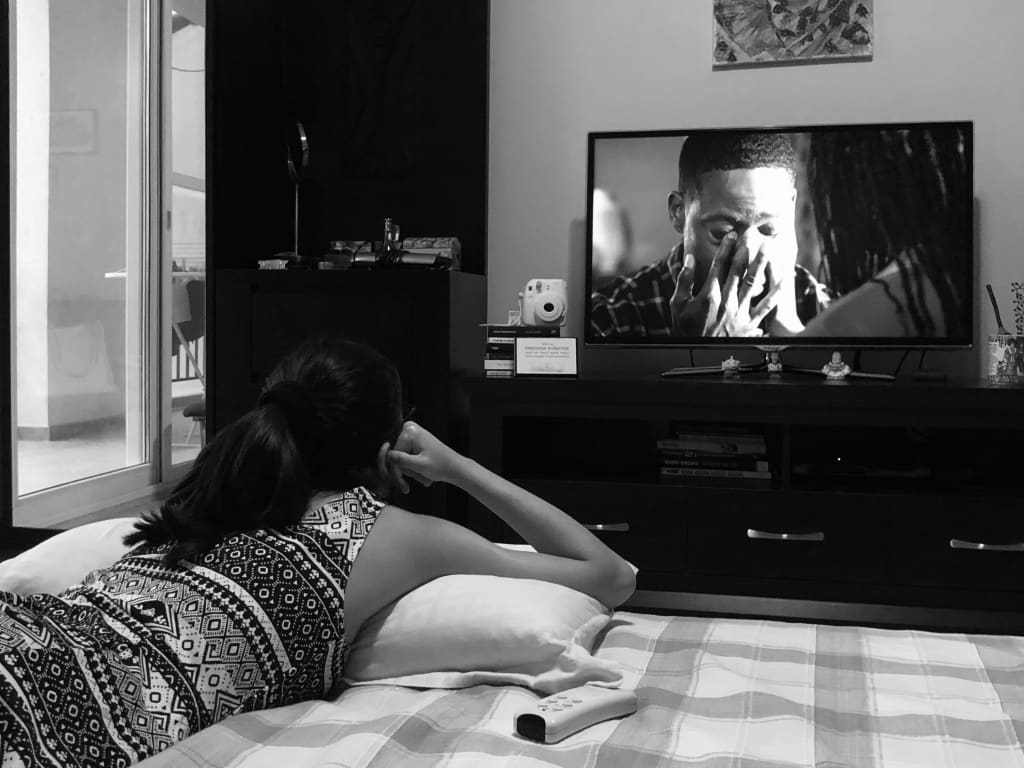 This is Freya engrossed in an episode of 'This Is Us'
Unless you live under a rock you've probably heard about a television series called This Is Us. The social media gush on this phenomenal show has been plentiful. Perhaps you know someone who watches it every week, preferably with a box of tissues nearby (that person is definitely me). In this article I explain why I love this show so much, while avoiding any spoilers for those who haven't watched it yet.
On the face of it This Is Us seems like a sappy family drama, which unfortunately deters many to stay as far away from it as possible. However, in reality it is so much more. It is an honest and touching series, which has its fair share of tears and laughter. It is something that accurately resembles life. The way in which the characters rejoice, grieve, argue and make up is so authentic that the viewers can't help but see a version of themselves being portrayed.
This Is Us does not rely on emotional manipulation in order to get a response from their audience. It is the raw and relatable portrayal of the human experience that deeply engrosses the viewers. The fresh clever storytelling and phenomenal acting work hard to make the show a success. While a well-written script and a talented cast is a must, what sets This Is Us apart is its inclusion of numerous commanding themes. The show covers a range of important topics, some of which include: adoption, obesity, grief, sibling rivalry and self-identity. It's really no surprise that This Is Us is both critically acclaimed and a huge commercial success.
Good pilots are quite hard to come by, but This Is Us nails it. The pilot wonderfully introduces what is at the essence of this series, a truly ensemble cast, where everyone is given their moment to shine. The cast includes critically acclaimed stars such as Mandy Moore, Milo Ventimiglia and Sterling K. Brown. While the initial jump in storylines during the first episode can seem confusing, the end of the episode wonderfully ties it up, thus setting up the future episodes for compelling storytelling.
One of my favourite parts about This Is Us has to be the soundtrack. The show's composer, Siddhartha Khosla, has done a beautiful job at carefully picking songs that compliment the show's emotionally charged moments. Music is an important element that affects whether the viewer is transported to that scene and if it feels authentic. The This Is Us soundtrack includes Death with Dignity by Sufjan Stevens in the very first episode; the contrast between the apparent lightness due to the happy melody and heavy theme portrayed in the lyrics brilliantly parallels the show. Other retro beats such as Paul Simon's You Can Call Me Al and Photograph by Ringo Starr are great additions to the soundtrack. The show's music also includes covers by the multitalented cast, for example, Fleetwood Mac's Landslide, as well as stunning original songs, such as We Can Always Come Back To This. That's all for now; I could actually talk about the music in This Is Us for days on end.
You can check out my playlist with my favourite songs from the soundtrack by clicking here.
We've already been blessed with three seasons of this show, with the fourth season releasing soon at the end of September. This is the perfect opportunity for This Is Us to be your next bingewatch. You can find season one and two on Amazon Prime or watch the series on NBC if you're in the USA.
Click here to view the trailer for episode one of season one (it covers a lot of the plot and goes into great detail).
About the Creator
When I'm not oversharing my thoughts on the internet, you will find me devouring chocolate, making good use of my Netflix account, or asking strangers if I can pet their dogs.
Reader insights
Be the first to share your insights about this piece.
Add your insights