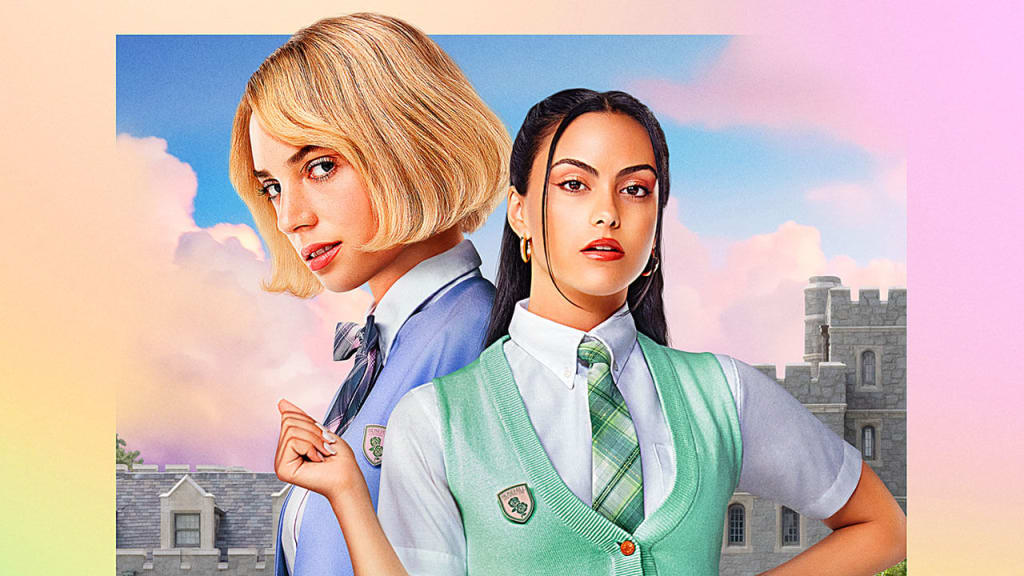 Do Revenge is Netflix's latest addition to teen dramas but it is not just another teen movie. After many positive comments on twitter and tiktok I decided to watch it. And honestly, it was incredible.
"Peaking in high school is cringe anyway"
This film is an incredible commentary on being a woman, but specifically being a teenage girl. Drea's sex tape is leaked and no one even looks into it, high school society's natural instinct is to crucify her. After her downfall, her "friends" completely shun her. Leaving her completely isolated for the summer.
Eleanor gravitating towards Drea starts off creepy, but ends up cute.
These girls really hatch a Strangers on a Train plan but appropriate for high school students.
This does definitely highlight the very real struggles of women and teenagers and just all the ways men can be self centered and gross. Drea really just points it out in dialogue, "women are easy, slut shame her, turn her friends against her…" and then this jackwang Max starts the Cis men advocating for women club or whatever and perfectly shows how men like to make struggles against women about themselves.
Max is such an ass, I hate him very much. He is the culmination of every dirtbag dude I've ever had to interact with. Which is totally the point and they wrote it brilliantly.
I am supposed to be taking notes but honestly this movie is so good I am getting distracted.
These girls are not only getting revenge, but they are growing into themselves and learning how to process their emotions. Learning how to trust is a skill most people have to relearn and to have to do that in high school is really heavy. Eleanor and Drea are a very sweet friendship and I love them.
This film really has all the best parts of high school movies while also being entirely original, brilliant and mature. I see very distinct inspirations from Mean Girls, 10 Things I Hate About You, She's All That and Heathers.
Drea falling for Russ, and Elenour having a thing for Max's sister both are very playful and sweet relationships and neither partner is afraid to call the girls out on their behavior.
The scenes where Russ and Drea are throwing paint balloons at each other was very 10 things I Hate About You the paintball scene.
Max's bullshit is performative and the public takedown was well deserved and incredible.
Also Sarah Michelle Gellar's role in this is incredible and she has the same vibe as she does in Cruel Intentions. Just a reminder that she was a teen drama bitch in her time too.
Anyway Drea is right, Eleanor is wrong. Actively befriending people you know did absolutely heinous shit to other people is really gross.
Eleanor is perfecting the blend single white femaling Drea and Mean Girls, Cady Heron, becoming a plastic behavior.
Excellent fucking plot twist. The idea that Eleanor was really coming for Drea the whole time is freaking brilliant.
Highlighting Nora's inability to move on is really the problem here. Yes what Drea did was fucked up, but it actually doesn't actively affect her. She's fine, she just needs therapy.
The girls realizing that taking each other down wasn't actually going to make them feel any better but taking down Max would is such a good resolution. The fact that they were both so lost and broken that they decided to just let their pain go and forgive each other and be friends was really beautiful.
This is my favorite teen movie ending, the love interests are an afterthought and the core of this movie is about female friendship. Overall I think the movie is brilliant and beautiful. It was incredible and it has definitely earned a spot on the top 10 teen movies of all time list.