Did the Oscars Get it Right?
I - Best Picture - 2020 - 2017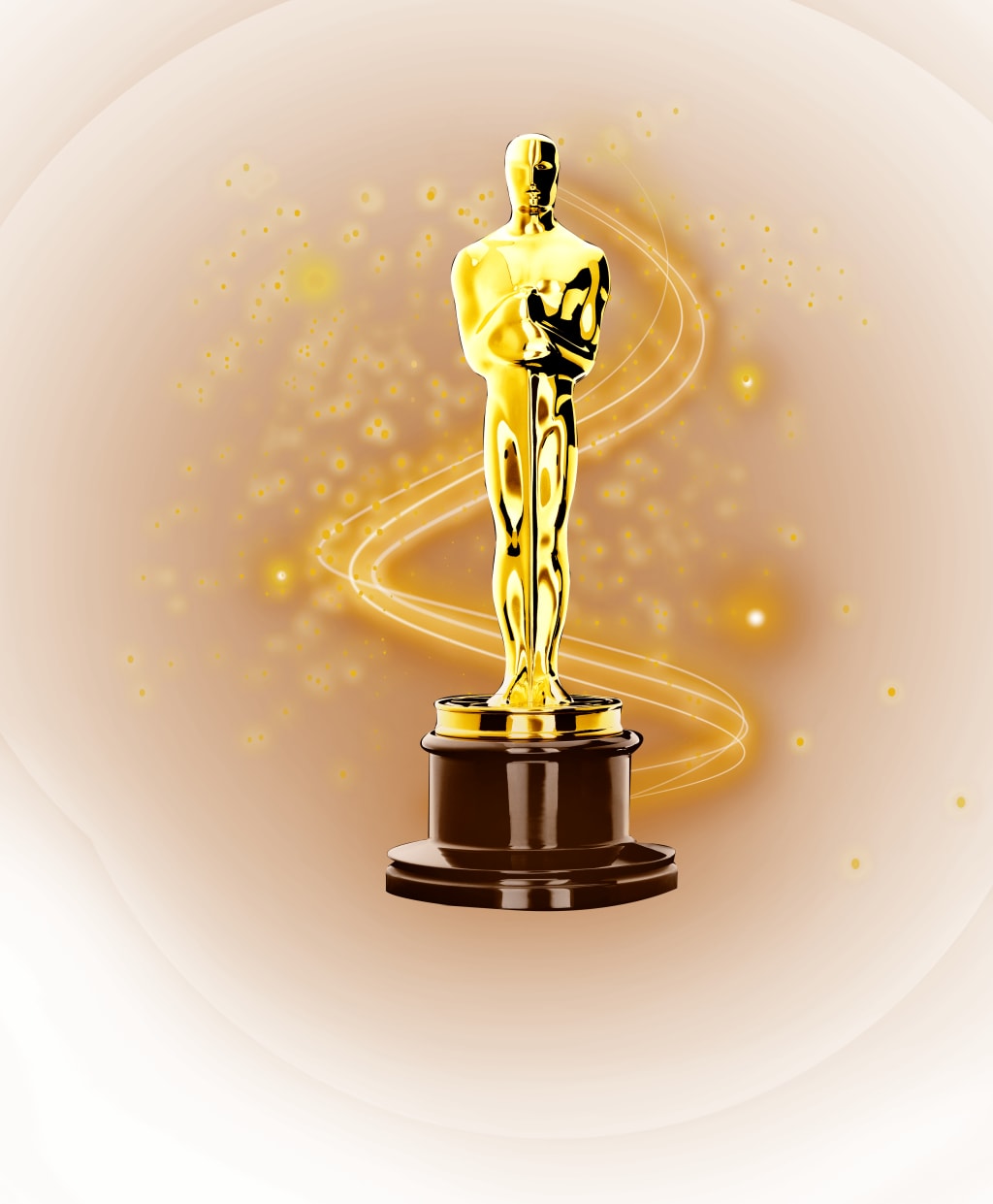 In this series, we're going to go back through the Oscars year by year, see if in retrospect the winners hold up or if they have not aged well or more likely, if they got it wrong at the time, which film should have won instead. We're starting out with the main event and the last award announced each year, Best Picture, and we'll work backwards, so 2020…
2020
The Oscar went to Parasite, Bong Joon-Ho's dark comedy thriller and the first ever foreign-language Best Picture winner.
Although this film was certainly building up steam during that awards season, it still came as a shock to most of us when it was awarded Best Picture. That is because it seemed almost a done deal that 1917 was going to get the win, with its trendy "one shot" structure and well, basically by being pure Oscar bait. For anyone unfamiliar, that phrase has come to describe the films which are seemingly made and marketed solely to receive Oscar consideration and the commercial boost that follows, often tragic epics set during dark periods of upheaval throughout history. This practice arguably began with The Deer Hunter in 1978, in a genius marketing recovery ploy after test audiences left distraught and depressed by the brutal Vietnam War epic.
Back to Parasite; many of us did think Bong would be given Best Director, almost as a consolation prize in light of his extremely original and influential career and filmmaking style. Bong owns the sharp and sudden tone shift, the technique that allows him to precisely balance tension and drama with black comedy and social commentary without ever tipping the scales too far in one direction.
While I'm on the topic of Bong Joon-Ho by the way, he definitely has a unique approach to shooting and dealing with actors - his planning is so meticulous that he effectively already has the final edit in his mind, so he does not shoot extra coverage or let a scene play out from each camera set-up like almost every other director, he gets what he has pictured and moves on immediately.
This might sound difficult to get into a rhythm with from an actor's point of view but Bong has said himself that he feels that "acting is the actor's job and it's something I don't feel like I can direct", and he simply tries to make them feel as comfortable and free as possible, including allowing improvisation on his scripts, which is not as common today thanks to the influence of writers such as Aaron Sorkin and David Milch.
We'll use Rotten Tomatoes for a statistical comparison of the critical reception to the films from each year, it is certainly not a perfect metric but it is at least somewhat consistent, plus it usually has most of the right movies in the list somewhere if not in anywhere near the right order!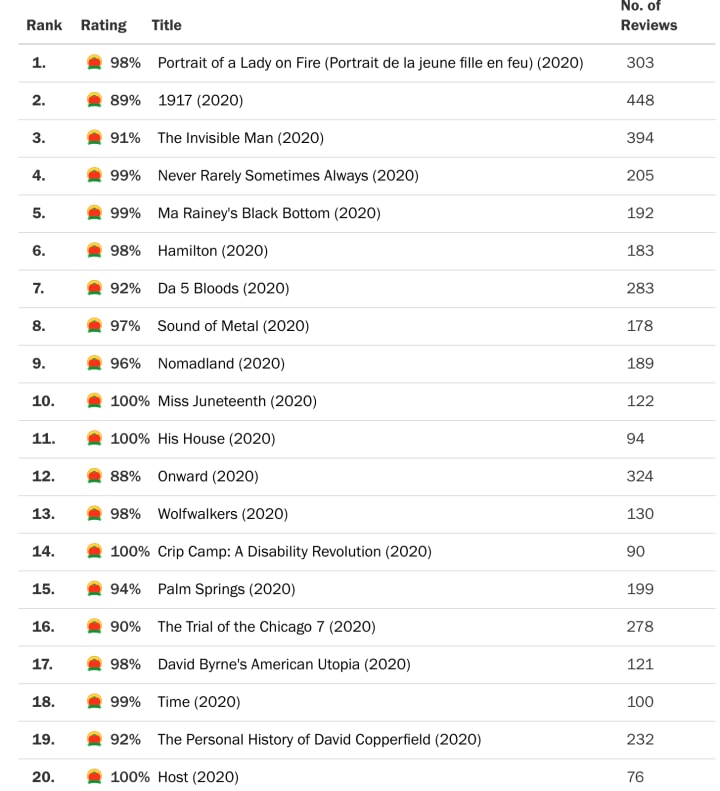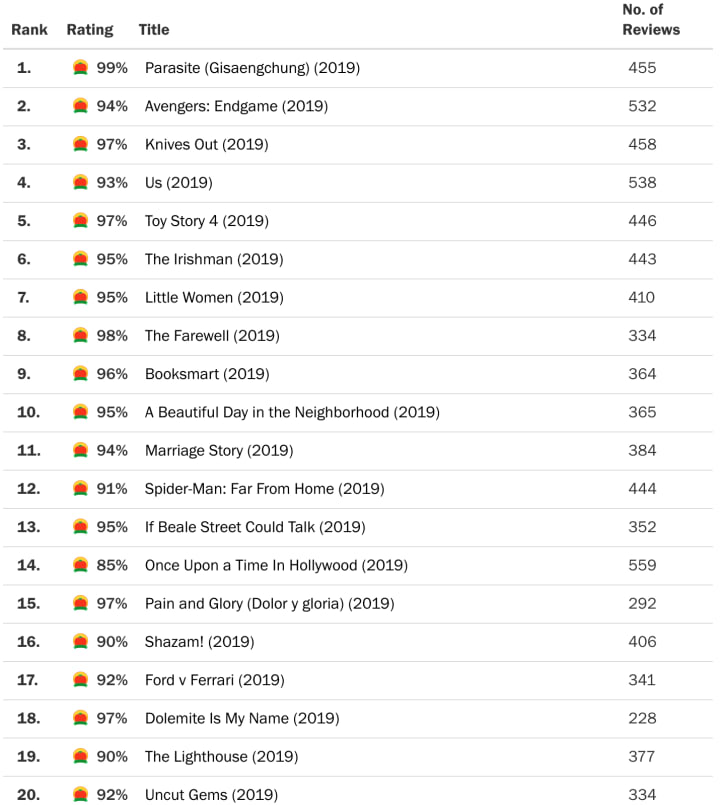 Looking at the films eligible for the 2020 Oscars from the 2019 and 2020 lists shows Parasite came out on top with a score of 99%, followed by a somewhat understandable snub for Portrait of a Lady on Fire, which I have not been able to watch but understand is a very original and affecting piece, a slightly disappointing brush-off of Knives Out, an applaudable rejection for Avengers: Endgame and a relatively weak score of 89% for 1917.
The annual box office does nothing to relieve wider concerns about the future of the movie theatre, check where the highlighted nominees come in and look at the sea of comic book and other intellectual property overpowering the marketplace. That's another topic entirely though, a rant that I'm sure will come soon!
Not enough time has passed to say with any certainty which of the nominees will hold most water in the long-term; I don't agree with this personally but I can see the case for Once Upon a Time in Hollywood gaining strength as time goes on based on the discourse around it a year later. The real long-term mistake would have been if Joker had won, I'm sure we all agree Joaquin Phoenix was extraordinary as usual, but the reputation of that film followed something of an OJ Simpson-like path…
2019
I am gonna move on to 2019 before I become too accidentally controversial, and I will bite the bullet right away - Green Book won and nobody was happy about it. It was a dated white saviour story, or to quote the wonderful writer Wesley Morris, another "racial reconciliation fantasy". It is thematically akin to one of the all-time most disliked Oscar decisions, the 4 major awards in 1990 which were given to Driving Miss Daisy. In fact, a 2015 Hollywood Reporter poll of Academy voters found this was the result which the most of them would change, with My Left Foot winning the retrospective vote, the film that began our shared obsession with Daniel Day-Lewis.
The other nominees were "Black Panther", "BlacKkKlansman", "Bohemian Rhapsody", "The Favourite", "Roma", "A Star Is Born" and "Vice". So, yeah not a great year. I really want to make the case here for Black Panther but Roma obviously inherently felt like more of a Best Picture winner, black and white historical traumatic family drama and all. That made me realise I don't actually know the specific factors the voters are meant to consider in making their decisions, and after some extensive Googling I can officially reveal I'm pretty sure there are no official criteria. Sly on their part but smoothly done, given this is the first time I've thought to check.
So why did Green Book win? I can't discuss this without mentioning the Academy voters were overwhelmingly white, straight, old, traditional, white, old, straight, white and old! In 2012, the LA Times published the demographics of roughly 88% of the membership and found that of the 5,100+ active voters confirmed, 94% were Caucasian, 77% were male, and 54% were found to be over the age of 60. To be fair, the Academy seems to have taken note of this disparity and in 2018, 49 percent of members added were women, raising the overall proportion of women to 31 percent, up from 25 percent in 2015. 38 percent of the new members were people of colour, increasing the overall composition of racial minority members to 16 percent in 2018, up from 8 percent in 2015. Some might consider this progress to be moving too slow, but would Parasite have had the night it did in 2020 without this open-minded, diverse New Academy contingent? Doubtful if you ask me.
Defending the film firstly takes me to the people involved, not just the highly respected duo of Viggo Mortensen and Mahershala Ali but also Peter Farrelly at the helm. An estimated $37.5 million spent on advertising no doubt contributed to its prevalence as even though the film opened poorly at the US box office, it was a surprise hit overseas, especially in China where it became the second best performing Best Picture winner ever - take a second to guess which film is still first before I tell you… Nope, it was Titanic, apparently a cursed love story works worldwide.
I'd much rather talk about Black Panther, which was a powerful and truly authentic expression of African culture and mythology and included modern yet timeless social commentary woven in seamlessly with the usual comic book action and wisecracking. The film was an extraordinary success, from the direction of Ryan Coogler to the score by Ludwig Goransson, but it now has an even deeper emotional impact after the tragic passing of Chadwick Boseman, and the commendable choice not to recast T'Challa after his sensitive and nuanced performance.
The only other film from that year which I think will have any real longevity is A Star is Born, which gained an obsessive following in large part due to THAT SONG and the timelessness of that classic Hollywood story.
Going to Rotten Tomatoes, we see two frontrunners who might have been nominated if a few more of those Old Academy members had made their way to the In Memoriam section; Mission Impossible: Fallout and Spiderman: Into the Spider-Verse. The former was a franchise rejuvenating action spectacle directed by great Twitter follow Christopher McQuarrie and the latter was a creative work of collaborative genius with a unique visual aesthetic and storytelling flow that will certainly be studied for generations of animators to come. And they both have colons in them, who doesn't love punctuation it their titles!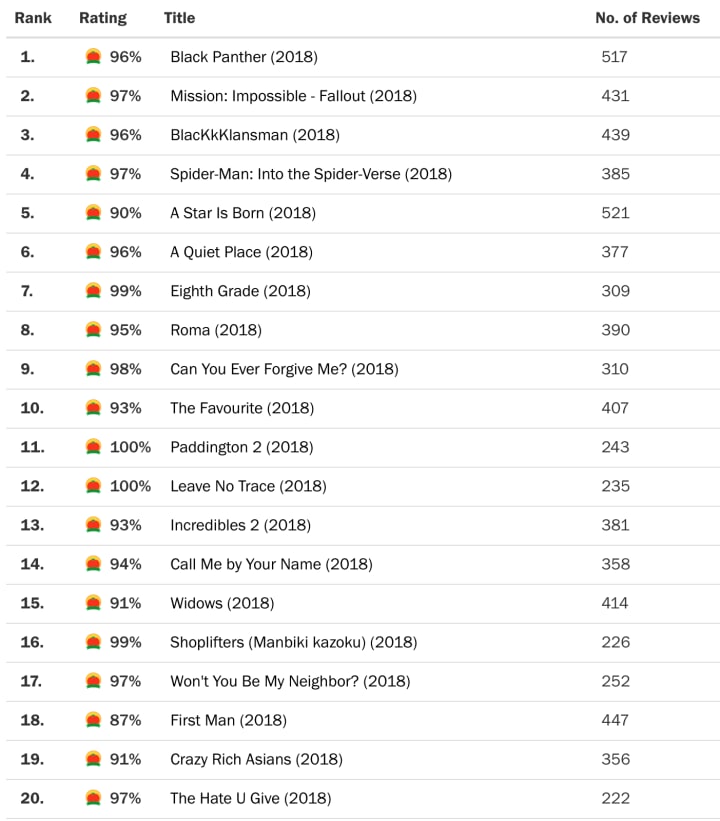 Realistically though neither should have won, although the hot take devil on my shoulder is forcing me to say that either would have deserved it more than Green Book, and the angel on the other side just shrugged, guess that answers that. It does not even appear in the top 100 reviewed films of the year, but somehow this was not the worst decision the Academy has made… As you will know once you finish reading.
Eighth Grade was an unexpected critical darling and Bo Burnham's future as a filmmaker is an intriguing thought even with a quiet couple of years since. A Quiet Place arguably earned consideration with the clever filmmaking and visual storytelling as well as the kind of memorable scenes that often attract awards recognition, thinking primarily of Emily Blunt in the bathtub, but it was snubbed for a nomination altogether.
Honestly, it does not really matter. Almost any of the contenders would work better in the long-term than Green Book, it's become almost the opposite of a rewatchable (shout out The Ringer and Bill Simmons).
2018
The 2018 Oscars takes us to films from 2017, their whole qualification cycle and requirements are so dumb that I am not even going to bother boring you with it, instead why don't we jump straight into the movies - Call Me by Your Name, Darkest Hour, Dunkirk, Get Out, Lady Bird, Phantom Thread, The Post, The Shape of Water and Three Billboards Outside Ebbing, Missouri. Rotten Tomatoes scores demonstrate this was a great year for cinema, with a much stronger range of stories and storytellers than the usual list, with directors like Greta Gerwig, Jordan Peele and Guillermo Del Toro and their very idiosyncratic worlds being recognised in this longer list of Best Picture nominees.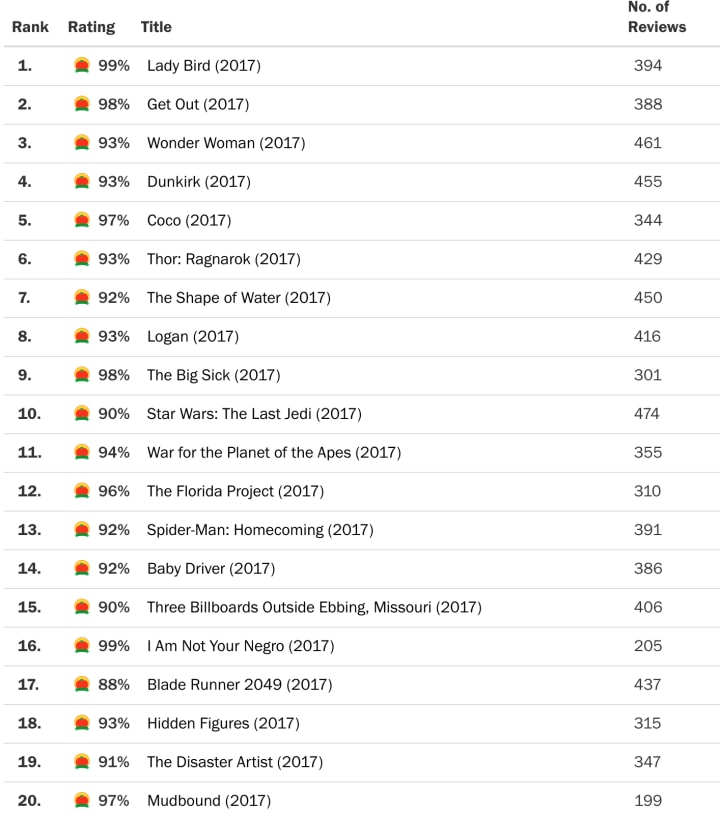 This was definitely one of the more competitive and unpredictable races in recent years, with perhaps a slight majority feeling that his body of work plus the elegant tenderness of Guillermo Del Toro's The Shape of Water, personified by Sally Hawkins in a magically restrained but joyful performance, would get the win. There was a strong push for Get Out as the rare horror nominee which also has such depth that it rewards every repeat viewing, as the viewer notices more and more visual and verbal metaphors and clues and commentary on issues as serious and diverse as race relations, policing, reparations and class in modern America.
Some suspected that Paul Thomas Anderson would receive his "how's he not got one already" Oscar for Phantom Thread, especially with the attention around Daniel Day-Lewis's rumoured retirement and the fact PTA is unquestionably one of the leading lights of his generation, but the film was perhaps a little too mild and understated for wider appeal. Mark Kermode hailed Phantom Thread as his best work since Punch-Drunk Love, but the modern movie theatre audience was basically uninterested.
Three Billboards suffered from a similar hit to its reputation as Green Book would the following year, largely revolving around Sam Rockwell's racist cop character Officer Dixon ostensibly redeeming himself by the end of the film, although many still held the film as masterpiece of writing and character building.
Everyone knew Gary Oldman was getting Best Actor for playing Winston Churchill in Darkest Hour and that seemed more than enough at the time and the other nominees had no chance. In the long term it will probably seem impossible that The Post was not up there as primo Oscar bait, combining Spielberg, Streep and Hanks amounting to the equivalent of Heisenberg crystal, but believe me, it never had any momentum. We still don't care actually, nobody's seen it, we all knew we were better off re-watching Spotlight instead if we wanted a modern tale of journalists as heroes akin to All the President's Men.
The Shape of Water ended up taking the win and nobody was too upset, similar to with Parasite it was a case that you had to be pleased for the director involved, based almost as much on their personalities as their filmography. I do have to acknowledge that The Shape of Water is fading into history quicker than some of its competition, and is not really considered Del Toro's best work, so perhaps over time the case for Get Out will get stronger. Hopefully, that will just serve to entrench it as a must-watch for generations to come.
2017
Now we all know what happened here, the famous Beatty-Dunaway Balls-Up, but what were we expecting at the time? Well of the nine nominees for Best Picture - Arrival, Fences, Hacksaw Ridge, Hell or High Water, Hidden Figures, La La Land, Lion, Manchester by the Sea and Moonlight, by the time we reached the Oscars it seemed to be a two horse race.
Best Picture was fought between La La Land, the precocious Damien Chazelle's old school Hollywood musical romance which earned 14 nominations and was expected to clean up most of the awards, and Moonlight, which I would never try and sum up that way. That probably tells you which film I thought deserved to win, please watch Moonlight, it's so good I didn't even giggle during a certain sandy scene and I'm basically a child who still laughs at every fart I hear.
Manchester by the Sea was probably third most likely winner and is another beautifully written, emotional hurricane of a film, with perfectly pitched, nuanced performances extracted from every member of the cast by the writer/director Kenneth Lonergan.
It's funny how the now legendary Beatty/Dunaway mistake mirrors the change in attitude over the awards season - it initially seemed inevitable that La La Land would win, with the record-tying number of nominations and appeal to traditional Academy voters, but the movement towards Moonlight continued gaining steam based on its artistic merits and unique perspective and storytelling in the mainstream cinema landscape.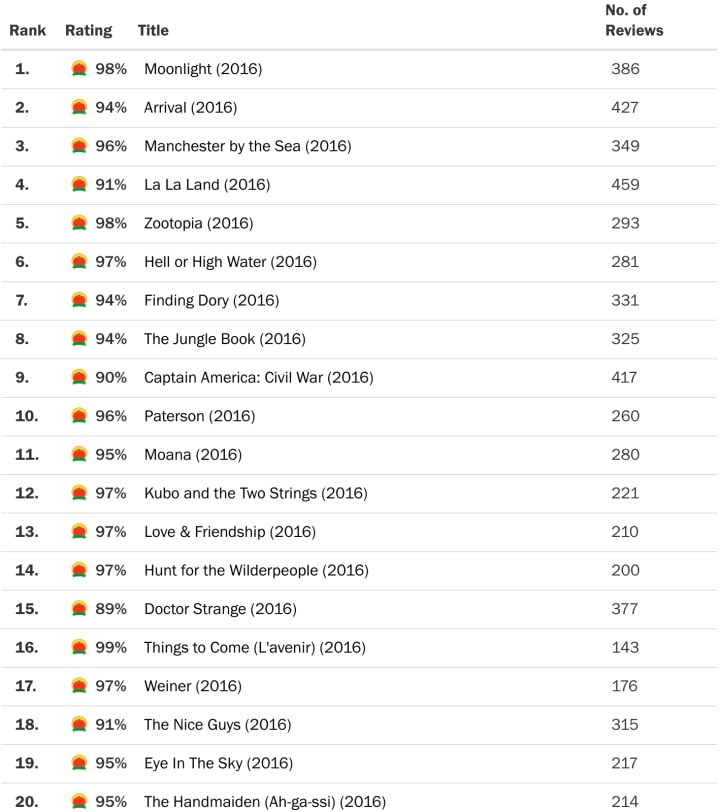 Of the other films, Arrival gained Denis Villeneuve even more acclaim after a red hot few years (Prisoners, Enemy and Sicario released between 2013 and 2015) and probably let to his hiring for the much anticipated Dune remake, August Wilson's Fences is a must see for any theatre fans and for the unbelievable powerful pairing of Denzel Washington and Viola Davis, and the rest had no shot. Overall though, I believe Moonlight winning will go down as one of the Academy's best decisions of the decade.
So just to recap very quickly how the Academy voters did - 2020 very good, 2019 very bad, 2018 meh, 2017 nice.
We'll keep going with this series so please keep an eye out and let us know whether you agree, and, more likely, how you think we are complete idiots! We also have YouTube channels where we provide royalty-free music and play games and discuss films, and one where we offer free high-quality stock and drone footage for other content creators, at WHAT Pictures and WHAT Stock Footage respectively... We hope to hear from you!
Adil - @whatpicturesltd
entertainment
About the author
We are a pair of friends from Manchester who began making short films together as teenagers and came back together, after respectively going to film school and becoming a Solicitor, to set up a videography and stock/drone footage company.