Marvel Superheroes
'Deadpool Kills the Marvel Universe'
The Kill Series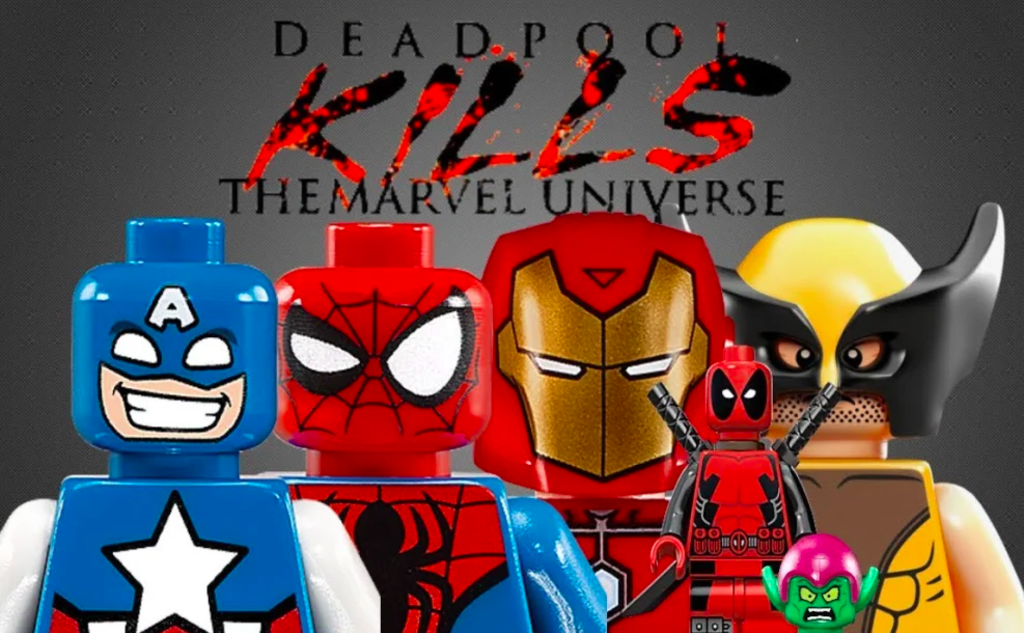 All the things we love about Deadpool in a neat disturbing package. Deadpool Kills the Marvel Universe has epic fourth wall breaks and all the characters you know and love dead. You would think a mini-series whose main storyline is all the characters dying would be sad and depressing, but in true Deadpool fashion, it's badass fight scenes and comedic timing alleviate the disturbing nature of the content. Add to that, most of the heroes (and villains) die in graphic but ridiculous ways, a lot of them being beheaded.
The main question to ask before reading this series is how? Deadpool is strong, yes, and definitely has a unique set of skills, but certainly not enough to kill all the heroes and villains in the Marvel Universe. True, to many of the Marvel Universes heroes could easily kick Deadpool's ass. This can easily be explained by remembering what Deadpool was told by Red Skull at the end of Deadpool Kills the Marvel Universe, Again. Deadpool decapitates Red Skull, and is then mocked by his decapitated head; explaining that Deadpool's mind has been fractured so much that he can no longer tell the difference between fantasy and reality. Red Skull tells Deadpool that his Rampage of Revenge could have happened or it could have all happened in his head.
Going back to the beginning, my favorite part of this story line is that it has no boundaries, it includes all teams and characters that you could think of in association with the Marvel Universe. It also re-enforces the trope that anyone can die, even superheroes and villains. It opens on the deaths of the Fantastic Four, of which share their creators with Deadpool (there's your first fourth wall break, kind of). Then we move to the X-Men, who commit Deadpool in hopes to cure his insanity, unfortunately, this fix only resulted in him becoming more unhinged. After Deadpool kills Psycho-man (who was disguised as his doctor), the real bloodthirsty, carnage begins.
This series and its following issues making up Deadpool's Kill-series were a turning point in the genre of comic book fiction. Not simply because of its dark content matter, DC holds plenty of that, but more because it holds darker themes that Deadpool really holds the monopoly on as far as the Marvel Universe goes. This is also a bit darker than Marvel tends to go, but that also makes Deadpool the perfect character to carry out the darker storyline.
In this storyline, Deadpool doesn't just go on a rampage and kill everybody (I mean he does) but you also have to consider the relationships he has with the heroes he is killing. For example, Deadpool has become so unhinged that he blows of Spiderman's head. A hero that he has a well established relationship and bond with. This is also taken into account because Deadpool was able to kill Spiderman, many villains have tried using a gun to kill the web-slinger but were unsuccessful due to his spidey-sense. Deadpool, not normally a threat to Spiderman, was able to bypass Peter's spidey-sense.
Even with the darker content, Deadpool and its creators stick to their use of the fourth wall, and breaking it. They take it to a new level in this one with Deadpool stating that he is coming for the writers and the reader next. The writers include panels of them planning how Deadpool will kill them, oblivious to the fact that Deadpool is standing a few feet away... the brilliance of this is that they drew Deadpool standing outside of the panel therefore standing outside of their perception.
Deadpool Kills the Marvel Universe, both the first series and Again, set up one of the best series of story lines that the Marvel Universe has ever seen. Using our favorite anti-hero to relate the darker parts of the comic book world (though I don't think Marvel will ever get as dark as DC).