DC Universe
DC Universe To Relaunch As Comics-Focused App Called DC Universe Infinite In January 2021
The Future Of The Service Revealed!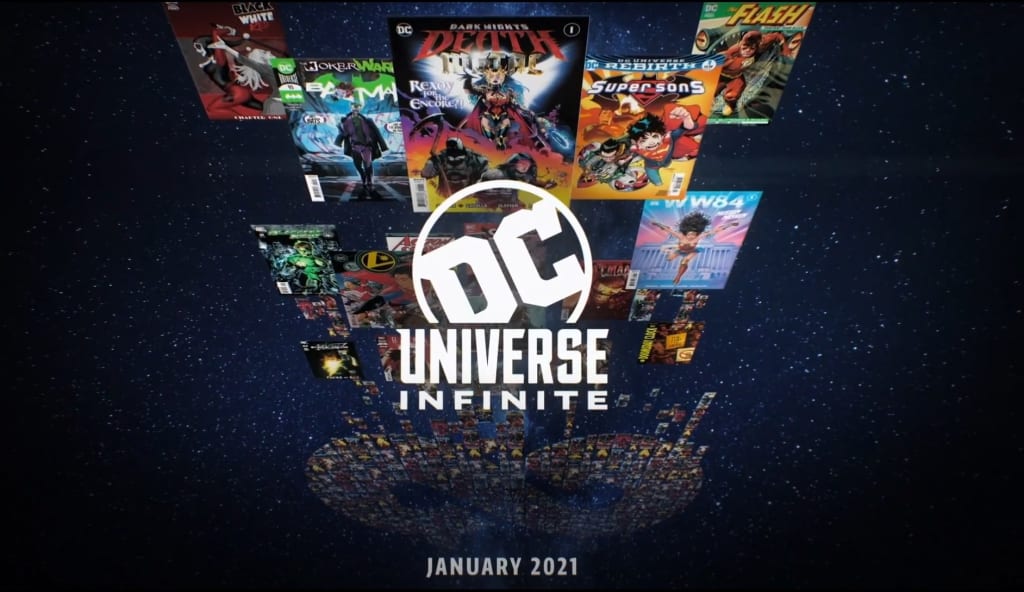 Friday, September 18, DC Comics announced that the DC Universe streaming service, which has provided digital comics and video content over the past 24 months, will become a comics-only service as the video content makes its way over to HBO Max. The service will be rebranded as DC Universe Infinite, which launches on January 21, 2021, with access to over 24,000 comics right away. Like Marvel Unlimited, it will have newer comics available six months after their initial publication. Furthermore, DC Universe Infinite will be available internationally in summer 2021. This is a good move given that the lack of international availability has been a huge criticism of the app.
You can check out the announcement video below:
For a while, DC Universe subscribers had been worried about the service going away, especially with the launch of HBO Max. Recently, DC's Chief Creative Officer Jim Lee assured fans that the comics and the community would not be going anywhere, and that video content would likely migrate to HBO Max. This was, in a way, the best possible worst-case scenario. It is certainly better than the comic app going away completely. Jim Lee said the following about the upcoming launch:
"Our fans love the platform's robust library of comic books and, with the transformation, we will not disappoint. I'm excited to share that not only will DC UNIVERSE INFINITE members still be able to read all of the great comics that they've enjoyed but new issues are debuting on the platform quicker than before, digital first exclusives are being created, and the members-only events will begin as soon as possible. There has never been a better time to be a DC fan!"
The announcement also provided the following details regarding perks:
"For DC UNIVERSE subscribers who want ongoing access to premium DC originals, the special DC UNIVERSE monthly member offer to HBO MAX has been extended. In celebration of Batman Day and the announcement of DC UNIVERSE INFINITE, a special offer for eligible monthly subscribers to upgrade their service to include HBO Max for an additional $4.99 per month for a limited time is now available through October 30, 2020."
Along with this announcement comes the news that the DC Universe adult cartoon Harley Quinn has been renewed for a third season. So HBO Max will be the home of Harley Quinn seasons 1-3, Young Justice seasons 1-4, Doom Patrol seasons 1-3, Titans seasons 1-3, and Stargirl season 1. (Stargirl season 2 will be airing on CW, so it is yet to be seen whether it may also make its way to HBO Max.)
The announcement ended with the following details:
"DC UNIVERSE INFINITE will be available online at DCUniverseInfinite.com, iOS and Android devices for $7.99 a month or $74.99 a year ($6.25 a month). On February 1, 2021, every DC UNIVERSE INFINITE subscriber, existing members or those joining during the pre-order offer window will receive a special thank you voucher redeemable at the DC Shop subject to terms and conditions. Annual subscribers will receive a $25 voucher, while monthly subscribers will receive a $10 voucher."
Even though it might have been ideal to have all DC content (comics, films, TV) in one convenient place, it is comforting to know that there is still a place for DC's digital comics library for the fans to access. For what it is worth, HBO Max also has an impressive content library, even apart from all of the DC content. So one would get access to a lot of things when they subscribe. For fans who want to keep reading the comics that interest them, DC Universe Infinite will be available to satisfy those readers.
Written By Steven Shinder
Syndicated From Culture Slate