DC Universe
DC's Most Popular Couple Has OFFICIALLY Called It Quits
It's the breakup no one wanted to see—and it still hurts, years after.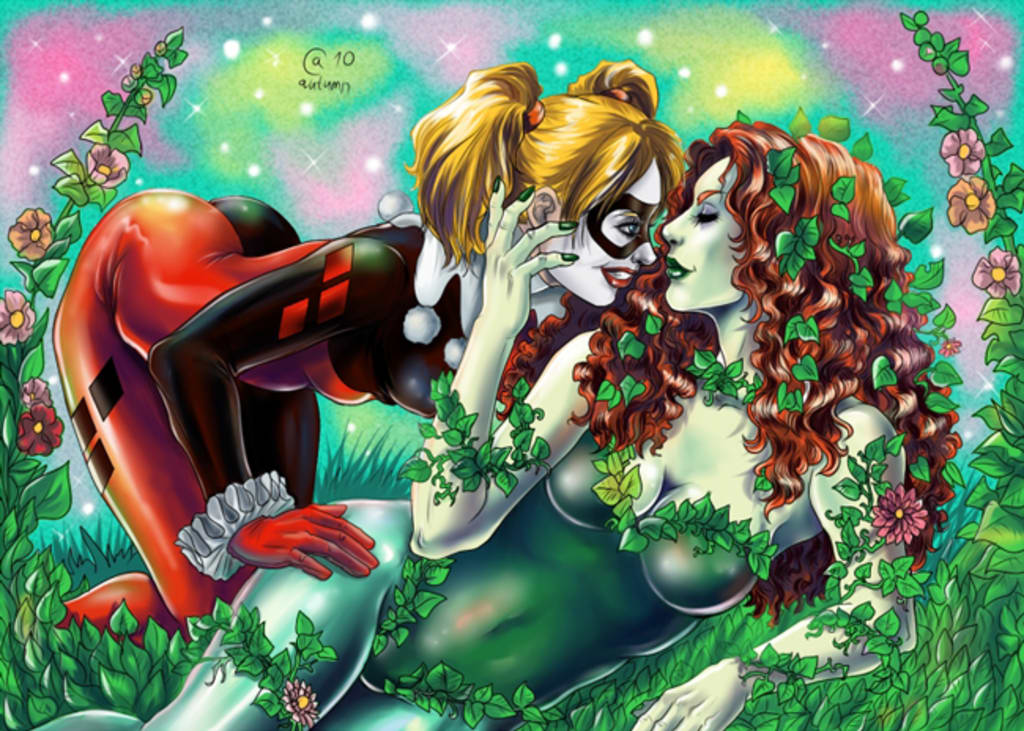 [Spoilers for the New 52 Harley Quinn comics. You have been warned.]
This Valentine's Day hit the DC Comic love life hard. While Harley Quinn has spent her recent time away from the Joker and is making her own life, as well as having a non-monogamous relationship with Poison Ivy, there is no denying that the fans still hold a candle for her to be with the Clown Prince who made her into the woman she is today.
When asked who the favorite ship amongst DC comics was, there was a very loud response:
And why not? For years it was only with Mr. J that we got to see Harley, who has only, within the last three years, gotten her own comic series based on her storyline with the New 52.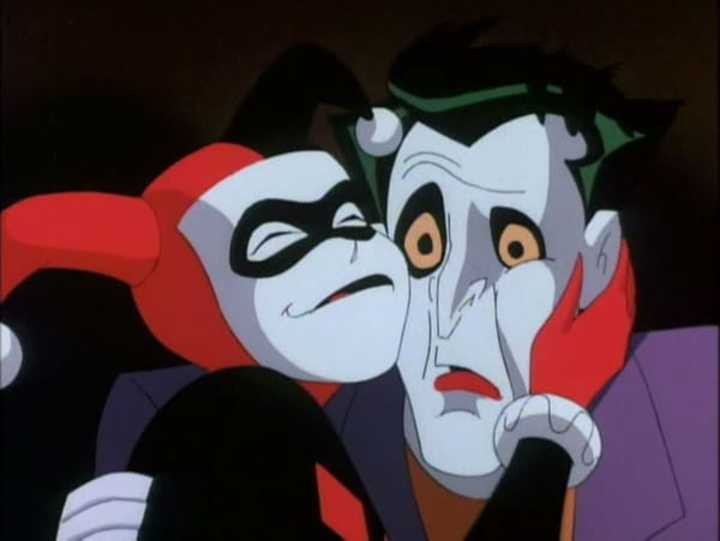 However with this new storyline came an independent Harley, one who took others under her wing as a landlady on Coney Island, leading a team of 'Harley Quinns' to help with issues around the city. Not only has she distanced herself from Batman but she has also put up a wall between her and the Joker.
She even has a new boyfriend in her tenant Mason.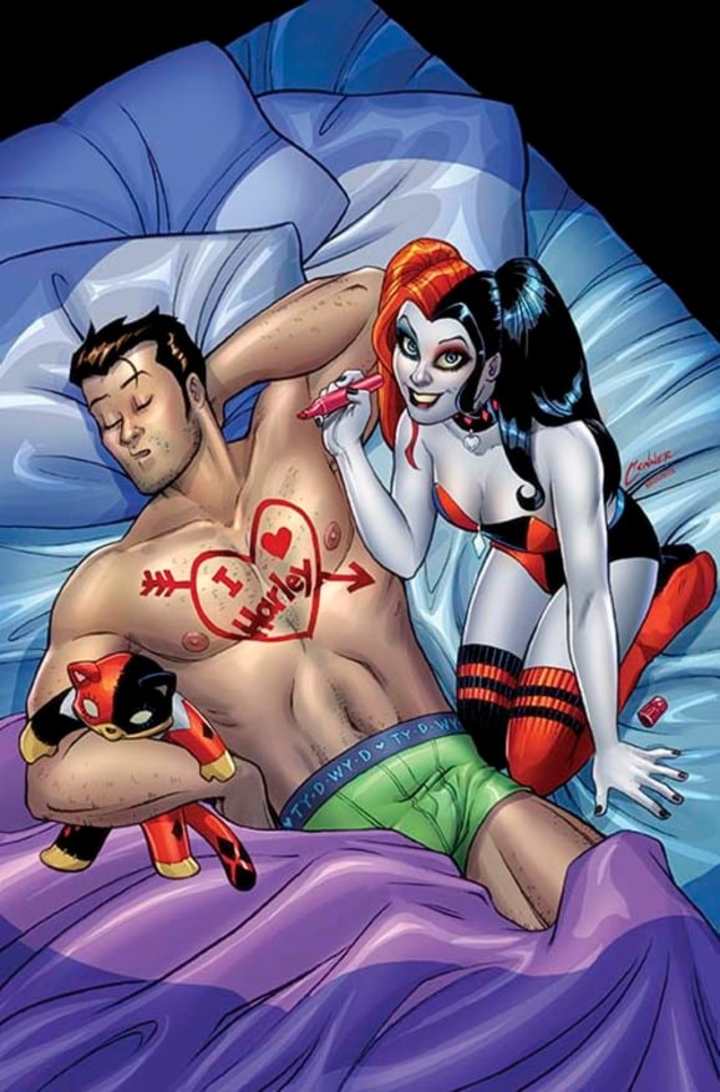 While she has tried to become a better person, she does have her bad side, such as the new storyline where she is breaking Mason out of Arkham. And who should have a cell next to him? Why, Puddin' of course!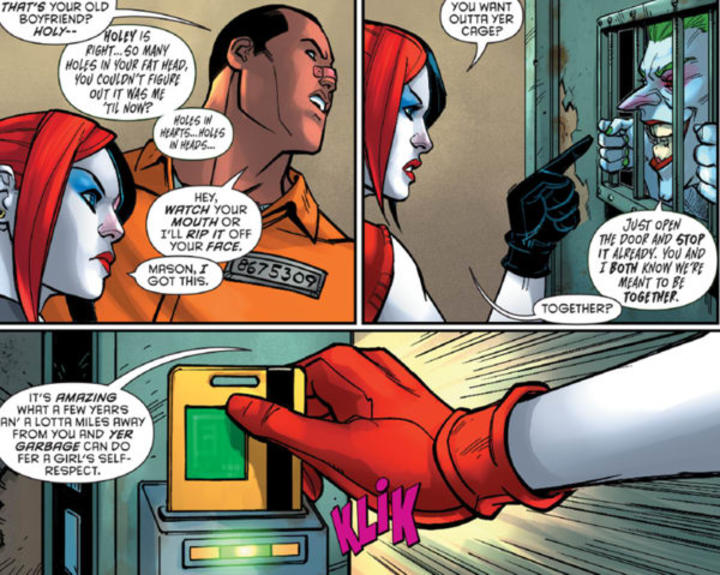 While she does take the time to go into the cell to talk to him, it isn't the happy reunion that we would expect from the pair, especially given how much of a pushover Harley had been about him in the past, which I think was part of the problem that people had with the couple in the first place. It is a breaking point, though, as she does tell him that he hates everything that she made him do and for making her so violent, the worst part of herself.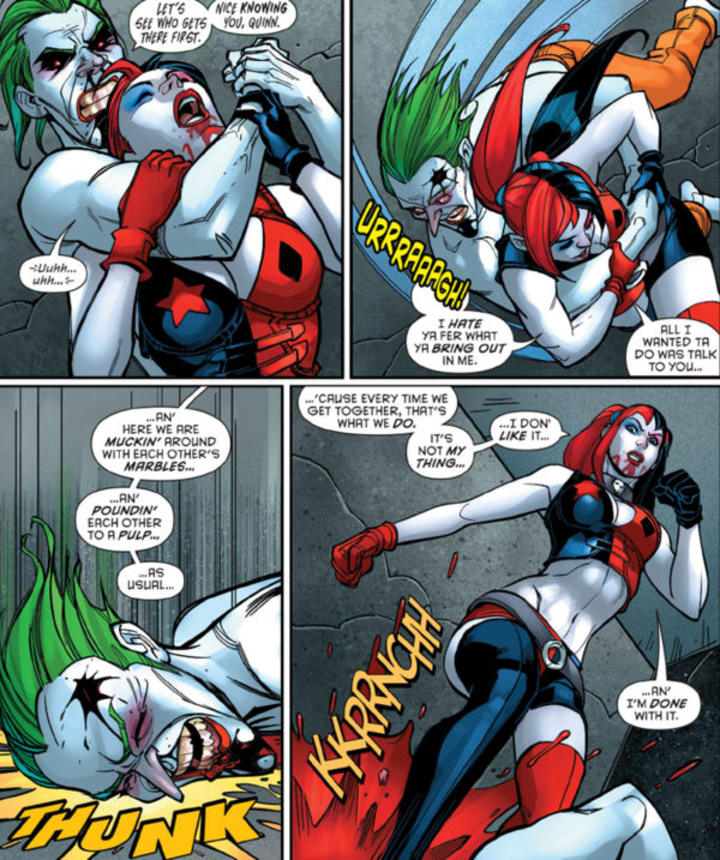 It is good to see her stand up for herself, almost like a stand for battered women everywhere, but the comic doesn't take it too far. While Harley is by no means at the level of the Caped Crusader, she has become an antihero in her own right. While it is satisfying to see him beaten, she can't bring herself to stoop to his level anymore and pull the trigger to kill him.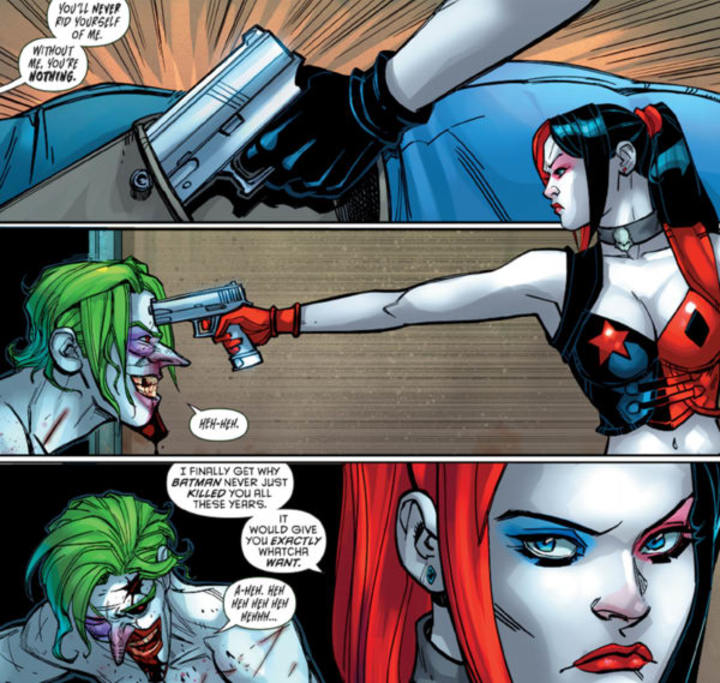 It is strange, knowing how enamored she was of him, and how much she would do for him, to see the direction they have taken her character in this round of comics, but it is nice to see her stand up for herself, especially in a world where we need more examples of strong women. Harley put up with the jokes long enough, and now it is time for her move on with her life.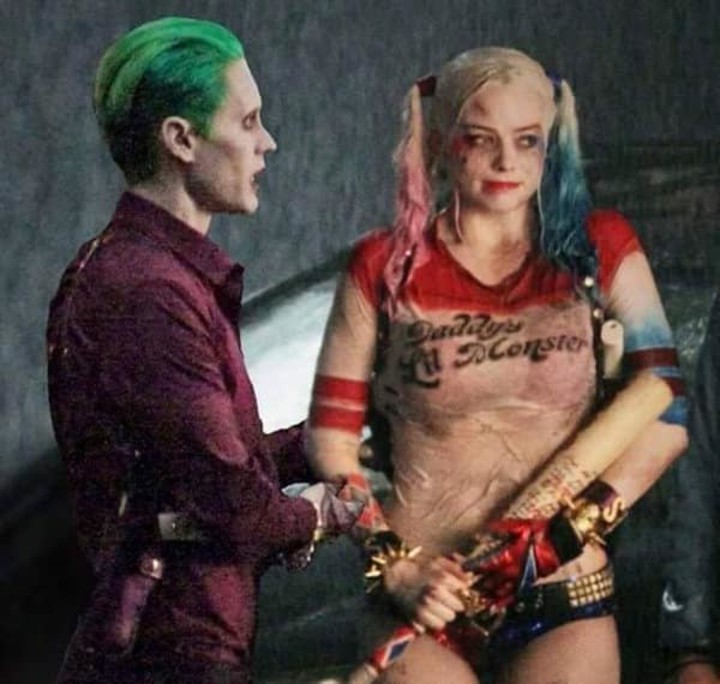 With the new Suicide Squad movie taking so many stories and ideas from the New 52 comics, I wonder if we won't see a scene similar to this in the movie. Either way, whether they are together or not, there will always be fans of Harley and the Joker.
superheroes

Tisha Eaton
I am a Disney Fanatic who loves to give information on stars, movies and shows that you guys like too! A professional fan girl who has been featured on Huffington Post and loves to share her love of anything and everything
See all posts by Tisha Eaton →