DC's 'Doom Patrol' Renewed For A Third Season by HBO Max
Yay!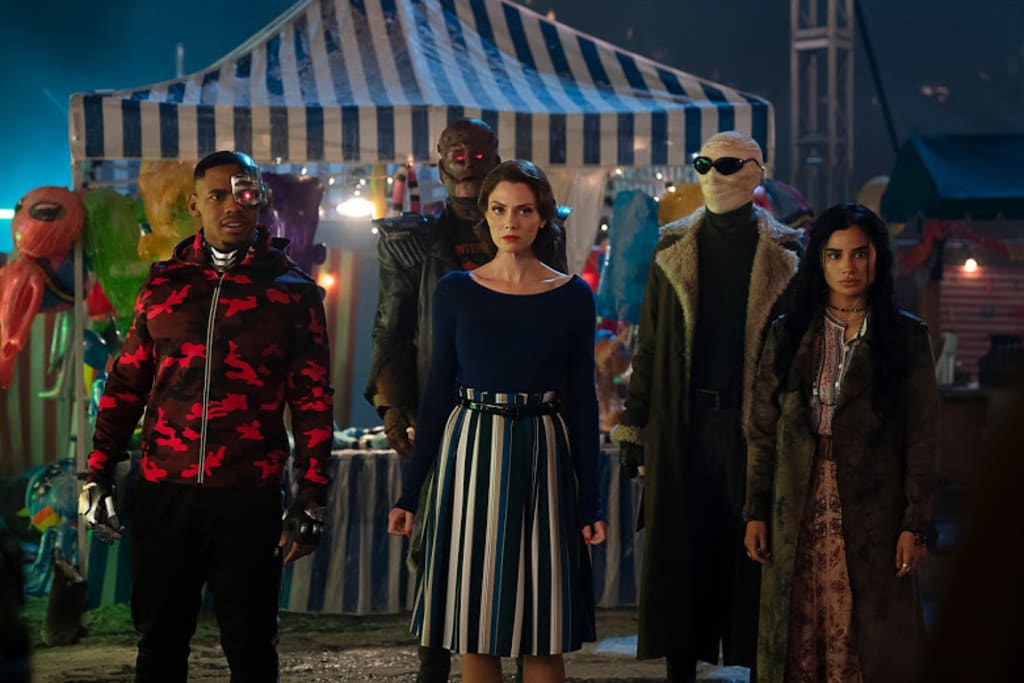 Saturday saw the second round of DC FanDome, titled Explore the Multiverse. It consisted of panels that were pre-recorded, and one of these panels was the Doom Patrol panel, which was originally slated for the August 22 DC FanDome date before much of the TV-focused panels were pushed back to September 12. Understandably, those on the panel were not able to talk about the news that did not get announced until right before DC FanDome: Explore the Multiverse. Saturday morning, we learned via Deadline that Doom Patrol has been renewed for a third season at HBO Max.
The first season originally premiered as an exclusive for the streaming service DC Universe in early 2019. Over this past summer, season 2 aired on both DC Universe and HBO Max simultaneously. We later learned in an interview with DC's Chief Creative Officer Jim Lee that DC Universe TV content would be migrating to HBO Max, so it makes sense that it would be this service greenlighting the third season. The show's executive producer Jeremy Carver had the following to say:
"On behalf of the wonderful cast, writers and crew, we are thrilled and grateful for the opportunity to return to Doom Manor. And we are especially thankful for our partners at Berlanti Productions, Warner Bros. Television, DC Universe and, of course, HBO Max."
HBO Max's head of original content Sarah Aubrey added the following:
"Doom Patrol came to HBO Max with an already deep and passionate fan base and has risen to the top as one of the most-watched Max Originals on the platform. The series sits well in our portfolio and we are glad to greenlight a third season to continue this distinctive style of storytelling that resonates so well with critics and fans alike."
The show has definitely resonated with a lot of viewers. Some watch it for the sheer weirdness that it boldly delves into. Some relate to the characters who feel isolated because of their personal identities. Some feel for the characters because of the traumas that they have experienced, and how the series focuses on the way that they deal with those struggles.
Season 1 introduced viewers to the onscreen portrayals of Cliff Steele/Robotman (Brendan Fraser), Larry Trainor/Negative Man (Matt Bomer), Crazy Jane (Diane Guerrero), Rita Farr/Elasti-Woman (April Bowlby), Victor Stone/Cyborg (Joivan Wade), and Niles Caulder/The Chief (Timothy Dalton) as they went up against the fourth-wall-breaking supervillain Mr. Nobody (Alan Tudyk). Season 2 brought in new additions to the cast, including Stone's girlfriend Roni Evers (Karen Obilom) and Caulder's daughter Dorothy Spinner (Abigail Shapiro).
Since the pandemic made it impossible to finish filming what was intended to be the season 2 finale, the episode that ended up concluding the season ended on a rather abrupt cliffhanger. Had the show been canceled, the cliffhanger would have been a downer ending without a resolution. However, knowing that season 3 will be coming is sure to ease fans of the series. Now it is simply a matter of waiting.
Thank you for supporting us by reading Culture Slate. We would love to hear your feedback on this topic in the comment section below. Feel free to go follow our social media so that you can stay up to date on all of our articles. You can follow us on Facebook here and also on Twitter here. Additionally, we have a Twitch channel that you can follow here and a YouTube channel that you can subscribe to here. Lastly, if you are interested in writing for us yourself, please do not hesitate to fill out our team member application form here.
Written By Steven Shinder
Syndicated From Culture Slate