'Daredevil' Series Review (Season 3)
The return of Marvel's most successful small-screen series is a welcome mix of old and new.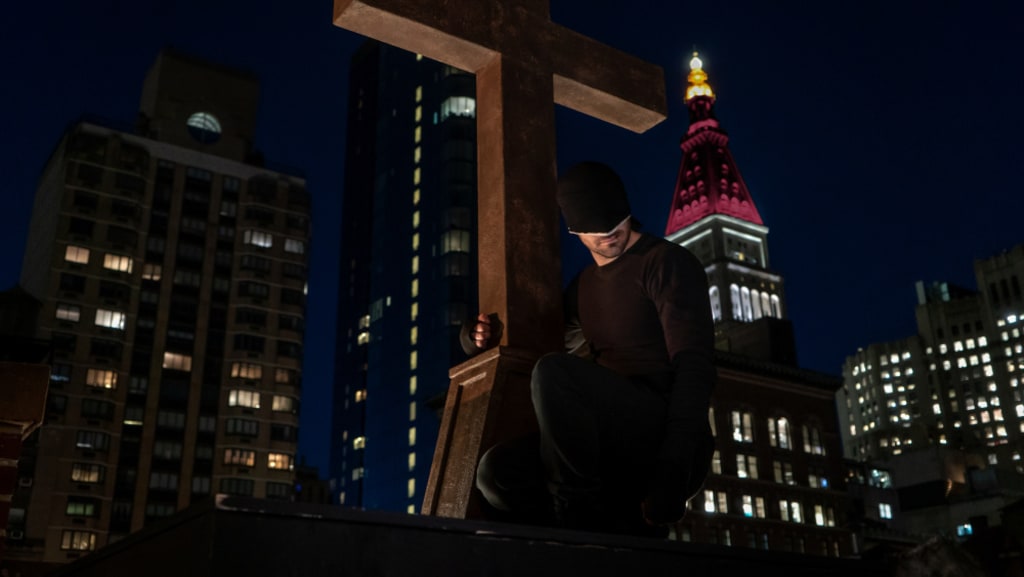 Released: October 19th 2018 (UK and US)
Created by: Drew Goddard
Number of Episodes: 13
Where to Watch: Netflix
Starring: Charlie Cox, Deborah Ann Woll, Elden Henson, Vincent D'Onofrio, Joanne Whalley, Wilson Bethel, Jay Ali and Stephen Rider
After a two year wait, Marvel's man without fear has returned to the small screen in the third season of Daredevil.
Right from the get-go, Matt Murdock (Charlie Cox) is in rough shape, having survived a building collapse, he's tended to inside the Saint Agnes Orphanage by Father Paul Lantom (Peter McRobbie) and Sister Grace (Joanne Whalley). Eventually he returns to Hell's Kitchen, only to find that Wilson Fisk (Vincent D'Onofrio), using a loophole provided by FBI witness protection, has been released from prison. Matt and eventually his friends Foggy Nelson (Elden Henson) and Karen Paige resolve to once again put Fisk back in prison and tackle the corrupt system that enables him. But the danger is palpable and widespread, and the protagonists must soon contend with new adversaries including a laser accurate operative named Benjamin "Dex" Poindexter (Wilson Bethel). While the narrative ramps up both drama and action, the opening two episodes are rather slow as we wait for Daredevil to return to the streets. The lack of a recap or summary for those who didn't watch The Defenders crossover also sticks out. I went into episode one quite confused as to what had happened.
The third season is a mixture of old and new, the former involving the return of Vincent D'Onofrio who is again masterful at portraying the ruthless crime boss. Fisk seeks to rebuild his empire, using his power to demonise Daredevil and it creates a situation twice as difficult for our protagonists to solve. While he spends much of the series cooped up, you still feel the power and influence emanating off him. The protagonists are as well performed as ever, with Matt beginning to doubt himself in a crisis of faith and Foggy having to balance many law cases at once. Karen Paige is given the spotlight in one episode and it's an incredibly emotional ride with Deborah Ann Woll really owning the character. The new cast includes Jay Ali as conflicted FBI operative Rahul "Ray" Nadeem and the aforementioned Poindexter. Both are given plenty of time to develop with the first being a dedicated family man and the second an obsessive stalker. These newcomers add new dimensions to the plot while reinforcing the more realistic nature of the season.
Action has always been a staple of Daredevil and season 3 offers plenty; this time the big attraction is a prison escape, which continues the series track-record of impeccable one-take fight scenes. Dramatic tension remains high as fights now take place within more civilised locations, including places of law. It shows that the criminal underworld has now breached the justice system as well as the magnitude of Wilson Fisk's release. This is also marked by music cues that highlight the rise and fall of various characters, a contrast that also applies to the various settings in New York. Daredevil ditches the fantastical elements of season 2 for more grounded environments and it's a natural direction that plays to the more realistic nature of the series and its contemporaries.
Daredevil's third outing is a welcome comeback to realism, amply fuelled by the return of Wilson Fisk and the strong introductions of new characters. It remains the most successful and engaging entry in Marvel's small-screen ventures, even if it starts off slow and requires watching 2017s The Defenders.
Rating: 4.5/5 Stars (Brilliant)
review
About the author
I'm a well-travelled blogger and writer from the UK who is looking to spread his blogs and freelance writings further afield. You can find more of my work at https://robc25.wixsite.com/thecainagecritique.
Reader insights
Be the first to share your insights about this piece.
Add your insights