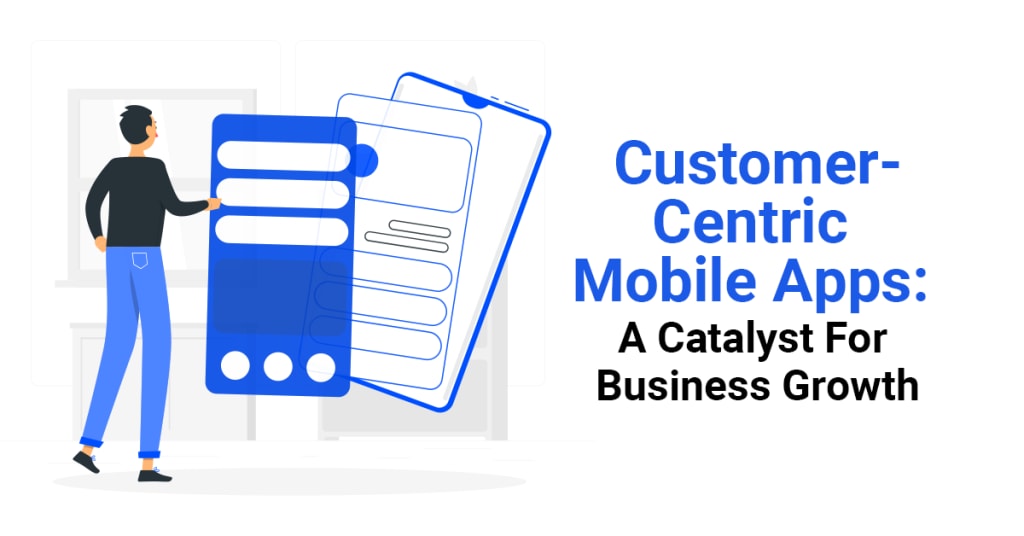 According to Statista, in 2022, consumers downloaded 255 billion apps globally. This indicates how pivotal mobile and mobile apps have become for people to get by. Mobile apps have become synonymous with convenience and satisfaction for people worldwide.
Thus, it comes as no surprise that businesses today are increasingly focused on developing customer-centric apps. Businesses, the world over, have understood that the way to continuous growth is through providing convenience in the form of mobile apps.
Customers are at the core of a product or service businesses are providing; hence it's vital to consider customer-centricity when building a mobile app for your business. If you need further clarity on what, we have addressed why customer-centric apps are a necessity for businesses.
Reasons Why Businesses Need Customer-Centric Apps:
1. Better Connectivity with the Customers
In the Post-pandemic business landscape, there's been a massive shift in mobile app usage by consumers. People are increasingly relying on mobile apps for shopping, fulfilling banking requirements or buying groceries from the comforts of their homes.
This indicates mobile apps are a better point of contact for customers. Having access to mobile apps means that customers won't have to wait for a website page to load. This contributes to the prosperity of your business.
2. Gather Extensive Consumer Insight
Investing in a robust mobile app for your business allows the opportunity to understand the customers. Apps offer an effective way for businesses to accumulate, assess and utilise customer data. Conducting a careful study of consumer preferences and behaviour, apps help impact the marketing strategy accurate consumer insights.
Developing a thorough understanding of who your consumers are, and their motivations allows you to make the right business decisions. This, in turn, your marketing efforts are focused in the right direction. Hence, with apps, businesses can use data-driven marketing strategies to provide a highly personalised experience to consumers.
3. Memorable User Experience
Most websites today are responsive and thoroughly optimised for smartphones. However, there's only so much you can do to optimise the user experience for mobile websites. Even with considerable advancements in mobile UX design, accessing mobile versions of a website makes consumers feel that the site was designed for desktops first.
Mobile web is often harder or slower to navigate and may not always work with touchscreen phones. It's found that mobile holds 60% market share as opposed to tablets and desktops. Thus, mobile users make up many customers.
With a mobile app, it's easier to boost user engagement. This results in more active user sessions on the app and more revenue compared to the mobile website.
4. Maintain Customer Loyalty and Retention
Every business aspires to maintain a strong client retention rate, but earning the loyalty of customers requires substantial planning and hard work. Businesses must ensure they provide a lot of value and satisfaction to their customers is an achievable way to retain clients.
While having mobile apps for business alone doesn't guarantee customer loyalty, it expedites the processes that ultimately contribute to customer satisfaction and retention.
5. Attracting More Audience
With the continuous rise in mobile app usage, various industries are reaping the benefits of mobile application development. One such benefit is the rapid increase in customer base. Interaction with users becomes easier for potential customers through mobile apps.
Attracting the right audience is an important aspect, whether it's a small business or you're just venturing into one. Having a mobile app for your business proves to be fruitful when you're aiming to convert potential customers.
6. Allows Personalisation of Services
With a mobile app, you can personalise your services to address your target market. For instance, you can create a quiz to understand the preferences of customers. This allows you to make the content and features within the app more relatable for them.
Providing personalised experiences allows customers to keep coming back and get more people to use your app. It also offers valuable information about how app users act, which can be utilised to create effective marketing strategies.
Customer-centric Mobile App Features:
Creating a user-friendly and customer-focused app for your business means you must incorporate several features to be accepted by potential customers.
Adding a search button is possibly the best way to lead your target audience to the content or product they're looking for. The audience must be provided with the option to search for the exact thing they want to look at. The objective of your mobile app should be to simplify the navigation for your customers.
Push notifications allow a company to convey a message or a notification to a mobile device at any time and location. This allows businesses to keep customers informed about special offers, new products, and other crucial information.
When it comes to mobile apps, push notifications hold immense power.
Highlighting customer feedback is a brilliant approach which highlights that you care about your target audience. User feedback for mobile apps enables you to develop better user experiences.
Every organisation strives to live up to the expectations of their consumers, but few people may not have a favourable experience with your mobile app. Inviting feedback is a great way to detect errors, decipher what people want and put those ideas to work.
User Interface/ User Experience
The UI/UX of your mobile app is pivotal to keeping your app customer-focused. If the navigation and layout of your app are too complicated, then the user won't spend too much time on it. For instance, if it takes more than one click in your app to go from the homepage to any specific page, then your UX/UI probably still needs some work.
The UI/UX of your app should be able to guide the consumers on where they are in the app and what actions they can take within the app at any point.
Parting thoughts,
Mobile apps have been a great source of convenience and ease for users across the world. The primary purpose of developing a mobile app is to make the consumers' life easier. Thus, if you're mulling over the possibility of developing an app., you must consider customer-centricity.
Once you decipher why customer-centric apps are crucial for your business, this will eventually lead your business in the right direction of growth.
About the Creator
Toolagen is a UK based bespoke software development company with close to two decades of experience in the field. The company has partnered with many distinguished firms to provide unmatched customised solutions. Visit Toolagen.com
Reader insights
Be the first to share your insights about this piece.
Add your insights