Cruella Through The Years: Catch Up On The Villain's On-Screen History Before Seeing The New Film
Cruella Through The Years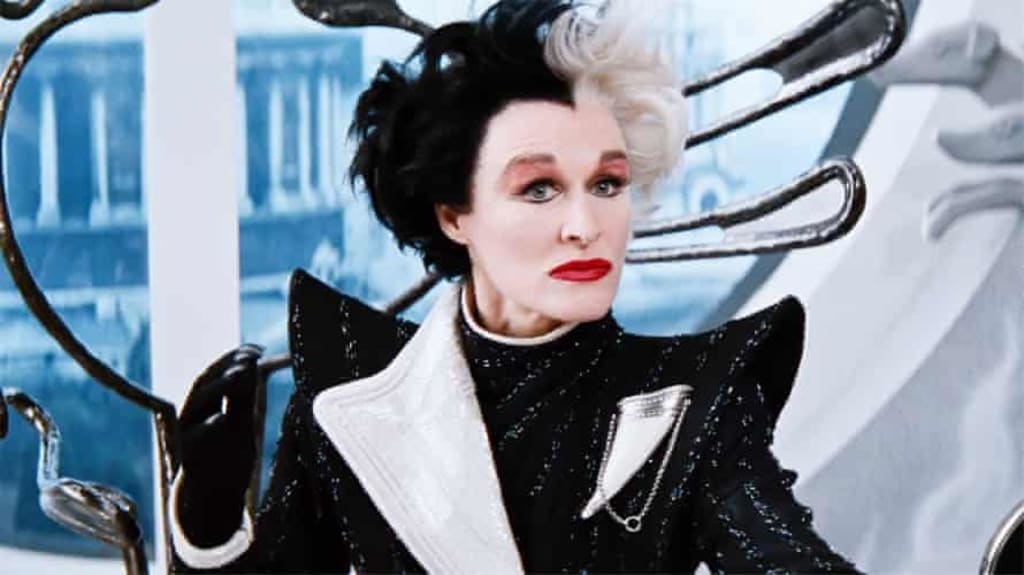 While the character first appeared in Dodie Smith's 1956 novel The Hundred And One Dalmatians, it was her appearance in Disney's 1961 animated film adaptation that made Cruella De Vil an iconic villain.
Now, Cruella is set to take centre stage once more in a new film, Cruella, a live-action origin story for the character. Before you see the new film, let's take a look back at the beloved villain's previous appearances on both the big and small screens.
One-Hundred And One Dalmatians (1961)
As mentioned above, Cruella De Vil's first on-screen appearance was in Disney's One-Hundred And One Dalmatians, voiced by Betty Lou Gerson. Cruella initially appears as an old school friend of Anita. Paying a visit after Anita's marriage to Roger, the fur-obsessed Cruella falls in love with the spotted coats of the couple's pet Dalmatians, Pongo and Perdita, declaring that she would love a spotted fur coat. When Pongo and Perdita produce a litter of fifteen puppies, eagerly offers to buy them. Roger, suspicious of what Cruella means to do with the pups, refuses.
Later, Cruella sends her henchmen, Jasper and Horace, to steal the Pongo and Perdi's pups, as well as many others around the city, totalling ninety nine in all. She plans, of course, to make a coat from their pelts. Thankfully, Pongo, Perdita, and a group of other pets rescue the pups before the plan is carried out. Roger writes a hit song about Cruella, and the proceeds allow he and Anita to plan a move to a larger property with Pongo, Perdita, and all ninety-nine puppies.
101 Dalmatians (1996)
In 1996, Disney produced a live-action adaptation of the film, with Glenn Close as Cruella. In the live-action 101 Dalmatians, Cruella is Anita's boss at a fashion design company. Apart from this difference, much of the plot plays out similarly to the original, with Cruella's goons stealing the puppies before Pongo and Perdi mount a rescue. The film also suggests that the puppies were not the only animals Cruella had had stolen, with a white tiger missing from a Zoo later appearing as Cruella's new coat.
Glenn Close's take on Cruella is truly iconic, and, to date, remains the definitive live-action performance of the character.
101 Dalmatians: The Series (1997-1998)
In the animated series 101 Dalmatians: The Series, Cruella was voiced by April Winchell, with much of her characterisation based on Glenn Close's performance in the live-action film. In this series, Cruella's main goal is to steal ownership of Roger and Anita's new farm, where they have moved with all the Dalmatians. Her plans are often thwarted by three of the puppies, Lucky, Rolly, and Cadpig, and their friend Spot, a chicken who lives on the farm. The series also gives Cruella more backstory in the Christmas Special, 'A Christmas Cruella', where it is revealed that Cruella became bitter after years of neglect from her parents.
Where the series sits in the 'official' timeline varies. Some view it as non-canon to the films, while die-hard fans of the show believe it fits in perfectly after Patch's London Adventure, the sequel to the original animated film.
102 Dalmatians (2000)
Glenn Close reprises her role as Cruella De Vil in 102 Dalmatians, the sequel to the live-action film. The film opens with Cruella supposedly cured of her fur obsession through hypnotherapy, and released from prison and assigned to Parole officer Chloe Simon. In a strange twist of fate, Chloe happens to be the owner of one of Pongo and Perdita's now adult puppies, Dipstick, along with Dipstick's mate Dottie and their new puppies, Little Dipper, Domino, and the pure white Oddball.
Initially, Cruella changes her name to Ella, and buys the rundown Second Chance Dog Shelter in the hope of atoning for her misdeeds. Unfortunately, 'Ella's' redemption is not to last. Her therapy is reversed after being exposed to the chimes of Big Ben, and she teams up with furrier Le Pelt, resuming her plans for a Dalmatian coat, earmarking Little Dipper, Domino, and Oddball to be used as the coat's hood. The pups are sucessfully kidnapped by Le Pelt, but after being rejected by Cruella due to her lack of spots, Oddball, with help from the residents of Second Chance Shelter, mounts a successful rescue mission. Cruella's parole is revoked, and she is returned to prison.
101 Dalmatians II: Patch's London Adventure (2003)
The original animated film did not receive a sequel until 2003, with the direct-to-video feature 101 Dalmatians II: Patch's London Adventure. In this film, Cruella, now voiced by Susanne Blakeslee, has managed to avoid jail time for her actions in the original film, however she is on strict probation, banned from approaching Roger and Anita's home, or buying furs. Roger, Anita, and their Dalmatian family are soon to move to a country farm, where they will be out of Cruella's clutches for good.
Cruella fuels her Dalmatian obsession by befriending Lars, an artist obsessed with only painting spots, however this soon proves to be not enough for her. She makes plans to steal the Dalmatian puppies again, successfully intercepting some of them when they return for Patch, who had been left behind during the move. Cruella then demands that Lars create a piece of artwork for her using the puppies' fur. Lars, who believed Cruella had simply brought him the puppies for inspiration, is horrified, and with help from Patch and his hero, Thunderbolt, aids the pups in their escape. Cruella is eventually captured and placed in a Mental Institution.
Once Upon A Time (S4 & S5)
Cruella made her first live-action TV appearance in the series Once Upon A Time, played by Victoria Smurfitt. Her most prominent appearances are in Season four's 'Queens of Darkness' arc, and Season five's underworld arc.
In season four, Cruella is recruited by Rumpelstitskin, along with Ursula and Maleficent, in a quest to locate The Author and have their stories rewritten with happy endings. However, the rest of the group are unaware that Cruella would rather kill the Author, to end a curse he placed her under that prevents her from taking the lives of others. Unaware of Cruella's curse, Emma Swan later throws Cruella over a cliff to her death to prevent her from shooting Henry Mills. In season five, Cruella briefly becomes Queen of the Underworld before being dethroned by King Arthur.
Interestingly, Cruella is the only Queen of Darkness not to experience a redemption arc.
Descendants (2015)
Another reimagined version of Cruella appears in the Disney Channel Original Movie Descendants, played by African-American actress Wendy Raquel Robinson. Like all the villains of this universe, Cruella had been banished to the Isle Of The Lost. She has raised her son, Carlos, to be terrified of dogs, and treats him as her personal slave. After Carlos travels to Auradon Prep School as part of Prince Ben's program to give the villains' children a chance, he befriends the campus mutt, Dude, and realises his Mother was wrong about dogs. Later, he becomes the first of the children to defy their villain parent when he defends Dude against Cruella's threat to turn him into ear muffs.
While Cruella does not physically appear in the other Descendants films, she is mentioned in the third, with Carlos unsure whether to inform her of his plans to become a Vet.
101 Dalmatian Street (2019-2020)
In this series, set sixty years after the events of the original animated film, Cruella, now in her 90s, is voiced by Michelle Gomez, known for her villainous roles in Doctor Who and The Chilling Adventures of Sabrina. The character is not a major presence in the series, only appearing in a few specials.
Hunter De Vil, the great-nephew of Cruella, hopes to capture the puppies of Doug and Delilah, Pongo and Perdita's descendants, to make Cruella proud. However, Hunter never actually knew why Cruella wanted the puppies. As soon as he discovers her plans to turn the dalmatians into a coat, Hunter turns on his Aunt, pushing her into a machine.
It is unknown whether 101 Dalmatian Street will receive a second season, but if not, fans will at least get to see Cruella De Vil on the big screen again when the new film, Cruella, hits theatres.