Cosplayer Spotlight: SLC Green Arrow
Fighting for Everything and Everyone That He Loves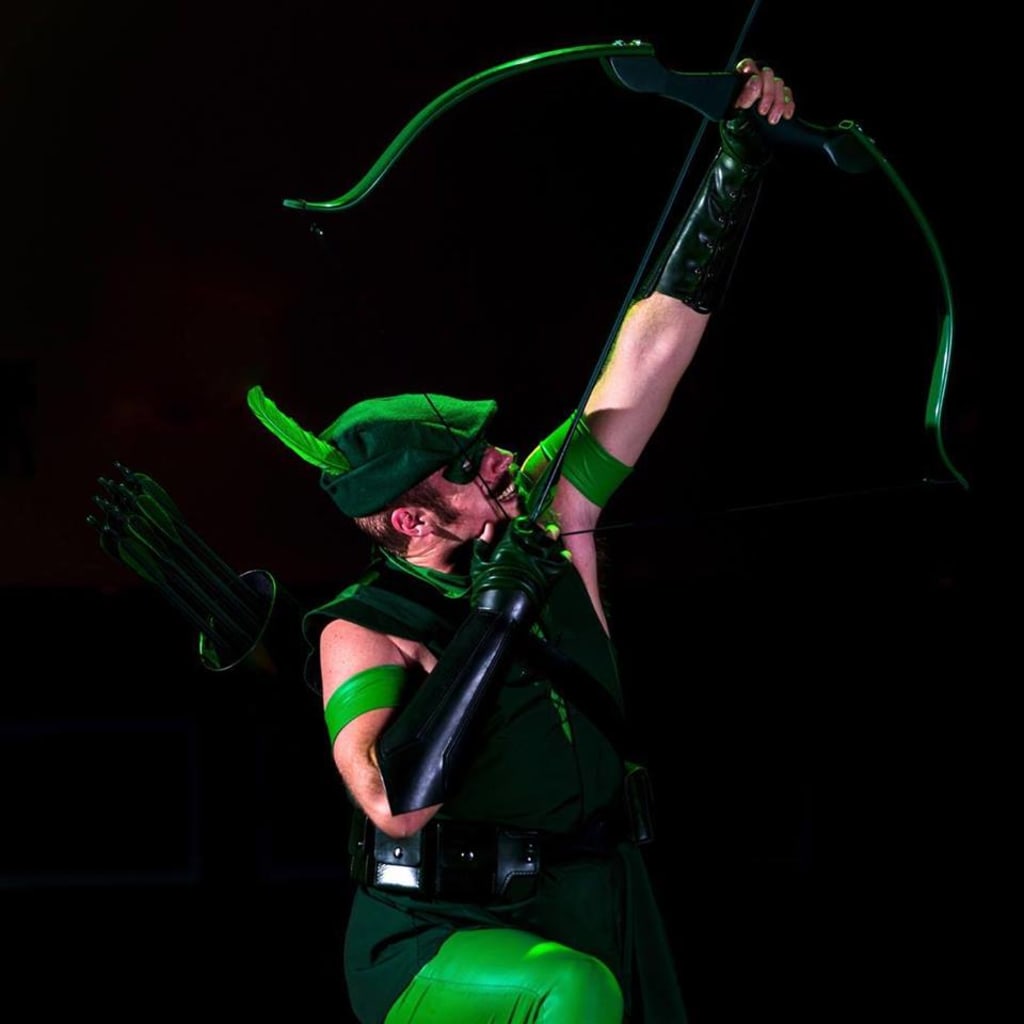 Texx-Man Cosplay: How long have you been a cosplayer and how did it change your life?
SLC Green Arrow: Well, I've been cosplaying classic Ollie since September of 2016, but growing up in San Diego, we would go to SDCC every summer and dress up every day. It wasn't really cosplay back then, just something you did for Comic Con.
Recently, cosplay has played a huge part in helping keep me active and continue my weight loss journey!
How did you first get interested in the Green Arrow and what do you like the most about him?
I always loved the character, and when Justice League Unlimited came out and featured him, it really solidified my love for him. I feel like he's the hero that doesn't lose sight of the little person on the street. While everyone is looking up to the skies, he's there to help keep them grounded.
Besides the Green Arrow, do you have any other favorite DC characters that you love?
Black Canary: she goes hand in hand with Ollie. I'm a big fan of Wally West, Flash, and the run he had in the 90s, as well as what they've been doing recently with Titans and Flash War.
If you could describe the Green Arrow in one word, what would it be and why?
Wow, that's a tough one! I'm going to go with fighter.
What are your hobbies outside of cosplay?
I love movies, video games, and hockey. Working out is a huge part of my life right now and that includes weightlifting and ice hockey.
I've noticed that you're part of a cosplay group. Can you tell me a little bit more about it and what advice would you give someone who wants to start a cosplay group themselves?
I've been asked by several people to be a page model, and it includes regular features and shout outs. I think if you want to start your own, have a wide variety of cosplayers and genres. I think you should also be polite and appreciate your models. Thank them for tags and pictures, while asking politely for exclusives, if they're doing a shoot. They should also return that kindness and appreciation back to you.
Do you have any cosplay goals that you want to accomplish? If so, what are they?
I am revamping my Longbow Hunters cosplay as we speak and will be starting Rebirth and Injustice 2 Ollie in 2019.
Your Green Arrow cosplay is amazing and I have been following your page on Facebook for a while. What reactions have you received from people with you going as him?
For the most part, it's incredibly positive. The best reactions I've gotten are industry pros who write/draw comics, or the little kids who recognize the character from Justice League Unlimited. The only negativity I've ever received has been from fans of the show, Arrow, that aren't familiar with the comics. Often times they can be a bit aggressive in their displeasure, but I don't wear the cap and feather for them. This character and cosplay mean a lot to me, and I love it. That's the most important thing.
It was a pleasure to interview SLC Green Arrow and learn more about him. I see his Facebook and Instagram posts on a regular basis and also, he really represents his character in an outstanding way. Like he said, cosplay is about loving it without any regrets and letting your imagination go wild. The Green Arrow is one of my favorite DC characters, so interviewing SLC Green Arrow was amazing and a joy. You can follow him on Facebook: SLC Green Arrow, to see his cosplay adventures.