Cosplayer Spotlight: Shania Durst-Deller
A Proud Member of the Arkansas Cosplay Community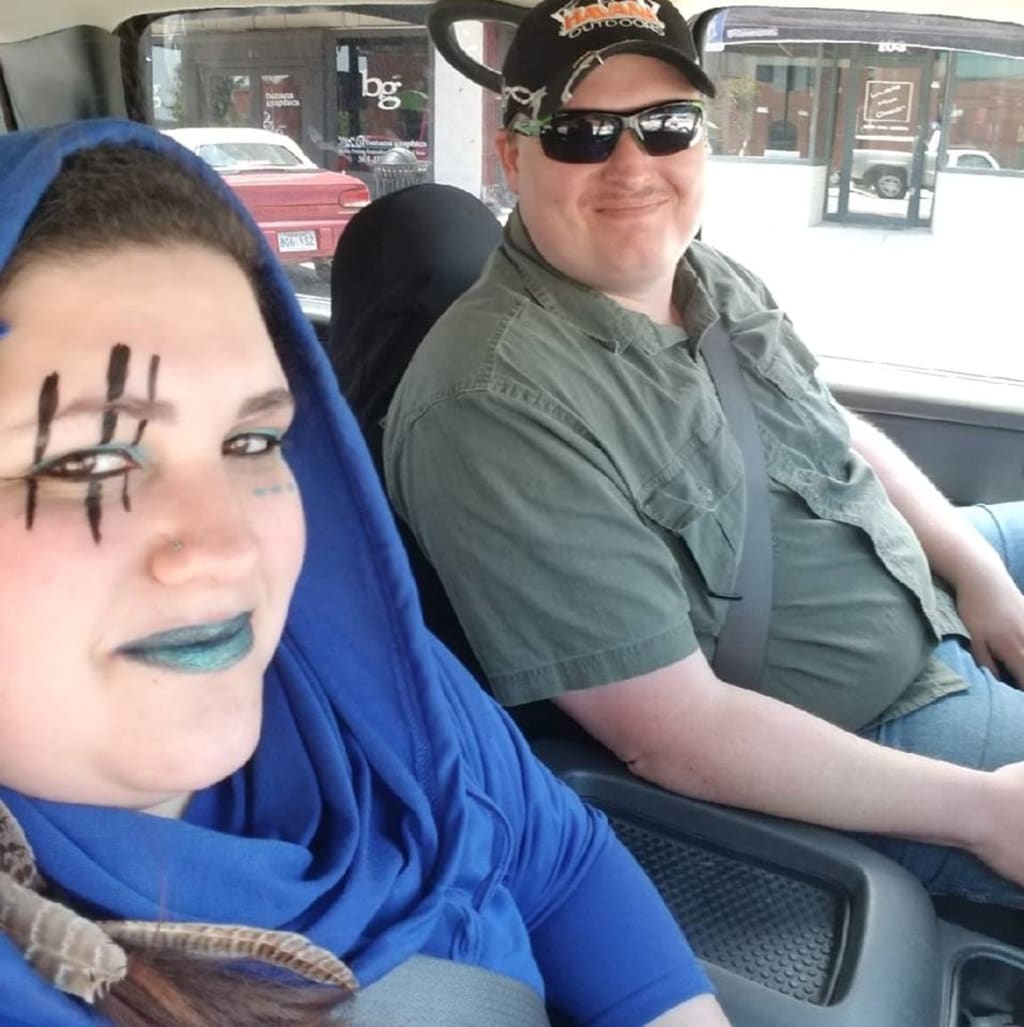 Would you mind telling me a little bit about yourself and how you got into cosplay?
Shania: Well, I'm a 25-year-old nursing student here in Benton. I got into cosplay with my husband. We have been married for almost four months; been together for four years. I fought three years of breast cancer and fought losing our first baby. I'm a strong-hearted woman. I've always loved the idea to be different. It's good to be different.
What are some of your favorite cosplays you have done?
The only cosplay I've done is Assassin's Creed woman, but I love doing Halloween makeup. I kill at it.
What are your dream cosplays (cosplays that you would like to do in the future)?
I'd just like to stick to doing the Native American Assassin's Creed.
What are your hobbies?
My hobbies are reading, writing poems, drawing, and randomly doing my makeup. I always do test runs for everything to get it right where I want it.
Do you have any favorite cosplayers that are your inspiration?
My good friend, Miss Laura Todd, does Wonder Woman. She is my idol: a strong woman that doesn't put up with other's nonsense. Because I was always bullied and hid my inner voice. Well now, I'm older. I don't hide my inner voice.
If you had a cosplay goal that you wanted to accomplish, what would it be and why?
I'd love to see my Native Assassin make it to a new superhero. That is because you never hear of an Assassin's Creed cosplay very often and especially one that is a Native American woman. I'm a real Native American woman warrior. My people go through hell every day, every tribe. So I want to be their hero, I guess you could say.
Which conventions would you like to attend in the future?
I have been to the Little Rock Comic-Con for two years and we will eventually make it to others like in California. I'd die to go. Soon, maybe more when we get the chance.
It's great to see the Arkansas cosplay community having amazing ideas and meet new people at conventions. To us, conventions are like our happy place. After the fiasco and unfortunate events that happened at The Cosplay Con & Anime Experience last November, cosplayers still attended other conventions and didn't let anything or anyone ruin their fun. Being surrounded by people who share your interests was life-changing for me. Many of them became my friends after attending my first convention, GlitchCon, back in 2014. As people of the cosplay community, we have to be there for one another and look out for one another as well. On my social media pages, I promote three things: representation, diversity, and inclusion. These three characteristics are so important to me because I want to be sure that all cosplayers are acknowledged for their work and just being great people. I don't believe in leaving people out, because that's not who I am. I repost cosplays of all races daily, regardless of gender, sexual orientation, race, appearance, etc. It makes the cosplayer feel good and they thank me for featuring them. I'll say this once and I'll say it again: being a cosplayer is not about having thousands of followers or getting likes. It's not about who has the best costume. It's about being good to one another. We are all unique in every way, so we shouldn't be in competition with each other Continue to be great cosplayers, making a difference in people's lives, and an inspiration to those who can't stand or speak up for themselves.