Cosplayer Spotlight: Chris George
Cosplay is his speciality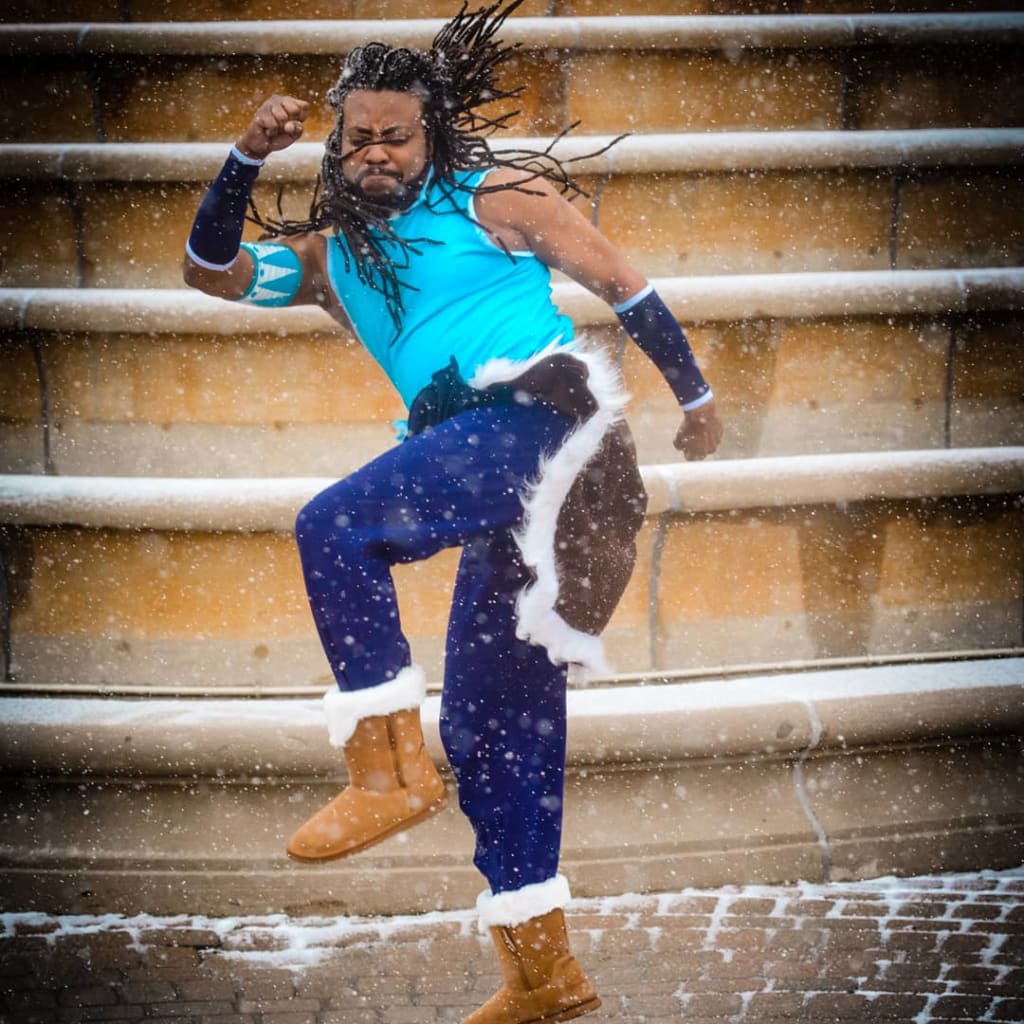 It's been three months since I've done a cosplayer interview, but now, I'm back in the saddle doing them. Recently, I had the pleasure of interviewing cosplayer Chris George. Get to know more about him by enjoying my interview.
Texxx-Man Cosplay: How long have you been doing cosplay and why do you love it so much?
CG: I started cosplaying around eight years ago. Participating in cosplay has helped me form a deeper connection with all of the fandoms that I enjoy, as opposed to just consuming the material. I've also made a lot of new friends and acquaintances, which has really helped in forming my roots in Ohio.
Texxx-Man Cosplay: What led you to do cosplay to begin with?
CG: For me, my introduction to cosplay was really a two-step process.
After I graduated college, I had the time and ability to start attending all of those anime conventions that I was interested in visiting throughout college. As I went to more conventions, I started to notice, and enjoy, the atmosphere and subculture that just magically pops up for those three days. I saw that there were a lot of people walking around in cosplays, and I simply wanted to get in on the fun as well.
Texxx-Man Cosplay: Do you have a specific fandom you follow. If so what would it be?
CG: The one I've been following the most over the past few years would be Steampunk. I've gone to various Steampunk events, made Steampunk versions of characters (like Charizard) and even created a character persona based off of Yasuke...hence my Steampunk name. I really enjoy how versatile the subculture is. You can be very strict with sticking to Victorian era period dress or, like what I usually do, add Steampunk accents to things to create very interesting mashups.
Texxx-Man Cosplay: I know there's a pandemic going on right now, but once it's over, what would be the first con you would go to?
CG: On one hand, there are four conventions that I have made plans on attending later this year, with the closest being the International Steampunk Symposium in August. However, everything is largely going to depend on how quickly the curve can get flattened and how safe I would feel being in a large crowd of people again.
Texxx-Man Cosplay: How would your friends describe you, as far as your personality?
CG: I think that my friends would describe me as a silly person that doesn't take everything too seriously, as well as someone who is willing to give support to those who need it.
Texxx-Man Cosplay: What cosplays have you done so far and which ones are your personal favorites?
CG: There's actually too many different cosplays to list since I've done so many from anime, video games, comics and television. Despite all of that, I do have my favorites, such as Aqualad and Black Panther. It really helps me to keep going by looking up to these characters, while dealing with the unfortunate stresses of being a Black male in the USA.
Texxx-Man Cosplay: What does being a cosplayer mean to you?
CG: Being a cosplayer, in my opinion, is to have the ability and confidence to express yourself in ways that you normally wouldn't be able to in the regular world through wearing costumes of characters that you admire, see yourself as, or wish to be. It's a chance to catharsis from the usual stresses of everyday life while you put on a costume and pretend to be someone else for a day, or even a few hours.
Texxx-Man Cosplay: What would be your cosplay goals?
CG: I would really love to have a cosplay room/office where I have the space and ability to better hone the skills that I've developed over the years to improve my crafting. It also wouldn't be lying to have a leaner body!
Texxx-Man Cosplay: If you had one piece of advice to those who want to cosplay, what would it be?
CG: You think that you must have the right body type, right gender, amazing crafting skills and/or amazingly large bank account to get your foot in the door of the house of cosplay, but the bar for entry is MUCH lower than it seems! All you need is a character you want to dress as and the costume to do it, and it's okay to buy cheap costumes and accessories that you can't make yourself. Also, the thoughts of wearing a costume and possibly receiving negative and hurtful comments can be intimidating, but you'd be surprised at how welcoming and helpful the cosplayer community can be, online and offline. What really helps is to remember that the harshest critics come from non-cosplayers who don't really understand what goes into cosplay, or cosplayers that have their own insecurities that can only be alleviated by pushing others down.
Texxx-Man Cosplay: What cons have you attended and which ones would you like to go in the future?
CG: Some of my favorite ones I've regularly attended would be the Ohayocon, the Steampunk Symposium and the Ohio Renaissance Festival. I have also attended DragonCon and Youmacon in the past and had a lot of fun at those.
For a while, I've been interested in attending conventions out on the west coast, such as Anime Expo and San Diego Comic Con. I've heard that the conventions out on that side of the country have a very different feel to them compared to the ones in the east, so I'd like to be able to experiment with that at least once in my life.
Be sure to follow Chris on his social media pages, which will be down below. In the meantime, I'm now on TikTok: @thecosplayerfromtexas. I'm always in need of new followers. Mention that you've found me on Vocal and I'll follow back. Check out and enjoy my videos. Be sure to follow me on social media. The info to all of my social media pages can be found in my bio. If you enjoyed any of my articles, including this one, please feel free to send me a one-off tip, which is located at the end of every article. No tip is ever too big or small. It'll help me and other Vocal content creators to write better stories. Also, I encourage everyone to join Vocal+, a premium membership for Vocal content creators like me to write better stories, connect with creators, and a lot more. So be sure to sign up for that membership and support your favorite Vocal content creators.
https://www.instagram.com/darkkendokayasuke/
https://www.instagram.com/airshipashanti/