Corpse Party Book of Shadows by Makoto Kedouin ; art by Mika Orie (2017) manga review
By Adeline Panamaroff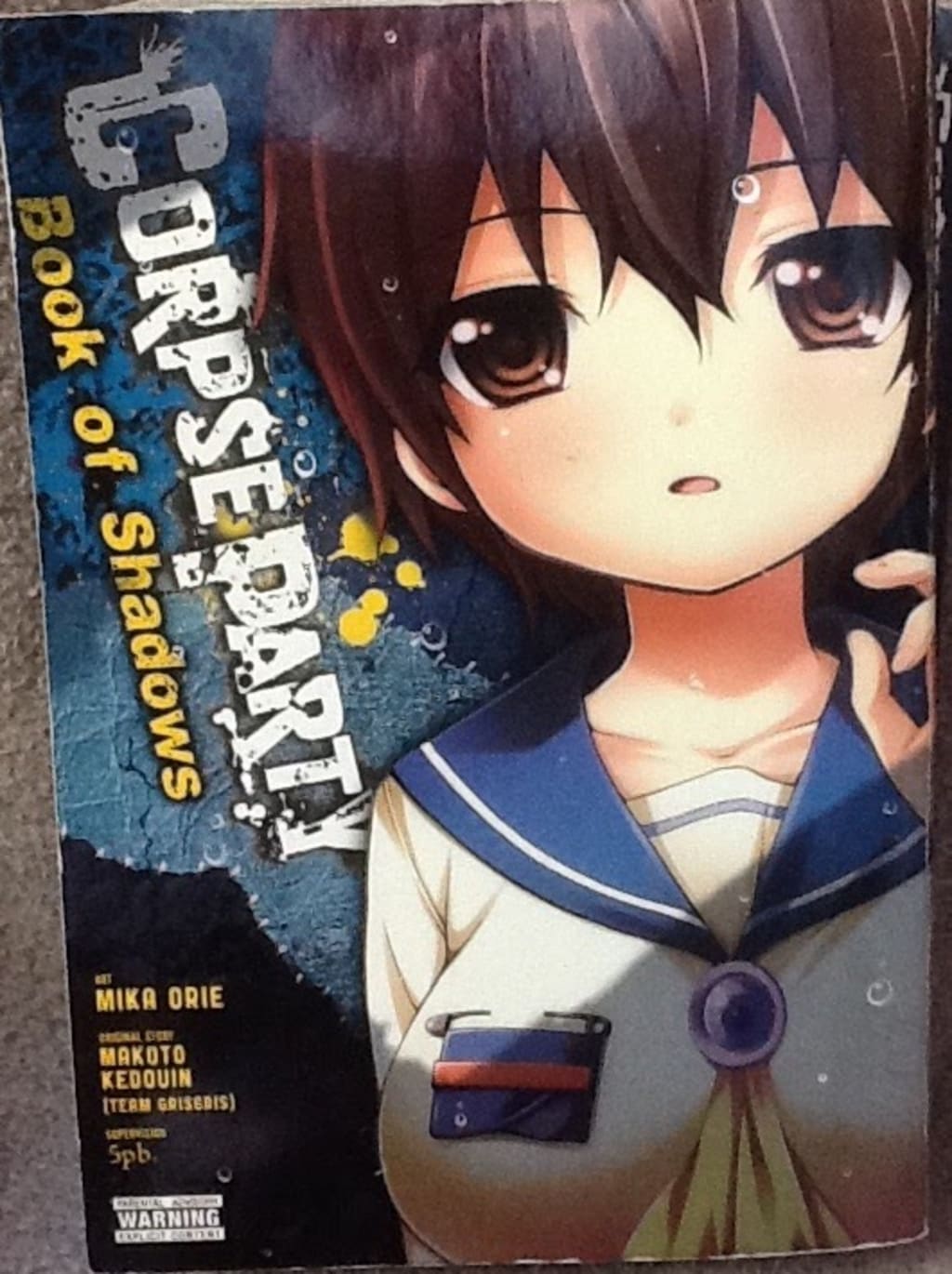 Corpse Party : Book of Shadows Cover
I was introduced to the Corpse Party franchise through the PC role-playing game of the same title, created by Makoto Kedōin that this manga is adapted from. I played this game till I got frustratingly stuck at some strategic points and could not get any further with the plot or the game. Still intrigued by the story I turned to the manga adaptations that followed fairly closely the plot of the videogame. I was intrigued by the psychological breakdown that the characters underwent as they experienced the dark and haunted dimension of Tenjin Elementary School.
Corpse Party: Book of Shadows is a book of character backstories and aftermaths... We see more of the back story of the occult specialist, high school student, Naho Saenoki. We see her in her everyday high school and work life before her fateful entry into Tenjin Elementary School. While researching the urban legend of this haunted school, both her boss and his assistant are drawn in. Being left behind, Naho's in a panic to rescue them and enlists her friend Sayaka Ooue into helping her investigate how to bring her coworkers back from this dangerous environment. While they make it safely to the demonic school, the two girls are separated on entry. As is typical of the Corpse Party plot, the school and its denizen of evil spirits attack Sayaka both mentally and physically with her worst insecurities and nightmares. Once you die in the school you are doomed to repeat that death, often in more and more gruesome ways, forever.
The characters that were in the video game also make major appearances in this manga. Naomi, and Ayumi, who made it out of Tenjin Elementary School in the first manga Corpse Party: Blood Covered, after discovering that their classmates, who did not escape with them, were more or less forgotten in the real world. Devastated by this, they decide to band together and find the source of the curse, Sachiko's home, in an effort to rescue their school friends. While busy with this, their friends continue to suffer within the walls of the cursed school, and we learn more about the characters from both the RPG and Blood Covered.
Naomi and Ayumi do learn more about the curse while at Sachiko's home but it comes at a terrible cost, and really does not help their lost friends at all.
Anyone familiar with the Corpse Party franchise will know that it is heavy with gore and body horror. Book of Shadows does not disappoint here. For me it is on the same level of gore as Stephen King's short story Survivor Type. I can usually take quite a bit of horror imagery, but both this manga and King's short story were slightly beyond what I can usually take. Because the violence in Book of Shadows is so extreme, the experience of reading it has remained with me for many days after. In an attempt to relax my over stimulated brain I immediately watched a horror anime. This did not work out too well. This is a mark of great, impactful writing and art. Also, how completely Sachiko can take over the minds of the students who wander the halls of her school is very terrifying. One little mental weakness and she has you in her grip.
This manga, and any of the other members of the Corpse Party line are for horror fans who are not afraid of excessive gore and violence. It is a reading experience that will stay with you for quite a while after finishing it. It is not something easily forgotten.