Conjikan 2018
A Summary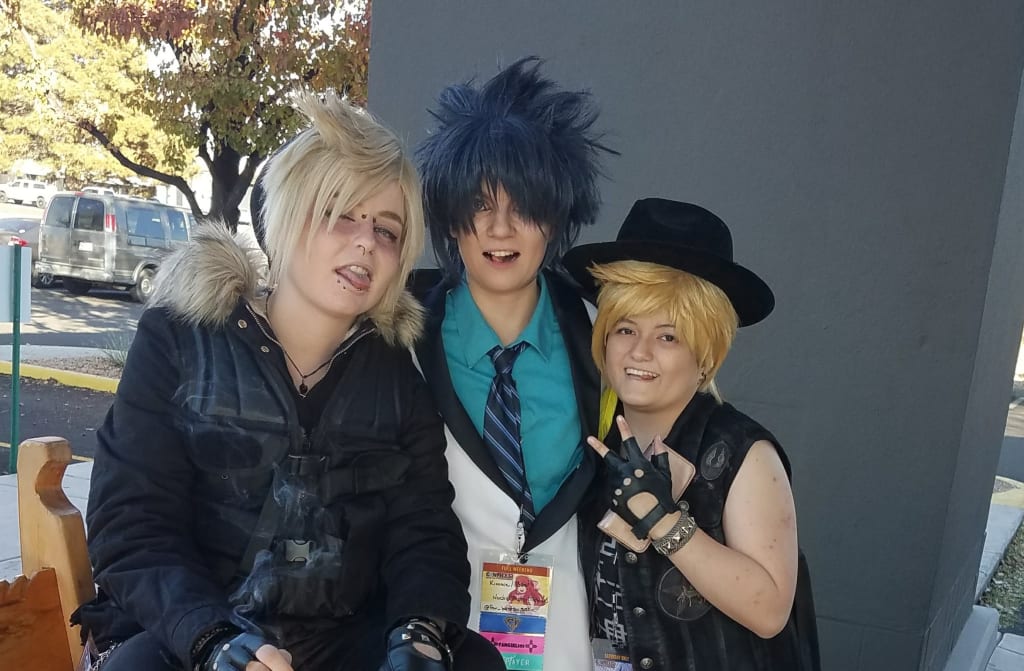 This year's Conjikan was brilliant. I can't believe how smoothly everything went, how amazing the rest of the volunteers and the staff were, and how awesome all my new friends are! That's something I have always loved as a cosplayer. The community is (usually) pretty incredible, and everyone comes together and gets what they need to get done no matter the circumstances. I had such a great time that I'm finding myself struggling to put this all into words, but I would really like to share how fantastic this con was and why you should attend next year.
Day 0
Here's the part most of you aren't going to believe! The first day of Conjikan Day 0 was free to everyone. From 5:00-8:00 PM, the convention center of the Ramada Midtown Hotel was packed with con-frequenters, cosplayers of all different experiences, and those who didn't even know what a comic-con was. Throughout the night, people were allowed to pick up their passes early, buy passes, explore the venue, watch shows, and meet some of the guests. I really enjoyed this night because it was fun to see those who had never been to a con meet the community for the first time. There was even a group of cowgirls that came to check it out because they had never heard of anything like it before. It was quite the night.
Perhaps the most exciting part was the performance on stage by Cosplay Cafe and many others. Each performer was amazing and did a very good job promoting the con as a whole, especially for those who had never seen anything like it before. This was definitely the best way to have spent my night.
Day 1
On Saturday, Day 1, the real excitement began. Cosplayers excitedly showed themselves off brilliantly. Ribbons to decorate your con-badge glittered on tables, in pockets, and in secret places all over the hotel as each con-goer attempted to create the longest badge possible and show off their ribbon-collecting prowess. Vendors promoted their wares all over the vending hall, showing off everything they had created for various fandoms and throughout the various careers. This was truly my favourite day of the con. Those members of the staff and volunteers ran two and fro to make sure all the panellists and guests were happy and healthy throughout the day.
I participated in several events during this time. The first was a My Hero Academia Truth or Dare Sleepover Panel. Essentially, the panellists cosplayed as Bakugou, Kirishima, Todoroki, Deku, and Uraraka and allowed the attendees to ask them truth or dare questions for an hour. It was really fun, and each panelist played the part of each character really well. I'd have to say that my favorite part was when a Red Riot Kirishima attendee challenged the Kirishima panelist to a push-up contest. Red Riot won! The entire hour was a blast and my best friend, Madison, and I had a really good time.
The next event in which I participated was the masquerade! I had never done one before and was as excited as I was nervous. I had no idea what to do or how to do it, but I did the very best I could and had a lot of fun. During the con, I met an Ignis (I was Noctis) who helped me quite a bit by adding character authenticity with a small skit. The judges were amazing and very nice. While I didn't win, I know that I did the best I knew how to do given the circumstances, I had a lot of fun, and I met new people who are likely forever friends!
The last event in which I participated was the night's after-party, Karioki! While I didn't have the bravery to get up on stage and go sing, Madison (who has a beautiful voice) sang twice! I was super proud of her and the others who were brave enough to get up on stage that night and sing their hearts out! I was most excited to hear the Aladdin song, "A Whole New World," and had a really good time taking pictures with everyone as formal Noctis.
Day 2
The winding down of the con was just as brilliant as the rest of it. I was able to go to several different panels, since I was evaluating them for the Volunteer Leader, and really enjoyed participating. The first panel that I went to was "Anime Openings from 30 Years Ago." It was really amusing and thoroughly enjoyable to see all kinds of different openings from anime I had never even heard of. There are quite a few on my ever-growing list to watch! What is sleep again? I'm really happy I was able to evaluate this one.
The next panel was a "K-Pop Dance Competition Panel." Since I was also evaluating this one, and since I am behind on catching up with the K-Pop dances, I didn't dance much. However, it was really fun to watch everyone have such a great time! I made lots of new friends and met all kinds of great people during this one, including 2B from Nier: Automata! She's my gaming sister! (Our characters were developed by the same people.)
The last panel that I was able to go to was that of the BRILLIANT and Beautiful cosplayer, Leah Stevo. She put on a panel about how to craft various pieces of cosplay props and masterfully explained everything to everyone. She recommended the least pricey but good quality items to use and other people to go to when starting out for the first time. I enjoyed this one so much because my friend Serg and I are prepping to build the Engine Blade for Noctis, (mostly Serg because I'm an inexperienced N00B that just wants to learn things.)
That's a wrap!
Following the closing ceremony of the con, I surprisingly had a blast helping tear down and clean everything up. The volunteers were all amazing, but the real hero was definitely Breanna. She did an absolutely amazing job keeping everything together, everything organized, and everyone happy. I am so proud of her as a person and can't wait to work with her and the others again next year!