Coffee Talk: A Cozy Game That Lets You Play Barista to Magical Creatures in an Alternative Seattle
Coffee makes me extremely jittery, but a virtual latte wouldn't hurt, right?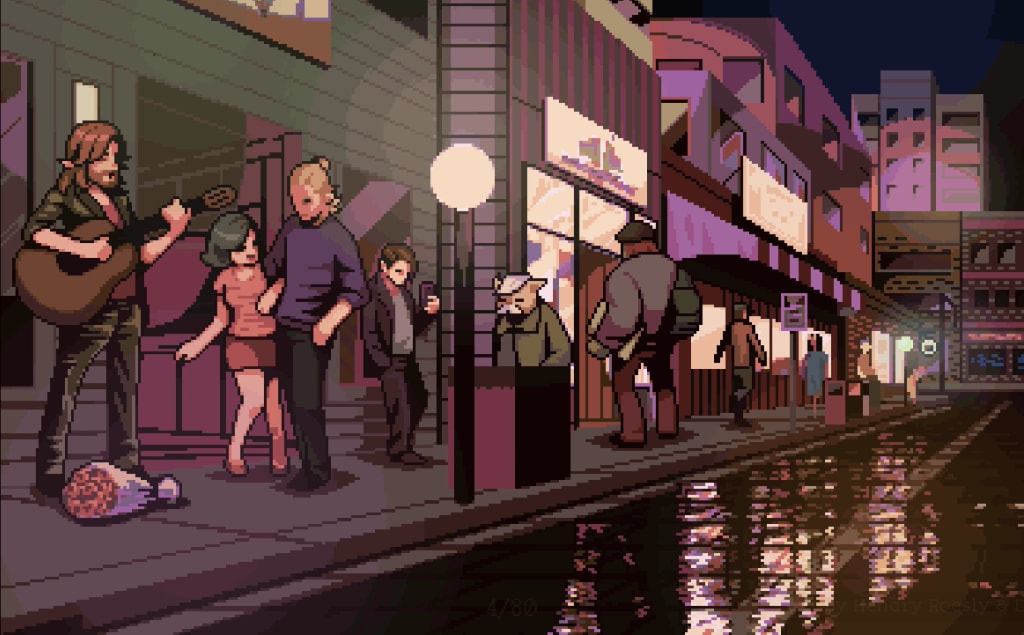 Seattle in an alternative universe portrayed through 90s pixel art. Image from Toge Productions
Coffee culture is widespread all over the world— from breakfast to break time, it's no question that it's a much beloved drink. Even the ambience of café s is more than enough to let people stay for hours, making it their little haven to unwind or work in peace. This is why creating a heart-to-heart talk simulator around this theme is very fitting. Although coffee makes me extremely jittery, a virtual latte or two wouldn't hurt, right?
Coffee Talk is a visual novel developed by Indonesian indie studio called Toge Productions. It is set in a modern, alternative Seattle where humans and creatures live among each other. Within the city is your very own coffee shop that opens once the sun has already set. Before you begin your day— I mean, evening, you will get to read the daily newspaper called The Evening Whispers which obviously covers the things happening in the city. Sometimes, the topics covered in the newspaper will be brought up in your conversations with the customers.
The regulars are quite the motley crew — each customer is one of a kind and comes with their own story and set of problems. They'll get to know each other throughout the game and be a part of their conversations. It's interesting to hear each character's take and opinion on certain issues that arise in each other's lives. Although they are fantastical, I love the diversity and how their struggles make them relatable.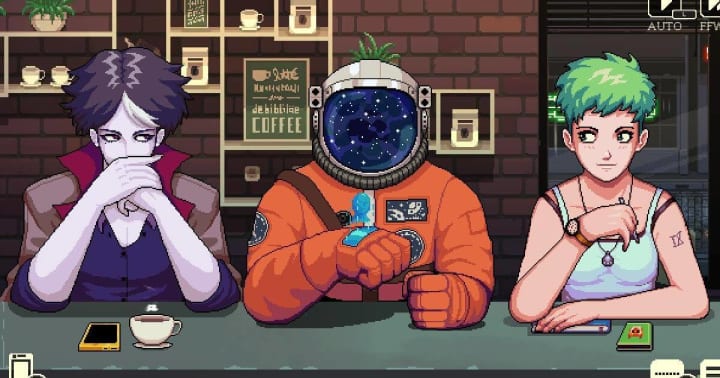 One of the fun parts of the game is of course, making the drinks. You can always check your trusty mobile phone on the bottom left of the screen to check out the recipes. However, that isn't usually the case – your recipe book is empty at the beginning of the game. You can unlock the drinks by experimenting with the ingredients or listening to the customer so, if you tend to skim like me every now and then while reading, you might miss out on something important. Technically, as players, we read the narrative but as the character in the game, it pays to be a listener.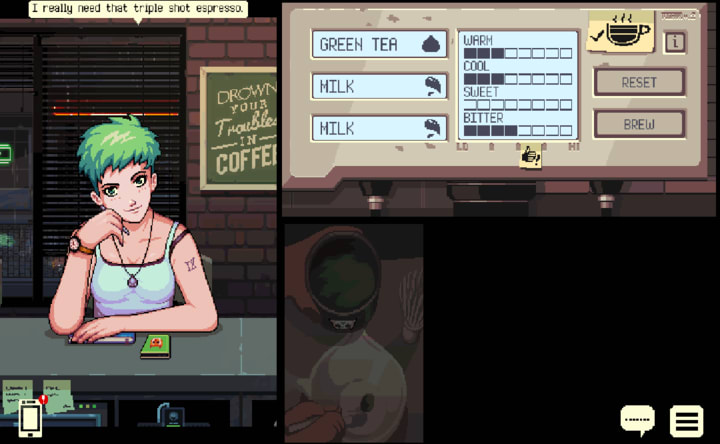 The Coffee Talk experience is oddly comforting because it offers both escapism and familiarity. Even though the story is set in a modern, alternative world, the struggles each character is faced with are very similar to what we may be going through right now. You'd think that things have progressed over there because of different races and creatures co-existing in this futuristic and magical world. Needless to say, an alternative world is better than the world we live in and this visual novel offers a calming reprieve.
The game overall is beautifully done and well-thought-out– from the immersive storyline to the chill lo-fi soundtrack and the nostalgic 90s pixel art. I enjoyed playing it the most at night with a warm drink in my hand. I wouldn't change a thing about the game except that I wish the story were longer. The end of the game took me by surprise and it definitely wasn't something I was expecting from a cozy visual novel. I won't be elaborating much anymore because I want to keep this article spoiler free. If anything, it made me love the game even more.
Coffee Talk is available on Xbox One, PC, PS4, and Nintendo Switch
Reader insights
Be the first to share your insights about this piece.
Add your insights