Clip Studio Paint Pro
Artist Review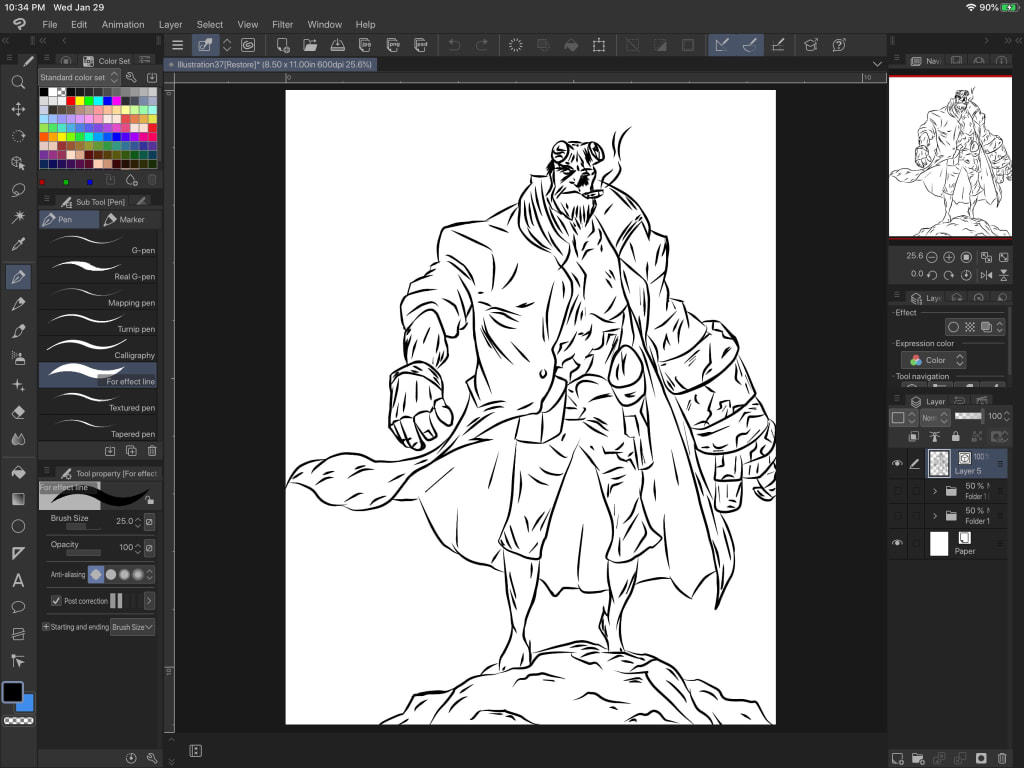 Once known as, Manga Studio, Clip Studio Paint Pro offers an impressive amount of professional drawing/illustration and layout tools for digital artist, especially comic artist. Starting at $59.99, Clip Studio Studio Paint Pro, is the budget version of Clip Studio Paint EX. The Ex version has few number of advanced features the Pro version does not have, most nobility the animation tools and multi-page tool to help organize your comic book pages.
Even without the advanced features, the Pro packs plenty of illustrations tool to achieve professional level quality lines and effects for your artwork. Clip Studio Paint, Pro also gives you access to abundance of assets including characters, backgrounds,
props and effect that the artist can use to quickly add to their creation. The software has a powerful comic panel creator, you can use to design your own, or use the 36 pre-designed comic panel pages.
One of the many great features Clip Studio Paint Pro has, is the potable 3D models. The digital artist can use these 3D potable characters to help them to draw complex actions, gestures and body poses. These potable 3D characters are fully adjustable, to create your own poses or use the many of pre-made poses found the software.
Because of the software professional grade leveled interface, Clip Studio Paint Pro may be a little too intense or complex for absolute beginners. Artists or Designers, who are already familiar with Adobe's programs like, PhotoShop, Illustrator, and InDesign, should be easy to pick up the software. Adobe experts will realized after using Clip Studio Paint Pro, that many of the same hotkeys are similar to that of Adobe's program. Clip Studio Paint Pro, allow the import and export of image files like JPEG, TIFF, PNG and amazing even PSD.
Clip Studio Paint Pro, allow the artist to use both raster and vector layers, making the software a mix between Adobe's PhotoShop and Illustrator. Although it doesn't have much photo editing or correction tool. Having the ability to paint in pixels and draw vector lines for inking in one software, instead of switching softwares, is an amazing feature. With vector drawing, the artist can use the vector setting to create smooth and strokes over their sketches.
Another great feature of Clip Studio Paint Pro, is it's word balloon tool. The word balloon tool, allow the artist to choose the shape and size of the word balloon. This feature also allow the artist to choose where the tail comes out and points to. The word ballon tool can be in shapes like circle, squares, and polygon. Clip Studio Paint Pro, does have an impress amount of fonts, where the artist can choose the size and color of the font. You can download fonts to their computer and have access of them on Clip Studio Paint Pro.
Although I mainly use Clip Studio Paint Pro on the Microsoft Surface Book with the Surface Pen. The software can be use with many different graphic drawing tablets like XP Pen, Huron, and Wacom, as well as an iPad version. Whatever device you choose to use with Clip Studio Paint Pro, expect the pen's movement to respond beautifully. The software has pen settings to adjust the sensitivity of the pen tool, which allow the artist to make bold, thick lines when pushed down hard and light, thin line when pushed softly.
Clip Studio Paint Pro, is a great option for creative professionals who need an alternative to Adobe. The software is compatible with both Mac and PC computers, at the low one time cost of $59.99. There is a iPad version that offers the same impressive amount of professional drawing/illustration and layout tools for any artist. Unfortunately, the iPad version is subscription based at $25 a year.
For a hands on look at Clip Studio Paint, check out my Youtube channel for speeding drawing videos or check out my own comics at Never Studios:
https://youtu.be/Ot6VlPDwEgo
https://neverstudios.wixsite.com/neverstudios-?fbclid=IwAR3QVOu6P7BQD4-cLbyB2QnmJCa_TkmXgh6ebMeTN8nxEy4uC9kVYxLwTyE
art
About the author
Reader insights
Be the first to share your insights about this piece.
Add your insights