CLINT EASTWOOD: 90 years of one of the greatest filmmakers of all time
"You have to just keep grinding until the talent, the hard work and the effort to learn and the good luck all come together at one time. And when they do - then you're alright." - Clint Eastwood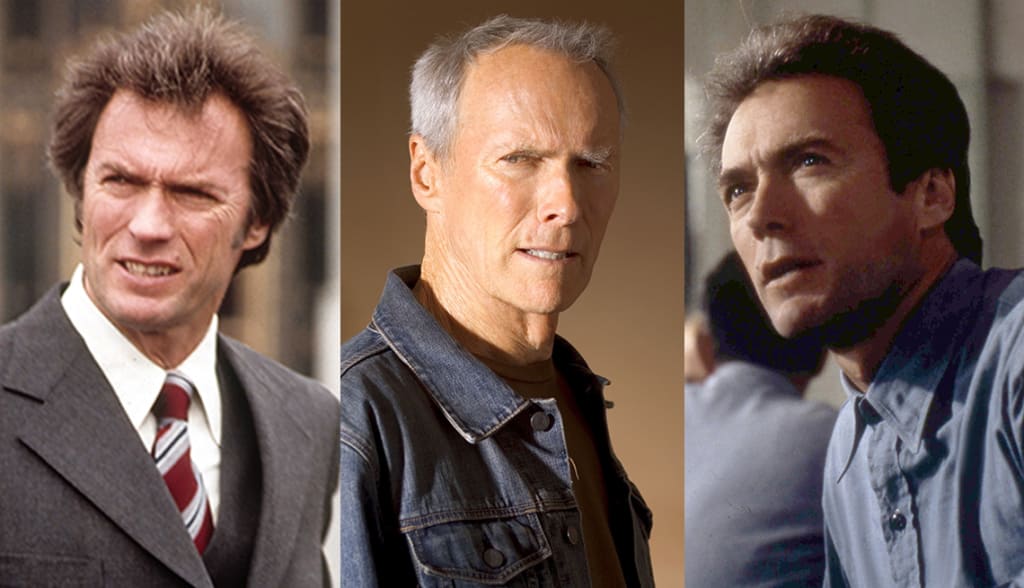 He an actor, a director, a composer, a musician, a politician… It seems like there is nothing he is not good at, nor is he afraid of trying anything new. Today marks 90 years since one of the greatest filmmakers of all time was born and in honour of his birthday, here are some of my favourite movies of his. And I have to say, it has been really hard to narrow them down; I mean the man has 71 acting, 50 producing, 41 directing, 32 soundtrack and 9 composing credits to his name! It is impossible to get through them all, let alone narrow them down to your favourites.
1. Million Dollar Baby (2004)
Million Dollar Baby is a sports drama film which follows the story of a young waitress Maggie Fitzgerald (Hilary Swank) who seeks out a famed boxing gym owner Frankie Dunn (Clint Eastwood) to train her. At first he initially refuses, but after seeing her determination he eventually gives in. Through their training the two develop a close bond and the movie takes us on the journey, narrated by Eddie Dupris (Morgan Freeman), Dunn's gym assistant. Million Dollar Baby might seem to be another boxing movie, but it is so much more than that; it's a story about love, struggle, success, pain and loss, a story containing a great amount of emotional power that will leave you speechless in the end. Clint Eastwood starred, directed, produced and served as the composer for the movie's soundtrack. Both, Swank and Freeman, took home the Oscars for their performances in the movie, with Eastwood winning Best Picture and Best Director.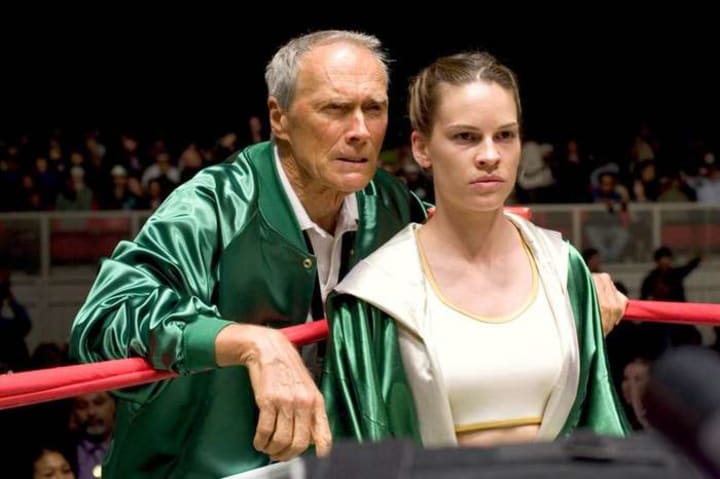 2. The Bridges of Madison County (1995)
In this romantic drama based on the novel of the same name by Robert James Waller, Eastwood teamed up with Meryl Streep. The movie follows Francesca Johnson (Meryl Streep), an Iowa housewife, married with two children, who has a brief love affair with a National Geographic photojournalist Robert Kinkaid (Eastwood). Although brief, this love affair changes them forever. Years later Francesca's children find a diary in which she has chronicled the affair. Once again Eastwood also directed and produced the picture, which earned Meryl Streep her 10th Oscar nomination.
3. Unforgiven (1992)
Ironically, this revisionist Western, which is now considered to be one of the best in its genre, was made decades after western hayday. Eastwood portrays William Munny, who was in his youth a notorious killer and is now struggling to provide for his two children after the death of his wife. After a group of prostitutes offer 1000$ reward to anyone who kills the cowboys who had cut one of them, a young man who refers to himself as the Schofield Kid (Jaimz Woolvett), recruits Munny to help him collect the bounty. Together with Munny's former partner Ned Logan (Morgan Freeman) they decide to take the one last job. The film earned 9 Academy Award nominations, winning 4, including Best Picture and Best Director for Eastwood and Best Supporting Actor for Gene Heckman. In 2004, Unforgiven was added to the United States National Film Registry of the Library of Congress as being deemed "culturally, historically, or aesthetically significant".
4. Dirty Harry (1971)
Probably one of Eastwood's most famous roles, Dirty Harry is a neo-noir action thriller which follows Inspector Harry Callahan, a San Francisco police inspector, who goes after a psychopathic serial killer. The movie pioneered the loose cop genre and provided Eastwood with some of his most iconic movie lines, like "You've got to ask yourself one question: 'Do I feel lucky?' Well, do ya, punk?" The movie set the style for its genre and was followed by four more sequels: Magnum Force (1973), The Enforcer (1976), Sudden Impact (1983) - also directed by Eastwood, and The Dead Pool (1988).
5. The Good, the Bad and the Ugly (1966)
This Italian Spaghetti Western directed by Sergio Leone, was the third and final instalment in the Dollars Trilogy (first two movies A Fistful of Dollars and For a Few Dollars More), a series of movies that have catapulted Eastwood into stardom. Eastwood stars as Blondie aka The Good, also known as the Man with no name, a professional gunslinger who is forced to form an uneasy alliance with a wanted outlaw Tuco Ramirez aka The Ugly (Eli Wallach) in order to beat a diabolical hitman Angel Eyes (Lee Van Cleef) aha The Bad. Also famous for its iconic score composed by Ennio Morricone, the movie is considered to be one of the greatest and most influential Western movies ever made.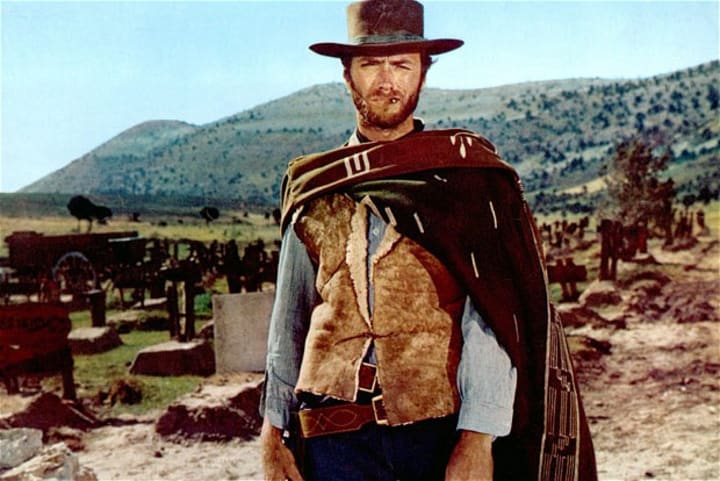 6. Escape from Alcatraz (1979)
The movie is a dramatization of actual events that took place in 1962, when a group of three prisoners escaped from the maximum security prison on Alcatraz Island. Clint Eastwood portrays cunning bank robber Frank Morris, who with the help of fellow inmates, starts planning the escape from the supposedly inescapable prison. The movie was directed by Don Siegel, making it the fifth and final collaboration between Siegel and Eastwood.
7. Mystic River (2003)
This neo-noir mystery drama directed and scored by Clint Eastwood is based on the novel by Dennis Lehane. The story follows three childhood friends; Jimmy Markum (Sean Penn), Dave Boyle (Tim Robbins) and Sean Devine (Kevin Bacon), who are reunited after Jimmy's daughter Katie is brutally murdered. Sean, who is now a police detective, is assigned to investigate the murder along with his partner Whitey Powers (Laurence Fishburne), but Jimmy also conducts an investigation on his own. Both, Penn and Robbins, took home the Oscars for their performances in the film. This movie will definitely mess with your head and will keep you on your toes until very end.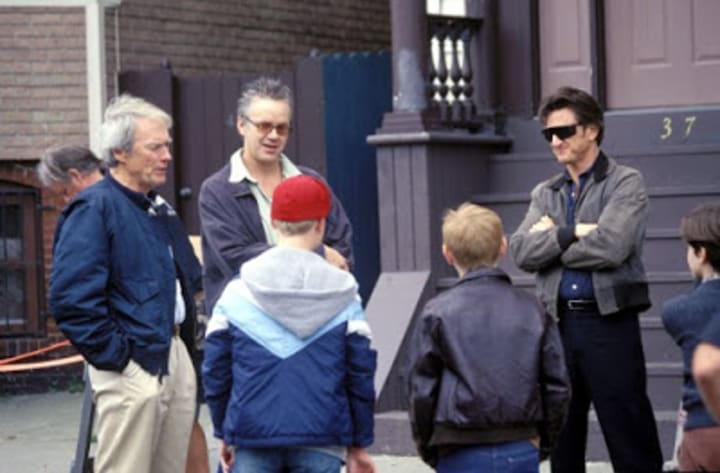 8. In the Line of Fire (1993)
In this political action thriller Eastwood portrays Frank Horrigan, a Secret Service agent, who can't forgive himself for not being able to prevent the assassination of the President John F. Kennedy in 1963. He is now responsible to protect the life of a current president of US who is being threatened by Mitch Leary (John Malkovich), a former CIA assassin.
9. Changeling (2008)
Directed, produced and scored by Clint Eastwood, this mystery crime drama film was inspired by real events taking place in 1920s in Los Angeles. Christine Collins (Angelina Jolie) is a woman whose son has been returned to her after he has been missing for several months. Convinced that the returned boy is not her son, she confronts a corrupted LAPD and tries to prove that they have given her the wrong child and should keep searching for her real soon. Yet the authorities detune her as an unfit mother and as the situation gets more and more desperate, the only person willing to help her is a local activist Reverend Briegleb (John Malkovich). The movie deals with female disempowerment, mistreatment of mental health patients and political corruption among other issues. Jolie's performance as Christine Collins earned her an Academy Award nomination.
10. Gran Torino (2008)
In this film Eastwood plays a part of a tough, grumpy Korean War veteran and widower with some serious racial prejudices Walt Kowalski. Being forced to come to terms with some major changes in his once, all-white neighbourhood, he befriends a Hmong teenager Thao Vang Lor (Bee Vang) and slowly starts to work past his longtime racial misconceptions and even serves as a protector of his Asian neighbours. Once again, Eastwood also directed and produced the film, with his son Kyle Eastwood serving as the composer and Scott Eastwood appearing in a minor role.
celebrities
About the author
Leap day baby, a Slovenian girl following her dream to become an actress. Currently living and studying at Acting Coach Scotland in Glasgow.
Reader insights
Be the first to share your insights about this piece.
Add your insights