Classic Movie Review: 'Who Framed Roger Rabbit?' Deserves Classic Status
My summer of classics continues with the incredible achievement that is Who Framed Roger Rabbit?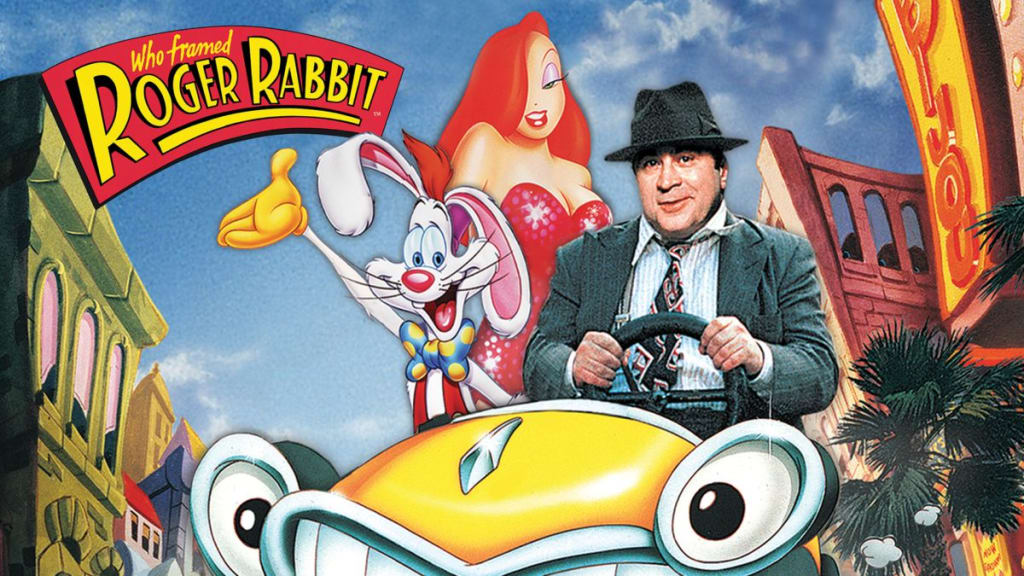 Detective Eddie Valiant (Bob Hoskins) stands framed by a tunnel leading him to a physical and emotional destination. On the other side of the tunnel is the place where he needs to go to save his new friend, Roger, but it is also the place where, years earlier, his brother and partner was killed. The conflict weighs heavily on him as he ponders his fate, past and present colliding in a whirlwind of emotions.
I could be describing a 1940's detective movie directed by John Huston or Jules Dassin with a story by Daschiell Hammett and starring Gene Tierney or Robert Mitchum. Instead, the movie I am describing in the opening of this review is Who Framed Roger Rabbit, the iconic live action-animated feature from visionary director Robert Zemeckis. The comedy comes from the remarkably brilliant clash of animated storytelling and Zemeckis' love of classic detective stories.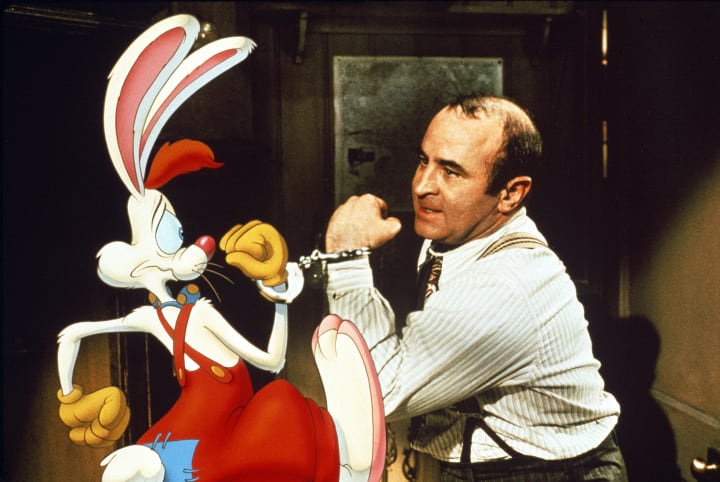 The scene I mentioned at the top gets a big laugh from me every time only after I realize that what I am seeing is a man trying to rescue his cartoon friend from the same cartoon thug that killed his brother. It's this collision of past and future in style and drama and comedy in tone that never fails to get a big laugh from me. How remarkably clever, to draw a laugh from something ostensibly serious yet inherently comic.
That's the complex genius of Who Framed Roger Rabbit which was released on June 22nd 1988. The story follows Roger Rabbit (voiced by Charles Fleischer) who we meet as he is struggling with a gag in his latest cartoon. Roger's boss, R. K Maroon (Alan Tivern) believes that Roger is distracted by his wife, Jessica (voiced by Kathleen Turner), who Maroon is convinced is cheating on Roger with another man.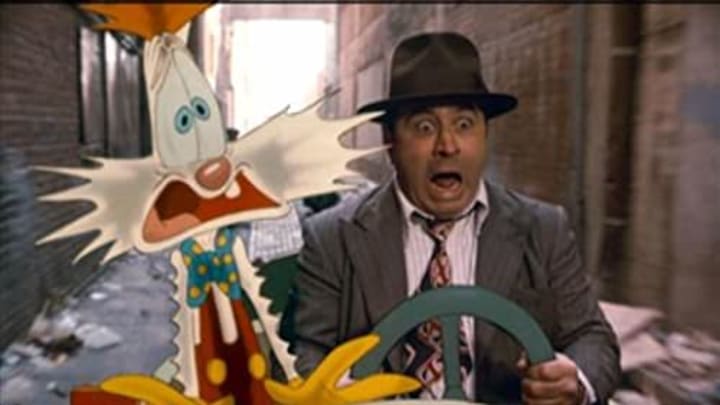 It's Maroon who hires private eye Eddie Valiant to trail Roger's wife and catch her playing paddy cake with her sugar daddy, Acme Products owner and Toon Town proprietor, Marvin Acme (Stubby Kaye). When Eddie gets the photos and they get back to Roger, the cartoon rabbit is a mess, literally exploding through a window, leaving a perfect, cartoon cut-out. When Acme is found dead the following day in his warehouse, Roger is the prime suspect and only Eddie Valiant can save him.
Part of the genius of Who Framed Roger Rabbit is how it is a classic noir story of an innocent man fighting a corrupt system that wants to put him away for good and a first rate animated comedy. The tone of the film is consistently hilarious on a level that children adore and yet film fans can't help but appreciate the genre touches that show director Robert Zemeckis must have been a huge fan of 40's detective movies, not unlike the French New Wave directors of the 60's who took the same influence and made iconic icy drama where Zemeckis finds comedy.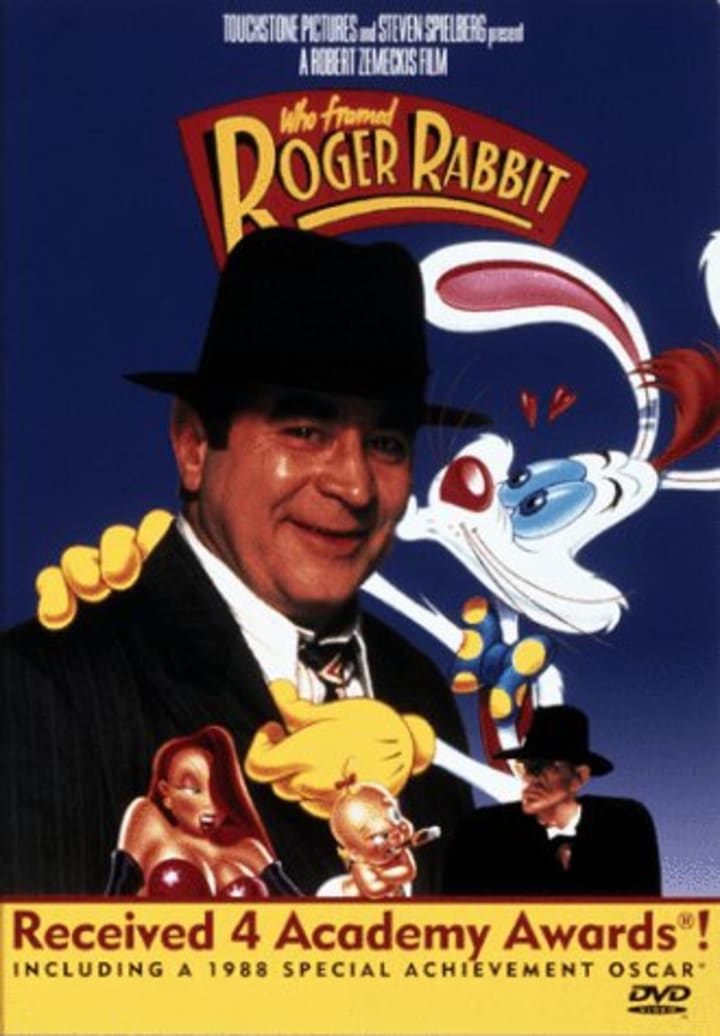 Who Framed Roger Rabbit is legitimately that inspired. Not only is Roger Rabbit an iconic kids comedy it's a real work of art remarkable attention to detail. The production design and costuming is as detailed and brilliant as the inspired comedy. The plot details influenced by 40's detective movies are as nuanced as the wonderful comic character work of Bob Hoskins, and the underrated duo of Stubby Kaye and Alan Tivern.
The MVP of Who Framed Roger Rabbit is unquestionably Kathleen Turner as the voice of Roger's wife, the iconic animated character, Jessica Rabbit. Modeled after ingénues of 1940's and 1950's detective movies, Turner's deep, breathy, voice evokes Lauren Bacall while her animated form evokes Jayne Mansfield or Anita Ekberg, minus the blonde hair. Turner's voice is a perfect purr, it's sultry and undoubtledly confused a number of young boys becoming men who were left confused by being attracted to a cartoon.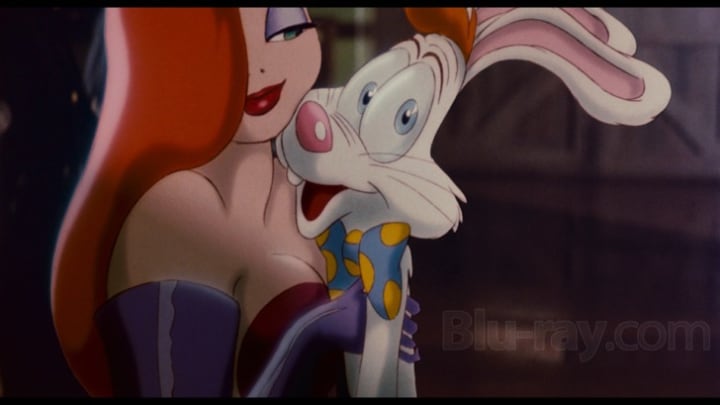 And then there are the remarkable special effects of Who Framed Roger Rabbit. The detail is remarkable. A scene where Roger, in Eddie's office convincing Eddie to save his life, attempts to sit in the dusty chair of Eddie's late brother shows Roger's fingerprints on the chair as he pulls it back. Is that level of detail necessary? Perhaps not, but it is effective in showing how deeply committed Zemeckis and company are in establishing Roger in this real world scenario.
The seamlessness of Eddie and Roger's interaction is breathtaking. Bob Hoskins deserved an Academy Award nomination for his deeply committed and yet still very funny performance. Hoskins' feels like the kind of actor who would have sweated his way through one of these pulpy detective movies of the 1940's. Rumpled and cynical, he would have been right at home in a Daschiell Hammett story and yet he fits brilliantly into the comedy of Roger Rabbit just as well.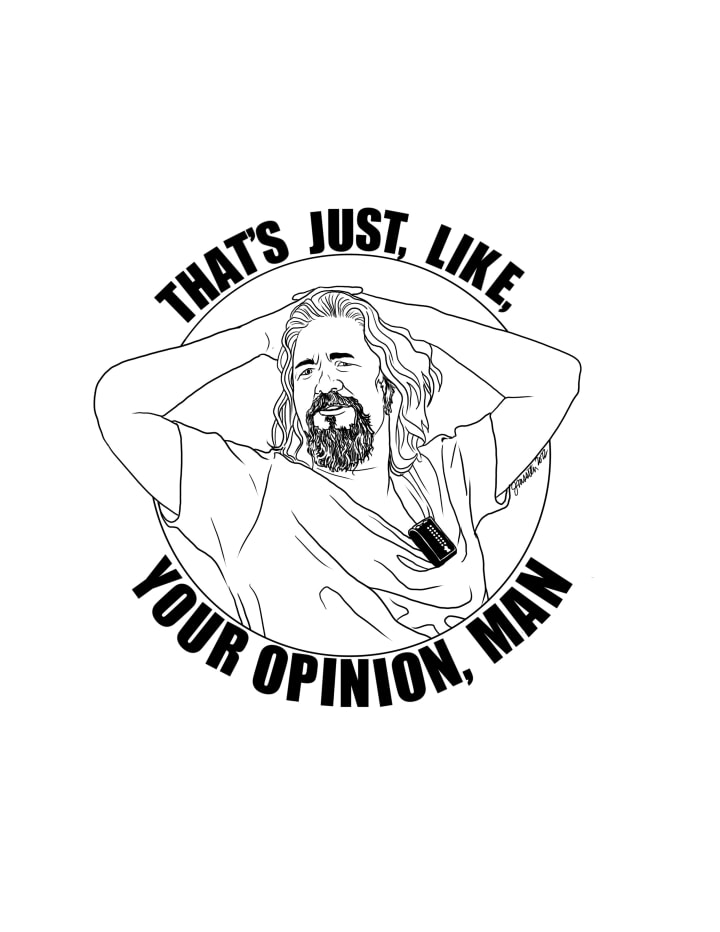 I absolutely adore Who Framed Roger Rabbit. As a kid it was one of my favorites and today, despite the undeniable influence of childhood nostalgia, I genuinely believe it to be one of the best movies I have ever seen. It ranks right alongside some of the more reputable dramas and esteemed genre pieces I have seen in my more than 20 years as a critic. The huge laughs, the attention detail, the stunningly great effects and the timeless quality of the film earn Roger Rabbit a place in my list of all time favorite movies.
You can find a full archive of my last 20+ years of movie reviews at SeanAtTheMovies.Blogspot.com. Be sure to follow @SeanattheMovies on Twitter or @PodcastSean on Twitter to get all of my stuff on a regular basis. You can also listen to me talking about movies on the Everyone's a Critic Movie Review Podcast.
movie
About the author
Hello, my name is Sean Patrick He/Him, and I am a film critic and podcast host for Everyone's a Critic Movie Review Podcast. I am a voting member of the Broadcast Film Critics Association, the group behind the annual Critics Choice Awards.
Reader insights
Be the first to share your insights about this piece.
Add your insights