Classic Movie Review: The Film Foundation Presents 'Caught'
James Mason and Barbara Bel Geddes star in an underrated and newly restored classic from director Max Ophuls.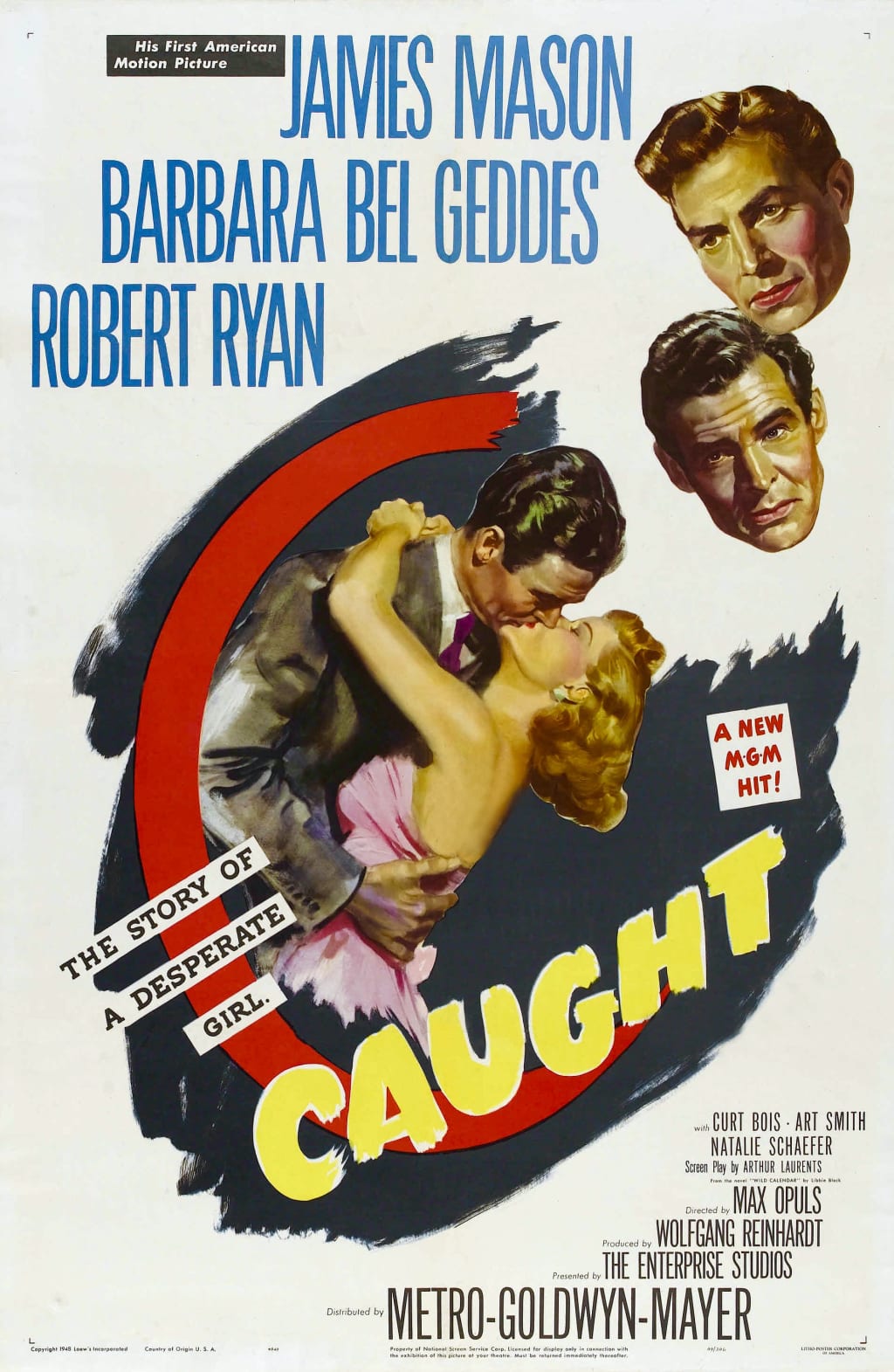 Caught (1949)
Directed by Max Ophuls
Written by Arthur Laurents, Libbie Block
Starring James Mason, Barbara Bel Geddes, Robert Ryan
Release Date February 17th, 1949
Published March 13th, 2023
Caught tells the story of Leonora (Barbara Bel Geddes), a woman who dreams of being a model. To achieve her dream, she attends a Charm School. This takes her to a job working at a department store as a living model for Mink Coats. While doing this, she's approached by a man to attend a private party aboard a yacht. She's dubious about the idea but is convinced by a friend that she should attend. It's a fateful choice as before she can even reach the party, she meets the man for whom the party is being thrown, a multi-millionaire named Smith Ohlrig (Robert Ryan).
Ohlrig is handsome and he decides to sweep young Leonor off her feet using his vast resources. After doing so however, he's immediately resentful of her. He's long assumed that any woman who would want to be with him is only there to take his money. Leonora insists that her feelings are genuine, despite them having a very, very limited courtship. She asks for his time, and he refuses, leaving her home alone. In a particularly telling and cruel moment, he tells her to simply spend his money as that is the only reason she's there anyway. Nothing about the Leonora that we've met to this point indicates she is a gold digger but that's the label he's given her.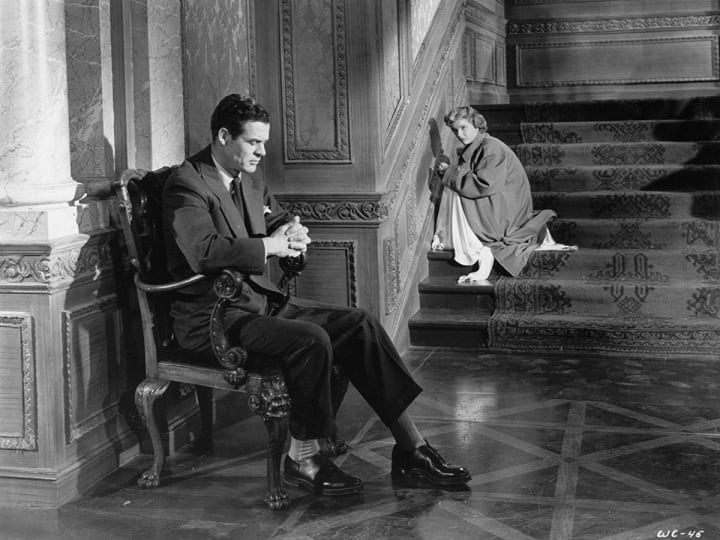 It's clear that this marriage is a mistake and one that is headed to a tragic ending. That is until Leonora makes an unexpected choice. Having tired of Ohlrig's absence and cruelty, Leonora leaves the comfort and security of being a rich man's wife for the life of a lower middle class working girl. Leaving Smith's compound in Long Island for a small tenament in the City, Leonora takes a job working for $25.00 a week in the office of Dr. Larry Quinada (James Mason). Eventually, a romance begins between Dr. Quinada and Leonora but a complication looms over the romance, one that may force Leonora to return to Ohlrig.
Caught demonstrates the elegance of the direction of Max Ophuls. The German director's camera sweeps and flows from scene to scene beautifully, seamlessly marrying rooms in single locations, rarely breaking shots without the absolute need to do so. The style of Max Ophuls is rarely distracting or flashy, it's distinctive only if you are truly looking for directorial style. A trained eye may take note of Ophuls' work while a more casual audience may simply find his style appealing for its crisp beauty and how rarely jarring his edits are. This could be said about a number of directors but Ophuls has a particular skill that stands out when you know what you are looking for.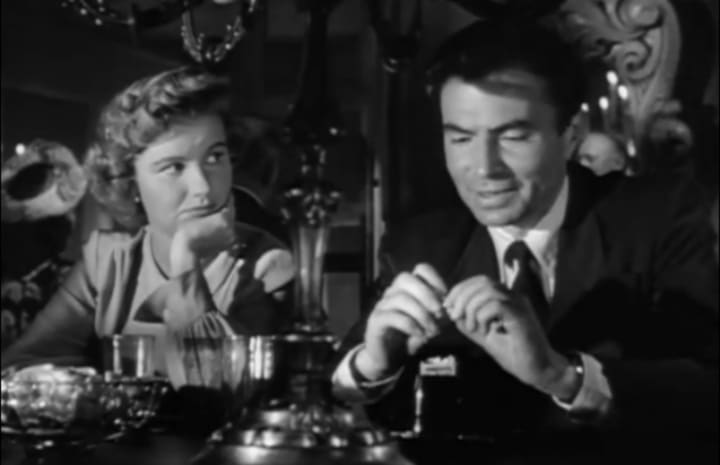 Take for instance Ophuls simple yet skillful framing of characters. When one character has an advantage of information over another, that character is foreground, looming larger in the frame. When this character then gives their advantage away, the framing subtly changes to equalize the characters in the scene. It's a remarkably subtle visual cue that an important piece of information has been shared, information that may shift the narrative. Ophuls is visually equalizing his characters to draw you closer to the disadvantaged character. If you weren't looking for that, you might not notice it and that is the hallmark of a terrific piece of direction.
Caught is a bit of a strange title if you don't look a little closer. On a purely surface level observation, no one in the movie is 'Caught' doing anything. Each of our main characters is a straight forward, earnest character of varying levels of kindness, naivete, or cruelty. The use of the word 'Caught' as a title for this movie is more related to the circumstances surrounding Leonora. She is 'Caught' between two men. She is 'Caught' between the desire for financial security and wanting to avoid poverty. And, James Mason is 'Caught' between his love for Leonora and a feeling of having been betrayed by her. That's a lot of weight to carry for a single word title and it's yet another example of the film's subtle genius.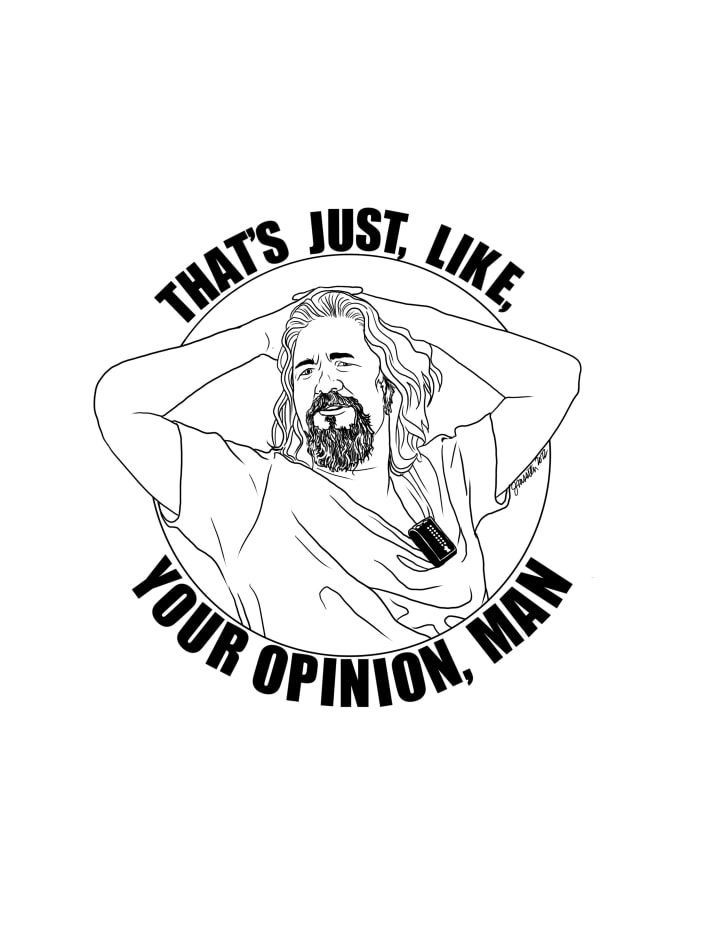 Caught is being shown as part of a double feature this month, March, 2023, for The Film Foundation. On Monday, March 13th, film fans can, FOR FREE, watch a beautifully and carefully restored print of Caught alongside an equally beautifully and carefully restored print of 1948's Force of Evil, starring John Garfield. Fans can go to The Film Foundation Restoration Screening Room at DelphiQuest.com. The movies will show FOR FREE and all you have to do is sign up. Caught alone is worth seeing but with Force of Evil on a double feature, it's a can't miss opportunity to celebrate film classics and film restoration.
Find my archive of more than 20 years and nearly 2000 movie reviews at SeanattheMovies.Blogspot.com. Find my modern review archive on my Vocal Profile, linked here. Follow me on Twitter at PodcastSean. Follow the archive blog on Twitter at SeanattheMovies. Listen to me talk about movies on the Everyone's a Critic Movie Review Podcast. If you've enjoyed what you have read, consider subscribing to my writing on Vocal. If you'd really like to support my writing you can do so by making a monthly pledge or by leaving a one-time tip. Thanks!
About the Creator
Hello, my name is Sean Patrick He/Him, and I am a film critic and podcast host for Everyone's a Critic Movie Review Podcast. I am a voting member of the Broadcast Film Critics Association, the group behind the annual Critics Choice Awards.
Reader insights
Be the first to share your insights about this piece.
Add your insights