Classic Movie Review: 'The Fabulous Baker Boys' Deserves Its Forgotten Status
There is a reason no one ever talks about 'The Fabulous Baker Boys'; it's not very good.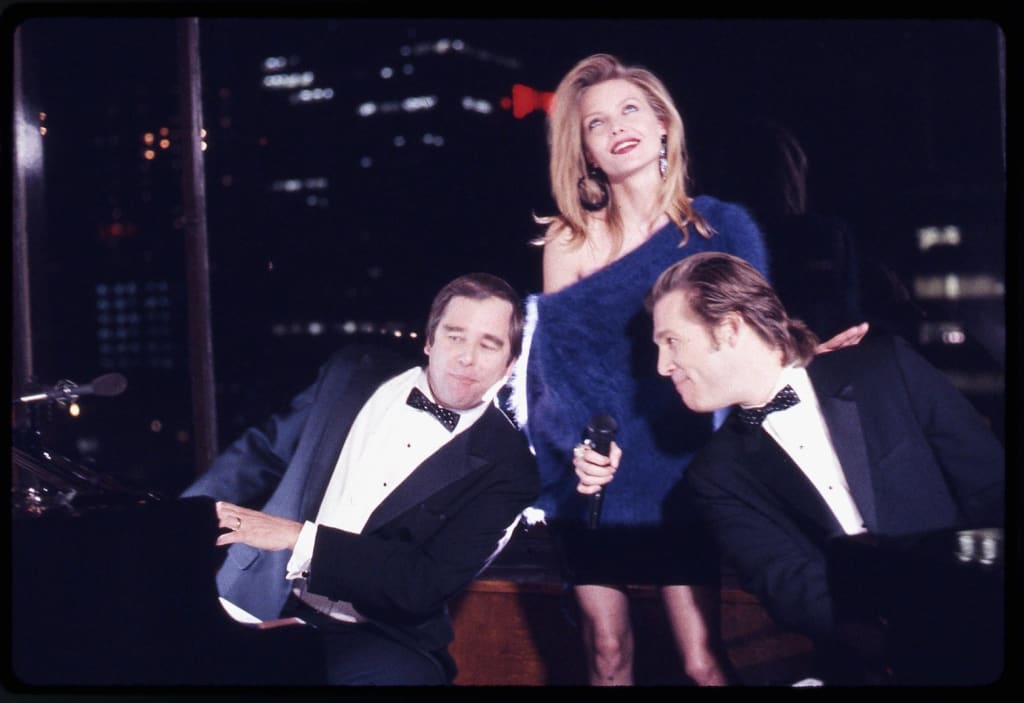 As a fan of Jeff Bridges, the star of my favorite movie of all time, The Big Lebowski, I often ponder his career, what he's done and will do next. As the 30th anniversary of the release of 1989s The Fabulous Baker Boys approached, I began to wonder why no one ever talks about this nightclub romance with Michelle Pfeiffer and Jeff acting alongside his IRL brother, Beau.
Now, after sitting through The Fabulous Baker Boys for free via YouTube, I know exactly why no one talks about The Fabulous Baker Boys. Despite some sumptuous, lingering camera shots of the exquisite Ms. Pfeiffer, The Fabulous Baker Boys is a limp, lifeless, dramedy about broken dreams, unfulfilled potential, and resentment.
The Fabulous Baker Boys stars Jeff and Beau Bridges as Jack and Frank Baker, a piano duo, living and dying in dive bars across the East Coast. Jack had potential to be one of the greats, but as the film progresses, it becomes clear that fear of failure, and fealty to his brother caused him to hide his talents, and to elevate his less talented and much more needy older brother.
With their act growing stale, the duo looks to become a trio by adding a singer. Cue a terrible scene of auditioning terrible female singers whose existence is merely as a tragicomic sideshow montage. Then, the Baker Boys meet Susie Diamond (Pfeiffer), a call girl looking to leave sex work behind to pursue her dream of being a singer.
Susie blows their doors off with a sexy tune, and becomes the new lead singer of The Fabulous Baker Boys. The trio proves surprisingly successful with creepy, hotel-bound businessman eager to throw down good money to watch Susie croon her way through the familiar standards of the American songbook, all while the Baker Boys bicker over money, and whether Jack can keep from sleeping with Susie and ruining their act.
Yes, that is the main conflict of The Fabulous Baker Boys—not if, but when Jack will decide whether he and Susie will sleep together. Don't get me wrong, she plays a minor role in whether she is going to sleep with Jack, she gets to say yes or no, but her decision is solely based on the needs of Jack and Frank's plot, and not in anything that actually develops from Susie's desires or the chemistry of Jeff Bridges and Michelle Pfeiffer, which is almost non-existent.
Speaking of non-existent, where is Jeff Bridges in this movie? I mean, I saw a lumpen, mumbling, mono-syllabic shape that appeared to be Jeff Bridges but minus that spark of humanity that he's known for. While Beau Bridges is pouring on the energy to an almost manic and irritating degree as the obnoxious and less talented Baker Brother, Jeff can barely be bothered to register an emotion.
Cool disaffection is one thing, but Jeff Bridges is damned near lifeless in The Fabulous Baker Boys. His voice rarely changes, as if it would expend too much energy to simply add an inflection to a line reading. When he's playing piano, he melts so far into the background of the scene that he could be mistaken for an extra just helping out while Pfeiffer and Beau Bridges are performing.
Beau Bridges isn't great in this movie either, but at least he's lively. Obnoxious is at least a mode with some life to it. He's actively irksome, but at least Beau Bridges made me feel something other than unending boredom or mild confusion. Jeff Bridges, on the other hand, delivers a bafflingly laid back performance that doesn't land as cool and detached, but merely detached
Michelle Pfeiffer meanwhile was Oscar-nominated for her break out role in The Fabulous Baker Boys, though my guess is it was a make good Oscar for her being snubbed for Married to the Mob. How else to explain how she gets nominated for such a functionary role. Granted, she's the one good thing in this terrible movie, but she's not so good that she elevates the film.
Pfeiffer doesn't transcend this mess, but narrowly avoids being suffocated by it. She stands out by not being as inert and forgettable as the rest of the movie, and that includes the Oscar-nominated score and editing, which haven't aged well. I can see where the elderly Academy loved hearing the standards, and nominated the movie on the strength of a soundtrack that, to the elders of the Academy, was a welcome clapback to modern music tastes.
That's the only way I can explain how a score that feels like someone left a temp track in by accident ends up an Academy Award nominee. The piano standards of the score are fine, but at one point, when the filmmakers make a bizarre attempt at being modern, they include a synth-alto sax abomination that left me feeling as if I had been assaulted in the ears.
That feeling extends to many of the musical performances of The Fabulous Baker Boys. Michelle Pfeiffer is a fine singer, she has a smoky voice that lends well to jazz, but goodness is overmatched by these aching and creaky songs. The Fabulous Baker Boys provides what should have been the final evidence needed to show that no one can maintain their dignity while singing the word 'Whoopee.'
The Fabulous Baker Boys is mostly forgotten today, and god-willing it will return to being forgotten by me. Appropriately, The Fabulous Baker Boys is not legally available to stream. Whatever company controls it won't allow Netflix or Amazon to carry it on their services. The film is only available in an illegal rip on YouTube, at least until I report it as a copyright violation in order to help the world to continue to forget its existence.
movie
About the author
Hello, my name is Sean Patrick He/Him, and I am a film critic and podcast host for Everyone's a Critic Movie Review Podcast. I am a voting member of the Broadcast Film Critics Association, the group behind the annual Critics Choice Awards.
Reader insights
Be the first to share your insights about this piece.
Add your insights