Classic Movie Review: 'Killer Klowns from Outer Space'
In honor of the release of 'IT' we celebrate a Killer Klown Klassic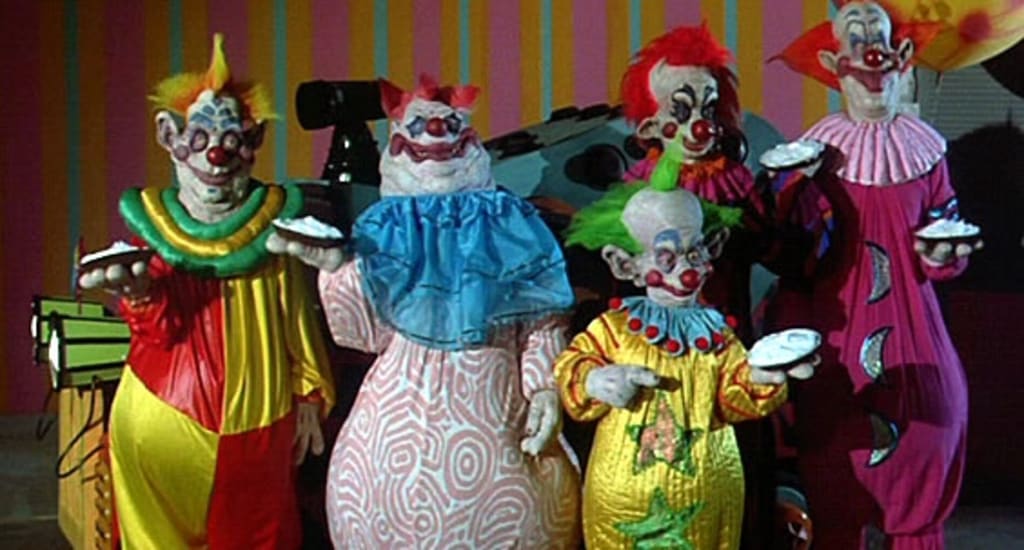 The latest adaptation of Stephen King's IT hits theaters this weekend and with that the Everyone is a Critic podcast needed a clown movie for our classic. Only one movie could fit the bill as a classic movie about clowns: Killer Klowns from Outer Space. This bizarre 1988 horror comedy about murderous, alien Klowns and starring John Allen Nelson and John Vernon both baffles and entertains.
It's an average night in a southern California suburb where the kids like to gather in spot on the edge of the woods to make out. Two of the kids are our heroes Mike and Debbie, played by Grant Cramer and Suzanne Snyder. When they see a massive light in the sky they go to investigate and find a giant circus tent. The inside is bigger than the outside like circus Tardis and Mike and Debbie stumble upon dead bodies wrapped in cotton candy and eventually gigantic alien clowns with murder in their eyes.
Narrowly escaping the craft, Mike and Debbie go to the police where Debbie's ex-boyfriend Dave (John Allen Nelson) is a local cop. Dave is skeptical but after encountering one of the Killer Klowns himself, he quickly joins up with Mike and Debbie while the Killer Klowns wrap the townspeople in cotton candy as if they were snacks for a long trip back to their home planet.
Trust me when I tell you that Killer Klowns from Outer Space is even crazier and more fun than my description. It's a work of remarkable imagination from a pair of brothers who are better known in Hollywood for their puppet work than for having directed this film. In fact, Killer Klowns from Outer Space is the only film directed by brothers Stephen and Charles Chiodo though they have worked consistently in Hollywood for the past 30 years, mostly in puppetry.
That may be due to the fact that Killer Klowns from Outer Space is actually a relatively recent phenomenon. The film was a relative failure upon release but slowly but surely it developed a cult following. It makes sense, anyone in their right mind would dismiss a movie called Killer Klowns from Outer Space as some ludicrous, unwatchable drive-in movie which it most definitely is but I urge you to look closer.
The production design and costumes as well as the deadpan humor of Killer Klowns from Outer Space are rather brilliant. The Klowns themselves are terrifying visions while their spaceship is incredibly colorful and lively for such a low budget affair. The gimmicky use of Klown schtick, which goes completely unexplained in terms of their origin, works as anti-comedy in the most sublime and dark fashion. Turning circus tropes into devices of killing works because the joke is so stupid it becomes darkly hilarious.
Dead bodies wrapped in cotton candy, blood sucking Klowns using twisty straws, murder by crème pie, and popcorn Klown seeds are utterly bizarre and strangely ingenious. It's like the dad jokes of horror comedy; you roll your eyes at them but they're also killing people horrifyingly and the humor becomes transgressive and weird on top of being cheesy and silly.
Sure, the performances are flat with John Vernon ripping off his Dean Wormer/Animal House schtick as a cop is the only highlight but the acting doesn't matter so much when you have such incredibly imaginative and bizarre villains as the Killer Klowns.
Legitimately horrible to look at and yet delightfully, goofily hilarious, the Killer Klowns are the reason the film has become a cult classic; they are legitimately brilliant horror movie characters. The Klowns are weirdly frightening but their method for killing is completely hysterical. They make Killer Klowns from Outer Space an irresistibly silly gem.
Good news for those of you who are already fans of this cult classic, they are making a sequel in 3D. According to IMDB the Chiodo Brothers are working on the screenplay while one of the original stars, Grant Cramer is supposedly attached as one of the stars. There is no word on a potential release, or whether it might turn into a TV show instead of a feature but the idea is in the works and I am legitimately excited.
We will talk about the wonderful anti-comedy and genuine horrors of Killer Klowns from Outer Space on the next edition of the Everyone is a Critic Podcast. Naturally, Killer Klowns shares the episode with the new adaptation of Stephen King's IT, and Reese Witherspoon's new comedy Home Again. Everyone is a Critic is available on ITunes every Monday morning.
About the Creator
Hello, my name is Sean Patrick He/Him, and I am a film critic and podcast host for the I Hate Critics Movie Review Podcast I am a voting member of the Critics Choice Association, the group behind the annual Critics Choice Awards.
Reader insights
Be the first to share your insights about this piece.
Add your insights