Classic Movie Review: 'Defending Your Life'
Albert Brooks gets romantic in the afterlife in the brilliant 'Defending Your Life'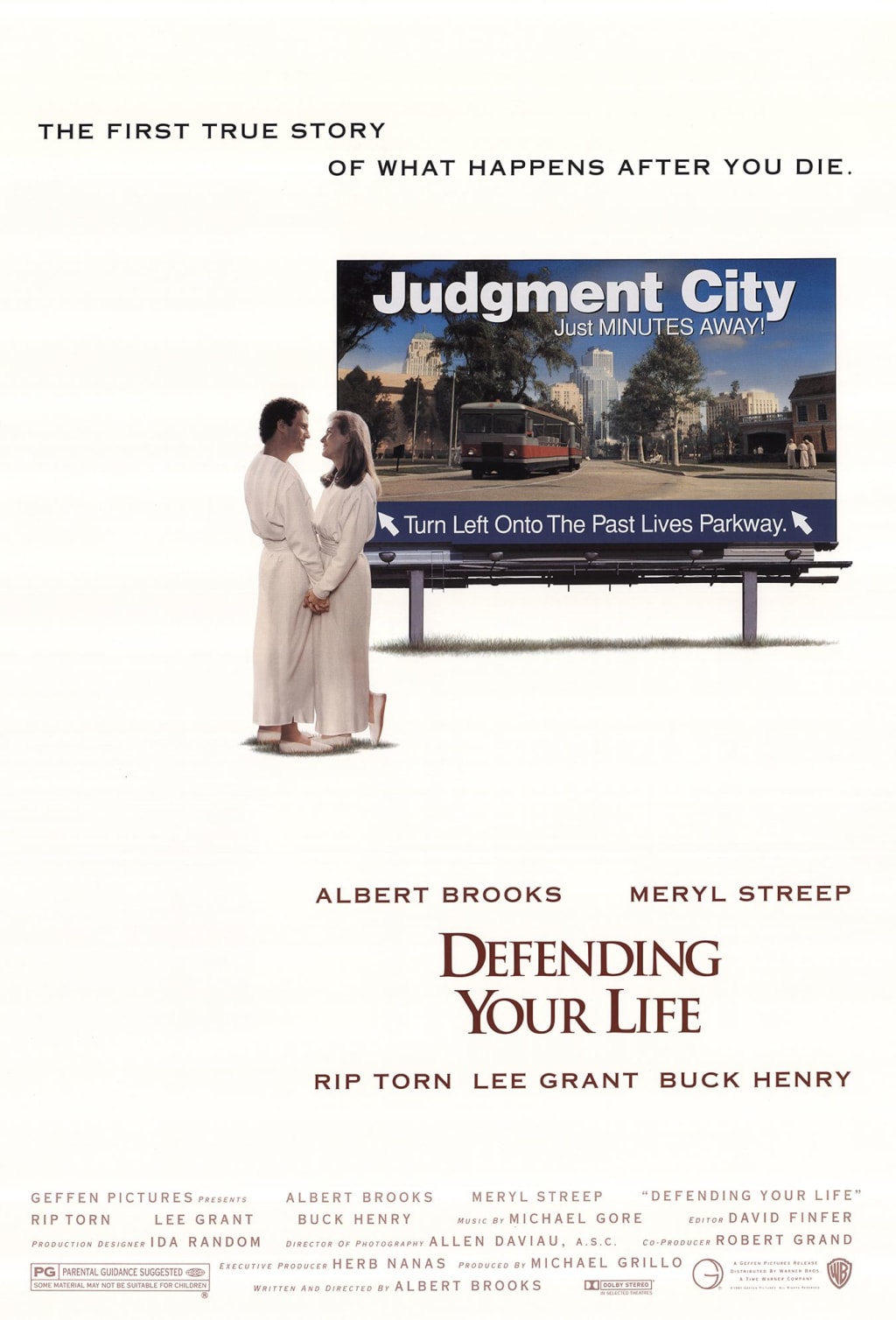 Defending Your Life (1991)
Directed by Albert Brooks
Written by Albert Brooks
Starring Albert Brooks, Meryl Streep, Rip Torn, Lee Grant
Release Date March 22nd, 1991
Published November 14th, 2023
If I could choose what the afterlife looks like, I'd want it to look like the afterlife as presented by Albert Brooks' Defending Your Life. As both an idyllic and, ultimately positive take on life and death, Defending Your Life has a strong philosophical underpinning. The idea is that you go to Judgment City, you defend the life you lived, try to prove that you overcame the fears that held you back in your previous lives, and if you did, you get to move on to a nebulous afterlife that we can only assume is some kind of unending paradise.
For all of the meta-gags, the performative pomposity and cluelessness, that marks the Albert Brooks character, Brooks' sincere world building in Defending Your Life is inspired. Brooks plays Daniel Miller, an ad executive who buys a new car and immediately gets himself killed in an accident. Arriving in Judgment City, Daniel thinks he's in heaven. The reality however, is much different. No, he's not in hell. Hell doesn't exist in this universe. Judgment City is where one goes to defend the life they lived in hopes of moving on to the next place.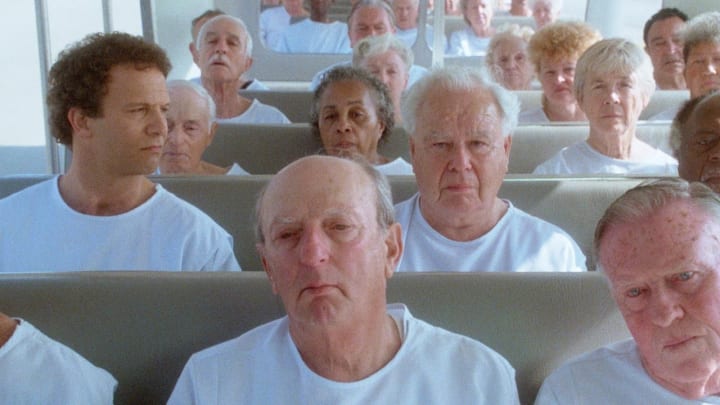 If you fail, no big deal. If you fail, you just go back to Earth and live another life. You can do this as often as it takes to finally get it right. At a certain point, yes, you may be flung into to the universe with nowhere to go, but that's just for people who've failed a lot and show no interest in moving forward. Nothing to actually worry about. That's what Rip Torn's character, Daniel's advocate in Judgment City, Bob Diamond says with confidence that he's letting you in on a comforting secret that isn't as comforting as he thinks it is.
Torn is Academy Award level brilliant in the role of Bob Diamond. Bob Diamond will present Daniel's life to a pair of judges who will determine whether or not he overcame his fears enough to be worthy of moving on. Standing opposite Bob and Daniel is Lena Foster (Lee Grant), a shark-like prosecutor who aims to use Daniel's life choices against him to keep him from moving on. In this universe, anything you have ever done has been recorded and is accessible as a video file. To give a sense of fairness, only a specific number of days from your life will be chosen to be looked at. The more days being used in your trial, don't call it a trial, but it's a trial, the harder it can be to move on.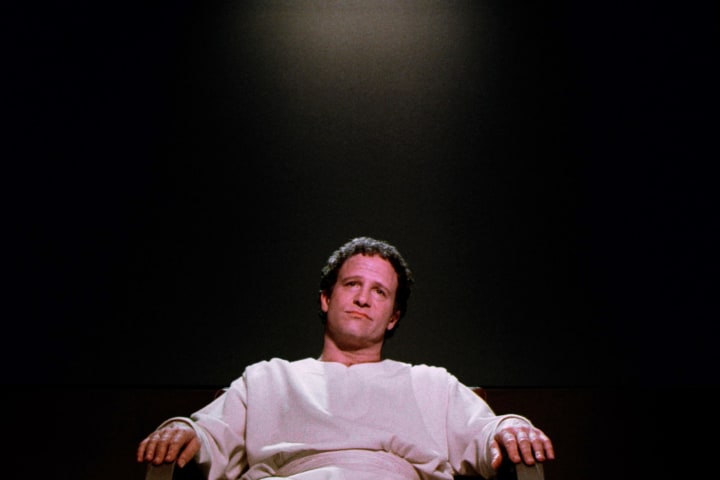 There is a running gag in Defending Your Life where small talk inevitably leads to people asking Daniel 'how many days' and when he says '9,' the residents of Judgment City each cringe and wish him luck. One kind restaurant owner, upon hearing Daniel say 9 days, immediately gifts him dozens of pies. This sounds insane but one of the perks of Judgment City is that its adjacency to Heaven means the food is incredible and you can eat as much of it as you want. That's the kind of perk of the afterlife we can all get behind.
Daniel's afterlife is changed forever when he meets Julia, one of the few people who died relatively young like himself. They bond as Daniel heckles a terrible comedian at a nightclub. Apparently comedy doesn't get the rub from Heaven that the food does. Julia immediately finds Daniel charming with the easy way he can make her laugh. In Streep's gentle, sweet, and assured comic performance, we can easily see why she would fall for Albert Brooks. She can see his emotional wounds and appears eager to help him heal, both because of her kindness and because she just likes the guy.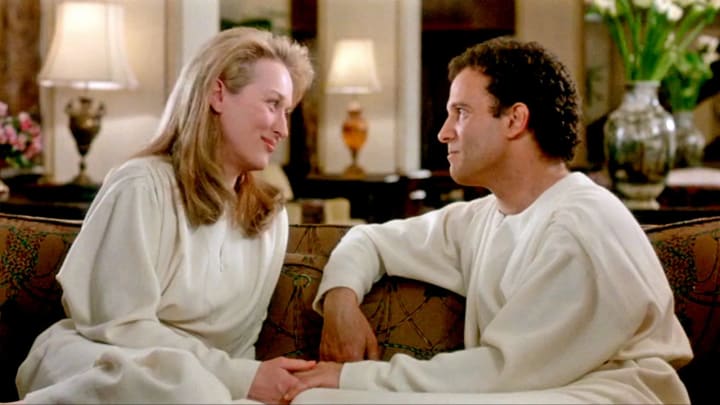 Is Streep what critic Nathan Rabin would call a 'Manic Pixie Dreamgirl?' Perhaps. She has qualities that make her a figure of male fantasy. She's an endlessly loving and open woman who is eager to take pity on the first man she sees that's near her own age. She's aggressively cute in the way MPDG's in movies always are. Is that a bad thing? I don't think so, just because something is a trope doesn't make it a bad thing, just a notable quality. In the hands of a pro like Streep, the tropey qualities of the character don't register as cloying, they come off as deeply charming.
Streep is a delight and her energy lightens up Brooks' performance just enough to make Defending Your Life feel breezy. The film is not without Brooks' taste for self-deprecation and Droopy Dog qualities, but when he's on screen with Streep that stuff goes away and Brooks' comic timing, vulnerability, and sweetness comes to the surface. I adore Brooks' complicated performance in Defending Your Life. Brooks is effortlessly funny and unexpectedly sweet as he confides in Julia and slowly realizes the depths of his feelings for her. Defending Your Life moves swiftly and smartly into the realm of romantic comedy and the chemistry of Brooks and Streep is fresh, sweet and funny.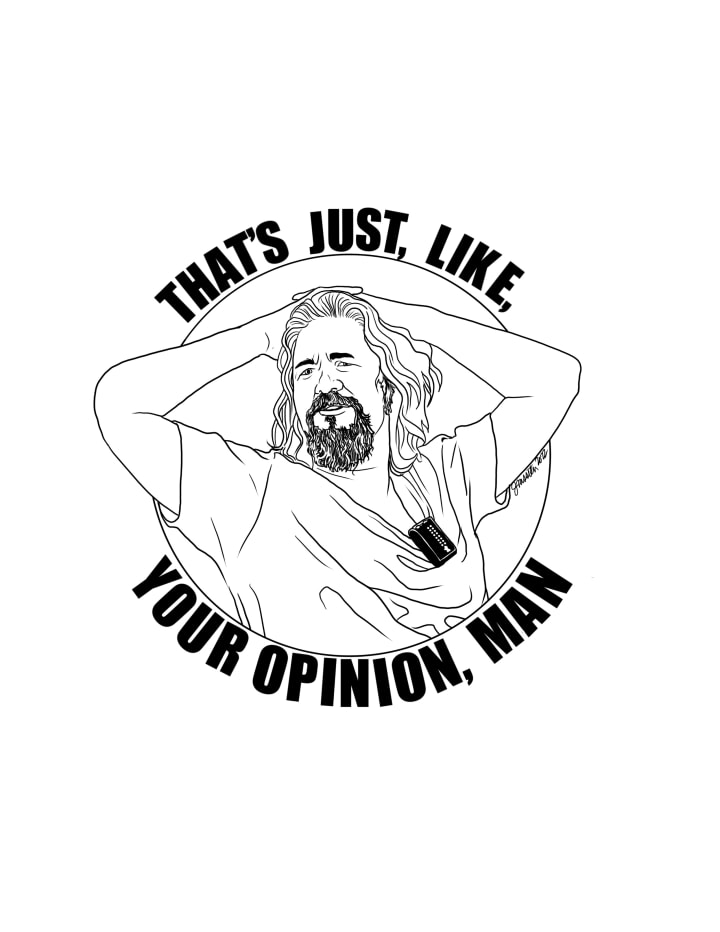 Defending Your Life is one of two Albert Brooks classics on the next episode of the I Hate Critics Movie Review Podcast. Max recently, as of the writing this article, released a brand new documentary on Albert Brooks called Defending My Life. We are looking at that documentary on the podcast along with Defending Your Life and Brooks' remarkable directorial debut, the reality movie, Real Life. Albert Brooks is one of the greatest comic minds in history and I consider myself lucky to have spent so much time this week exploring his work.
Find my archive of more than 20 years and nearly 2000 movie reviews at SeanattheMovies.blogspot.com. Find my modern review archive on my Vocal Profile, linked here. Follow me on Twitter at PodcastSean. Follow the archive blog on Twitter at SeanattheMovies. Listen to me talk about movies on the I Hate Critics Movie Review Podcast. If you have enjoyed what you have read, consider subscribing to my writing on Vocal. If you'd like to support my writing, you can do so by making a monthly pledge or by leaving a one time tip. Thanks!
About the Creator
Hello, my name is Sean Patrick He/Him, and I am a film critic and podcast host for the I Hate Critics Movie Review Podcast I am a voting member of the Critics Choice Association, the group behind the annual Critics Choice Awards.
Reader insights
Be the first to share your insights about this piece.
Add your insights