Classic Movie Review: Clerks
With the release of Clerks 3 I had to look back on the original.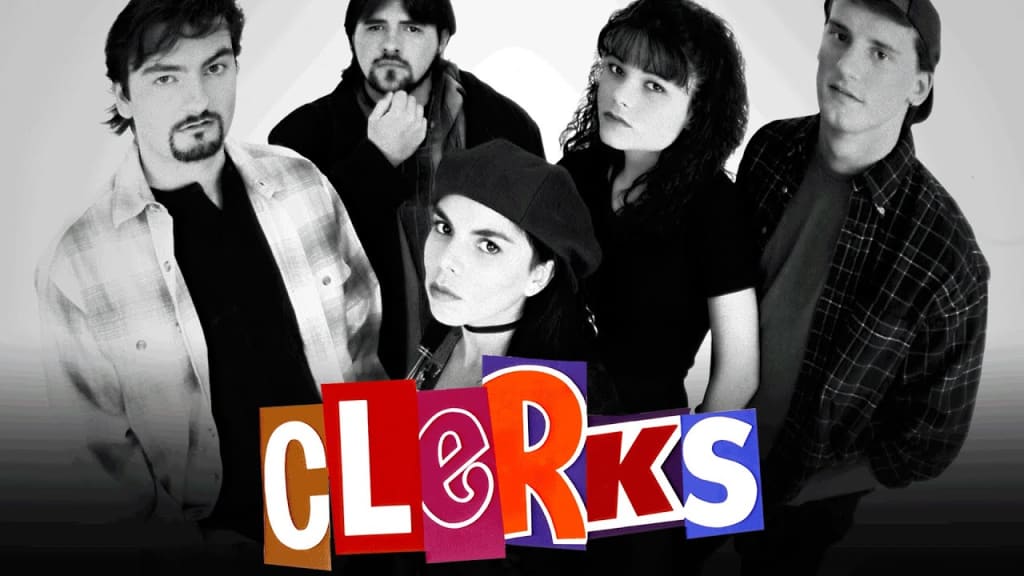 Clerks (1994)
Directed by Kevin Smith
Written by Kevin Smith
Starring Brian O'Halloran, Jeff Anderson, Marilyn Ghigliotti, Lisa Spoonauer, Jason Mewes, Kevin Smith
Release Date October 19th, 1994
Published September 13th, 2022
I was in my second year of college in 1995 when my communications teacher told us that we were having some kind party instead of a class the next week. Since I was known for knowing a lot about movies, my Professor asked me to bring along some movies that we could watch as a class. I didn't hesitate in accepting and I knew exactly what movie it was that I wanted to show. Please keep in mind, this is a college course, a room full of adults. I assumed a room full of adults would be able to handle a little bit of raunchy humor from what was, at the time, my favorite movie, Clerks.
How was I supposed to know that my fellow students were a bunch of uptight squares who get squeamish at hearing the words 'blowjob' or 'd***.' We made it through the scene in Clerks where Veronica (Marilyn Ghigliotti) explains to her boyfriend, our main character, Dante (Brian O'Halloran), what the term 'Snowball' means, in terms of sexual slang. At that point our mortified professor forced me to turn off the VHS tape and choose something else. I chose my second choice, a Robin Williams Comedy special, which turned out to be equally filthy and was subsequently abandoned early as well. Looking back, I would do it all over again. I've never been a troll in my life, but I got to be, unintentionally, one of those rebellious souls who shocks the squares with their off-color antics. It felt good, for a moment. Now, it's a cringy and embarrassing memory, but one I can laugh at.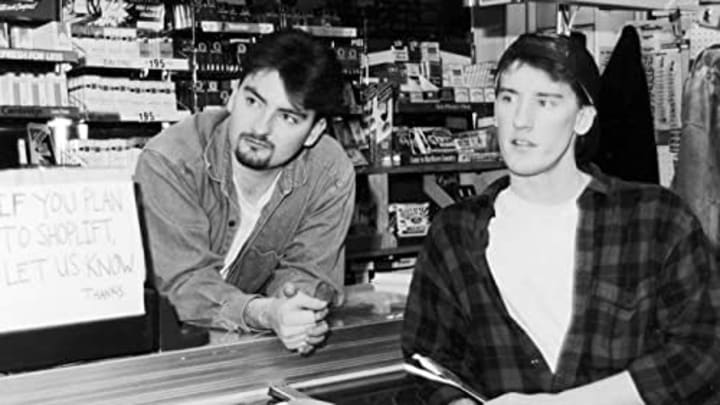 While my classmates and professor got hung up on dirty words and frank discussions of sexuality, I viewed Clerks as a movie that simply talked the way I talked. Not that I am anywhere as witty or wordy as writer-director Kevin Smith, but rather, the way his characters talked felt like a heightened, more intelligent version of the way I talked with my friends. Clerks was a revelation for me because, for the first time in my life, I felt like I was seeing something of myself in a movie. I knew these characters, my friends were just like these guys, slackers, potheads and even convenience store clerks. Clerks spoke to that like no other movie in my young life at the time.
Before Clerks, movies were for old people and talked about old people things. Movies were all for the boring adults in my life. I watched an appreciated many movies as a kid, movies like Jaws captured my imagination. I loved Star Wars but I didn't relate to Star Wars. I admired Luke Skywalker and Han Solo but they weren't like friends of mine. But hearing Dante and Randal from Clerks talk about the drudging misery of life working in a low paying, underappreciated job, spoke to me. Someone who reminded me of me was in a movie. It showed me what was possible in movies at a time where I had only begun to explore the idea.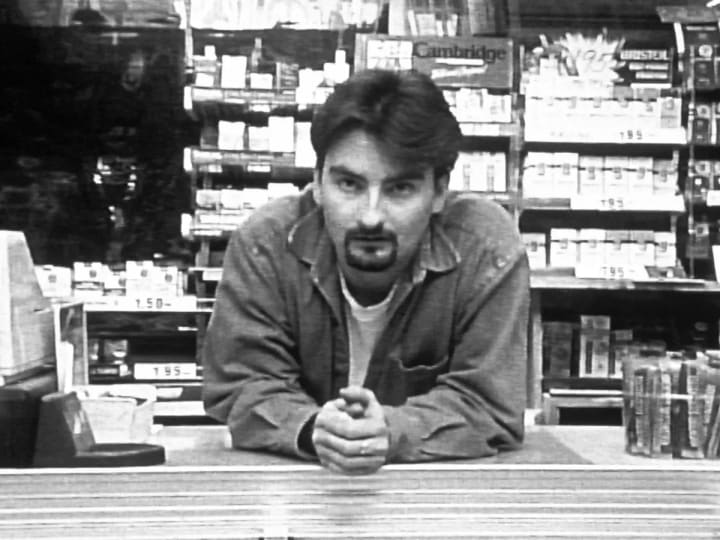 Clerks stars Brian O'Halloran and Jeff Anderson as Dante and Randal. Dante wasn't supposed to work at the Kwik Stop on this day but his boss begged him with the promise that Dante would be done at 12 Noon. Arriving at the store, Dante's bad day continues. Someone has stuffed gum in the locks of the metal shutters used for securing the Kwik Stop after hours. He's forced to use a bedsheet to make a makeshift sign to tell customers "I assure you, We're Open." As Dante says of the gum vandals, Bunch'a savages in this town.
Dante then proceeds to fight with his girlfriend after he finds out that she has performed oral sex on 37 different men in her 22 years of life. It's an awkward, ugly, and reductive fight but one that reflects Dante's own stunted growth. Some people seem to think that because Dante is the main character of Clerks that the film sympathizes with him. That's a silly interpretation. The whole point of Clerks is that Dante is not a fully formed, self aware man yet. Dante's still a kid, he's still trying to figure out who he is and what he wants from the world. His emotional life is stunted for reasons we can only imagine and his cringe response to Veronica is an expression of his failing. He's failed to mature, failed to grow up and is continuing to fail at how to be a loving and supportive partner. The movie carries no sympathy for Dante, it's merely a warts and all presentation of who he is.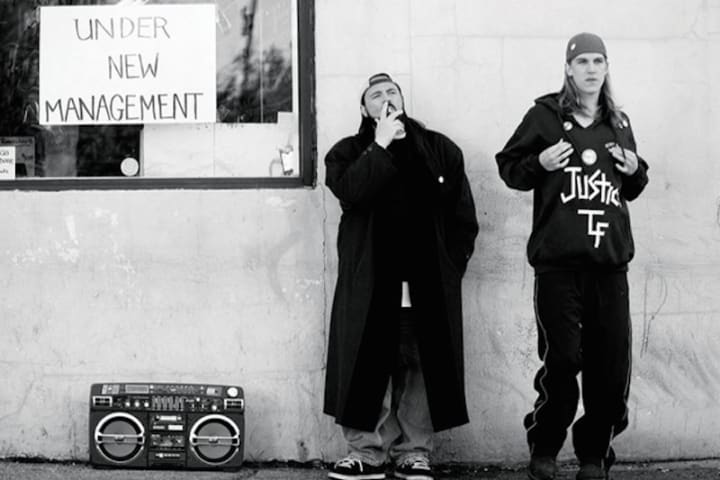 This is further expressed in Dante's relationship with Caitlin Bree, his High School sweetheart. Out of fear of growing up, Dante has continued to pine for what was clearly an awful High School romance. When Dante finds out that Caitlin, whom he's secretly been calling and talking with, is now engaged to be married, it sets Dante into a tailspin that drives the plot of Clerks, such as it is. Clerks isn't a movie that relies on the typicalities of plot or traditional beats of storytelling. Rather, Kevin Smith's approach is something akin to a controlled chaos. He knows he has great dialogue and two leads capable of delivering it and he also knows that it's a guerilla filmmaking effort and re-takes are going to be held to a minimum. It's an exciting highwire act that Smith pulls off brilliantly because his dialogue is so fresh, so raw, and so engagingly real.
It's as I said earlier, Smith writes like how Generation X talks or talked at the time. The rapid fire banter of modern sitcoms crossed with the raw, naked honesty that we passed off as intellectual evolution. That's how Kevin Smith wrote and that is how many in Generation X heard themselves. Whether it was real or not, we were the smartest, snarkiest, snappiest people in any room and Smith's writing reflected that. That's especially true of Smith's raging, roiling Id-antihero, Randal Graves. Randal represents Gen-X rebellion at its zenith. He says and does what Gen-X convinced ourselves we wanted to do but didn't have the energy to actually pull off.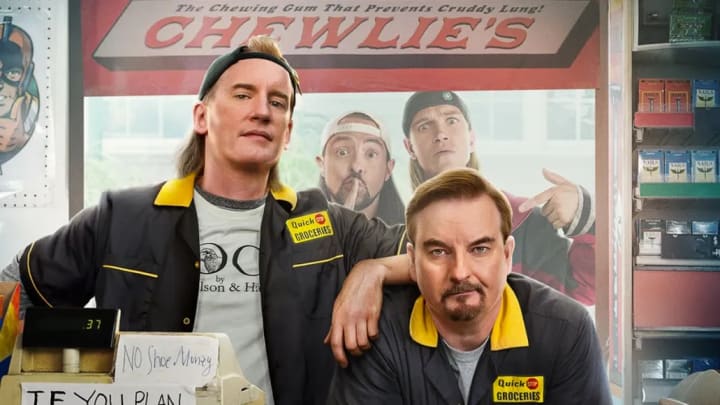 Gen-X is in many ways defined by how we weaponized snark and sarcasm and Randal is the purest example of the form. Randal is sharper and more perfectly in tuned to the world around him than we are but we aspire to his freeform nastiness, a self reflective but incredibly sharp wit, happy and proud to be a slacker, as if not doing what is expected of him is a lifestyle and not merely laziness. Quiet Quitting is a modern trend but watch Randal in Clerks, he was Quiet Quitting the video store and Kwik Stop years before it became a buzzword. Randal stood up for all of the wage slaves who didn't have his filter free ability to show contempt for customers. As Randal draws Dante toward finally airing his own grievances against idiot convenience store customers, those of us in the audience were laughing and nodding along as we made a check list of our own spoiled, stupid, and rude customers.
That's the magic of Clerks. It's so relatable, even today. While Gen-Z and Millennials are doing what we should have done all along and refusing to work until we were paid reasonably and treated with basic respect and dignity, my generation was living vicariously through Randal as he acted out our fantasy interactions with customers. Outside of that, Dante, Jay, Silent Bob, Veronica, even some of the customers of the Kwik Stop, felt like people we knew and had spent time with. Smith taps the vibe of a tight knit community, people who all went to high school together now being forced unwillingly into our adult responsibilities.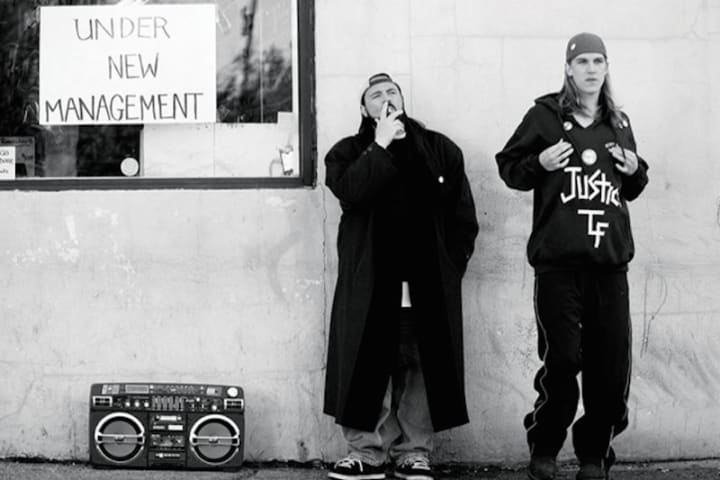 It's a trick Smith pulls of in Clerks and again in Mallrats, Chasing Amy, Clerks 2, and Clerks 3, each of his most personal films. Smith's genuine good nature comes through in his most personal movies. Even as these movies are raunchy and broadly funny, Smith reflects the generation he came of age with like few other filmmakers. That doesn't make him better than other filmmakers, just unique and, for people like me, exciting. Much like how I read Nathan Rabin and see a perfect reflection of the evolving intelligence, compassion, and humor of Gen-X, Kevin Smith reflects the kinds of questions that Gen-X was asking in 1994 about troubling futures, economic uncertainty, and the comforting notion of a safe rut. Smith grew up as we all did eventually and now, with Clerks 3 arriving in 2022, Smith is still talking like Gen-X and asking the questions about health, love, friendship, and mortality that Gen-X is only beginning to explore.
This is why I have always said that I cannot be objective about Kevin Smith's movies. I can't see the flaws clearly. Criticizing Kevin Smith, for me, is like criticizing one of my closest friends. I might give him a good natured ribbing, but I am completely in his corner. I am compelled to root for and defend Kevin Smith and his movies because it's what I would do for any close friend. I've never met Kevin Smith but his movies, his podcasts, his lecture tours, make him seem as close to me as my closest friends. He shares so much about his life through his work and the para-social closeness I feel for Kevin Smith supersedes all of my critical thinking.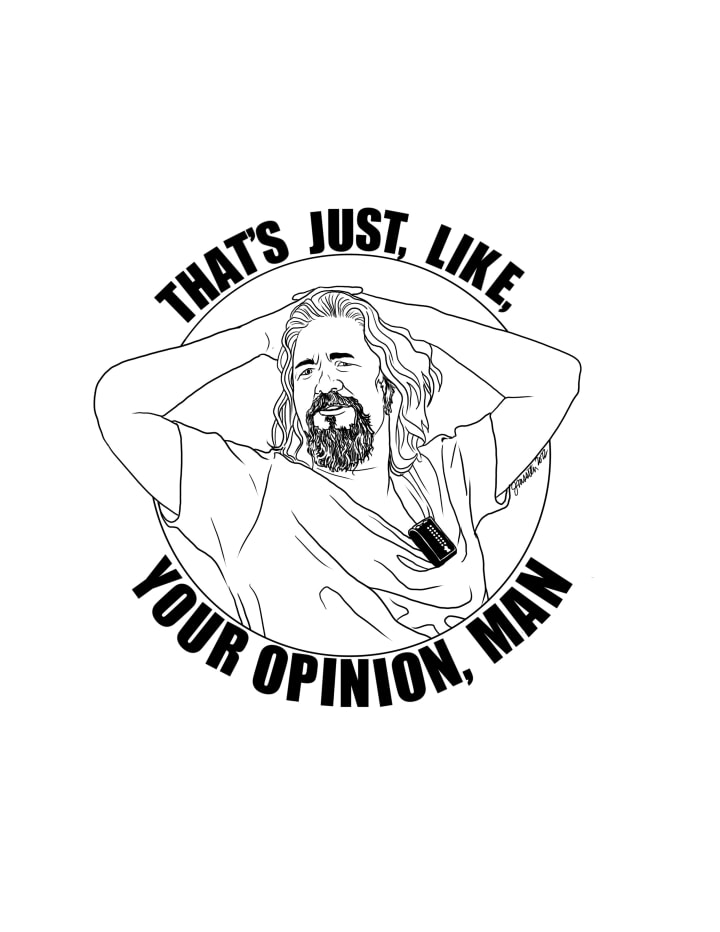 Clerks 3 arrives in theaters on Tuesday September 13th. It will play through the weekend, September 19th, and then Kevin Smith is taking the movie on the road. You can see Clerks 3 on the the Convenience Tour 2022 starting in October. Find my archive of more than 20 years and nearly 2000 movie reviews online at SeanattheMovies.blogspot.com. Follow me on Twittter at PodcastSean and follow the archive blog at SeanattheMovies. Listen to me talk about Kevin Smith movies on the Everyone's a Critic Movie Review Podcast. If you've enjoyed what you've read consider subscribing to my work here on Vocal. You can also support my writing by making a monthly pledge or by giving a one time tip below.
About the Creator
Hello, my name is Sean Patrick He/Him, and I am a film critic and podcast host for Everyone's a Critic Movie Review Podcast. I am a voting member of the Broadcast Film Critics Association, the group behind the annual Critics Choice Awards.
Reader insights
Outstanding
Excellent work. Looking forward to reading more!
Top insights
Heartfelt and relatable

The story invoked strong personal emotions

Compelling and original writing

Creative use of language & vocab

Easy to read and follow

Well-structured & engaging content
Expert insights and opinions

Arguments were carefully researched and presented

Eye opening

Niche topic & fresh perspectives

On-point and relevant

Writing reflected the title & theme
Add your insights