Classic Movie Review: '10 Things I Hate About You'
I want to love this movie so much but I can't get past the problems that nag at the heart of 10 Things I Hate About You.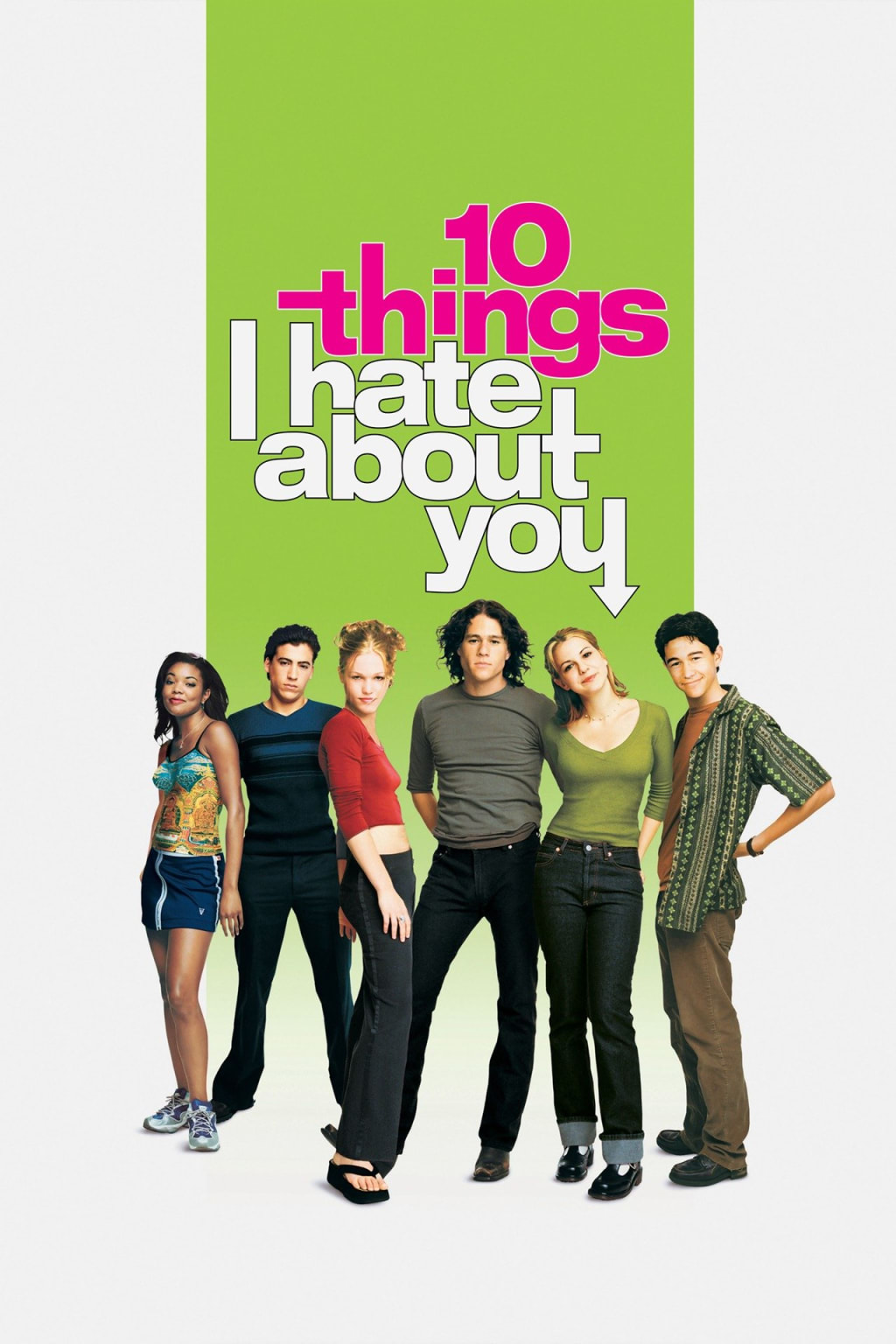 10 Things I Hate About You (1999)
Directed by Gil Junger
Written by Karen McCullah, Kirsten Smith
Starring Julia Stiles, Heath Ledger, Joseph Gordon Levitt, Larisa Oleynik
Release Date March 31st, 1999
Published March 5th, 2023
It is a genuine effort that I have to make to like 10 Things I Hate About You. It's, honestly, a chore. I want to love this movie. I know that I did love it when it was released in 1999. But, I was also a relatively young film critic with a serious crush on Julia Stiles and a desire to be Heath Ledger. To say my objectivity was compromised would be very fair. Watching it again as the classic for the March 6th, 2023, episode of the Everyone's a Critic Movie Review Podcast, the chore of trying to be someone who likes 10 Things I Hate About You really presented itself.
10 Things I Hate About You stars Julia Stiles as Kat Stratford. Kat is the 'Shrew' who must be 'Tamed' in the Shakespearean sense, the film is a loose adaptation of the Bard's Taming of the Shrew and the filmmakers really, really, want you to remember that. Awkward dialogue exchanges and obvious name conventions make the forced effort to underline Shakespeare thuddingly obvious if you aren't willing yourself to ignore the awkwardness.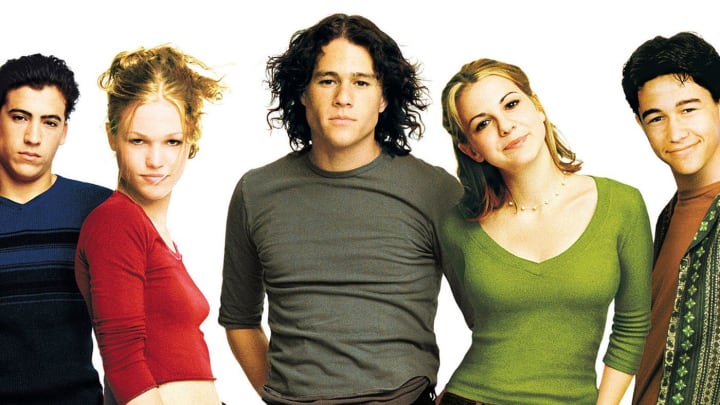 Kat has developed a reputation for beating up the boys at her High School. She refuses to date anyone as she sees the High School boys as beneath her. The story of 10 Things I Hate About You kicks in when a pair of boys begin to vie for the affection of Kat's sister, Bianca (Larisa Oleynik). When Bianca approaches her father for permission to date he decides that Bianca can date only when her sister decides to date. Knowing Kat, that may not happen until she leaves for college.
Armed with this information from Bianca, nice guy Cameron (Joseph Gordon Levitt) and High School bad boy Joey Donner (Andrew Keegan), launch a plan. They will pay someone to seduce Kat into dating. After After being turned down by a series of guys who put over Kat's reputation as a ballbuster of a most literal sort, the schemers settle on Patrick Verona (Heath Ledger), a student with a reputation of his own. It's rumored that Patrick has been to jail, he's spent time in a mental institution and, he ate an entire duck.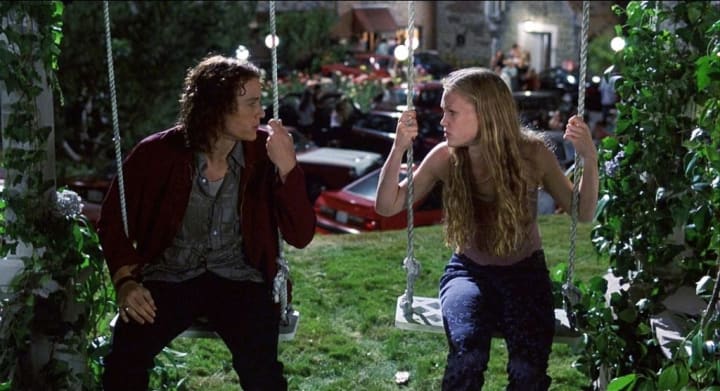 If anyone is crazy enough to try and date Kat Stratford, it's Patrick Verona. The plan works but, of course, Patrick falls for Kat and when Joey figures out that Cameron is more likely to get a date with Bianca than he is, the plan goes awry in the most obviously expected fashion. There truly is no mystery or even a shred of suspense to this plot. Kat is going to find out that Patrick was paid to date her and she's going to be hurt by that. How the movie resolves that plot is deeply unsatisfying despite a strong, tearful effort by a very game Julia Stiles.
10 Things I Hate About You is not a bad movie. When director Gil Junger briefly sets aside the Shakespeare stuff allows Heath Ledger and Julia Stiles vibe together, it really works. Ledger and Stiles have terrific romantic chemistry, they are easy to root for. Sadly, the movie is so desperately tied to convention and so clumsily desperate to claim the credibility of William Shakespeare, it comes off as forced and pushy when it should be breezy, sweet, and funny.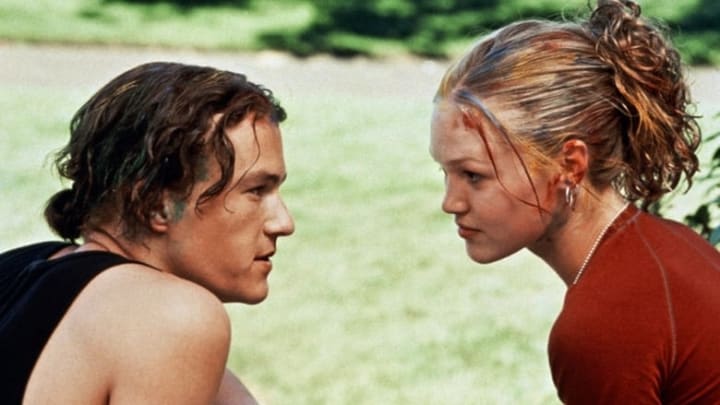 I'm going to have to go into spoiler territory to talk about the thing that really affected my ability to love this movie. So, spoilers for the ending of 10 Things I Hate About You. After the ruse of Cameron convincing Joey to pay Patrick to date Kat is revealed, Kat is hurt and leaves the prom vowing not to speak to Patrick again. Then, maybe a day later, Kat and Patrick are in class learning about Shakespeare. Kat gets up and tearfully reads a beautiful poem, directed straight at Patrick, before running off.
Later, Patrick has gone to Kat's car and left her a fender Stratocaster guitar that he bought using Joey's money and all is well between the loving couple. The framing of this sequence of scenes seems to imply that Kat was wrong for not believing Patrick when he said he loved her. Rather than him having to apologize and make amends for his part in gaslighting her so that her sister could date a pair of randos, it's apparently Kat's job to make amends and, for the first time since I first saw 10 Things I Hate About You, I am willing to admit that it didn't sit right with me.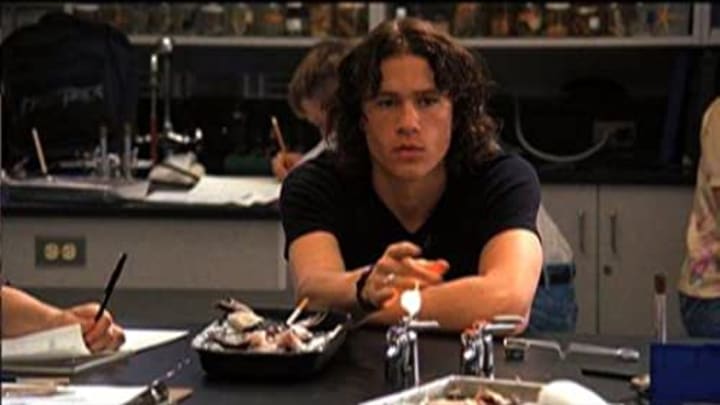 The scene is lovely and Julia Stiles choking up and giving herself over to genuine tears as she reads her sonnet is heartbreaking. But, it's not her who should be delivering a lovely, heartfelt speech about love, regret, and forgiveness. Kat was the one who was lied to, gaslighted, and mistreated by everyone in the film. Everyone else in the movie owes her an apology. The only reason that she is forced into the position of delivering an apologetic soliloquy is so the film can continue to claim its Shakespearean source material.
The Taming of the Shrew is a deeply flawed and misogynistic work. It contains awful themes about mistreating women into being obedient to their husbands. The Kat character in Taming of the Shrew is a forward thinking, independent woman who is fooled into marriage to a man who was paid to marry her. Immediately after convincing her to marry him, he starves her, berates her every choice, and forcefully convinces her to agree to everything he says and does. The play ends with Kat proving to be the most obedient of the wives in the play and this fact winning her husband a wager.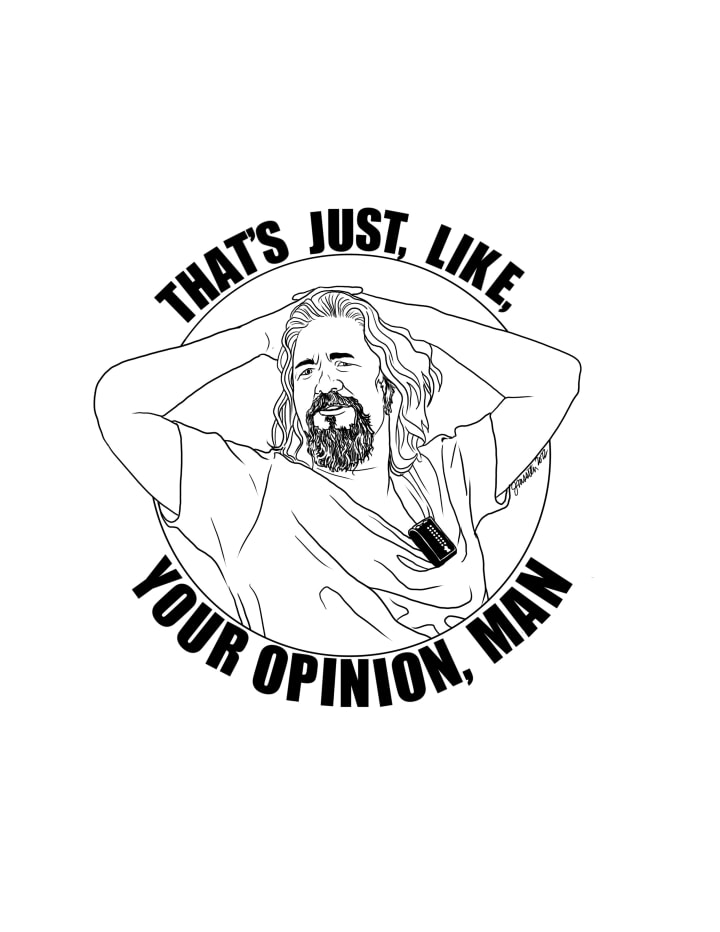 Yeah, maybe we can leave this particular bit of Shakespeare deep in the past where it belongs. The idea that an otherwise good romantic comedy would bend at the end to stay in some context close to Shakespeare is just outright wrong. If anything Shakespeare's play needs correcting. 10 Things I Hate About You should end with Patrick delivering a heartfelt speech and Kat choosing whether or not she forgives him. That director Gil Junger chose to try and remain even vaguely faithful to this awful play shows how misconceived so much of 10 Things I Hate About You truly is.
Find my archive of more than 20 years and nearly 2000 movie reviews at SeanattheMovies.blogspot.com. Find my modern review archive on my Vocal Profile, linked here. Follow me on Twitter at PodcastSean. Follow the archive blog on Twitter at SeanattheMovies. Listen to me talk about movies on the Everyone's a Critic Movie Review Podcast. If you have enjoyed what you have read, consider subscribing to my work on Vocal. If you'd like to support my writing, you can do so by making a monthly pledge or by leaving a one-time tip. Thanks!
About the Creator
Hello, my name is Sean Patrick He/Him, and I am a film critic and podcast host for Everyone's a Critic Movie Review Podcast. I am a voting member of the Broadcast Film Critics Association, the group behind the annual Critics Choice Awards.
Reader insights
Nice work
Very well written. Keep up the good work!
Top insight
Excellent storytelling

Original narrative & well developed characters
Add your insights